1963 Rolls-Royce Phantom V news, pictures, specifications, and information

Tweet
This James Young Sedan has left-hand drive configuration and was originally built for sale in the United States. It has a midnight blue exterior and a supple gray leather in the front compartment and gray cloth in the rear. It is still equipped with the original power windows, footrests, reading lights and a power division window for passenger privacy.

There is an original cocktail cabinet that remains stocked with decanters and glasses. Under the bonnet is a 90-degree overhead valve V8 engine capable of producing approximately 200 horsepower. There is a four-speed automatic gearbox and servo-assisted drum brakes.

In 2010, this car was offered for sale at Gooding & Company's Scottsdale Auction in Arizona. The 175car was estimated to sell for $125,000 - $175,000. The lot was sold for the sum of $126,500, inclusive of buyer's premium.
By Daniel Vaughan | Mar 2010
This Phantom V was built for Oscar C. Palmer from Phoenix, Arizona, who was the proprietor of WD-40. In 1962, President John F. Kennedy sent Oscar Palmer to London as a business liaison for the United States. He was picked up in a Phantom V and liked it so much he ordered one before returning from the business trip. A year later his son, Charles, went to England to accept delivery of the car. Charles escorted it back to the United States on board the USS France from South Hampton to New York and then drove it across country to Phoenix. The family nick-named the car 'Beau' for the bow tie, which is used for all black tie occasions.

At the time the car was built and delivered it was only one of six in the United States. Many famous people have ridden in this car including Bob Hope, the Shaw of Iran, the King and Prince of Saudi Arabia and Barry Goldwater.
As the successor to the coveted Silver Ghost, Rolls-Royce buyers had high expectations for the original Phantom. When it was brought to market in 1925, the Phantom had no problems living up to the high standards of its intended customers. It was an excellent car of unrivaled quality that continued the traditions of Rolls-Royce while introducing a name that would eventually carry the company into a new century.

The latest Rolls-Royce Phantom is the seventh model to come from Rolls-Royce under the Phantom name. A thoroughly modern car introduced by a BMW-owned Rolls-Royce, the newest Phantom has all of the high-tech features its wealthy clientele could ever want. Its advanced V12 engine and modernistic design mark departures from the staid engineering and subtle styling of Rolls-Royce models before it. It's difficult to believe that just 12 years before the radical new Roller was released, the last of the old style Phantoms were being produced. The antiquated Phantom VI reached the end of its run in 1991, an incredible fact given that the model could trace its origins back to the Phantom V of 1959.

The year 1959 was an important one for Rolls-Royce. The English company, which had long before bought out the coachbuilding firm Park Ward, purchased H.J. Mulliner. Mulliner was another coachbuilding firm that had done a great deal of work for Rolls-Royce. Once both long-time coachbuilding partners were under the control of Rolls-Royce, a more modern era was reached in which it was no longer necessary to contract out for the design and production of even the finest bodies.

Also for 1959, Rolls-Royce introduced a new Phantom model. Called the Phantom V, it was a substantially more modern car than its predecessor. Though H.J. Mulliner and Park Ward were now both under control of Rolls-Royce, not every body was built in-house by them. There were 195 Phantom V bodies built by the James Young Company and styled by James Young employee A.F. McNeill.

A 6,230cc V8 was used in the Phantom V. It had a 90-degree V configuration and was made of aluminum alloy. The advanced construction was supplemented by cast-iron cylinder liners that allowed the lightweight engine to have the durability and longevity required of a fine motorcar. The engine was oversquare, a feature that further enhanced reliability and drivability. Twin SU carburetors fed the V8, and power was transmitted to a hypoid bevel rear end through a four-speed automatic transmission. The four-speed auto was an impressive and advanced feature for a car introduced in 1959.

The rest of the car was less advanced than the new engine and drivetrain. Suspension was a conventional layout with coil springs in front and leaf spring out back. Body-on-frame construction was used. The styling was traditional, using rear suicide doors that allowed entrance to a roomy and opulent rear seat with the familiar look and feel of the rest of the interior. A design update in 1963 used revised front fenders with two headlights each. A more powerful engine was included with the facelifted cars. Production lasted through 1968, by which time 516 Phantom V vehicles had been produced.

Later in 1968, the Phantom VI was introduced. H.J. Mulliner and Park Ward merged under Rolls-Royce ownership in 1962, changing their joint name to Mulliner Park Ward, and it was Mulliner Park Ward that bodied almost every Phantom VI produced. Even though Rolls-Royce owned the coachbuilding subsidiary, Mulliner Park Ward was unlike any other in-house styling agency. They built Phantom VI bodies slowly and painstakingly as traditional artisans. The bodies were hand crafted and elegant, with styling as stately as the royalty resting in the rear seat could imagine.

Originally outfitted with the 6,230cc engine of the Phantom V, the Phantom VI had its twin SU carburetors replaced with a single Solex carburetor in 1975. Its displacement was enlarged to 6,750cc in 1979 when it was given an engine based off of the Silver Shadow's. For 1982, the engine of the Silver Spirit was adopted, sharing the 6,750cc displacement. The cars had become outdated, but they still trickled out slowly to privliaged buyers. The use of drum brakes at all wheels continued in defiance of technology, and the four-speed transmission that seemed so advanced on earlier models was strangely replaced by a three-speed unit in 1979. The Phantom VI became the last Rolls-Royce to have a separate chassis as it limped and wheezed its way into the early 1990's.

Production was discontinued in 1991. In this year, after a few final body panels were produced for the Phantom VI in case of an accident, the Mulliner Park Ward factory at Willesden was closed. The Willesden works had produced most all of the bodies found on Phantom VI vehicles. Production numbers for the Phantom VI totaled just 374 in over two decades.

With so few produced and with such a high price tag, the Rolls-Royce Phantoms of 1959 to 1991 were made for a very special type of customer. Celebrity seemed a prerequisite for owning a Phantom. Queen Elizabeth II had a Phantom V, and her mother owned one as well. The king of Norway used his 1962 Phantom V limousine as an official car. The governor of Hong Kong had one for ceremonial purposes. John Lennon purchased a new, white Phantom V. He proceeded to have it covered with psychedelic paintings, turning it into one of pop culture's most vivid and expensive pieces art. The owners of the Phantom VI were no less remarkable. Rolls-Royce understood the kind of customer base it had with the Phantom models, and offered an armored version of the Phantom VI for higher profile buyers that wanted added protection.

With the end of Phantom VI production in 1991, Rolls-Royce reluctantly let go of its most antiquated and obsolete customs. When the Phantom V was being sold, it was traditional but not quite old-fashioned. With the advent of the Phantom VI, though, the series was becoming outdated. While the Phantom V was simply a top-of-the-line Roller, the Phantom VI was the swansong of Rolls-Royce tradition. It flew in the face of cheaper cars from Mercedes-Benz and other luxury brands that offered more feature content and more performance for far less money. It was an overtly dignified symbol of the auto industry's most aristocratic company.

Producing a car as obsolete as the Phantom VI into the 1990's would have been an embarrassing decision for most carmakers. For Rolls-Royce, though, it was a symbol of the company's unwillingness to stray from the core values that cemented its reputation for excellence. The Phantom VI aged like fine wine and, as the Morgan sports car continues to do even now, provided a special vehicle for special customers who wouldn't settle for anything else.

Sources:

Roßfeldt, K.J.. 'Rolls-Royce and Bentley Models: Rolls-Royce Silver Seraph.' rrab.com Web.10 Aug 2009. .

'Phantom 5,' 'Phantom 6.' Rolls-Royce Phantom Web.10 Aug 2009. .
By Evan Acuña
Únlike the Phantom IV, the later Phantom V and VI coach-built cars were available to anyone wîth the money to buy them. As well as heads of state and royal families, the Phantom was chosen by the newly wealthy: among the more famous owners of a Phantom V was Beatle John Lennon.

Built on a huge 3,683mm wheelbase, the vast majority featured Silver Cloud style bodywork built by Mulliner Park Ward.

It was produced from 1959 to 1968 and mechanically mirrored the V8 Silver Cloud II. Some 516 examples were built.

The Phantom VI, which stayed in production from 1968 right through to 1991, was built in small numbers - 373 - and was a mild evolution of the Phantom V.

Interestingly, some early examples had rear-hinged coach doors. It was to be some three decades before technical advances allowed the current Phantom to bring the elegance of coach doors back in complete safety.
Source - Rolls-Royce Motor Cars Limited
The Rolls-Royce Phantom V was introduced in 1959 with a huge wheelbase of 145 inches, and a markedly rigid and strong chassis. A total of 516 of these models were produced during its production run until 1968. The Phantom V was based on the Silver Cloud II and shared its V8 engine and the automatic gearbox to GM's Hydra-matic design. The chassis was the same as the Silver Cloud's layout, but it was lengthened and strengthened significantly by massive reinforcements. The front and rear track were also improved by greater dimensions. The overall length of the Phantom V was increased by 10 inches in comparison to the Phantom IV. Measuring 19 feet long, the Phantom V weighed three tons.

Manufactured in 1965 by the Rolls-Royce Motor Cars Limited, Crewe, Cheshire, the Phantom 5 was fitted with a limousine body by Mulltner Park Ward. The Phantom V received the 7% more powerful Silver Cloud III engine in 1963 along with new front winds that incorporated twin headlamps.

The Phantom V was placed at the top of the Rolls-Royce hierarchy. An ultra-luxurious Rolls-Royce model, the Phantom V came with drum brakes and featured a wheelbase of 3,683 mm. The featured engine was a 90 degree V8 with a capacity of 5,230 cc and twin SU carburetors with a 4-speed automatic transmission.

Proud owners of the Phantom V included John Lennon, Queen Elizabeth II and the Governor of Hong Kong. It has appeared in movies such as 1965 'Help!', 'Steptoe and Son' in 1972, 'Herbie Rides Again' in 1974, 'Rosebud' in 1975, 'The Toy' in 1982, 'Trading Places' in 1983, 'Spiderman' in 2001 and 'What a Girl Wants' in 2003.
By Jessica Donaldson
For more information and related vehicles, click
here
BONHAMS 3RD ANNUAL SCOTTSDALE AUCTION THE BEST YET, WITH MULTIPLE RECORDS MADE, STRONG SELL-THROUGH RATE AND NEARLY $25-MILLION ACHIEVED
Bonhams' third annual auction during the Scottsdale Car Week was a smashing success, nearly doubling last year's total and quadrupling that of the first year. Held on Thursday, January 16th under warm and clear desert skies at the beautiful Westin Kierland Resort & Spa, the anticipated auction exceeded pre-sale expectations. Buyers from around the world filled the sales tent to capacity with many more bidders participating online and by telephone. The viewing atmosphere on the lawns was re...[Read more...]
SEMA SHOW: MOTHERS® SHINE AWARD PRESENTED TO 1969 FORD TORINO TALLADEGA 'GPT SPECIAL'
Everything is bigger and brighter in Las Vegas, NV and here at the SEMA Show the Mothers® Shine Award is one of the brightest and most coveted achievements within the car builders' community. As always, the 13th annual edition of the Shine Award was selected from, no less than, hundreds of the world's premier cars on display at the most anticipated aftermarket industry event of the year. An international panel of respected members of the automotive world, including seasoned builders, paint speci...[Read more...]
Barrett-Jackson Announces Featured Vehicles Scheduled To Cross The Block At Upcoming Palm Beach Auction
The World's Greatest Collector Car Auctions™ to Offer an Array of Collector Cars April 4-6, 2013 Scottsdale, Ariz. – (March 27, 2013) – Barrett-Jackson, The World's Greatest Collector Car Auctions™, announced today some of the unique feature vehicles that will cross the block at its upcoming 11th annual Palm Beach auction, scheduled to take place at the South Florida Fairgrounds, April 4-6, 2013. Approximately 400 classics, exotics, muscle cars, hot rods, resto-mods and conte...[Read more...]
Bonhams Inaugural sale: Preserving The Automobile at the Simeone Foundation
New York, NY – On October 8th, 2012 Bonhams conducted Preserving the Automobile: An Auction at the Simeone Foundation, the first ever auction to promote the concept of preservation of collector cars. The sale, which took place on site and in collaboration with The Simeone Foundation Automotive Museum, a vintage car museum in Philadelphia, PA, was a resounding success, totaling just under $3.0 million. Highlights of the sale included: • The 26,500 mile, 1972 Ferrari 365 GTB/4 Daytona...[Read more...]
Russo and Steele Scottsdale Smashes 5 World Records
With enough intensity and excitement to turn non-collectors into enthusiasts, the atmosphere at Russo and Steele's Scottsdale 2012 auction block was downright palpable. An overflowing auction block, one-of-a-kind marvels and a record number of car-loving bidders led Russo and Steele to break 5 world records. From European sports to American muscle and hot rods to customs, this year's auction event held an impressing line up of cars to suit the needs of any collector. Russo and Steele Collect...[Read more...]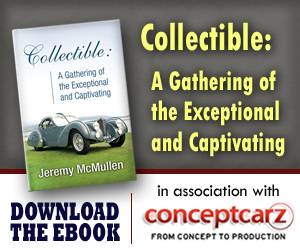 Rolls-Royce
Monthly Sales Figures
Volume
March 2014
75
January 2014
86
October 2013
84
September 2013
84
August 2013
84
July 2013
84
June 2013
84
May 2013
84
April 2013
84
March 2013
84
February 2013
84
January 2013
38
(More Details)
© 1998-2014. All rights reserved. The material may not be published, broadcast, rewritten, or redistributed.