1952 Siata 1500 news, pictures, specifications, and information

Tweet
According to the 'Certifcato d Origine,' the basis for this car was an earlier Fiat 1400. The first owner was Gilberto Colombo, whose company, Gilco, manufactured tubing and chassis. They built this one for Ovidio Capelli. He was a Fiat Dealer, a race driver and head of Scuderia Ambrosiana at that time.

The new owner was Roberto Montali of Oucona, Italy, and it ran in the Mille Miglia. The car saw action in both the 1954 and 1955 events. In 1956, a United States soldier, Alfred Maggiocomo, bought the car and shipped it stateside. His brother, Jocko, installed a TR3 engine at his shop, in Poughkeepsie, New York. The car was raced and eventually scrapped, once in New York and again in Vermont. It was acquired by Dave Dubrul, and eventually found its current owner in 1985.

The current owner restored the car with much help from Jack Brown. The required historical information provided by John de Boer. The restoration was completed in time to be shown at the 2010 Amelia Island Concours d'Elegance.
This Fiat-Siata 1500 Coupe Speciale by Gilco is a custom-built competition example that originally competed in the Mille Miglia in both 1954 and 1955. The car was commissioned by Milanese racing driver Ovidio Capelli, who had taken over Scuderia Ambrosiana from Count Johnny Lurani in 1949. Capelli, who had close ties with Fiat, had commissioned numerous special cars, including the very first Zagato-bodied 8V.

This car appears to have been sourced from a donor 1951 Fiat 1400. The original Fiat engine, number 024073, was either tuned by Siata or tuner Carlo Abarth, but the car was certainly badged as a Siata. The car was first registered in Milan in March 1954, probably as a Fiat 1400. The frame was built in 1952 by Gilberto Colombo.

The car was purchased late in 1954 by Roberto Montali. He entered the Fiat-Siata in the 1954 Mille Miglia, as #346, with co-driver Bontempi Morici, and in 1955, as #545, with co-driver Esildo Morici and driving in the Sports 1.5 category.

American G.I. Al Maggiacomo acquired the car while visiting Milan in 1956. After driving it around Europe for several years, he brought it stateside and drove it until 1963. Maggiacomo's brother eventually replaced the original Fiat engine and transmission with one from a Triumph TR3, modifying the engine mounts and dashboard to do so.

The car passed through several owners before coming into the care of Vermont collector Dave DuBrul. DuBrul located two genuine Siata 1400 engines, one mildly modified and the other a full-bore race motor. In 1984, he passed the Siata on to its current owner and avid enthusiast.

The car has been restored back to its original condition. The frame is nearly entirely original, although new motor mounts were fabricated to return the chassis to its original configuration. The aluminum body is mostly original, with only the dashboard center, rocker panels, and part of the floor replaced. Period-correct Jaeger and Fiat gauges and switchgear were also installed to keep with authenticity.

During the restoration, the milder of the two available Siata engines was fully rebuilt and balanced. It was given special 1500 racing crankshaft and lightened flywheel from the race engine. There are two DCO3 40-millimeter Weber carburetors on alloy intake manifolds and a split exhaust header. In current tune, the car produces an estimated 90 horsepower and displaces 1669 cubic centimeters. There is a Fiat 1400 gearbox and rear axle. The car currently is running a Vertex magneto and tach drive, along with a period-correct Fiat distributor, coil, and tachometer.

The original paint color is not known. The car has been re-sprayed in a two-tone silver and blue, which was matched to paint samples found during the body restoration. Inside, there is a pair of 1950 Fiat 1100 seats covered in red leather. The remainder of the interior is red vinyl and features a tan cloth headliner and rubber floormats. The car rides on 14-inch steel wheels with alloy rims.
By Daniel Vaughan | Oct 2014
120 years of motor sport at Mercedes-Benz take centre stage at the Goodwood Festival of Speed 2014
'Addicted to Winning': at this year's Goodwood Festival of Speed, Mercedes-Benz looks back on some fascinating racing victories of the last 120 years •The unique motor sport heritage of the Mercedes-Benz brand is being celebrated with an exclusive installation by sculptor Gerry Judah •Mercedes-Benz and Gran Turismo®6 jointly celebrate '120 years of motor sport' Stuttgart. – The thrilling victories of the Mercedes-Benz Silver Arrows mark the peaks of the history of motor sport for...[Read more...]
RARE COLLECTOR VEHICLES ADDED TO UPCOMING AUCTIONS AMERICA CALIFORNIA SALE
• Auctions America's three-day sale returns to Burbank, California July 31 – August 2
• Early auction highlights include a 1967 Shelby Mustang Group II Notchback, a 1953 Ferrari 250 Europa by Pinin Farina, and a 1960 Mercedes-Benz 300SL Roadster
• Exclusive, live television coverage of the sale to air on NBCSN (NBC Sports Network), August 1-2
• Frequently updated list of entries available online at auctionsamerica.com
AUBURN, Indiana (June 11, 2014)– Af...[Read more...]
Techno Classica 2014: more than 30 racing cars to celebrate 120 years of Mercedes-Benz motor racing history
•Cars that were the heroes of magical moments put their stamp on this high-powered, most comprehensive show presentation •With more than 30 vehicles, Mercedes-Benz Classic presents motor racing history in all its unique breadth and depth •120 years of Mercedes-Benz motor sport in the focus of the leading international classic motor show 120 years of Mercedes-Benz motor racing history have produced a timeline of extraordinary victories which since 1894 also stand for outstanding innovations ...[Read more...]
Gooding & Company's 10th Anniversary Pebble Beach Auctions Saturday Sale Realizes More Than $53.7 Million
Santa Monica, Calif. (August 18, 2013) – Gooding & Company, official auction house of the Pebble Beach Concours d'Elegance® and acclaimed for selling the world's most significant and valuable collector cars, realized more than $53.7 million during the first of its two Pebble Beach evening auctions. 64 of the 68 lots offered, a 94% sale rate and an average price per lot $839,609 with the most notable being the 1957 Ferrari 250 GT 14-Louver Berlinetta (Lot 39) that set a world record for a ...[Read more...]
Italian Racing Classics Lead Gooding & Company's 10th Anniversary
SANTA MONICA, Calif. (June 4, 2013) – Gooding & Company, the official auction house of the Pebble Beach Concours d'Elegance acclaimed for selling the world's most significant and valuable collector cars, will be hosting the 10th Anniversary sale of the Pebble Beach Auctions on August 17 and 18. This year Gooding & Company offers an early preview of some of the most highly sought after and rapidly amassing value collectible – the distinguished Italian race car. Auction highlights include a...[Read more...]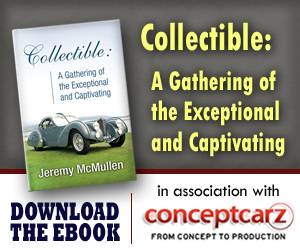 © 1998-2014. All rights reserved. The material may not be published, broadcast, rewritten, or redistributed.