1952 Siata 1400 news, pictures, specifications, and information

Tweet
According to the 'Certifcato d Origine,' the basis for this car was an earlier Fiat 1400. The first owner was Gilberto Colombo, whose company, Gilco, manufactured tubing and chassis. They built this one for Ovidio Capelli. He was a Fiat Dealer, a race driver and head of Scuderia Ambrosiana at that time.

The new owner was Roberto Montali of Oucona, Italy, and it ran in the Mille Miglia. The car saw action in both the 1954 and 1955 events. In 1956, a United States soldier, Alfred Maggiocomo, bought the car and shipped it stateside. His brother, Jocko, installed a TR3 engine at his shop, in Poughkeepsie, New York. The car was raced and eventually scrapped, once in New York and again in Vermont. It was acquired by Dave Dubrul, and eventually found its current owner in 1985.

The current owner restored the car with much help from Jack Brown. The required historical information provided by John de Boer. The restoration was completed in time to be shown at the 2010 Amelia Island Concours d'Elegance.
VICARI AUCTION ANNOUNCES 2 RARE 1971 LS6 CORVETTES
To Be Offered At Cruisin' Nocona Auction NOCONA, TX. – A rare find indeed, the Vicari Auction Company recently uncovered a rare survivor 1971 LS6 Corvette convertible in a southern Alabama garage in pristine condition. The 1971 LS6 Corvette is very likely the best documented, lowest mileage, original LS6 Corvette to become available in years. Also joining the convertible, is a restored Brands Hatch Green LS6 Coupe. Both will cross the auction block at Vicari's 2nd Annual Crui...[Read more...]
Historic Maserati Race Cars And Team Transporter Visit Lime Rock Park Historic Festival
Englewood Cliffs, NJ September 4, 2013... Lawrence Auriana, respected globally in the historic racing community, shared some of the treasures in his collection including some very special Maseratis at The Lime Rock Park Historic Festival this past weekend. The Maseratis included an ex-factory 1928 Tipo 26B/M 8C Grand Prix car which is potentially the oldest running Maserati in the world. Also on display was the very first Maserati A6 GCS (the only one designated with MM in its build sheet...[Read more...]
Mille Miglia – The Argentinian couple Tonconogy-Berisso triumphs
• Great turnout and successful organization of the 2013 edition
Brescia, 19 May 2013 – The 31st reenactment of 'most beautiful race in the world', officially ended today, with the awards ceremony at the Grand Theatre. It was the first race organized by 1000 Miglia Srl The crews in the theatre audience were refreshed after their arrival last night. Rain has become part of the Mille Miglia tradition but never before has it been so heavy as it was in this edition. The Argent...[Read more...]
Coys Christmas No 1 - Second Year In a Row!
BMW 328 achieves highest single vehicle sale price (£494,600) for December Auction sales Coys rounded off a highly successful year with their final auction of 2012, 'True Greats', on December 4th, at Westminster, London, with sale results now nearing £4 million, and many new record auction prices achieved for this year in the UK. Among the many great cars sold, Coys' wonderful BMW 328 achieved a selling price of £494,600, also selling were both their Lamborghini Miuras for £421,800 and £2...[Read more...]
Jaguar Heritage Racing scores debut win in Monaco Historic
Jaguar Heritage Racing, the new 'works' supported racing programme of Jaguar Cars, scored its debut win with a C-type in the Grand Prix de Monaco Historique, Serie C for Pre-1953 Sports Prototypes. The prestigious FIA sanctioned race was won by Alex Buncombe, in Jaguar Heritage Racing's 1952 C-type. The Grand Prix de Monaco Historique is widely regarded as the jewel in the crown of historic racing. This is the 8th running of the FIA sanctioned event, which occurs two weeks ahead of the F1 Gra...[Read more...]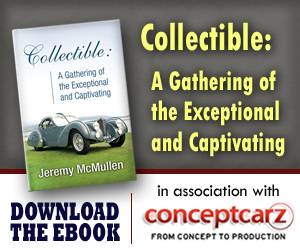 © 1998-2014. All rights reserved. The material may not be published, broadcast, rewritten, or redistributed.