1952 Siata 1500 news, pictures, specifications, and information

Tweet
According to the 'Certifcato d Origine,' the basis for this car was an earlier Fiat 1400. The first owner was Gilberto Colombo, whose company, Gilco, manufactured tubing and chassis. They built this one for Ovidio Capelli. He was a Fiat Dealer, a race driver and head of Scuderia Ambrosiana at that time.

The new owner was Roberto Montali of Oucona, Italy, and it ran in the Mille Miglia. The car saw action in both the 1954 and 1955 events. In 1956, a United States soldier, Alfred Maggiocomo, bought the car and shipped it stateside. His brother, Jocko, installed a TR3 engine at his shop, in Poughkeepsie, New York. The car was raced and eventually scrapped, once in New York and again in Vermont. It was acquired by Dave Dubrul, and eventually found its current owner in 1985.

The current owner restored the car with much help from Jack Brown. The required historical information provided by John de Boer. The restoration was completed in time to be shown at the 2010 Amelia Island Concours d'Elegance.
RECORD DAY AT BONHAMS GREENWICH AUCTION
(June 2, 2014) Greenwich, CT – Standing room only crowds packed the Bonhams tent at the 7th annual Greenwich collector motorcar auction with the sale totaling in excess of $8 million dollars—besting last year's record breaking total by over 40%, with over 93% of lots offered finding new homes. The capacity crowd grew nearly silent as the catalog cover lot, a 1975 Lamborghini Countach LP 400 'Periscopica', sold for over $1.2 million dollars to a bidder seated in the front of the room, beat...[Read more...]
CORROZZERIA ZAGATO: CARS OF THE 'LIGHTNING Z' HONORED AT THE 19TH ANNUAL AMELIA CONCOURS d'ELEGANCE'
The cars wearing Zagato's 'lightning Z' badge have become classics and icons. On March 9, 2014 the 19th annual Amelia Island Concours d'Elegance will honor the brilliance and creativity of Ugo Zagato and his heirs with a class of Zagato-bodied cars from the likes of Ferrari, Maserati, Bugatti, Alfa Romeo, Abarth, Hispano-Suiza, FIAT, Rolls-Royce, Lancia, Lamborghini, MG, Bentley, Porsche, Spyker and even British supercar builder Aston Martin, for whom Zagato created their masterpiece, the landma...[Read more...]
Gooding & Company's 10th Anniversary Pebble Beach Auctions Realizes More Than $112 Million
28 New Auction Records Set at Two-Day Pebble Beach Auctions in 2013 Pebble Beach, Calif. (August 20, 2013) – Gooding & Company, official auction house of the Pebble Beach Concours d'Elegance® and acclaimed for selling the world's most significant and valuable collector cars, realized more than $112 million at its Pebble Beach auctions over the weekend. During the two-day sale, Gooding & Company sold 116 of the 127 lots offered, for a 91% sale rate, with an average price per lot ...[Read more...]
WHAT IS THE MILLE MIGLIA?
Numerous attempts have been made to answer the question 'What exactly is the Mille Miglia?' and the responses have been carefully considered and contemplated. Many of the answers are more than valid, as they involve a Red Arrow race that encompasses a multitude of shades, facets and colors. According to the online encyclopedia known as 'Wikipedia', the Mille Miglia is defined as the following: 'The Mille Miglia was an open-road endurance race which took place in Italy twenty-four times fro...[Read more...]
Coys True Greats London Sale
Coys round off their 2012 auction calendar with their world-famous True Greats sale of important collectors cars, classic film posters and the Keeler Collection of rare models. With some 400 lots coming under the auctioneer's hammer on 4th December, this sale offers a superb choice of entries for any car collector. Among the great entries include two Lamborghini Miuras, a rare Aston Martin DB5 Vantage in left-hand drive, accompanied by its sister models a DB4 and a DB6, and from Germany a be...[Read more...]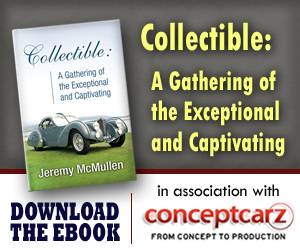 © 1998-2014. All rights reserved. The material may not be published, broadcast, rewritten, or redistributed.