1952 Siata 1400 news, pictures, specifications, and information

Tweet
According to the 'Certifcato d Origine,' the basis for this car was an earlier Fiat 1400. The first owner was Gilberto Colombo, whose company, Gilco, manufactured tubing and chassis. They built this one for Ovidio Capelli. He was a Fiat Dealer, a race driver and head of Scuderia Ambrosiana at that time.

The new owner was Roberto Montali of Oucona, Italy, and it ran in the Mille Miglia. The car saw action in both the 1954 and 1955 events. In 1956, a United States soldier, Alfred Maggiocomo, bought the car and shipped it stateside. His brother, Jocko, installed a TR3 engine at his shop, in Poughkeepsie, New York. The car was raced and eventually scrapped, once in New York and again in Vermont. It was acquired by Dave Dubrul, and eventually found its current owner in 1985.

The current owner restored the car with much help from Jack Brown. The required historical information provided by John de Boer. The restoration was completed in time to be shown at the 2010 Amelia Island Concours d'Elegance.
BENTLEY CELEBRATES STRONG FINISH AT MILLE MIGLIA
Bentley Blower secures highest position to date • Continental GT3 racer Jerome D'Ambrosio excels on debut • Unique Bentley celebration held in Brescia (Crewe and Brescia, 21 May 2014) This year's Mille Miglia challenge, which involved hundreds of classic cars from across the world attempt to complete a gruelling 4-day and 1700km drive through Italy, saw Bentley Motors secure its best position to date with one of the company's iconic 4 ½ Litre supercharged Bentley Blowers. Rolf...[Read more...]
Gooding & Company Presents Post-War Sports Cars at its Amelia Island Auction
SANTA MONICA, Calif. (February 21, 2014) – Gooding & Company, the auction house acclaimed for selling the world's most significant and valuable collector cars, announces that its annual Amelia Island Auction on March 7, 2014 will feature a selection of the most collectible and superior post-war sports cars to come to auction in recent years. Standouts include a 1964 Mercedes-Benz 300 SL Roadster barn find that has never previously been offered for public sale, one of the most original sur...[Read more...]
Gooding & Company's 10th Anniversary Pebble Beach Auctions Saturday Sale Realizes More Than $53.7 Million
Santa Monica, Calif. (August 18, 2013) – Gooding & Company, official auction house of the Pebble Beach Concours d'Elegance® and acclaimed for selling the world's most significant and valuable collector cars, realized more than $53.7 million during the first of its two Pebble Beach evening auctions. 64 of the 68 lots offered, a 94% sale rate and an average price per lot $839,609 with the most notable being the 1957 Ferrari 250 GT 14-Louver Berlinetta (Lot 39) that set a world record for a ...[Read more...]
The BMW 328: Driving to victory for 75 years. BMW Group Classic at the 2013 Mille Miglia.
BMW Group Classic is about to enter the 2013 Mille Miglia suffused with memories of a glorious premiere. It was 75 years ago that the BMW 328 sports car first lined up among the starters for this legendary long-distance event. Now BMW Group Classic is dispatching nine such models to compete in the latest edition of this historic round trip. The squad of BMW 328 models will delight classic car enthusiasts, while once again paying tribute to the tradition-steeped association between BMW and the Mi...[Read more...]
1955 Tourist Trophy: One Last Victory
The tragedy at Le Mans on the 11th of June, 1955 would dramatically affect motor racing. For one of the manufacturers involved, Mercedes-Benz, it would be a confirmation of what it had already come to believe. Toward the end of the 1955 season it was known Mercedes-Benz would withdraw from all motor racing having achieved just about everything possible in Formula One and sportscars. However, on the 18th of September, there would be one last race in which the mighty Silver Arrows would be gunning...[Read more...]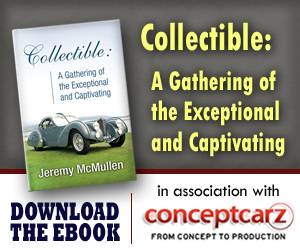 © 1998-2014. All rights reserved. The material may not be published, broadcast, rewritten, or redistributed.