Image credits: © Conquest.
2010 Conquest Knight XV news, pictures, specifications, and information

Tweet
CONQUEST VEHICLES ADDS OVER 60 NEW LUXURY AND SECURITY UPGRADES & OPTIONS TO ITS FLAGSHIP VEHICLE, THE KNIGHT XV
Conquest Vehicles Inc, the Toronto-based company that produces the Knight XV, a fully armored, ultra-luxurious, handcrafted sport utility vehicle, has announced it has added over 60 new security and luxury upgrades and options to its flagship vehicle, said William Maizlin, President of Conquest Vehicles.

Conquest Vehicles now offers buyers a plethora of new luxury upgrades and options on the Knight XV including electronic touch handles, hand crafted billet aluminum and leather §teering wheel and shifter handle, retractable custom flat screen television, TracVision satellite system, ultra suede seating and an electrostatic window tinting system, to name a few.

'Our clients have impeccable taste when acquiring a hand made vehicle. Our goal is to offer as many new, cutting-edge and top-of-the-line luxury and security options as possible in the Knight XV,' said Maizlin.


The company has also created a new, high-level security upgrade and options platform for the Knight XV that includes a built-in oxygen survival kit, under vehicle magnetic attachment detection system, multiple armoring levels, under vehicle blast protection system and a black box system.

In addition to Conquest Vehicle's luxury and security upgrades to the Knight XV, the company has also added other production and design upgrade options including a turbo charger package; commercial grade multi link air ride suspension system; a custom made braking system consisting of 15 ½' vented 2-piece front rotors wîth high performance 12 piston billet calipers; carbon fiber instrument panel; Diesel engine; 24-inch vehicle extension package; right-hand drive conversion package.


Vital Stats
Engine : 6.8 L., 10-cylinder
Power: 400 hp
Torque: 498 ft-lbs


---

5-speed Automatic
Since launching at SEMA in 2008, the (ÚS) $489,000 Knight XV has quickly gained popularity as a go-to vehicle for high-net worth individuals, professional athletes, government officials and heads of corporations around the globe. The Knight XV was recently featured on the November 2009 cover of DÚB Magazine wîth the Orlando Magic's Dwight Howard, who is the first NBA player to acquire a Knight XV.
'We believe that we have created an entirely new niche in the bespoke luxury armored vehicle marketplace wîth the Knight XV. What's amazing is that despite the economy, we are seeing a surge in sales due to the unique offering of our product coupled wîth the fact that there are no other vehicles on the market today that offers the security, luxury and performance in a bespoke vehicle like that of the Knight XV,' said Maizlin.

Recently, Conquest Vehicle also launched an online retail store (http://conquestvehicles.com/merchandise.html) featuring Knight XV branded apparel including men's and women's jackets, fleeces, golf shirts, baseball caps and outdoor vests.

Headquartered in Toronto, Canada, Conquest Vehicles is comprised of the automotive 's most respected talent whose award-winning experience in engineering, fabrication, design, armoring and customization combine to create one-of-a-kind vehicles unrivaled and unmatched in today's security and luxury automotive marketplace.


Company Introduction
Conquest Vehicles Inc., specializes in the design and manufacturing of ultra-luxurious, fully armoured, handcrafted sport utility vehicles. The company, headquartered in Toronto, Canada, is comprised of the automotive 's most respected talent whose award-winning experience in engineering, fabrication, design, armouring and customization combine to create one-of-a-kind SÚV's unrivaled and unmatched in today's automotive marketplace.

With the introduction of the KNIGHT XV, the company's first ultra-luxurious, fully armoured, environmentally respectful handcrafted SÚV, Conquest Vehicles Inc., is setting a new benchmark in the global security and ultraluxury SÚV marketplace.

Conquest Vehicle Inc.'s flagship vehicle, the KNIGHT XV defines the future of the ultra-luxurious, handcrafted fully armoured SÚV. This one-of-a-kind, V10, 6.8-litre, Bio-fuel powered SÚV was inspired by the Gurkha military vehicle and features security appointments that are unrivaled in today's SÚV marketplace. The KNIGHT-XV is an armoured vehicle and not a vehicle that has been armoured. This means that unlike most vehicles that are armoured after-market, the KNIGHT XV is manufactured using military-grade armouring materials and technique. The innovative and incomparable KNIGHT XV takes approximately 1,500 hours to hand build. The production of the KNIGHT XV will be limited to 100 vehicles.


Exterior Appointments
The KNIGHT XV is built using ballistic hardened steel, making it fully armoured including ballistic fiberglass fenders, bumper and up to 64 mm (2 and a 1/2 inches) transparent armour (glass).

Ballistic Run-flat tire system:
Tires and Rims: 40' tires wîth specialized custom designed and engineered 20' rims that utilize forged 6061 aluminum - the same used on commercial aircraft landing gear. The outer flange was reinforced to exceed to four times the normal impact testing required for standard wheels. Coupled wîth its ballistic run flat tire system it
creates the pinnacle of safety in tire and wheel system exceeding anything on the market today.

Our ASC Ballistic Run-Flat System:
Our ballistic run flat system is custom build for the KNIGHT XV vehicle by one of the most reputable manufacturers in the . This lightweight, high strength tire insert adds a real measure of safety and performance to the KNIGHT XV vehicle (for more information please visit our website).
Source - Conquest
AWARD WINNING A.R.E ACCESSORIES F-150 PROJECT TRUCK ON DISPLAY IN DUB EXHIBIT DURING L.A. AUTO SHOW
MASSILLON, Ohio – The imaginative and detailed execution of the A.R.E. Accessories' 2015 Ford F-150 Extreme Sports Project Truck was recognized with both the Ford Project Excellence Award and the 2014 Mothers Choice Award. These national awards were announced during the Specialty Equipment Market Association (SEMA) show. This Extreme Sports-Themed Project Truck is being displayed in the DUB booth at the Los Angeles Auto show. The creative concept for the project truck, built by A.R....[Read more...]
Ford Unleashes Three New EcoBoost Expeditions at SEMA, Taking the Full-Size Utility to Awesome and Beyond
•New 2015 Ford Expedition reaches the next level of comfort and capability with three customized versions set to be on display at the annual SEMA show in Las Vegas •From a 405-horsepower beast to a sophisticated ride with custom amenities and a winter warrior, the industry's hottest builders took their inspiration from a variety of subjects to transform Ford Expedition into a standout at SEMA •EcoBoost®-powered Ford Expedition is a full-size utility vehicle for consumers seeking capability, th...[Read more...]
TOCA MARKETING GROUP BOOSTS GENESIS TO NEW PERFORMANCE BENCHMARK
FOUNTAIN VALLEY, Calif., Oct. 21, 2014 – Toca Marketing Group, the Chicago-based design and customization company that strives to push the limits of aftermarket fabrication, has revealed its 2015 Genesis for the 2014 SEMA show. In creating its latest Toca Signature Edition vehicle, the company has raised the Genesis' performance and luxury benchmarks, creating a vehicle that breaks down barriers of innovation in the pursuit of perfection. With an emphasis on fine detail, Toca worked to design...[Read more...]
John Barnard's Finest: Some of the Greatest of Barnard's Design
The latter-part of Barnard's Formula One career would be filled with disappointments and disputes. However, there was no disputing the genius of the man from London. In fact, a couple of innovations that are mainstays in Formula One design were first introduced by this man who had been involved in motor racing in some form or manner since the 1960s. John Barnard would be born in London on the 4th of May in 1946. The war was over and a whole new world loomed on the horizon. It was t...[Read more...]
Fox Marketing Veloster Turbo Rounds Out Hyundai's SEMA Show Lineup
COSTA MESA, Calif., Oct. 23, 2013 – Hyundai has joined forces with Fox Marketing Cars to create the most powerful street-focused Veloster Turbo ever. The car will be showcased at the 2013 SEMA show in Las Vegas, November 5-8. Fox Marketing leveraged the outstanding reliability and performance potential of Hyundai's 1.6-liter, 4-cylinder direct-injected, turbocharged Gamma powerplant as the core of its SEMA concept. A comprehensive package of advanced engine components, including a new ...[Read more...]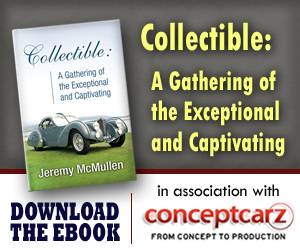 © 1998-2014. All rights reserved. The material may not be published, broadcast, rewritten, or redistributed.