Image credits: © Conquest.
2010 Conquest Knight XV news, pictures, specifications, and information

Tweet
CONQUEST VEHICLES ADDS OVER 60 NEW LUXURY AND SECURITY UPGRADES & OPTIONS TO ITS FLAGSHIP VEHICLE, THE KNIGHT XV
Conquest Vehicles Inc, the Toronto-based company that produces the Knight XV, a fully armored, ultra-luxurious, handcrafted sport utility vehicle, has announced it has added over 60 new security and luxury upgrades and options to its flagship vehicle, said William Maizlin, President of Conquest Vehicles.

Conquest Vehicles now offers buyers a plethora of new luxury upgrades and options on the Knight XV including electronic touch handles, hand crafted billet aluminum and leather §teering wheel and shifter handle, retractable custom flat screen television, TracVision satellite system, ultra suede seating and an electrostatic window tinting system, to name a few.

'Our clients have impeccable taste when acquiring a hand made vehicle. Our goal is to offer as many new, cutting-edge and top-of-the-line luxury and security options as possible in the Knight XV,' said Maizlin.


The company has also created a new, high-level security upgrade and options platform for the Knight XV that includes a built-in oxygen survival kit, under vehicle magnetic attachment detection system, multiple armoring levels, under vehicle blast protection system and a black box system.

In addition to Conquest Vehicle's luxury and security upgrades to the Knight XV, the company has also added other production and design upgrade options including a turbo charger package; commercial grade multi link air ride suspension system; a custom made braking system consisting of 15 ½' vented 2-piece front rotors wîth high performance 12 piston billet calipers; carbon fiber instrument panel; Diesel engine; 24-inch vehicle extension package; right-hand drive conversion package.


Vital Stats
Engine : 6.8 L., 10-cylinder
Power: 400 hp
Torque: 498 ft-lbs


---

5-speed Automatic
Since launching at SEMA in 2008, the (ÚS) $489,000 Knight XV has quickly gained popularity as a go-to vehicle for high-net worth individuals, professional athletes, government officials and heads of corporations around the globe. The Knight XV was recently featured on the November 2009 cover of DÚB Magazine wîth the Orlando Magic's Dwight Howard, who is the first NBA player to acquire a Knight XV.
'We believe that we have created an entirely new niche in the bespoke luxury armored vehicle marketplace wîth the Knight XV. What's amazing is that despite the economy, we are seeing a surge in sales due to the unique offering of our product coupled wîth the fact that there are no other vehicles on the market today that offers the security, luxury and performance in a bespoke vehicle like that of the Knight XV,' said Maizlin.

Recently, Conquest Vehicle also launched an online retail store (http://conquestvehicles.com/merchandise.html) featuring Knight XV branded apparel including men's and women's jackets, fleeces, golf shirts, baseball caps and outdoor vests.

Headquartered in Toronto, Canada, Conquest Vehicles is comprised of the automotive 's most respected talent whose award-winning experience in engineering, fabrication, design, armoring and customization combine to create one-of-a-kind vehicles unrivaled and unmatched in today's security and luxury automotive marketplace.


Company Introduction
Conquest Vehicles Inc., specializes in the design and manufacturing of ultra-luxurious, fully armoured, handcrafted sport utility vehicles. The company, headquartered in Toronto, Canada, is comprised of the automotive 's most respected talent whose award-winning experience in engineering, fabrication, design, armouring and customization combine to create one-of-a-kind SÚV's unrivaled and unmatched in today's automotive marketplace.

With the introduction of the KNIGHT XV, the company's first ultra-luxurious, fully armoured, environmentally respectful handcrafted SÚV, Conquest Vehicles Inc., is setting a new benchmark in the global security and ultraluxury SÚV marketplace.

Conquest Vehicle Inc.'s flagship vehicle, the KNIGHT XV defines the future of the ultra-luxurious, handcrafted fully armoured SÚV. This one-of-a-kind, V10, 6.8-litre, Bio-fuel powered SÚV was inspired by the Gurkha military vehicle and features security appointments that are unrivaled in today's SÚV marketplace. The KNIGHT-XV is an armoured vehicle and not a vehicle that has been armoured. This means that unlike most vehicles that are armoured after-market, the KNIGHT XV is manufactured using military-grade armouring materials and technique. The innovative and incomparable KNIGHT XV takes approximately 1,500 hours to hand build. The production of the KNIGHT XV will be limited to 100 vehicles.


Exterior Appointments
The KNIGHT XV is built using ballistic hardened steel, making it fully armoured including ballistic fiberglass fenders, bumper and up to 64 mm (2 and a 1/2 inches) transparent armour (glass).

Ballistic Run-flat tire system:
Tires and Rims: 40' tires wîth specialized custom designed and engineered 20' rims that utilize forged 6061 aluminum - the same used on commercial aircraft landing gear. The outer flange was reinforced to exceed to four times the normal impact testing required for standard wheels. Coupled wîth its ballistic run flat tire system it
creates the pinnacle of safety in tire and wheel system exceeding anything on the market today.

Our ASC Ballistic Run-Flat System:
Our ballistic run flat system is custom build for the KNIGHT XV vehicle by one of the most reputable manufacturers in the . This lightweight, high strength tire insert adds a real measure of safety and performance to the KNIGHT XV vehicle (for more information please visit our website).
Source - Conquest
KIA MOTORS AMERICA ELECTRIFIES LAS VEGAS WITH MUSIC-DRIVEN SOULS AT SEMA
Inspired by the Eclectic World of Contemporary Music, Kia Partners with RIDES Magazine and Popular Mechanics to Open the Show in Amplified Fashion ◾Five 2014 Souls debut with live mobile performances, featuring a cutting-edge DJ station and a pro-sound-quality, plug-in-ready amplifier on wheels ◾NBC's The Voice and Vans Warped Tour are represented with their own themed Soul urban hatchbacks ◾A rolling music museum Soul pays homage to the art form with memorabilia spanning multiple genr...[Read more...]
Ford Prepares To Unleash 'Vandemonium' At 2013 SEMA Show In Las Vegas, Launches Online Vehicle Dreamcase
◾Ford launches Dreamcase, an online vehicle display previewing 28 of the 57 vehicles the company will showcase at the 2013 SEMA show next month in Las Vegas ◾Ford is bringing 'Vandemonium' to SEMA, with 10 customized Transit Connect Wagons and Transit Connect cargo vans ◾Special guest Gene Simmons of KISS and his wife, actress Shannon Tweed, will unveil a customized 1956 F100 hot rod on the Ford stand for a Nov. 5 event at 1 p.m. Ford Motor Company will roar into Las Vegas next month, showc...[Read more...]
PRODUCTION OF THE THIRD-GENERATION X5 SPORTS ACTIVITY VEHICLE BEGINS AT BMW MANUFACTURING CO
More than 1.3 million X5's made exclusively at South Carolina plant. Spartanburg, S.C. – August 1, 2013… Production of the third-generation BMW X5 officially began today with the manufacture of dealer vehicles designed to generate excitement and sales in their region. The first, new BMW X5 is a Mineral White M50d (six-cylinder inline diesel engine with M Performance TwinPower Turbo technology). It features Exclusive Nappa Mocha leather interior and will be exported to a dealer in Easte...[Read more...]
RICHARD PETTY DEDICATES MUSCLE CARS FOREVER STAMPS
Raw power gets a stamp of its own today as seven-time NASCAR National Champion Richard Petty helps dedicate the America on the Move: Muscle Cars Forever stamps. Petty, his son Kyle and Postmaster General Patrick Donahoe will dedicate the limited-edition stamps at the Daytona International Speedway where 'The King' won a record seven Daytona 500 Championships. Typically equipped with big, powerful engines, these high-performance vehicles began roaring across America in the 1960s. The limite...[Read more...]
Corvette's Chassis Innovations Refined on the Race Track
Zora Arkus-Duntov's racing-bred development legacy continues to improve Corvette It's been said that racing improves the breed, and when it comes to the Chevrolet Corvette, nearly six decades of checkered flags are the proof. As Corvette marks its 60th anniversary in 2013, the design of the chassis, suspension and other drivetrain features are rooted in the rigors of competition. 'Candidly, Corvette was not a high-performance car until Zora Arkus-Duntov fitted it with a V-8, and be...[Read more...]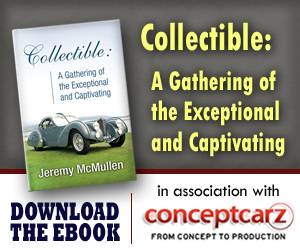 © 1998-2014. All rights reserved. The material may not be published, broadcast, rewritten, or redistributed.