1961 Elva Courier news, pictures, specifications, and information

Tweet
Perhaps the only original owner Elva Courier MK II, it's simply remarkable because its never entered a competition - Elva Cars were in essence a focused race car manufactured founded by Frank Nicholls. He built Courier MK IIs in Hastings, on England's south coast. The Courier was fitted with an MGA 1588cc engine with accompanying 4-speed gearbox, tube frame, fiberglass bodied 2-seater sports car in the then typical British style. Its 78 horsepower propelled the 1411 pound overall curb weight vehicle from zero-to-sixty mph in 9.2 seconds, and a top speed of over 100 mph. And should it have mattered, an average of 37.1 miles per (Imperial) gallon.
After World War II, Europe was ready to get back to auto racing. Many of the buildings and factories that had produced the engines and chassis before the War had been ruined or transformed into making military vehicles.

Club racing offered a competitive means for individuals to enter the racing scene and prove there skills while maintaining a level of affordability. Specialty vehicles were built that offered performance at a competitive price. Examples include Lola and Lotus.

In 1947, Frank G. Nichols left the Army with nothing more than mechanical skills and enough money to begin a business in a garage fixing vehicles. This proved to be a successful endeavor so he moved to larger facilities located in London Road, Bexhill. While there he became interested in racing. At first he only followed the sport, and then he began racing using a Lotus VI and later a 'CSM'. His success in racing stimulated others to mimic his racing style and his machinery. To stay competitive and as a business opportunity, Nichols decided to create his own chassis.

The name 'elle Va' means 'she goes'. Nichols began producing formula junior cars and sports racers. The vehicles he produced were not confined to one city, or continent, but rather many were exported to the United States where they proved to be very competitive and captured many victories.

The Elva 100 series was powered by a BMC A-Series (Sprite or Mini) engine or a two-stroke DKW engine tuned by Mitter in Germany. The Elva became the first mass-produced British Formula Junior car.

The success of the vehicles on the race tracks and as a business prompted Nichols to expand Elva Engineering to another level. In 1958 the Elva Courier prototype was produced. It featured a ladder frame type chassis with aluminum bodywork. This vehicle was a car that could be driven on the road, compete at the race track, and be driven back home. Even though these were hand-built vehicles, it was easy to manufacturer, maintain and repair.

A 1500 CC. MGA engine and gearbox were used to power the vehicles. With this configuration, the vehicle was capable of achieving a top speed of 100 miles-per-hour and a zero-to-sixty time of 11.2 seconds.

With the success of the vehicle brought an increase in demand. A larger factory was built in Hastings and the staff of builders had grown to over sixty individuals. Assembly of a Courier took eighteen hours and approximately three vehicles per week were produced.

An unfortunate incident occurred when a shipment of cars were sent to the United States only to encounter problems. The distributor had financial difficulties so the shipment sat dockside in New York. The vehicles were unable to be recovered by Elva Cars and they were forced into voluntary liquidation. In 1961, Trojan Limited acquired the rights to the Courier and assumed production.

Trojan Limited revised the chassis, implemented a production line, and began mass-producing the Couriers. In place of the previous tubular chassis, a stiffer square section frame was used to make the cars more practical. A MGA 1622 cc engine now powered the vehicle; disc brakes were incorporated to add extra stopping power and the front suspension was supplied by Triumph. In an attempt to create more interior room, the engine was moved forward in the chassis. This caused handling problems and the vehicle suffered from poor balance. The Courier was loosing its sports-car roots.

In 1963, the MK. IV entered the scene. Power was provided by an MGB 1798 cc or Ford 1500 GT engines. The suspension was enhanced by incorporating an independent 'Tru-Track' suspension. For the price, the performance was unmatched.

Trojan Limited began turning their attentions to other endeavors and the Elva name was eventually dropped. Nichols continued to produce sports cars and was involved in projects with Carrol Shelby and Len Terry. Later he produced boats for the Royal National Lifeboat Institution.

Ken Sheppard took over production of the Courier and produced an additional thirty-eight cars on-top of the 210 couriers produced by Trojan. Sheppard had a passion for motor racing and the improvements made to the Courier were evident of a true sports car. The build quality and service was enhanced.

In an attempt to create the most versatile Courier and to revitalize sales, prototypes were created using a Ford V6 engine. They were successful at creating a vehicle that had excellent handling and ample power but they were unable to acquire necessary funding to sponsor their endeavor. This would be the final attempt at creating Couriers in the sixties.

Today, Elva vehicles can be found at many historic and vintage racing scenes. Their agility and performance are still being experienced by drivers and admired by fans.
By Daniel Vaughan | Sep 2007
For more information and related vehicles, click
here
Auburn Spring Brings National Spotlight Back to Classic Car Capital of America.
• Final preparations underway for Auctions America's largest Auburn Spring sale to date, May 8 – 10 at the historic Auburn Auction Park • NBCSN (NBC Sports Network) to carry exclusive, in-depth programming of the sale, May 8 - 10 • Latest auction highlights range from a highly original 1939 Packard Twelve Touring Cabriolet to a 2006 Dodge Viper SRT-10 VOI.9 Edition Coupe • Event weekend also features a car corral and swap meet, along with the AACA's Special National Spring Meet • Digita...[Read more...]
BRUCE MEYERS TO CELEBRATE 50TH ANNIVERSARY OF ICONIC MEYERS MANX BY RACING IN 2014 NORRA MEXICAN 1000 RALLY
After months of preparation and with the support of an industry it helped create, Meyers Manx Inc. today proudly announced details of a new project to celebrate the car's 50th anniversary next month. It is entering company founder Bruce Meyers in next month's 2014 General Tire NORRA Mexican 1000 rally. The iconic Meyers Manx dune buggy ('Old Red') was invented by Meyers in a small garage on the Balboa Peninsula of Newport Beach, California and first driven in May of 1964. The spirited and eve...[Read more...]
One of the Three Final Cars Built by Famed Italian Engineer Giotto Bizzarrini To Be Offered at Russo and Steele's Highly Anticipated Monterey Auction
Monterey, California – As the engineer responsible for the design and development of some of the most successful and innovative racing and GT cars ever conceived, Giotto Bizzarrini remains one of the most revered names in motorsport history. Hailing from Livorno, Italy and eventually leaving Alfa Romeo for Ferrari where he began as a test driver and quickly rose to Chief Engineer, Bizzarrini collaborated with Carlo Chiti on the 250 Testa Rossa's V-12 engine and the 250 SWB, with his caree...[Read more...]
MINI CONVERTIBLE BOAT TO JOIN DAD VAIL REGATTA
Visitors to the 2013 Aberdeen Dad Vail Regatta on May 10-11 will experience an intriguing sight that they won't be expecting… a Chili Red MINI Convertible appearing to 'drive' on the water along the Schuylkill River during this famous annual festival of university and college rowing. It will be the first time that the specially-created MINI Convertible 'boat' has visited Philadelphia and it can be seen throughout Friday and Saturday cruising on the river. This one-of-a-kind boat was the brai...[Read more...]
Raw Power Has a Stamp of Its Own Muscle Cars Roar at Spring Classic Auction
What do you get when you bring the U.S. Postal Service and Dana Mecum's Original Spring Classic Auction together at the State Fairgrounds — a Muscle Car Extravaganza! Since it began 26 years ago, Mecum's Spring Classic auction in Indianapolis has featured the largest auction of muscle cars in the world. This year, the Postal Service will celebrate the raw power of the performance vehicle at the Spring Classic event by dedicating five, limited edition stamps featuring iconic muscle cars...[Read more...]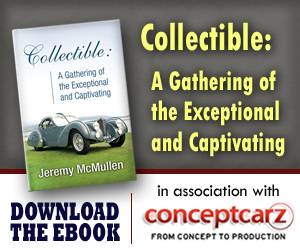 © 1998-2014. All rights reserved. The material may not be published, broadcast, rewritten, or redistributed.