1927 Duesenberg Indy Racer news, pictures, specifications, and information

Tweet
What is sometimes forgotten is that Duesenberg was active in racing and was a force in the racing world. In the early 1920s, Duesenberg raced some of the best cars in the world, winning the French Grand Prix at Le Mans and becoming the first American entrant to win that prestigious race. From 1913 to 1937, the Duesenbergs could be found racing in the Indianapolis 500, with eight of the first ten finishers in the 1922 race being Duesenberg, including the winning car. In 1930, there were five Duesenbergs entered into the Indianapolis 500. Peter DePaolo finished 5th which was Duesenberg's highest place in the race that year.

This Duesenberg Indianapolis Race Car was first driven at the 1927 edition of the Indianapolis 500. it was raced in various forms until 1937. It was part of the 1929 Duesenberg factory team and placed third with Jimmy Gleason behind the wheel. Had it not been for some poor pit work at lap 195, it may have won the race.

The car finished 11th at the 1937 Indianapolis 500 race and was the last Duesenberg to race in that prestigious event.

This car is powered by a 91.5 cubic-inch straight-eight engine fitted with dual overhead cams.
By Daniel Vaughan | Jul 2010
Techno Classica 2014: more than 30 racing cars to celebrate 120 years of Mercedes-Benz motor racing history
•Cars that were the heroes of magical moments put their stamp on this high-powered, most comprehensive show presentation •With more than 30 vehicles, Mercedes-Benz Classic presents motor racing history in all its unique breadth and depth •120 years of Mercedes-Benz motor sport in the focus of the leading international classic motor show 120 years of Mercedes-Benz motor racing history have produced a timeline of extraordinary victories which since 1894 also stand for outstanding innovations ...[Read more...]
AUTOTRADER.COM JOINS TEAM PENSKE AS SPONSOR OF NO. 22 FORD TEAM
MOORESVILLE, N.C., Feb. 13, 2014 -- AutoTrader.com® will join Team Penske in 2014 with sponsorship of the No. 22 Ford Fusion and driver Joey Logano in the NASCAR Sprint Cup Series, the two companies jointly announced today. Under the terms of the multi-year agreement, AutoTrader.com will become a season-long associate sponsor on the No. 22 team and will also serve as the car's primary sponsor for the July 13 race at New Hampshire Motor Speedway (NHMS) with a special AutoTrader.com livery...[Read more...]
1989 Indianapolis 500: Sideways to Victory
The tension in the final moments would be so great it would take everything within Shelley Unser to keep from breaking into a shaking fit. Two laps from the end of the race, traffic would dramatically slow Al Unser Jr.'s pace allowing Emerson Fittipaldi to close right up behind his rear wing. The two would pull side-by-side as they powered their way toward turn three. Still side-by-side heading into the turn, there would be less than 3.75 miles to go to victory, a first for either driver. But th...[Read more...]
DRAGON RACING JOINS FIA FORMULA E CHAMPIONSHIP
• Leading IndyCar squad appointed fourth team for new global electric series
LOS ANGELES, USA (25th September, 2013): Leading IndyCar outfit Dragon Racing has today signed an agreement with series promoters Formula E Holdings to become the fourth team to enter the FIA Formula E Championship – the new fully-electric race series beginning in September 2014. Dragon Racing is owned by media and publishing entrepreneur Jay Penske, with its headquarters based in Los Angeles – a cit...[Read more...]
Mercedes-Benz Classic: Topics for 2013
The main topics: • The tradition of the Mercedes-Benz S-Class • Mercedes-Benz Silver Arrows in the 1930s • Originals – authentic vehicles tell authentic stories • Classic vehicles kept in perfect condition with Mercedes-Benz Genuine Parts Important anniversaries: January 75 years ago – on 28 January 1938: With a flying start, Rudolf Caracciola achieved a speed of 432.7 km/h over one kilometre on the Frankfurt–Darmstadt motorway. This is the highest speed ever ach...[Read more...]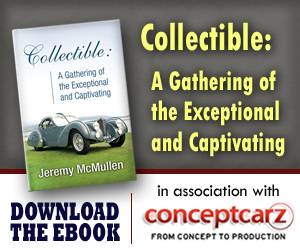 © 1998-2014. All rights reserved. The material may not be published, broadcast, rewritten, or redistributed.