1926 Chrysler Model G-70 news, pictures, specifications, and information

Tweet
1926 was an exciting year for Chrysler as it was the first year a Chrysler was used to pace the Indianapolis 500 race. The Series 70 had a 112.8 inch wheelbase and powered by an L-head six-cylinder engine offering nearly 70 horsepower. The engine was mated to a three speed transmission and braking was by four-wheel hydraulic brakes. The Series 70 was offered in seven body styles with the roadster selling for $1,625. The owner of this car purchased it in 1992 and in 1997 placed it in a restoration shop. Progress was slow and in 2007, it was moved to another shop and soon the work was completed (in the spring of 2009). No expense was spared.
By Daniel Vaughan | Aug 2010
The Chrysler Corporation has been in existence since the early 1920's with their first vehicle offered for mass production being the Model B-70. It was introduced to the public at the New York Auto Show held at the city's Hotel Commodore. The vehicle was very versatile with nine bodystyles being offered that ranged from a $2725 through $3225. The vehicles were offered in a variety of two- and four- door configurations with seating that could accommodate up to five passengers. Mounted under the hood was a six-cylinder L-head engine that displaced just over 200 cubic-inches and produced nearly 70 horsepower. The engine was mated to a three-speed manual gearbox with floor shift controls, shaft drive, and a conventional clutch. Braking was by four-wheel hydraulics. All bodystyles rode on a 112.75-inch wheelbase and had a length of 160-inches.

The response was positive, with nearly 80,000 examples of both the Chrysler and the Maxwells sold. As such, little was changed in the following year.

The Series 70 would remain in production until 1931. It had withstood the onset of the Great Depression and by the early 1930s, was feeling its age. A new look had been introduced for Chrysler in the early 1930s, though little changed on the Series 70. For 1931, the list of models included the Series CJ with its six cylinder engine, the CD and CG with eight cylinders, and the CM which was also known as the 'New SEries Six'. The Series 66 and Series 70 had both been carried over from the prior year with few changes.
By Daniel Vaughan | Sep 2007
For more information and related vehicles, click
here
ACURA TLX GT RACE CAR TO DEBUT AT DETROIT GRAND PRIX
◾Racing application for new 2015 Acura TLX ◾Will run in highly competitive GT category ◾Single-car entry for RealTime Racing and driver Peter Cunningham Acura Motorsports today announced that the new 2015 Acura TLX GT will make its Pirelli World Challenge competition debut at the May 30-June 1 Detroit Belle Isle Grand Prix double-header race weekend. To be campaigned by long time Acura Motorsports partner RealTime Racing, the new TLX GT will move Acura into the top category of the Pirell...[Read more...]
AUTOTRADER.COM JOINS TEAM PENSKE AS SPONSOR OF NO. 22 FORD TEAM
MOORESVILLE, N.C., Feb. 13, 2014 -- AutoTrader.com® will join Team Penske in 2014 with sponsorship of the No. 22 Ford Fusion and driver Joey Logano in the NASCAR Sprint Cup Series, the two companies jointly announced today. Under the terms of the multi-year agreement, AutoTrader.com will become a season-long associate sponsor on the No. 22 team and will also serve as the car's primary sponsor for the July 13 race at New Hampshire Motor Speedway (NHMS) with a special AutoTrader.com livery...[Read more...]
1989 Indianapolis 500: Sideways to Victory
The tension in the final moments would be so great it would take everything within Shelley Unser to keep from breaking into a shaking fit. Two laps from the end of the race, traffic would dramatically slow Al Unser Jr.'s pace allowing Emerson Fittipaldi to close right up behind his rear wing. The two would pull side-by-side as they powered their way toward turn three. Still side-by-side heading into the turn, there would be less than 3.75 miles to go to victory, a first for either driver. But th...[Read more...]
DRAGON RACING JOINS FIA FORMULA E CHAMPIONSHIP
• Leading IndyCar squad appointed fourth team for new global electric series
LOS ANGELES, USA (25th September, 2013): Leading IndyCar outfit Dragon Racing has today signed an agreement with series promoters Formula E Holdings to become the fourth team to enter the FIA Formula E Championship – the new fully-electric race series beginning in September 2014. Dragon Racing is owned by media and publishing entrepreneur Jay Penske, with its headquarters based in Los Angeles – a cit...[Read more...]
BMW TEAM RLL'S SEASON SPEEDS UP BEGINNING AT CTMP; HAND RETURNS TO CO-DRIVE WITH MÜLLER
Woodcliff Lake, N.J. – July 16, 2013 . . . The opening four rounds of the 2013 American Le Mans Series have seen the new BMW Z4 GTE race to the GT class victory at both Long Beach and Lime Rock Park. Round Five will be held at the Canadian Tire Motorsport Park, in Bowmanville, Ontario, Canada, on July 21with BMW Team RLL focusing on increasing Dirk Müller's lead in Driver points and moving to the top of the Manufacturer and Team points. BMW stands three points behind Chevrolet in Manuf...[Read more...]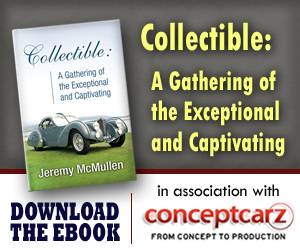 Chrysler
Monthly Sales Figures
Volume
October 2014
27,546
September 2014
28,781
August 2014
29,762
July 2014
23,455
June 2014
24,026
May 2014
22,592
April 2014
21,967
March 2014
26,140
February 2014
25,230
January 2014
21,113
December 2013
20,270
November 2013
21,024
(More Details)
© 1998-2014. All rights reserved. The material may not be published, broadcast, rewritten, or redistributed.