1957 Plymouth Fury news, pictures, specifications, and information

Tweet
Hardtop Coupe
Designer: Exner

The Plymouth Fury was introduced mid-year in 1956. The following year, this high-performance sports coupe was assertively restyled. It was longer and lower than its rivals and available in a single body style - a two-door hardtop finished in Sand Dune White with gold-anodized aluminum inserts which swept from its grille to the tops of its tailfins. It had a new Torsion Aire torsion bar front suspension with leaf springs and a live axle in the rear.

The Fury was powered by a 318 cubic-inch V8 V-800 Polysphere engine with dual quad carburetors and offering 290 horsepower.
By Daniel Vaughan | Aug 2010
Hardtop Coupe
Designer: Exner

Advertising for the radically shaped 1957 Plymouth declared 'Suddenly it's 1960,' and it sure seemed that way in the fall of 1956. This futuristic Virgil Exner creation instantly overhauled Plymouth's workaday image and catapulted the brand into third place in industry sales.

Although the finned 1957 looked much longer than the 1956 Plymouth, in reality, overall length was virtually unchanged. Two-door hardtops were about four inches lower, though, contributing to the impressively long, low and wide look.

The showcase model was the high-performance Fury. Its standard 318 cubic-inch V8 delivered 290 horsepower, and optional engines offered even more. For 1957, the Fury was available only as a two-door hardtop, and only in one color: Sand Dune White, with gold-anodized side trim and a unique beige interior.

This Fury was restored by the Walter P. Chrysler museum and has been on display since 1999.
The Plymouth Fury was introduced in 1956 and continued in production as a model and/or series until 1989. Plymouth had been using the name Fury as the high-performance version of its standard vehicle and in 1956 made its own model designation. The initial desire of the Fury was to highlight the abilities of the Plymouth division and to create a stunning automobile that would capture the attention of consumers and bring that crowd into their showrooms. The styling was typical of the era with the most notable feature being the tail-fins which grew in size during the 1959 model year. It was a popular favorite with many police forces because of its reliability and performance.

In 1959 Plymouth introduced a performance and luxury package called the Sport Fury which featured a larger engine, performance upgrades and a transmission that could handle the extra torque. This was the only year that it was offered.

1960 marked the beginning of the second generation Fury which continued until 1964. The Fury now sat atop a unit-body construction with bolted-on subfame which improved rigidity. The tail fins were removed and the styling was updated to give it a modern appeal. The base engine was a slant six power-plant capable of producing over 145 horsepower. A 318 or 383 cubic-inch eight cylinder in various configurations could be purchased as optional equipment.

Styling and mechanical changes continued in 1961. The Fury was given a new grille which gave it the impression of a 'frowning face'. Performance was increased with the 375 horsepower, 413 cubic-inch engine. A limited edition turbocharged engine was offered in 1962. A new unitized body and chassis construction was implemented which greatly decreased the overall weight while still maintaining rigidity and interior room. Weight was further reduced with the adaptation of the TorqueFlite transmission replacing the cast-iron, two-speed PowerFlite. The 383 engine was no longer offered but a 413 8-cylinder engine became available half-way through the year.

For 1963, the grille and rear once again received styling updates. The reliability was reinforced by the company with the introduction of a five-year or fifty-thousand mile warranty. Not much changed the following year. A limited amount of 426 Wedge 'Super Stock' engines were planted into the engine bays with the purpose of being raced and not legal on the streets.

1965 brought the third generation of the Fury. The sedans sat atop a 119 inch wheelbase while the wagons were given a 121 inch platform. A street legal, 426 'Street Wedge' was now available, promising nearly 400 horsepower. This year also began the Fury I, Fury II, and Fury III naming scheme. In 1966 the VIP name was added to the Fury model line-up. The VIP was an economical, luxury sedan with aluminum taillight panels, wood-grained inserts, and special badging and colors. A popular option on the VIP was the vinyl roof. Luxury could be found on the interior, with its soft carpet, padded dash, individual rearing lamps, walnut grain trim, fold-down armrests, and more. Under the hood was a 318 eight-cylinder engine as standard. The VIP name was short-lived, enduring until 1969 when the decision was made to cease production.

The 1965 Fury had changed aesthetically with horizontal bars on the grille and rearranged rear taillights. The interior had undergone very mild changes. The most drastic change was on the Sport Fury which was given a new console, replacing the console that had been introduced in 1964. The Hurst shifter was no longer offered; rather, a willowy Inland unit with reverse lockout button was offered as optional equipment.

In 1966, a Silver Special edition was offered which featured silver metallic paint with blue upholstery. Window moldings, whitewall, and wheel-covers were included.

The Fury grew slightly in size in 1967. The body panels were all-new but the grille and headlights were carried over from the previous body-style. The 225 slant-six engine was standard and a 318, 383, and 440 were offered in various configuration. Offered as a two and four door, convertible, sedan, wagon, hardtop, and convertible, there were nearly twenty-five different configurations to select from.

1968 continued the styling changes with it's horizontally split grille, updated rear and a slight dip in the body-line which mimicked the front vent windows.

The fourth generation began in 1969. The wheelbase of the vehicle increased offering more interior room for the passengers. The boxy-appearance of third generation Fury was abandoned with a slight shift toward curvy appearance. Concealed headlamps were added in 1970.

In 1972 Plymouth added the Gran Fury sedan and coupe, equipped with a 383 cubic-inch engine bored out to 400 cid. Two separate blackened grilles with the word 'Fury' in the middle helped distinguish these models.

Styling changes continued in 1973 which saw many improvements to its exterior design. For 1974, the Fury sat atop a new C-body platform which was larger in size to its predecessor. A new grille and bumper made its way onto the standard Fury.

The fifth series of the Fury was introduced in 1975. Plymouth once again restyled the Fury and placed it atop a smaller, redesigned C-body chassis.

The Fury line was dropped in 1979 but a year later, in 1980, Plymouth revitalized the Gran Fury name. It shared a platform and similar body design to the Chrysler Newport and Dodge St. Regis, and was available only as a four-door sedan. Sales were never strong and the Fury name was once again abandoned in 1981.

A smaller version was introduced in 1982 and stayed in production until 1989. Minor aesthetic and mechanical changes were applied during this time, but it basically stayed unchanged.
By Daniel Vaughan | Dec 2009
For more information and related vehicles, click
here
2014 Concours of America a Success
• 36th annual Concours d'Elegance of America at St. John's a Resounding Success!
• 1932 Duesenberg Model J Convertible Victoria by Murphy and 1939 Bugatti T57C Cabriolet by Voll & Ruhrbeck win Best of Show at 2014 Concours d'Elegance of America at St. John's.
More Than 250 Cars on View for Picture Perfect Day and 4th Successful Year at New Location Plymouth, MI, July 27, 2014: Blessed by near perfect weather, on Sunday, July 27th, the 36th Annual Concours d'El...[Read more...]
2014 Palos Verdes Concours d'Elegance Increases Classes to 22
Chrysler designs by Virgil Exner added Rancho Palos Verdes, CA – April 17 , 2014 - The 22nd annual Palos Verdes Concours d'Elegance at the Trump National Golf Club in Rancho Palos Verdes, California on Sunday September 14 has increased the number of its classes from 20 to 22. The changes result from adding a class for Chryslers designed by Virgil Exner and dividing Post War American into two classes - 1957-1958 and 1959 to 1966. The event will celebrate automotive innovation ...[Read more...]
Concours d'Elegance of America at St. John's : Class Previews
Here is a little preview of two of our special classes for St. John's upcoming show. Featured Designer: Virgil Exner The 2014 Concours d'Elegance of America will honor the work of famed chief designer Virgil Exner with an unprecedented display of Chrysler Corporation's 1955-1961 'Forward Look,' a daring two-pronged styling revolution that changed the look of the American car. First up were the 'jet-age'1955 Plymouths, Dodges, DeSotos, Chryslers and Imperials. Then came the 1957 m...[Read more...]
RARE REUNION: CHRYSLER CONCEPT CARS GATHER AT AMELIA, 2014
Nine rare and important Chrysler Concept Cars from the forties, fifties and sixties will be presented together for the first time at the 19th annual Amelia Island Concours d'Elegance on March 9, 2014. From the two-seat Chrysler Thunderbolt roadster and the dual-cowl Chrysler Newport of 1941 through the radical 1963 Chrysler Turbine car, Amelia's Chrysler Concept Car Class shows the genesis of the styling and engineering philosophy that summoned Chrysler's industry-changing 'Forward Look...[Read more...]
Joe Bortz to Host Historic Dream Car Discussion Panel
Dream car collector and historian Joe Bortz has prepared a special treat for participants at the 40th Annual Pontiac-Oakland Club International Convention in St. Charles Illinois, this coming July 17-21. In addition to bringing his four historic Pontiac Dream Cars, he has also assembled a panel, conisisting of two noted designers, a retired engineer and two veteran authors to examine the topic of Pontiac's early concept vehicles. The panel discussion will be held on Friday, July 20th at 1...[Read more...]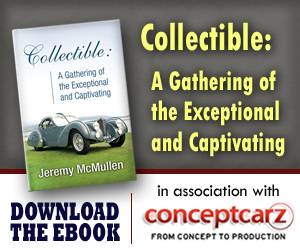 Similarly Priced Vehicles from 1957
Chevrolet Bel Air ($2,173-$2,900)
DeSoto Firesweep ($2,775-$3,308)
Pontiac Chieftain ($2,460-$2,900)
Plymouth Belvedere ($2,240-$3,240)
Pontiac Star Chief ($2,840-$5,780)

Average Auction Sale: $46,125
© 1998-2014. All rights reserved. The material may not be published, broadcast, rewritten, or redistributed.