1923 Chandler Model 32 news, pictures, specifications, and information

Tweet
The Cleveland based Chandler Company produced automobiles in the mid-price range. Founded in 1913 by Fred Chandler, the company experienced immediate success with the quality car with a competitive price tag. By the early 1920's, the Chandler Company was Cleveland's largest producer of automobiles and ranked 13th in US production. Their popularity continued to prosper during the mid-1920s, but by 1928 they were purchased by the Hupp Motor Company. A year later they were out of business. The onset of the Great Depression, World War I, a changing economy, and fierce competition were a few of the reasons for the company's demise.

Perhaps Chandler's most famous employee was 18-year-old Bob Hope, who worked in the parts department. He developed a rapport with three other individuals with melodious voices, and the formed an impromptu quartet. They used the department dictating machine to record their singing, which nearly cost them their jobs.

For 1923, Chandler gave new names for its models to add flair to the line. The two-door sedan was named the 'Chummy' and their four-door vehicle was the 'Metropolitan'. These vehicles were offered alongside the Royal Dispatch Sport touring car, with cycle-style fenders, step plats for running boards and side-mount spares attached high on the cowl.

This Royal Dispatch is painted in blue with contrasting black interior and top. It was the subject of a frame-up restoration in the mid-1980s. It was sold new in the State of Washington and it has had later owners in West Virginia and Pennsylvania.

The engine is a 288.6 cubic-inch L-head six-cylinder unit delivering 45 horsepower. There is a three-speed manual transmission and two-wheel mechanical brakes.

In 2010, this Model 32 Royal Dispatch Sport Tourer was offered for sale at the Vintage Motor Cars of Meadow Brook event presented by RM Auctions. It was estimated to sell for $50,000-$60,000. Bidding reached $37,500 but was not enough to satisfy the car's reserve. It would leave the auction unsold.
By Daniel Vaughan | Aug 2010
NEW 2015 LINCOLN NAVIGATOR EQUIPPED FOR ENHANCED PERFORMANCE AND REFINEMENT
◾More powerful engine, redesigned exterior, updated interior and customer-focused technologies reaffirm Lincoln Navigator's leadership in the full-size luxury SUV market ◾New 3.5-liter, twin-turbocharged EcoBoost® engine delivers more power and torque than previous-generation Navigator, while providing EPA-estimated, best-in-class fuel economy of 16 mpg city, 22 mpg highway and 18 mpg combined ◾Available Reserve Package includes leather-wrapped instrument panel, armrests and gear shift, premiu...[Read more...]
CELEBRATING 90 YEARS OF GM'S MILFORD PROVING GROUND
DETROIT – When the General Motors Milford Proving Ground opened in 1924 – 90 years ago this October – engineers lacked advanced tools and technology for safety testing. Judging from this video, some might say the only crash test dummies back then were human. Engineers today keep their distance during crash tests. No more riding the running boards until seconds before impact. Inside the vehicles being tested are heavily instrumented anthropomorphic test devices – dummies – who capture t...[Read more...]
GMC PICKUPS 101: BUSTING MYTHS OF TRUCK AERODYNAMICS
• 2014 Sierra gains fuel economy, quietness from time in wind tunnel
DETROIT – The all-new 2014 Sierra full-size pickup truck spent more development time in a wind tunnel than any GMC pickup before it, resulting in design changes that benefit both fuel efficiency and interior quietness. To achieve improved airflow, aerodynamic engineers like Diane Bloch examined every millimeter of the truck to find areas of improvement, debunking some popular myths along the way. To study...[Read more...]
Edsel Ford's Speedster Stars at 'The Amelia'
Edsel Ford's 'continental car', a custom boattail speedster, will take its rightful place in the Sports Car Class of the 18th annual Amelia Island Concours d'Elegance. In the shape of Edsel's seminal speedster is the genesis of Ford's legendary design department. Edsel Ford was hardly 'a chip off the old block'. The acorn fell well away from the mighty oak that was Henry Ford, founder of the Ford Motor Company. Edsel was not just the President of Ford, he was a car guy to his core. His ta...[Read more...]
CHRYSLER GROUP LLC AND FIAT S.P.A. ANNOUNCE MOST ACCESSORIZED VEHICLES AND TOP-SELLING ACCESSORIES
Mopar Offers More Than 25,000 Accessories Worldwide •Ram 1500, Jeep Wrangler and Dodge Challenger are most accessorized vehicles in North America •Side steps, Jeep Wrangler tops and floor mats are best-selling accessories in North America •Fiat 500, Fiat 500L and Jeep Grand Cherokee among most accessorized vehicles in other global regions •Top-selling accessories announced for Europe, Middle East, Africa, Asia Pacific and Latin America February 11, 2013 , Auburn Hills, Mich....[Read more...]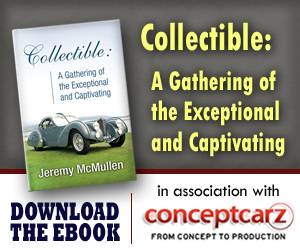 © 1998-2014. All rights reserved. The material may not be published, broadcast, rewritten, or redistributed.