1923 Chandler Model 32 news, pictures, specifications, and information

Tweet
The Cleveland based Chandler Company produced automobiles in the mid-price range. Founded in 1913 by Fred Chandler, the company experienced immediate success with the quality car with a competitive price tag. By the early 1920's, the Chandler Company was Cleveland's largest producer of automobiles and ranked 13th in US production. Their popularity continued to prosper during the mid-1920s, but by 1928 they were purchased by the Hupp Motor Company. A year later they were out of business. The onset of the Great Depression, World War I, a changing economy, and fierce competition were a few of the reasons for the company's demise.

Perhaps Chandler's most famous employee was 18-year-old Bob Hope, who worked in the parts department. He developed a rapport with three other individuals with melodious voices, and the formed an impromptu quartet. They used the department dictating machine to record their singing, which nearly cost them their jobs.

For 1923, Chandler gave new names for its models to add flair to the line. The two-door sedan was named the 'Chummy' and their four-door vehicle was the 'Metropolitan'. These vehicles were offered alongside the Royal Dispatch Sport touring car, with cycle-style fenders, step plats for running boards and side-mount spares attached high on the cowl.

This Royal Dispatch is painted in blue with contrasting black interior and top. It was the subject of a frame-up restoration in the mid-1980s. It was sold new in the State of Washington and it has had later owners in West Virginia and Pennsylvania.

The engine is a 288.6 cubic-inch L-head six-cylinder unit delivering 45 horsepower. There is a three-speed manual transmission and two-wheel mechanical brakes.

In 2010, this Model 32 Royal Dispatch Sport Tourer was offered for sale at the Vintage Motor Cars of Meadow Brook event presented by RM Auctions. It was estimated to sell for $50,000-$60,000. Bidding reached $37,500 but was not enough to satisfy the car's reserve. It would leave the auction unsold.
By Daniel Vaughan | Aug 2010
McQueen's Famous 1956 Jaguar Coming to Pinehurst Concours
VILLAGE OF PINEHURST, N.C. (April 16, 2014) – A 1956 Jaguar XKSS owned by movie legend Steve McQueen, now housed at the world famous Petersen Automotive Museum in Los Angeles, will make the cross country trip from California to North Carolina and be displayed at the 2014 Pinehurst Concours d'Elegance. McQueen, called 'The King of Cool,' became the highest paid movie star in the world in 1974 and starred in such movies at 'Bullitt,' 'The Great Escape' and 'Papillon.' McQueen, who was al...[Read more...]
Out of Sinkhole, ZR-1 'Blue Devil' Drives in Museum
Two of eight historic Corvettes pulled from 30-foot deep hole BOWLING GREEN, Ky. – The recovery of eight historic Corvettes that fell into a sinkhole under the National Corvette Museum last month began Monday with the successful extraction of the 2009 Chevrolet Corvette ZR-1 'Blue Devil.' The car was able to be driven 20 feet to the doorway of the museum's Skydome. Based on initial inspection, the ZR-1 sustained minimal damage, despite falling nearly 30 feet when the hole ope...[Read more...]
MERCEDES-BENZ 2014 G63 AMG: THE ULTIMATE G-CLASS
The latest technology for the AMG off-road icon: the new 2014 G63 AMG impresses with a state-of-the-art powertrain, expressive new design and improved efficiency. All this is largely attributable to the AMG 5.5-liter V8 biturbo engine delivering 536 hp and the AMG SPEEDSHIFT PLUS 7-speed automatic transmission. Every new AMG high-performance vehicle offers an outstanding mix of 'more power from less fuel' – and the G63 AMG is no exception. The 'strong man' in the AMG model range has been furt...[Read more...]
POTEET, CIZEK EARN TOP AWARDS AT GOODGUYS 16TH PPG NATIONALS
Columbus, OH – Tennessee's George Poteet and Nebraska's Ron Cizek collected the top two awards at the Goodguys 16th PPG Nationals in Columbus, Ohio last weekend. Under brilliant sunshine and in front of record crowds, Poteet's vintage NASCAR-inspired '69 Torino won the Goodguys 2013 Optima Batteries Street Machine of the Year while Cizek's popular Ridler award-winning '40 Ford coupe collected the Goodguys 2013 Classic Instruments Street Rod of the Year title. For Cizek, it's the second ma...[Read more...]
CHRYSLER GROUP LLC AND FIAT S.P.A. ANNOUNCE MOST ACCESSORIZED VEHICLES AND TOP-SELLING ACCESSORIES
Mopar Offers More Than 25,000 Accessories Worldwide •Ram 1500, Jeep Wrangler and Dodge Challenger are most accessorized vehicles in North America •Side steps, Jeep Wrangler tops and floor mats are best-selling accessories in North America •Fiat 500, Fiat 500L and Jeep Grand Cherokee among most accessorized vehicles in other global regions •Top-selling accessories announced for Europe, Middle East, Africa, Asia Pacific and Latin America February 11, 2013 , Auburn Hills, Mich....[Read more...]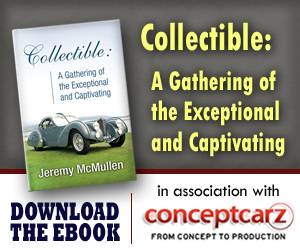 © 1998-2014. All rights reserved. The material may not be published, broadcast, rewritten, or redistributed.