1932 Franklin Airman news, pictures, specifications, and information

Tweet
Produced by the H.H. Franklin Automobile Company of Syracuse, New York, this luxury automobile manufacture offered air-cooled engines from 1902 through 1934 (with a total production of 151,266 automobiles). Franklins are known for their innovative engine and chassis designs features double elliptic springs that offer a ride unmatched by many cars even of today. The Oxford Sedan is noted for its leather interior.

The in-line side draft air-cooled 6-cylinder engine has 274 cubic-inches and develops 100 horsepower. This 1932 Franklin features a supercharger that inducts pressurized air from the cooling fan.
By Daniel Vaughan | Jun 2008
Franklin Motors, of Syracuse, New York, was the most successful air-cooled automobile manufacturer in the United States. But the end was near when his Airman Sedan was built in 1932. Production had peaked in 1929 at 14,000 cars and dropped to only 2,000 in 1932.

But the company continued to build excellent automobiles. Many Franklin chassis sported custom bodies designed and built by the top custom coachbuilders. In 1932, nine body styles were offered. Power was supplied by Franklin's in-line, air-cooled six that developed 100 horsepower.

This is an owner-restored automobile. It had been stored in Middletown, Ohio for about 45 years before it was discovered and acquired by the current owner.
For the 1932 model year, Franklin utilized the beefier chassis initially designed for the new V-12 models. Extensive use of sound deadening, new 'supercharged' forced air induction (utilizing air bleed from the cooling fan), interior trim in walnut and book-matched wainscot and a new Synchromesh transmission with free-wheeling and adjustable 'Ride Control' resulted in Franklin's most luxurious offering to date. Quiet, smooth and powerful, with Dietrich designs, Franklin's Series 16 is considered by many to be one of the best driving Classics of the era. While the company was gripped by the Depression and production had plummeted, survival rates are high for the 'Airman' models from 1932.
| | |
| --- | --- |
| | Club Sedan |
The Franklin catalog for 1932's Series 16 pictured the Speedster, Coupe, Convertible Coupe, 7-Passenger Sedan, Limousine, 5-Passenger Sedan, Victoria Brougham and Club Sedan. Of these, the Club Sedan pioneered the architecture of the modern sedan, with its front engine, two side doors and rear trunk. Power was from a 274 cubic-inch, six-cylinder engine delivering 100 horsepower. The factory price for the Club Sedan was $2,395.
| | |
| --- | --- |
| | Custom Phaeton |
This 1932 Franklin Airman custom Phaeton is with work of Frank Gardner. It is the result of a forced marriage between a 1932 Franklin Club Sedan and a 1929 Packard 633 Touring. It took several years to find and to fashion parts and trim enough for Mr. Gardner to feel that his creation might well have been originally built in Syracuse. The 100 horsepower 'Supercharged' engine gave the Series 16 performance to match many of the best cars of the period. The only open model in the 1932 catalog for Series 16 was a convertible coupe, the Depression having forced a limit on choices.
For more information and related vehicles, click
here
BESPOKE 911s METICULOUSLY RESTORED FOR CUSTOMERS BY SINGER VEHICLE DESIGN
• Newest Handcrafted Customer Car by Singer Salutes50th Anniversary of Original 911, Evoking Passion for a True Automotive Icon
LOS ANGELES – November 20, 2013 – As Singer Vehicle Design (SVD) tonight hosts a Los Angeles viewing of its latest handcrafted masterpiece restored for a customer, the company will continue to salute the genius of Porsche and the 50th anniversary of the original 911. Considered the most bespoke 911 re-imagined by SVD yet, the 'Sweden' car, to be shown t...[Read more...]
63rd Pebble Beach Concours d'Elegance Names 1934 Packard 'Best of Show'
The competition showcased 248 cars, including 48 from abroad PEBBLE BEACH, Calif. (August 18, 2013) -- A 1934 Packard 1108 Twelve Dietrich Convertible Victoria owned by Joseph and Margie Cassini III of West Orange, New Jersey, was named Best of Show at the 63rd Pebble Beach Concours d'Elegance, held Sunday on the 18th fairway of Pebble Beach Golf Links at Pebble Beach Resorts. The event showcased 248 cars from 36 states and 12 countries and raised $1,277,007 for charity. 'This Pack...[Read more...]
Singer Vehicle Design Celebrates 50Th Year Of 911 With Latest 'Re-Imagined' Debut At Quail
• Newest Handcrafted Restored Customer Car by Singer Evokes Past Racing Glories of Porsche, With State-of-the-Art Content and Peerless Execution.
LOS ANGELES – August 1, 2013 – When Singer Vehicle Design (SVD) displays the latest handcrafted masterpiece it has restored for a customer at the 2013 Quail Motorsports Gathering on August 15th, it will note a series of 'firsts' while continuing to salute the genius of Porsche and the 50th anniversary of the original 911. For SVD, the...[Read more...]
BMW CONCEPT NINETY
Cernobbio. 90 years of BMW Motorrad, 90 years of two-wheeled history – hardly another motorcycle manufacturer can boast such a longstanding and successful heritage as BMW. The BMW R 90 S likewise has cause to celebrate: the BMW Motorrad design icon turns 40 this year. As a tribute to both these anniversaries, the BMW Group is presenting a very special model at the Concorso d'Eleganza Villa d'Este 2013: the BMW Concept Ninety. In partnership with the custom bike company Roland Sands Design, the B...[Read more...]
Auctions America By RM's Spring Carlisle Auction Kicks off 2012 Northeastern U.S. Collector Car Season
Auctions America by RM will return to the Carlisle Expo Center in Carlisle, Pennsylvania, on April 26-27, 2012, to kick off the collector car season for the Northeastern U.S. with its Spring Carlisle auction. Featuring nearly 300 American hot rods, muscle cars, classics and memorabilia during its two-day sale, the Spring Carlisle auction is held in conjunction with the Spring Carlisle Collector Car Swap Meet & Corral (April 25-29), hosted each year by Carlisle Events. The auction is one of se...[Read more...]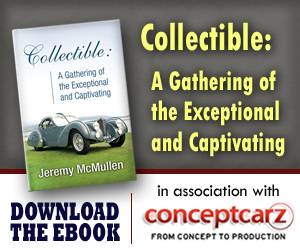 © 1998-2014. All rights reserved. The material may not be published, broadcast, rewritten, or redistributed.