1932 Franklin Airman news, pictures, specifications, and information

Tweet
Produced by the H.H. Franklin Automobile Company of Syracuse, New York, this luxury automobile manufacture offered air-cooled engines from 1902 through 1934 (with a total production of 151,266 automobiles). Franklins are known for their innovative engine and chassis designs features double elliptic springs that offer a ride unmatched by many cars even of today. The Oxford Sedan is noted for its leather interior.

The in-line side draft air-cooled 6-cylinder engine has 274 cubic-inches and develops 100 horsepower. This 1932 Franklin features a supercharger that inducts pressurized air from the cooling fan.
By Daniel Vaughan | Jun 2008
Franklin Motors, of Syracuse, New York, was the most successful air-cooled automobile manufacturer in the United States. But the end was near when his Airman Sedan was built in 1932. Production had peaked in 1929 at 14,000 cars and dropped to only 2,000 in 1932.

But the company continued to build excellent automobiles. Many Franklin chassis sported custom bodies designed and built by the top custom coachbuilders. In 1932, nine body styles were offered. Power was supplied by Franklin's in-line, air-cooled six that developed 100 horsepower.

This is an owner-restored automobile. It had been stored in Middletown, Ohio for about 45 years before it was discovered and acquired by the current owner.
For the 1932 model year, Franklin utilized the beefier chassis initially designed for the new V-12 models. Extensive use of sound deadening, new 'supercharged' forced air induction (utilizing air bleed from the cooling fan), interior trim in walnut and book-matched wainscot and a new Synchromesh transmission with free-wheeling and adjustable 'Ride Control' resulted in Franklin's most luxurious offering to date. Quiet, smooth and powerful, with Dietrich designs, Franklin's Series 16 is considered by many to be one of the best driving Classics of the era. While the company was gripped by the Depression and production had plummeted, survival rates are high for the 'Airman' models from 1932.
| | |
| --- | --- |
| | Club Sedan |
The Franklin catalog for 1932's Series 16 pictured the Speedster, Coupe, Convertible Coupe, 7-Passenger Sedan, Limousine, 5-Passenger Sedan, Victoria Brougham and Club Sedan. Of these, the Club Sedan pioneered the architecture of the modern sedan, with its front engine, two side doors and rear trunk. Power was from a 274 cubic-inch, six-cylinder engine delivering 100 horsepower. The factory price for the Club Sedan was $2,395.
| | |
| --- | --- |
| | Custom Phaeton |
This 1932 Franklin Airman custom Phaeton is with work of Frank Gardner. It is the result of a forced marriage between a 1932 Franklin Club Sedan and a 1929 Packard 633 Touring. It took several years to find and to fashion parts and trim enough for Mr. Gardner to feel that his creation might well have been originally built in Syracuse. The 100 horsepower 'Supercharged' engine gave the Series 16 performance to match many of the best cars of the period. The only open model in the 1932 catalog for Series 16 was a convertible coupe, the Depression having forced a limit on choices.
For more information and related vehicles, click
here
PORSCHE'S 914 HONORED AT 20TH AMELIA CONCOURS d'ELEGANCE
The 20th annual Amelia Island Concours d'Elegance will honor the first mid-engine production Porsche, the 914 in all its variants. At first some Porsche purists lamented the Porsche 914's seemingly humble origins. They whispered the 'V-Word' . . . Volkswagen. The reality was that the 914 is a blood descendant of the seminal Gmund Porsche, the first car to wear the family name and the crest, a pure sports car designed around a Volkswagen-sourced air-cooled flat-four and a mid-engine con...[Read more...]
TATRA UNSEEN FOR DECADES BEGINS LONG JOURNEY FROM CZECH REPUBLIC TO PEBBLE BEACH
Pebble Beach Concours d'Elegance to Feature Streamlined Tatras for First Time PEBBLE BEACH, Calif. (July 16, 2014) -- This past week Pavel Kasik bid farewell to his beloved Tatra T77 only days after completing its 20-year restoration. The Tatra started its overseas journey of 4,279 miles from the Czech Republic to the Pebble Beach Concours d'Elegance, which will host an exclusive feature of streamlined Tatra automobiles for the first time. A passionate car enthusiast, Kasik will...[Read more...]
PORSCHE INTRODUCES PORSCHE CLASSIC MOTOR OIL FOR THE U.S. MARKET
• 20W-50 and 10W-60 motor oils now available for all air-cooled Porsche models
Atlanta. Porsche Cars North America, Inc. is launching its own engine oil for air-cooled flat-four and flat-six Porsche engines: Porsche Classic Motor Oil. In collaboration with the Porsche Development Center in Weissach, Germany, the new engine oil has been developed by the Porsche Classic experts to meet the lubrication requirements of all Porsche air-cooled engines. The sports car manufacturer mad...[Read more...]
2015 SORENTO NAMED BEST FAMILY VEHICLE BY THE NORTHWEST AUTOMOTIVE PRESS ASSOCIATION
Sorento SX Tops Its Segment at Annual 'Mudfest' Challenge Event ◾Automotive journalists from the Pacific Northwest rank the Sorento ahead of six competitors in the Best Family Vehicle category ◾Strong performances on both the autocross course and public roads help Kia's popular CUV capture title IRVINE, Calif., May 9, 2014 – Kia Motors' highly acclaimed 2015 Kia Sorento was named Best Family Vehicle by the Northwest Automotive Press Association (NWAPA) during the annual 'Mudfest' com...[Read more...]
BRUCE MEYERS TO CELEBRATE 50TH ANNIVERSARY OF ICONIC MEYERS MANX BY RACING IN 2014 NORRA MEXICAN 1000 RALLY
After months of preparation and with the support of an industry it helped create, Meyers Manx Inc. today proudly announced details of a new project to celebrate the car's 50th anniversary next month. It is entering company founder Bruce Meyers in next month's 2014 General Tire NORRA Mexican 1000 rally. The iconic Meyers Manx dune buggy ('Old Red') was invented by Meyers in a small garage on the Balboa Peninsula of Newport Beach, California and first driven in May of 1964. The spirited and eve...[Read more...]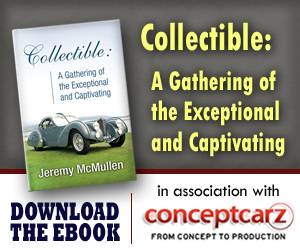 © 1998-2014. All rights reserved. The material may not be published, broadcast, rewritten, or redistributed.