1984 Cadillac Eldorado news, pictures, specifications, and information

Tweet
For 1984, Cadillac produced 77,806 Eldorados with 3,300 of those being convertibles. The convertible Biarritz was a new option for 1984 and sold for approximately $31,285. Two engines were available, both were V8s. The base unit was a 4.1-liter powerplant that offered 135 horsepower. An optional 5.7 liter provided 105 horsepower and 200 foot-pounds of torque. Both engines were mated to a four-speed automatic with overdrive. Disc brakes were in both the front and back.
By Daniel Vaughan | Oct 2010
Cadillac Biarritz convertible was purchased new in Omaha, NE and is reported to be in excellent condition. In 2013 it was offered for sale at the Barrett-Jackson auction in Scottsdale, Az. where it found new ownership for $4,400 (including buyer's commission).
By Daniel Vaughan | Jan 2013
The Eldorado was a word with many meanings. It was chosen as the name to adore an upscale car that was built by Cadillac to celebrate its Golden Anniversary in 1952. Mary-Ann Zukosky, a secretary in the merchandising department, participated in a in-house competition and suggested the name. Eldorado was derived from the Spanish words 'el dorado' meaning 'golden one'. The name had first been used by the chief of a South American Indian tribe. The story was that his followers and tribe would sprinkle his body with gold dust on ceremonial occasions. He would later cleanse himself by diving into a lake.

Another story states the name represents a legendary but undiscovered city in South America filled with riches. Many European adventurers have long sought for this city including England's Sir Walter Raleigh.

'Palm Spring Life' magazine claimed the name Eldorado was derived from a Californian resort that was frequently visited by General Motors executives. The name of the resort located in Coachella Valley was the Eldorado Country Club.

In respects to the automobile built by General Motors, the Eldorado name was first used in 1953 and given to a limited-edition, low production, convertible and would continue to be used for many years. The original Eldorado was indeed a limited-production vehicle with only 532 examples created. The year prior, GM had shown the 'El Dorado' concept car in celebration of its 50 year anniversary. The Eldorado was the production version of this concept. It was based on the Series 62 and carried no special badging except a golden nameplate 'Eldorado' could be found in the center of the dash.

The convertible tops were available in black or white while the rest of the body could be ordered in one of four colors that included Azure Blue, Artisan Ochre, Alpine White, and Aztec Red. It carried a factory sticker price of $7,750 which was nearly twice as expensive as the vehicle it had been based, the Series 62.

The styling was influenced by the legendary Harley Earl who championed the wraparound windshield design along with other unique and stylish features.

The following year the Eldorado lost much of its unique qualities as it began sharing its body with other standard Cadillac's. This standardization allowed for lower, more cost effective pricing.

For 1955 the Eldorado continued to grow in bold features and radical designs. Tailfins could now be found in the rear giving the impression the car was in motion or pointing forward, even at a stand still. The following year Cadillac introduced the Eldorado Seville, a two-door hardtop coupe version.

One of the most memorable and sought-after designs of the Eldorado appeared in 1957, the Eldorado Brougham. At a price of over $13,000, the Brougham brought ulta-luxury and four doors. Event at this high price, it is estimated that GM lost over $10,000 on each of these hand assembled masterpieces. It cost more than most luxury marque models such as Rolls-Royce. The hardtop roof was stainless steel and it included almost every convenience option offered by General Motors, including dual headlights and air suspension. During its two year production run, only 704 examples were produced.

1957 also saw a new rear-end design on the Eldorado, often referred to as the 'chipmunk cheeks.' Little changed in 1958 and in 1959 Cadillac scaled back on the design. Though it was a couple years older its price remained relatively the same, selling at around $13,075. The assembly was handled by the famous Italian coachbuilder, Pinin Farina. These virtually hand-built machines had large fins, 'rocket-ship' taillights, and a very modern design for its era.

1960 was the last year Cadillac built the Seville version. GM made the Eldorado a trim option on the standard Cadillac convertible which would continue until 1966.

In 1967 the Eldorado was redesigned and now shared an E-Body platform with the Build Riviera and the Oldsmobile Toronado. The styling had been courtesy of GM's styling chief Bill Mitchell. One of the more distinctive features were the hidden lights. It continued to define luxury, prestige, and style. Under the hood lurked a potent 429 cubic-inch V8 which drove the front wheels. Zero-to-sixty took less than 9 seconds. This excellent performance did not translate to all of its mechanical components and its drum brakes were rather inadequate for its size and speed. Disc brakes could be purchased for an additional price.

Strict government regulations, emissions, and safety concerns meant the Eldorado changed slightly in aesthetics and mechanical components for 1968. For 1969 the hidden headlights were no longer part of the Eldorado design. A halo vinyl roof was offered as optional equipment.

A massive 500 cubic-inch V8 engine capable of producing 400 horsepower was offered exclusively on the Eldorado from 1970 through 1975. Thereafter, it was standard on all full size Cadillac's.

GM redesigned their full-size cars in 1971, with the new design lasting until 1975. The Eldorado was again offered as a convertible with fender skirts. The opera window design was all new and would prove to be very popular, indicated by its imitation by almost every domestic manufacturer. The opera window was a fixed rear side window surrounded by a vinyl roof.

Near the close of the 1970's many marques were decreasing the size of their cars. The Eldorado and Toronado continued to remain large and luxurious. In 1979 the Eldorado decreased in size and now sat atop a chassis which it shared with the Buick Riviera and the Toronado. Due to increasing oil prices and stricter government regulations, the engines began to decrease in size as well.

The notchback roofline was perhaps the most distinctive feature on the Eldorado. Its rear window was nearly vertical. An Independent rear suspension could now be found on the Eldorado, offering more rear passenger seating and a larger trunk while retaining a smaller body. The Eldorado Biarritz model was offered with a stainless-steel roof, just like the one that had been used on the first Brougham.

To further comply with evolving government regulations and rising fuel concerns, GM introduced a variable displacement engine in 1981. The idea was to turn off inactive cylinders while not in use. When power was needed, those sleeping cylinders would come alive and provide the power that was need. The idea was genius, but the execution was disastrous. On many occasions, it did not work well or at all which did much to scare the reputation of the Eldorado resulting in poor sales. Within the next few years, the sales rebound and the Eldorado was able to regain its market share.

By 1986, the size of the Eldorado had decreased substantially, now being similar in size to a compact car. The design was mediocre and for the first time in its history it was available with sedan frames around its windows. Many believed that this drastic change was due to fears of skyrocketing fuel prices that would send consumers running to smaller, lighter, and fuel efficient vehicles. Rather, fuel prices remained reasonable and the Eldorado sales plummeted. There were future revisions and aesthetic changes but sales continued to slow for the following years.

In 1992 the Cadillac Eldorado was reborn. Though it did not grow much in size it gained much ground in the styling department. Its design drew from its past and incorporated the frameless window glass that was distinctive to the Eldorado. The Northstar V8 was placed under the hood and provided excellent power and response. The styling and power resulted in increased sales and popularity. Though the four-door Cadillac Seville consistently outsold the two-door Eldorado, it had regained much of its prestige that it had lost.

For the following years, there were minor enhancements to the design and the interior.

In 2003, Cadillac celebrated the 50th model year of this nameplate. An ETC version was offered that produced an astonishing 300 horsepower. A limited number of red and white colored cars, the same as the 1953 convertible, were produced as a tribute to the legacy of the Eldorado.

On April 22, 2002, production of the Eldorado ceased.
By Daniel Vaughan | May 2006
For more information and related vehicles, click
here
Elio Motors to Make Appearance at Barrett-Jackson
• Automotive company expects to inform and impress auction attendees
TROY, Mich., Jan. 15, 2014 – Start up transportation company Elio Motors will attend the Barrett-Jackson Collector Car Auction in Scottsdale, AZ from Jan. 12 to Jan. 19 to showcase their 84 mpg, three-wheel vehicle. The Elio booth will be located in the Sponsor Pavilion of the internationally distinguished and widely popular auction, which caters to car owners and automotive enthusiasts with the sale of automo...[Read more...]
BARRETT-JACKSON SELECT COLLECTION TO DEBUT IN LAS VEGAS
• Six Rare and Sought-after Vehicles Will Cross the Block at Company's Las Vegas Auction on September 26-28, 2013
LAS VEGAS (September 24, 2013) – Barrett-Jackson, The World's Greatest Collector Car Auctions™, announced today that it will debut the Barrett-Jackson Select Collection at the company's Las Vegas auction, September 26-28, 2013 at the Mandalay Bay Resort & Casino. Featuring a boutique offering of sports cars and pre-war classics, these rare vehicles have the pote...[Read more...]
Gooding & Company's 2013 Scottsdale Auctions Realize $52.5 Million, up 31% from 2012
• Gooding & Company breaks an Arizona auction week record selling the 1958 Ferrari 250 GT LWB California Spider for $8.25 million
• Seven cars sell above the $2 million mark and 12 cars sell above $1 million
• Sixteen World Records Realized for Best-of-Category Cars Sold
SCOTTSDALE, Az. (January 20, 2013) —Gooding & Company, the auction house acclaimed for selling the world's most significant and valuable collector cars, realized $52.5 million at its annual Scottsd...[Read more...]
Russo and Steele Smashes World Record in Monterey
1956 Alfa Romeo Sprint Veloce Coupe 'Ultra Light' Breaks the World Record When Sold in Monterey, CA Monterey car week was buzzing when Russo and Steele opened its gates and allowed car enthusiasts into its venue for the first time this August 16-18, 2012. The venue was everything Russo and Steele had promised and more with staging lanes, lifestyle vendors, live entertainment and the perfect setting to view classic cars in Monterey, CA. To kick off the Saturday night auction Russo a...[Read more...]
Blue-Chip Collectible 1965 Shelby GT350 'R' Goes to Auction
Carrying the number of the last 'R' model GT-350 for 1965, its excellent preservation during its years in storage, bulletproof documentation and a top-tier sympathetic restoration this automobile is without peer. In January of 1965, the first batch of 1965 Shelby GT350 models was completed to comply with homologation requirements. One of these cars, a Wimbledon White Mustang with the Ford VlN 5RO9K165905, was assigned the Shelby VIN SFM5021 (Shelby American would not employ an 'S' to d...[Read more...]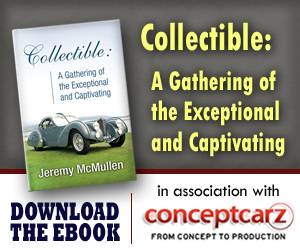 Cadillac
Monthly Sales Figures
Volume
September 2014
13,829
August 2014
16,650
July 2014
15,241
June 2014
13,941
May 2014
14,688
April 2014
13,900
March 2014
14,765
February 2014
13,437
January 2014
11,386
December 2013
18,165
November 2013
16,172
October 2013
14,792
(More Details)
© 1998-2014. All rights reserved. The material may not be published, broadcast, rewritten, or redistributed.