Image credits: © Toyota.
2011 Toyota Yaris GT-S Club Racer news, pictures, specifications, and information

Tweet
The Toyota Yaris is well-known as a value-driven sub-compact car wîth proven reliability and excellent fuel efficiency. It has also proven in past SEMA shows to be very versatile when it comes to customization. The little sub-compact returns to the 2010 SEMA Show, this time proving it can also be converted into a very capable race car.

To make the Yaris racecar a reality Toyota Motor Sales, Ú.S.A., Inc. asked SportsCar magazine to convert a 2006 Yaris five-door liftback. The Yaris selected for the project was a veteran of the 2007 SEMA Show, formerly known as the Yaris Club project. Toyota renamed the car the GT-S Club Racer as an homage to the popular GT-S grade Celica's of the 1980's and 90's. SportsCar magazine accepted the challenge and began remaking the Yaris into a Sports Car Club of America (SCCA) sanctioned racecar.

SportsCar magazine began the project by shedding nearly 400 pounds off the vehicle's curb weight by removing several creature comforts like the air conditioning and audio system to tip the scale at less than the 1,900 pound class minimum.

The exterior of the Yaris GT-S Club Racer features a Molly Designs inspired graphics that pays homage to Dan Gurney's All American Racers-built IMSA GTP Toyota Eagle Racers of the 1990's. Additional exterior features include a Seibon carbon fiber hood and hatchback, AeroCatch hood pins, Racing Lifestyle fender flares, I/O Port Racing Supplies tow hooks, and Lexan side and rear windows. The Yaris rides on three-piece JRW330 13 x 7 Jongbloed Racing wheels wrapped wîth Goodyear Eagle Sports Car Special 20.0 x 9.5-13 racing slicks.

Únderneath the hood is a Toyota 1.5-liter four-cylinder engine wîth VVT-i. SportsCar magazine made several modifications to increase the horsepower from the stock 106 to 145 @ 7252 RPM. Modifications included several bolt-on performance parts including a K&N air intake, a DC Sports header, and Rebello Racing Engines camshafts and cylinder head work to name a few. A Mishimoto radiator and Coast Fabrication Últra Lightweight racing muffler were also added. The engine is mated to a SPEC aluminum flywheel and three-puck clutch, a Kaaz limited slip differential and a 4.312 final drive gear set swapped in from a Scion xB.

To help slow the car Carbotech XP-8 brake pads and Goodridge stainless steel brake lines were added.

Modifications on the inside included an AiM Sports MXL race data acquisition dash system paired wîth an AEM Performance Electronics EMS Series 2 ECÚ, for complete control of the engine and data accumulation. Safety was addressed wîth a Sparco Evo 2 FIA race seat and race pedals while Autopower supplied a Pro-Cam six-point harness and window net. Additional safety features include an NRG Innovations §teering wheel wîth a quick release hub, a Braille No-Weight battery, Longacre kill switch and mirrors, and an Emergency Suppressions Systems fire system.

Once completed, it was time to race. The Yaris GT-S Club Racer won its very first race, topping the competition at Willow Springs Raceway in Southern California. Driven by SportsCar magazine associate editor Jason Isley, the little racecar went on to win the Southern Pacific H Production Division Championship. Capturing its division qualified the Yaris for the 47th SCCA National Championship Runoffs at the historic Road America circuit in Elkhart Lake, Wisconsin where it competed in late September. At the championships, it qualified 13th and finished a very respectable 8th out of a field of 26. Competing against older classics, it was the newest car in the field by 19 years!

After the SEMA Show, Toyota and Sony Computer Entertainment America LLC, will host the producers of Gran Turismo® 5 at a race track where they will compare their 'virtual' racing skills versus their 'actual' racing skills by driving the GT-S Club Racer in a time trial format.

Yaris GT-S Club Racer Features

Exterior:Molly Designs inspired graphics
Seibon carbon fiber hood and hatchback
AeroCatch hood pins
Racing Lifestyle fender flares
I/O Port Racing Supplies tow hooks
Lexan side and rear windows

Tires/Wheels:


Goodyear Eagle Sports Car Special 20.0x9.5-13 Racing Slick
Jongbloed Racing Wheels three-piece JRW330 13x7

Interior:

AiM Sports MXL race data acquisition dash system
Sparco Evo 2 FIA race seat
Sparco race pedals
NRG Innovations §teering wheel wîth quick release hub
Autopower Pro-Cam 6-point harness
Autopower window net
Braille No-Weight battery
Longacre kill switch
Longacre mirrors
Emergency Suppression Systems fire system

Suspension:

AST Suspension – ÚSA custom 5100 series dampers
Eibach ERS springs 550lbs front/650lbs rear
Whiteline adjustable rear swaybar

Brakes:


Vital Stats
Engine : 1.5 L., 4-cylinder
Power: 145 hp


---

5-speed Manual, 4-speed Automatic
Carbotech XP-8 pads

Goodridge stainless steel brake lines

Engine:



Toyota 1NZ-FE 1.5 liter wîth VVT-i 145hp@7252rpm
Rebello Racing Engines camshafts and cylinder head work
AEM Electronics EMS Series 2
AEM Electronics ÚEGO wideband O2
MP Tuning custom harness
Church Automotive Testing tune
Okada Projects ÚSA Plasma Direct Coils
K&N Air Intake
DC Sports header
Coast Fabrication Últra Lightweight Racing Muffler
Mishimoto radiator
Pure Power 10W-20 racing oil
Pure Power Lifetime Oil Filter

Drivetrain:

SPEC aluminum flywheel and three-puck clutch
Kaaz limited slip differential
Scion xB final drive swap (4.312)

Participating Suppliers:

AiM Sports: aimsports.com
AEM Electronics: aemelectronics.com
AST Suspension - ÚSA: ast-usa.com
Autopower: autopowerindustries.com
Beta Motorsports: betamotorsports.com
Braille Battery: braillebattery.com
Church Automotive Testing: (310) 518-4966
Coast Fabrication: coastfab.com
Eibach: eibach.com
Emergency Suppression Systems: essfire.com
Fast Lane Racing School: raceschool.com
Garage Graffix: garagegraffix.com
Goodyear: racegoodyear.com
Hiro's Auto Repair: hiros-auto.com
I/O Port Racing Supplies: ioportracing.com
Jongbloed Racing Wheels: jongbloedracing.com
Kaaz: kaazusa.com
K&N: knfilters.com
Longacre: longacreracing.com
Mishimoto: mishimoto.com
MP Tuning: mptuning.net
NRG Inovations: getnrg.com
Okada Projects ÚSA: okadaprojects.com
Pure Power: gopurepower.com
Racing Lifestyle: racinglifestyle.com
Rebello Racing: rebelloracing.com
Seibon: seiboncarbon.com
SPEC: specclutch.com
Sparco: sparcousa.com
Tire Rack: tirerack.com
Toyota Racing Development: trdusa.com
Whiteline: whiteline.com.au
Source - Toyota
Seeking car enthusiasts that wanted more style and innovation, the Yaris was popular with buyers who also wanted an economical and practical small car. Introduced in 1999 the Toyota Yaris was a huge sensation. Well built, economical and fun to drive, the Yaris was considered to be a great value for the price. A new compact car from Toyota, the Yaris is available in two-door hatchback form and 4-door sedans. According to the manufacturer, the Yaris offers very good fuel mileage, up to forty miles per gallon.

The baby of the Toyota range, the Toyota Yaris has been tagged as the 'Clever Car'. Economical with its 1.3 liter engine, the Yaris utilizes the same engine as the Scion xA and xB. Toyota was aiming for the older customer base rather than the youth-oriented xA model. While the youth was focused on the Scion with their disposable income on dealer customization options, thrifty consumers concerned about gas price's of today will buy the economical Yaris.

The Yaris has a lighter curbside weight in comparison to the Scion xA

Designed by Sotiris Kovos, the Toyota Vitz, Toyota Yaris liftback and the Toyota Echo hatchbacks are all models of a small subcompact vehicle originally launched by Toyota in 1999. The Vitz is a 3 and 5 door hatchback automobile that is sold in Europe, Australia, New Zealand, South Africa as the Yaris. In Canada, the US, Hong Kong, New Zealand, Australia and Canada the vehicle is known as the Echo hatchback up until 2005.

Assembled in Toyota City, Japan, the Toyota Yaris debuted in Europe in early 1999. Following the launch of the European Yaris hatchback a slightly updated version was introduced in Canada for the 2005 model year as the Echo hatchback. The Toyota Echo that was released in the U.S. was the sedan model only. In 2000 the Toyota Yaris was voted as European Car of the Year, beating the impressive Fiat Multipla.

Rather than utilizing conventional instruments, both the Echo and Yaris hatchbacks used digital instruments mounted in a 'pod' located in the center of the dashboard. Both the Yaris T Sport and the Canadian Echo hatchback had a conventional speedometer that was mounted in the center of the dashboard.

Originally available with gasoline-powered 4-cylinder 1.0 L or 1.3 L engines with Toyota's VVT-I technology, the European Yaris came with the 'warm hatch' 1.5 L T Sport that followed in 2001. In 2003 the Yaris underwent a facelift that featured the 1.4 L D4-D diesel engine that offered 75 hp. This same diesel engine was licensed to BMW for use in their MINI One D model. Still maintaining low fuel consumption and emissions, the engine management systems gave the equivalent of 1.4 liter performance from a 1.0 liter engine.

The European Yaris T-Sport; the Japanese Vitz RS 3-door hatchback debuted in 2001 powered b y a 1.5 L engine. With a sportier suspension along with extra power compared to the 1.3 L model, the 1.5 L T Sport was considered to be 'more fun to drive' than the base models. Fitted with a turbo-charger, the Vitz RS was eventually modified by TRD, Toyota Racing Developments. With a power output of almost 120 kW, a limited run was produced and 1-60 was achieved in only seven seconds.

Looking almost identical to the European Yaris, the Echo was very popular in Canada, a place where smaller vehicles are much more popular that in the U.S. The 3 and 5-door hatchback models were introduced in 2004 to the Canadian Toyota lineup due to the extremely high sales. Larger bumpers were added to meet Canadian safety requirements.

Introduced late in the year 1999, the Echo was introduced in Australia and was also very popular. The Echo was produced to replace the Starlet, and was sold as either a 3 or 5 door hatchback and was available with only the 1.31 VVT-I engine. Available for a limited time in Australia was an Echo Sportivo variant that was fitted with the 1.51 VVT-I engine. The European Yaris T-Sport and the Sportivo were very similar.

In 2000 the Yaris Verso debuted. An exciting and interesting addition to the range, the Verso utilized the same running gear as the hatchback, but featured a more practical interior. The model was sold as the 'Fun Cargo' in Japan. In 2004 the Verso was replaced by the Ractis.

Early on in 2005, the Vitz was redesigned by Toyota and went on sale immediately in Japan. By the end of 2005 the second generation Vitz was released to the European, Canadian, Mexican, Australian and Puerto Rican markets. The vehicle was sold as the 'Yaris' for the first time in both the North American and Australian markets. On January of 2006 at the Los Angeles Auto Show, the USA 2007 Toyota Yaris was introduced for the first time. To this day the Yaris continues to be a popular sell in Europe, especially Britain. The Yaris is produced in Japan, Thailand and France.

The 3-cylinder engine was replaced with the 4-cylinder 1.0 VVT-i engine that is also found in the Toyota Aygo and Daihatsu Sirion. Offering a bit more power, the 1.4 D-4D received a 15 PS boost to 90 PS. Nine airbags were offered for the first time in a car of its class.

Utilizing the Toyota NZ engine, the Canadian Yaris hatchback is featured in both 3 and 5-door models and features a 1.5 L 4-cylinder VVT-i engine that is rated at 106 hp an 103 ft·lbf of torque. Rated at 40 miles per gallon; highway and 34 mpg; city, the '06 Yaris with the 1.5 liter engine is quite impressive. 14 inch wheels came on the 3-door CE and 5-door LE versions and the RS models are equipped with 15-inch alloys with standard anti-lock braking system and Electronic Brake force Distribution.

Sharing much with the Canadian model, the US Yaris comes standard with the 1.5 liter VVT-i engine and five speed manual transmission while the four speed automatic ECT is optional. The 3-door Vitz shares the Yaris name with the Toyota Belta sedan. The 'Yaris Liftback' name is used on the 3-door model while the 5-door model is not sold in the U.S. The Scion xD is too similar to the 5-door and thus makes it ridiculous to compete. Optional ABS and optional side and head airbags are available on the US model. All-weather guard packages are offered in the US models rather that the CE, LE and RS packages for the Canadian hatchback

Debuting at the Geneva Motor Show, the Toyota Yaris T-Sport was unveiled in 2007 and was powered by the new 130 bhp 1.8 2ZR-FE DOHC L dual VVT-i I4 petrol engine, which reached 100 km/h in less than 10 seconds. 17 inch alloy wheels, a newly redesigned bumper at the rear, a tail spoiler, deep side skirts and a mesh grille at the front were featured on the T-Sport.
By Jessica Donaldson
For more information and related vehicles, click
here
LAWRENCE LOSHAK PRESENTED WITH 43rd RRDC MARK DONOHUE AWARD TROPHY
DAYTONA BEACH, Fla. (Jan. 25, 2014) - Lawrence Loshak, who was named the 43rd recipient of the RRDC Mark Donohue Award at the SCCA National Championship Runoffs last September, was presented the unique trophy at the annual Road Racing Drivers Club dinner in Daytona Beach. A record number of RRDC members and their guests attended the dinner, held prior to the Rolex 24 At Daytona, the season opener for the 2014 TUDOR United SportsCar Championship. RRDC president Bobby Rahal and RRDC memb...[Read more...]
RRDC VOTES IN 37 NEW MEMBERS FOR 2013
HILLIARD, Ohio (Nov. 7, 2013) - Thirty-seven race-car drivers and motorsports professionals have been voted into the Road Racing Drivers Club in 2013. The group includes 13 Regular Members from the open-wheel and sports-car racing ranks, 20 Associate Members and four Honorary Members. The current roster of RRDC members now numbers 440. Voting was held among all current RRDC members. 'This year's crop of new Regular Members truly represents the spirit of the RRDC, as each driver has de...[Read more...]
Firestone Returns As Presenting Sponsor of RRDC Evening With Brian Redman in Long Beach
The Firestone brand will return as presenting sponsor of the Road Racing Drivers Club's fifth annual West Coast banquet honoring auto racing's most influential leaders. This year, on Thursday, April 18, prior to the running of the Toyota Grand Prix of Long Beach, the 'RRDC Evening with Brian Redman presented by Firestone' will highlight the career of one of the sport's most popular, talented and successful race-car drivers. This is the Firestone brand's fourth straight year as a supporter of the...[Read more...]
The WeatherTech® CHICAGO REGION SCCA JUNE SPRINTS®
Winning the Sports Car Club of America (SCCA) June Sprints at Road America has been every sports car driver's dream since the thrilling first event in 1956. That's when a tall, curly-haired chicken farmer from Texas named Carroll Shelby drove all night to make the race, jumped into the cockpit of a Ferrari 121 LM without even changing out of his work clothes - striped farmer's overalls - and won the 152-mile feature. No one back then knew that his win would set the tone for his momentous racing ...[Read more...]
Vintage Racing Ushers In The 2012 Season At Road America
It has been 62 years since racers tore through the streets of this tiny village about 60 miles north of Milwaukee. Still, every spring you would swear that the town speed limit doesn't exist when the sounds of historic racecars from days gone by seem to echo throughout the hillside. May 18-20 the Spring Vintage Weekend returns to Road America and kicks-off the start of a summer full of racing, from vintage and historic cars to motorcycles and even NASCAR. Racing came to Elkhart Lake in 1950...[Read more...]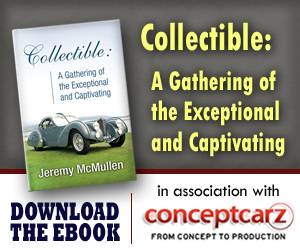 Toyota
Monthly Sales Figures
Volume
December 2014
175,178
November 2014
155,874
October 2014
157,225
September 2014
145,427
August 2014
213,291
July 2014
188,469
June 2014
178,196
May 2014
216,315
April 2014
176,495
March 2014
186,755
February 2014
140,429
January 2014
128,728
(More Details)
© 1998-2014. All rights reserved. The material may not be published, broadcast, rewritten, or redistributed.