1964 Plymouth Belvedere news, pictures, specifications, and information

Tweet
The Belvedere was Plymouth's middle-line car and came in several body styles, including a 2- and 4-door sedan, a hardtop coupe, and a 6- and 9-passenger station wagon. Total production for 1964 was 93,529 units. These cars were available with a Slant Six or V8 engines. Standard equipment including rear armrests, front foam seats, and a cigar lighter.
By Daniel Vaughan | Nov 2010
| | |
| --- | --- |
| | Hardtop Coupe |
Chrysler shocked the NASCAR racing world in 1964 with its 426 cubic-inch HEMI racing engine, a potent new unit that had more horsepower than those of competitors' race cars. At the opening race of the season at Daytona 500, the cars powered with the A864 Race Track Option HEMI proved their potential by dominating practice and qualifying before finishing first, second and third. Richard Petty averaged 154.334 for the distance and set a new race record, despite running under a twenty-minute caution flag.

The A864 Race Track Option Package included:
- Cowl induction air cleaner
- Aluminum high-rise intake with center float bowl carburetor
- Aluminum four-speed with speedometer delete
- Aluminum K-head valve covers with center oil intake tube and two oil breathers per cover
- Close-ratio track 836N steering box
- Deep groove pulleys
- Special cast/tube headers
- Steel bell housing
- Offset oil pan
- Heavy duty brakes/clutch/radiator/rear axle
- Five-on-five hubs used with heavy double-walled race wheels
By Daniel Vaughan | Nov 2010
An American automobile, the Plymouth Belvedere was produced by Plymouth from 1951 through 1970. Unveiled on March 31, 1951, the 1951 Belvedere was first showcased as a two-door pillarless hardtop. The Belvedere was Plymouth's first vehicle of this design and was built to combat Chevrolet's Bel Air. The Bel Air had been introduced in 1950 and was a great success as the first two-door hardtop in the low-priced American market.

Not a separate model, the '51 Belvedere was the top-trim Cranbrook and built on that vehicles 118.5 wheelbase that gave the two-door Belvedere very complimentary proportions. The Belvedere featured the flathead 6-cylinder engine with a displacement of 217.8 in³ (3.6 L), with a compression ratio of 7.00:1 and had output of 97 hp. During its release year, the Plymouth Belvedere sold at $2,114.

For its second year on the market, the Cranbrook Belvedere remained basically unchanged except for the alteration in the color scheme to further distinguish the top-level Belvedere from the other Plymouths. Referred to as the 'saddleback' treatment, the two toning color scheme now flowed from the roof over the beltline onto the trunk. Saddle Bronze over Suede, Black over Mint Green and Gray over Blue were the two tone color schemes available.

On the 1952 Belvedere overdrive was offered as an optional equipment feature. The engine made three revolutions for each rear wheel revolution in overdrive and against four without overdrive. The 1951 engine carried over completely. The price though did jump an additional $100. From 1951 until 1952 the total count of Belvedere's was strong at 51,266 units, a better record than a quarter of Chevy Bel Air and Ford Victoria production for the same period. The Oriflow shock absorber with 'sea-leg' mounting became well known for its contribution to Plymouth's level, comfortable ride.

Through the 1953 model year the Belvedere remained a part of the Cranbrook series, though all Plymouth models underwent a complete redesign for that year. A shorter 114 wheelbase was one of the major updates for the Belvedere along with a one-piece windshield, flush rear fenders, and a lower hood line. Plymouths received the Hy-Drive semi-automatic transmission in April of 1953. Chevrolet had introduced the fully automatic Powerglide transmission in 1950, and Plymouth was attempting to catch up. The engine only received a slight increase to the compression ratio to 7.10:1, which yielded a gross horsepower rating of 100, basically a carryover from the year before. Unfortunately for this year the demand was much lower, and even with the lowered price of $2,132, only 35,185 units were sold for the 1953 model year.

For 1954, the Belvedere replaced the Cranbrook as the top-line offering. Buyers could now choose a convertible, two-door station wagon, four-door sedan or two-door hardtop (now called the Sport Coupe) as the Belvedere was now a separate model rather than just a two-door hardtop. The body design stayed basically same only receiving slight styling updates, while for the first time, small chrome tailfins appeared on the rear fenders. A fully automatic transmission was finally offered by Plymouth in March of 1954, the Chrysler Corp's well-regarded PowerFlite 2-speed. The engine was also new, borrowed from the Dodge Division, a larger standard engine, a 230.2in³ six-cylinder with power now rated at 110 hp. Unfortunately Belvedere production slipped to just 32,492 for the 1954 year.

For the 1955 model year, all Plymouths received a major overhaul that included Belvedere returning as the top-of-the-line model. 1955 was the first year of Chrysler Stylist Virgil Exner's 'Forward Look.'

The following year Plymouth style finally began evolving from those of the 1955 years look. Achieving what no other car manufacturer in the world was doing, Plymouth featured more dramatic rear tailfin treatments along with the addition of the first pushbutton transmission used in American cars. The Fury joined the Belvedere lineup in early 1956 as a special edition high performance model.

'Suddenly, It's 1960!' was the trademark slogan on the banner ad promoting Plymouth in 1957. Introducing a design that was so revolutionary, a new 318in³ V8 with dual four-barrel carburetors was available on all Plymouth models. The Fury was once again included on the Belvedere lineup and the 318in³ V8 engine was the standard engine on this model as well.

For 1958 the Belvedere returned as a top level trim model, while the styling of the newest model was sleek and refined. New quad lights were features, along with 'Golden Commando', a big block 350in³ V8 with dual four-barrel carburetors.

In 1959 the Belvedere lost its place as the middle priced model, and the Plymouth Fury was expanded to become the top model for Plymouth in 1959.

Introduced as Plymouth's 'gentlemen's' hot rod, the Belvedere GTX was introduced in 1967. There have been many performance Plymouths over the years, but it was until 1967 that Plymouth offered one model with all of the necessary performance enhancements as standard, the Belvedere GTX. The GTX offered stylish performance for the very discriminating buyer. Remaining as Plymouth's mid-priced full-size model through 1964, the Belvedere name was applied to Plymouth's new 'mid-size' model. The higher-trimmed Satellite, the muscle car GTX and the budget musclecar Road Runner where the Belvedere-based models in the lineup. The Belvedere name lasted throughout 1970 before all mid-sized models took the Satellite name.

The GTX was based on Plymouth's stylish two-door Belvedere hardtop and convertible though it received a unique grille and tail panel, simulated hood schools, and 'pit stop' chrome gas cap. Optional features included twin racing stripes. The GTX featured standard six-leaf rear springs, heavy-duty socks, ball joints and torsion bars. Another optional feature was disc brakes. The interior of the GTX was considered to be completely luxurious with bucket seats, plenty of brightwork and embossed vinyl.

Inside the GTX was the impressive 440 cid V8 engine that was rated at 375 bhp standard. Typically this engine was reserved for Chrysler's big cars, but was tuned for more high-repm performance with a revised camshaft and valve train along with free-flowing intake and exhaust systems. One could choose to add the MOPAR's 426 Hemi that was rated at 425 bhp as an optional feature. During its release, only 720 buyers purchased the Hemi at its cost of an additional $546. The Hemi was truly dominant on the drag strip though the 440 could maintain the Hemi's speed up to 70 mph. MOPAR's three-speed automatic transmission was the standard transmission, while a four speed manual was optional and included a larger ring gear, double-breaker distributor, free wheeling fan and an oil-pan windage tray.

For those looking for even more power and performance, Plymouth offered a R023 version of the Hemi GTX. This model was called the 'Super Stock' version and was not marketed by Plymouth. The R023 didn't have hubcaps, radio, body insulation, heater or even carpet pad and sealers. The R023 kept the same 426 Hemi engine, hand modified for performance that was rated at the same 425 as the normal Hemi. Only 55 R023 models were ever produced, making it quite rare today.

The GTX was moved upscale in 1968 when the Plymouth Road Runner joined the lineup. Both models shared the same redesigned Belvedere platform. The GTX received a different non-functional hood vents, revised taillights and a new grille. The GTX was available as either a two door hardtop or convertible, while the Road Runner was only available as a pillared coupe. The GTX came with the 440 V8 as a standard feature while both models carried the impressive 426 Hemi as the only engine option.
By Jessica Donaldson
For more information and related vehicles, click
here
'NEED FOR SPEED' DIRECTOR BEHIND NEW FORD MUSTANG AD; CALLS MUSTANG A PERFECT FIT FOR HERO CAR MOVIE ROLE
◾Co-branded ad for 'Need for Speed' and all-new 2015 Ford Mustang directed by Waugh debuts this weekend on TV and in theaters ◾'Need for Speed' director Scott Waugh calls Ford Mustang an ideal action movie hero car because of its power, rear-wheel drive and agile handling ◾Audiences are invited to share stories of where they would go in a Mustang at www.Ford.com/inamustang – the best stories will be made into short films To Scott Waugh, few cars epitomize action movie hero car better than F...[Read more...]
Indy 500 Champion Al Unser, Jr. as the 2013 Grand Marshal
The 18th Annual Keels & Wheels Concours d'Elegance, benefiting The Boys & Girls Harbor, announced that two-time Indy winner Al Unser, Jr. will serve as the 2013 Grand Marshal. Unser will be on the grounds throughout the weekend of May 4-5, 2013 at the Lakewood Yacht Club in Seabrook, TX meeting participants and visitors, signing autographs, and participating in the awards programs. Unser has accumulated a tremendous record of success as a race car driver throughout the last 30 years. Continu...[Read more...]
RICHARD PETTY DEDICATES MUSCLE CARS FOREVER STAMPS
Raw power gets a stamp of its own today as seven-time NASCAR National Champion Richard Petty helps dedicate the America on the Move: Muscle Cars Forever stamps. Petty, his son Kyle and Postmaster General Patrick Donahoe will dedicate the limited-edition stamps at the Daytona International Speedway where 'The King' won a record seven Daytona 500 Championships. Typically equipped with big, powerful engines, these high-performance vehicles began roaring across America in the 1960s. The limite...[Read more...]
Limited-Edition Ford Racing History Artwork Unveiled at SEMA; Limited-Edition Print Sales to Benefit JDRF
•Special limited-edition Ford Racing history artwork is unveiled at the annual SEMA show as part of the Ford press conference •Famed automotive artist Sam Bass created the artwork at the request of Edsel B. Ford II, with proceeds from sales of limited-edition autographed prints benefiting JDRF •Drivers and Ford race vehicles featured on the special artwork include Henry Ford (Sweepstakes), Trevor Bayne (No. 21 Fusion), Dan Gurney/A.J. Foyt (Ford Mark IV), Bob Glidden (NHRA Thunderbird), Jack...[Read more...]
NASCAR STAR TREVOR BAYNE USES NEW FUSION ECOBOOST TECHNOLOGY TO TOP TEAMMATES BY NEARLY POSTING 50 MPG
•New 2013 Fusion with 1.6-liter EcoBoost® engine and Auto Start-Stop fuel-saving technology is designed to achieve 37 mpg on the highway •NASCAR star Trevor Bayne reaches nearly 50 mpg - the type of efficiency generally reserved for hybrids and small cars - to win Ford's Fusion EcoBoost NASCAR Miles Per Gallon Challenge •Bayne outdueled NASCAR superstars and teammates Greg Biffle, Carl Edwards and Matt Kenseth by achieving 46.9 mpg at Ford's Dearborn, Mich. test track, thanks in part to clev...[Read more...]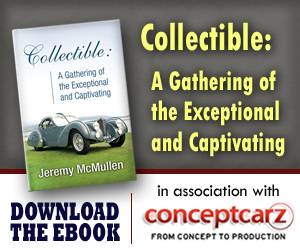 Similarly Priced Vehicles from 1964
Ford Mustang ($2,368-$2,612)
Mercury Comet ($2,125-$2,660)
MG B ($2,660-$2,660)
Chevrolet Corvair Series ($2,020-$2,800)
Volkswagen Karmann-Ghia ($2,300-$2,500)
Dodge Polara ($2,610-$2,980)

Average Auction Sale: $47,983
© 1998-2014. All rights reserved. The material may not be published, broadcast, rewritten, or redistributed.