1905 Buick Model C news, pictures, specifications, and information

Tweet
There were 750 example of the Buick Model C which accounted for Buicks total calendar year production. It was nearly identical to the Model B of 1904 and was available as a five-passenger tourer. It was priced at $1200 and rested on an 87-inch wheelbase. Powering the vehicle was an overhead valve engine that displaced 159 cubic-inches and produced 22 horsepower. There was a two-speed planetary gearbox with a cone clutch and chain drive. Braking was by mechanical brakes on two wheels.

David Buicks, a Michigan inventor, built a successful company by building powerful and reliable engines. Sadly, Buick's lack of business acumen brought him together with Durant and local bankers in an effort that saved the Buick brand. At the New York Auto Show in 1905, Durant accepted orders for more than 1,100 cars.
By Daniel Vaughan | Nov 2010
The foundation of the Buick automobile was laid in 1904 with the introduction of the successful two-cylinder, single chain drive model. This design would continue with few basic changes through 1910. Designated the model B in 1904, 37 cars were built during that first year of production. Today, there are no known surviving 1904 Buicks.

In 1905, Buick would only produce the Model C, which really was a virtual carbon copy of the Model B. By year end, a total of 750 Model C Buicks would be built. This example is one of only 14 known to exist today.

It is powered by a two-cylinder opposed engine with a bore and stroke of 4.5 x 5, displacing 159 cubic-inches and developing 22 horsepower.

This example new cost $1,200 and that price included two oil side lamps, tail lamp, horn and tool kit.
By Daniel Vaughan | Mar 2011
LEXUS NX MAKES SURPRISE DEBUT IN NYC TODAY
The all-new Lexus NX crossover was revealed at the 2014 New York International Automobile Show today. The new model is the brand's first entry into the luxury compact crossover segment and is the first turbo in the lineup. The sharply styled NX will be offered in naturally aspirated and hybrid powertrains. The U.S. market will offer the NX 200t turbo and NX 300h hybrid. The NX 200t F SPORT will also be available with unique exterior and interior features. Both models are on display at the N...[Read more...]
McLAREN AUTOMOTIVE ANNOUNCES NORTH AMERICAN PRICING AHEAD OF NEW YORK AUTO SHOW DEBUT
◾New McLaren 650S Coupé and Spider now available in North America ◾US pricing for 650S Coupé starts at USD $265,500 and USD $280,225 for the 650S Spider ◾Canadian pricing for 650S Coupé and Spider is CAD $287,000 and CAD $305,500 respectively ◾McLaren 650S to make US debut during the 2014 New York Auto Show Following the global debut at the Geneva Auto Show, the McLaren 650S Coupé and 650S Spider are now on sale in the US and Canada across all 15 retail locations (13 in the US, two in Cana...[Read more...]
ALFA CHOOSES NEW YORK AUTO SHOW FOR BRAND'S U.S. RETURN
Alfa Romeo will mark its North American return at the 2014 New York International Auto Show with the highly anticipated and high-performance Alfa Romeo 4C. Coming soon, the all-new Alfa Romeo 4C delivers an exotic mid-engine design inspired by the brand's legendary racing history. State-of-the-art carbon fiber monocoque, a turbocharged engine influenced by Formula 1, and advanced technological solutions combine to deliver supercar-level performance and driving exhilaration. 'With mor...[Read more...]
Final Countdown Underway to RM's Michigan Sale
RM Auctions, the official auction house of the Concours d'Elegance of America, has secured a wonderful selection of classic automobiles for its St. John's sale, July 28, in Plymouth, Michigan. Hosted on the beautiful grounds of the Inn at St. John's, the single-day sale is a mainstay on the auction concours circuit and boasts a reputation for including exceptional American classics. The upcoming sale, featuring more than 70 quality collector cars, presents nearly a century of American and Eu...[Read more...]
2014 Impala Focuses on Crash Avoidance From All Angles
The all-new 2014 Chevrolet Impala is the latest addition to Chevrolet's passenger car lineup and provides first-ever safety technologies for the global brand. Unveiled earlier this year at the New York Auto Show, the Impala leads the full-size segment with 10 standard air bags and boasts numerous active safety systems. While passive safety systems, such as air bags and seat belts, protect occupants in the event of a crash, active safety systems are designed to prevent a crash in the first pl...[Read more...]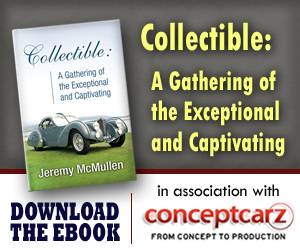 Buick
Monthly Sales Figures
Volume
July 2014
17,683
June 2014
21,403
May 2014
19,957
April 2014
19,214
March 2014
20,428
February 2014
19,192
January 2014
13,278
December 2013
15,379
November 2013
15,072
October 2013
17,555
September 2013
15,623
August 2013
24,650
(More Details)
© 1998-2014. All rights reserved. The material may not be published, broadcast, rewritten, or redistributed.