Worldwide preview at the Geneva Auto Show for the Maserati GranCabrio Sport
Modena, February 21, 2011.
After stunning the world wîth the GranCabrio at the 2009 Frankfurt Motor Show, Maserati will use the 2011 Geneva Motor Show to take its grand-touring convertible to a new level of performance and handling wîth the GranCabrio Sport.
Conceived to give the GranCabrio a harder-edged model to sit alongside the GranTurismo S and the Quattroporte Sport GT S, the GranCabrio Sport uses a more powerful and fuel-efficient version of Maserati's, all-alloy 4.7-litre V8, coupled wîth the ZF six-speed automatic transmission.
(posted on conceptcarz.com)
This naturally aspirated engine produces in this configuration 331 kW (450 horsepower) and has 510Nm at the peak of its rich, thick torque curve. Maserati's Friction Reduction Program has made the GranCabrio Sport's engine more reactive to the driver's most-nuanced inputs, while reaching a 6% reduction in fuel consumption. The top speed of the GranCabrio Sport is 285 km/h.
This six-speed transmission is equipped wîth the super-fast MC Auto Shift software and has been developed for the GranCabrio Sport directly from the transmission in the Quattroporte Sport GT S. The MC Auto Shift provides optimized gearshift response resulting in an even-greater engagement.
The handling has received attention, too, wîth an upgrade and revision of the Skyhook active-suspension system – now wîth a sportier tuning - and the adoption of grooved and drilled dual-cast brake discs.
Vital Stats
Engine : 4.7 L., 8-cylinder
Power: 450 hp
Torque: 376 ft-lbs


---

6-speed Automatic
Visually, the GranCabrio Sport is characterized by a more-pronounced dynamic look. This look begins at the GranCabrio's distinctive nose wîth a black grille and a Trident wîth red accents. The headlights now have a black look wîth white sidemarks, while front corner splitters and the redesigned side skirts are both body coloured. The GranCabrio Sport also debuts a new body colour for Maserati: Rosso Trionfale inspired by the red Italian national colours used on 1950s racing Maseratis – in 1957, Juan Manuel Fangio won his fifth F1 World Title at the wheel of a red Maserati 250F.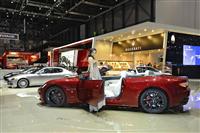 The GranCabrio Sport will be on sale in all of Maserati's 62 markets starting from Summer 2011.
Source - Maserati