1952 Fiat 500 news, pictures, specifications, and information

Tweet
The inexpensive 'Cinquecento' was a massed-produced vehicle that was fitted with several innovative mechanical features, courtesy of long-time Fiat engineer, Dante Giacosa. The Topolino has an independent front suspension, four-speed transmission with 3rd and 4th gear synchromesh and hydraulic brakes. Top speed was in the neighborhood of 56 mph. After World War II, the 500B was given an overhead valve engine, and a more modern front end came with 1949's 500C models. The 500C was available as a two-door coupe as well as a coupe with a full sunroof called the 'cabriolet' and a three-door station wagon. The first wagon, a 500B, was called the 'Giardiniera' and was a traditional Woodie. In 1951, it was joined by the all-steel Belvedere.

This Belvedere model with chassis number 440902, was imported to the United States in the 1970s. It is powered by a 569cc four-cylinder overhead valve engine fitted with 2-barrel Weber carburetors. The 16.5 horsepower produced by the engine is sent to the rear wheels via a four-speed manual transmission. There are four-wheel drum brakes and a live-rear axle suspension.

In 2011, the car was offered for sale at the Gooding & Company auction in Scottsdale, Arizona. The car was estimated to sell for $25,000 - $35,000 and offered without reserve. As bidding came to a close, the car had been sold for the sum of $45,100 including buyer's premium.
By Daniel Vaughan | Mar 2011
The Fiat Topolino was produced from 1937 through 1955 with nearly 520,000 constructed. The name 'Topolino' was chosen in honor of Mickey Mouse - the name 'Topolino' means 'little mouse.'

The Fiat Company, Fabbrica italiana Automobili Torio, began in 1899 and formed by Giovanni Agnelli. Very early on, the company merged with Ceirano, a bicycle-maker who had switched to auto production. The first Fiat automobile was built by designer Aristide Faccioli and powered by a horizontal twin-cylinder engine that produced 3 horsepower. The company continued with modest success throughout the years. By the 1930s, the prosperity of the company had increased and entered into a whole new realm of popularity. A contest was arranged by Chairman Agnelli who challenged all to create a design for a new small car that could be a suitable rival for the Porsche 'People's Car.' Oreste Lardone, Fiat's chief designer, produced an example that was powered by an air-cooled engine. On its first test drive, the vehicle caught on fire. Agnelli had been onboard during the fire and upon exiting from the car, dismissed Lardone. Dante Giacosa was given the position and produced designs for what would become known as the Fiat 500.

There were three models produced during its production lifespan. All brought with them minor mechanical and cosmetic improvements over their predecessor. In 1955 the Fiat 500 was replaced by the rear-wheel drive Fiat 600 and became the basis for the next generation of the Fiat 500, the 500 Nuova.
By Daniel Vaughan | Feb 2007
For more information and related vehicles, click
here
FIRST RETAIL UNIT 2015 FORD MUSTANG GT FASTBACK SELLS FOR $300,000 AT BARRETT-JACKSON AUCTION IN SCOTTSDALE
◾The first retail unit 2015 Ford Mustang GT Fastback sold for $300,000 with proceeds benefiting JDRF, the leading diabetes research organization ◾With this sale, Ford has increased its JDRF charity car vehicle sales to more than $3.5 million ◾The winning bidder will personalize their new car with available 2015 Mustang GT options ◾Shelby GT500-inspired, 1956 Ford F-100 pulled in $450,000 for the Children's Hospital of Saskatchewan in Canada. KISS bassist and Rock and Roll Hall of Fame inducte...[Read more...]
Car Expert Hans Wurl Joins Gooding & Company's Team of Classic Automobile Specialists
SANTA MONICA, Calif. (December 9, 2013) – Gooding & Company, the official auction house of the Pebble Beach Concours d'Elegance®, is expanding its existing team with the addition of Hans Wurl, a well-known classic car specialist with a strong technical background. Wurl has served as advisor to noted collectors and participated in some of the best collector car events around the world. Based in Seattle, Wurl joins Gooding & Company's team of respected automotive specialists David Brynan,...[Read more...]
Extremely Significant, Early Shelby Cobra Roadster an Exceptional and Early Headline Consignment to Russo and Steele's Upcoming Monterey Auction
Scottsdale, Arizona – With his AC Ace-derived, Ford-powered Cobra, Carroll Shelby and his racing team spearheaded Ford's 'Total Performance' campaign of the 1960s on the world stage and ended Ferrari's dominance of the World Sportscar Championship for GT cars by 1965. This stellar example, CSX2012, is particularly significant as the first Cobra sold to the public from Shelby American's West Coast operations in Venice, California. With highly documented and fascinating history including its...[Read more...]
Barrett-Jackson Flavors Its January Scottsdale Auction With NASCAR Treats
• RACING HERITAGE, HIGH PERFORMANCE ARE RECIPES FOR CAR-COLLECTING FEAST
• SPEED™ SET FOR 39 HOURS of LIVE COVERAGE STARTING JAN. 15
The great Henry Ford once said, 'Auto racing began five minutes after the second car was built.' And for more than 60 years, there are few entities that better represent auto racing in America than NASCAR. From the hallowed grounds of Daytona International Speedway, to Sonoma, California's intricate and picturesque road course, the sp...[Read more...]
TOPLINE COLLECTORS PLACE SPOTLIGHT on SPEED'S BARRETT-JACKSON BROADCAST FROM SCOTTSDALE
• TOPLINE COLLECTORS PLACE SPOTLIGHT on SPEED'S BARRETT-JACKSON BROADCAST FROM SCOTTSDALE
• 'LOST' SHELBY DUAL PROTOTYPE, HAGERTY GIVEAWAY & SALON COLLECTION HIGHLIGHT 39 HOURS OF LIVE COVERAGE
The 42nd annual Barrett-Jackson Scottsdale (Ariz.) Collector Car Event, the first of four set for live coverage in 2013, kicks off the auction season in grand style as some of the world's most sought-after machines cross the block starting Tuesday, Jan. 15 at 7 p.m. ET/4 p.m. PT. SP...[Read more...]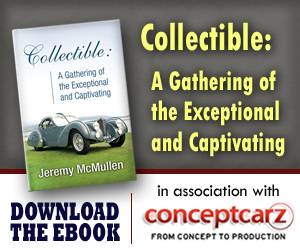 Fiat
Monthly Sales Figures
Volume
July 2014
3,807
June 2014
4,478
May 2014
4,771
April 2014
4,298
March 2014
4,738
February 2014
3,465
January 2014
3,222
December 2013
3,745
November 2013
3,075
October 2013
3,674
September 2013
3,157
August 2013
4,190
(More Details)
© 1998-2014. All rights reserved. The material may not be published, broadcast, rewritten, or redistributed.