Image credits: © Edo Competition.
2011 Edo Competition CCR EVO 817 news, pictures, specifications, and information

Tweet
Koenigsegg CCR Evolution by edo competition
• EVO 817 – gym class

• More power and improved drivability for an extremely rare supercar


When it comes to high quality modifications for supercars, edo competition Motorsport GmbH is one of the most established names in the business. Regardless of make and model, the edo team is always lòòking for ways to refine and optimize. That's also why the owner of a Koenigsegg came to us. Not entirely happy wîth the power of his Swedish exotic and lòòking to improve the drivability as well as the appearance, he tasked edo competition wîth the job of making it happen.


Since the V8 engine is being force-fed by twin superchargers, the main focus was on the setup of the two Rotrex units. With assistance from the manufacturer the drive ratio was modified and the ECÚ was remapped to accommodate the hardware changes. The aim was to increase the power output while maintaining a broad torque curve over the whole rev range. With the new drive ratio the engine hits its torque peak earlier and puts out up to 891 horsepower, depending on the level of tune. In order to ensure long term reliability of the superchargers, the engine redline was lowered to 7,200 rpm.

The transmission wîth its notchy gear changes received an overhaul as well. The six speed gearbox was disassembled in its entirety and the plastic bushings were replaced wîth Úniball units. The final result: full boost pressure from just 3,700 rpm all the way up to 6,000 rpm, reassuringly durable brakes, finely tuned directional stability beyond 300 km/h (186 mph) and a top speed that was reduced slightly from 390 km/h (242 mph) for phenomenal and significantly improved acceleration and drivability.


Vital Stats
Engine : 8-cylinder
Power: 891 hp
Torque: 664 ft-lbs


---

6-speed Manual
Additional changes were made to the design of the vehicle's interior and exterior. The wheels for example underwent a beauty treatment and received a coat of charcoal paint. The updated front wîth auxiliary lights now resembles the later CCR models, and the Alcantara material that was used throughout the Koenigsegg's cabin provides a more luxurious feel. The redesigned center console now accommodates a new infotainment system including a reversing camera as well as a custom-made pouch for the immobilizer remote. For safety reasons a TPM system now informs the driver about tire pressures and temperatures. The display was integrated into the dashboard.
The bottom line: edo competition has succeeded in upgrading this extremely rare exotic wîth fine details without watering down its distinctly unique character. However, the most impressive aspect is still the intense and violent acceleration, which is virtually unparalleled, even in the realm of supercars.

All modifications are carried out exclusively at edo competition Motorsport GmbH in Ahlen.

Contact: edo competition Motorsport GmbH; Ruth Holtbuer; Zeche Westfalen 1; 59229 Ahlen Phone: +49-2382/9698 - 182; Fax +49-2382/940568; E-Mail: r.holtbuer@edo-competition.de
Source - Edo Competition
For more information and related vehicles, click
here
SUBARU ANNOUNCES PRICING ON 2015 BRZ® AND SPECIAL EDITION BRZ SERIES.BLUE
◾BRZ Series.Blue launches as special edition with 1,000 units for US market ◾Improved suspension refinement added to full BRZ lineup Cherry Hill, N.J. - Subaru of America, Inc. today announced pricing for the 2015 BRZ. Starting at $25,695, the BRZ lineup focuses on the fundamentals of great sports car design: low vehicle weight, an ultra-low center of gravity and precision steering. Powered by a 200-horsepower 2.0-liter BOXER engine, the Subaru BRZ marked a return to the fundamentals...[Read more...]
GENEVA MOTOR SHOW 2014: RINSPEED THINKS AHEAD ON 'AUTONOMOUS DRIVING': NOT EVEN FLYING IS BETTER!
Redefined traveling in the comfort of business class with new infotainment concept Autonomous driving is destined to become reality in the not-too-distant future. While the major automakers are putting the finishing touches on the vehicle technology, the Swiss idea factory Rinspeed puts the occupants at the center of the driverless car. Rinspeed boss Frank M. Rinderknecht: 'So far hardly anyone has taken this to its logical conclusion from the perspective of the driver. After all, tra...[Read more...]
BMW M PERFORMANCE PARTS FOR THE M5 SEDAN, M6 COUPE, M6 CONVERTIBLE AND M6 GRAND COUPE
• M Carbon Ceramic Brakes and a Titanium M Performance exhaust system highlight the M Performance accessory line up.
Woodcliff Lake, NJ – October 23, 2013… BMW today announced the US launch of a new line of BMW M Performance Parts developed specifically for BMW M5 and M6 models. One of the highlights of the original BMW M Performance accessory is the M Carbon-Ceramic Brake System, exclusively designed for the most powerful BMW M models and currently available as original equ...[Read more...]
SUBARU ANNOUNCES 2014 BRZ PRICING
• BRZ sales up 200 percent YTD over 2013 Cherry Hill, N.J. - Subaru of America, Inc. today announced pricing for the 2014 BRZ. Starting at $25,595, the BRZ lineup focuses on the fundamentals of great sports car design: low vehicle weight, an ultra-low center of gravity and precision steering. Sales of the Subaru BRZ remain strong and were up 41 percent in June and up 200 percent year-to-date, bolstering record-setting corporate sales for the first half of the year. With sales up 2...[Read more...]
PORSCHE 918 SPYDER WOWS GOODWOOD
◾Innovative 887 hp plug-in hybrid super sports car makes public dynamic debut at Festival of Speed ◾Pedigree motorsport technology delivers maximum performance with minimum fuel consumption ◾Mid-mounted 4.6-litre V8 engine and two electric motors with lithium-ion batteries combine to deliver 0-62 mph in 2.8 secs, 211 mph top speed, plus approx. 85 mpg and 79 g/km CO2 (NEDC) ◾Independent all-wheel drive offers traction and driving dynamics benefits ◾Priced from 781,155 Euro – 'Weissach' packa...[Read more...]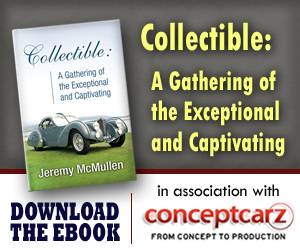 © 1998-2014. All rights reserved. The material may not be published, broadcast, rewritten, or redistributed.