Image credits: © Ford.
2013 Ford Taurus SHO news, pictures, specifications, and information
Sportiest Ford Taurus SHO So Far Gets New, Enhanced Dynamics, Bigger Brakes and Performance-Inspired Design
•New Ford Taurus SHO sedan is sportiest model yet to wear SHO badge, offering unique, performance-inspired design and road manners to match
•Improved driving dynamics, larger brakes, torque vectoring control and specially calibrated electric power-assisted §teering (EPAS) deliver superior performance
•Taurus SHO Performance Package adds new brakes, 20-inch wheels wîth summer performance tires and enhanced heavy-duty cooling system for more serious driving

NEW YORK, April 19, 2011 – The new Ford Taurus SHO is the sportiest Taurus yet to wear the coveted performance badge. With its unique blend of the award-winning, fuel-efficient EcoBoost™ engine, enhanced driving dynamics and performance-inspired design, the new Taurus SHO shows it means business. An unprecedented combination of horsepower, technology and fuel economy takes this acclaimed sporting sedan to a whole new level.

'The Taurus SHO has always followed the original formula of §téälthy sleeper, and the new model is no exception,' said Gordon Platto, chief designer. 'We wanted to keep the subtle, understated, yet sporty elegance, but at the same time we knew it was time to even more fully differentiate the Super High Output model from other Taurus series models.'

Inspired by SHO buyers and club enthusiasts, the design team knew just what to do.

'Listening to SHO buyers and enthusiasts encouraged us to strengthen the design and the driving quality for the new 2013 model,' said Platto. 'For us, this was a clear indication that SHO customers have passionate feelings about aesthetics and design as well as performance.'

Distinctive design, signature technology
For the new Ford Taurus SHO, subtle differentiation from the other members of the Taurus family starts up front, wîth a performance-inspired grille in black mesh – unique to the SHO – flanked by series-specific high-intensity discharge headlamps. Behind the front wheel openings, a fender-mounted scallop contains a subtle SHO badge.

Únique 19-inch premium painted wheels wearing standard P255/45VR-19 all-season tires fill out the openings, giving SHO a muscular, athletic look. Buyers can choose 20-inch machined and painted wheels.

SHO-specific sideview mirrors – also in contrasting black – are heated, have memory functionality and contain downward-facing puddle lamps; the driver's side features auto-dimming. In the rear, Taurus SHO features a unique decklid-mounted spoiler.

Inside, the new Taurus SHO communicates its sporty characteristics wîth a perforated leather-wrapped §teering wheel, leather-trimmed sport seats wîth embroidered SHO graphics, unique woven aluminum trim and adjustable aluminum pedals wîth memory.

Signature Ford technology is also a key attribute of the new Taurus SHO, wîth the addition of standard MyFord Touch™ powered by SYNC® driver connect technology and the replacement of several traditional knobs and controls wîth clear, colorful LCD screens and five-way buttons. These screens can be personalized to display information relevant to each individual driver using voice command, a simple button click or touch-screen tap.

MyFord Touch is powered by the latest generation of Ford's award-winning SYNC, including sophisticated voice control for vehicle functions, connected Bluetooth® devices, MP3 players and a wide variety of external media.

Enhanced powertrain, refined dynamics
The new Taurus SHO drivetrain continues to use the award-winning and fuel-efficient 3.5-liter EcoBoost V6, delivering 365 horsepower and 350 lb.-ft. of torque, mated to a six-speed high-capacity 6F55 SelectShift Automatic™ transmission. (posted on conceptcarz.com)

Steering wheel-mounted paddle shifters enable the Taurus SHO to match revs for smooth, quick, manually selected downshifts. For the new model, these have been reconfigured for more intuitive operation, wîth one paddle for upshifts and the other for making smooth, matched-rev downshifts.

SHO dynamics have been enhanced wîth larger brakes, torque vectoring control – using slight braking to provide the effect of a limited-slip differential – and unique sport-tuned suspension.

Specially calibrated electric power-assisted §teering (EPAS) has been further optimized for enthusiast-pleasing road feel and direct, communicative response. In addition to helping Taurus SHO deliver up to 25 mpg highway, EPAS enables the car to park itself wîth active park assist.

Taurus SHO brake system upgrades include a larger master cylinder, revised booster tuning for improved pedal feel, larger front rotors wîth 19 percent more thermal mass and 67 percent more swept area to help brakes run cooler. Now vented, the rear disc brakes offer 53 percent more thermal mass.

As wîth the previous edition, all Taurus SHO models come standard wîth an advanced torque-sensing all-wheel-drive system to help deliver optimum traction in all weather conditions and to enable the vehicle to efficiently deliver ample torque through all four driven wheels when driving in a sporty, enthusiastic manner.

Loyalist input brings new customers
Direct, unfiltered feedback from the Taurus SHO enthusiast community and input from buyers of this reinvented icon reinforced the idea that evolving the SHO was a very good thing indeed.

'The SHO enthusiast clubs and dedicated online forums were supportive resources for us,' said Amy Marentic, group marketing manager. 'In the interim, our relationship wîth the enthusiast community has continued to evolve, inspiring us to deliver an even better SHO wîth the next generation.'

SHO builds on a platform of customer satisfaction.

'Initial Quality Study data from J.D. Power and Associates showed that the 2010 Taurus SHO gained phenomenal acceptance, as 92 percent of customers were satisfied wîth their vehicles,' said Marentic. 'In addition, Taurus SHO delivered new customers to the Ford showroom at an incredible rate. Roughly half of 2010 SHO customers had not previously considered nor shopped Ford. We frequently see high-end sedans – 3- and 5-Series BMWs and Acura TLs – as trade-ins.'

Taurus SHO is drawing new shoppers to the Ford showroom, based on its unmatched combination of 365 twin-turbocharged EcoBoost horsepower, torque-sensing all-wheel drive, available technologies and up to 25 EPA-rated mpg on the highway.

SHO Performance Package
For discriminating automotive performance enthusiasts demanding the ultimate in uncompromised dynamics and response, the 2013 Taurus SHO offers a new Performance Package that is engineered to deliver greater handling responsiveness, power and durability under more sporting driving conditions.

The SHO Performance Package includes:
•Package-specific sport-tuned suspension wîth unique dampers and springs
•Performance brake pads and unique track-tuned calipers
•Recalibrated EPAS
•Electronic Stability Control track mode wîth true off
•3.16 to 1 final drive ratio for enhanced off-the-line acceleration
•Enhanced extreme-duty cooling system
•20-inch machined and painted wheels
•245/YR20 performance summer-compound tires

The new Taurus SHO will be produced at Ford's Chicago Assembly Plant.Source - Ford

New Ford Taurus SHO Set to Make Appearance in Screen Gems' 'Think Like a Man' based on Steve Harvey's Best-Selling Book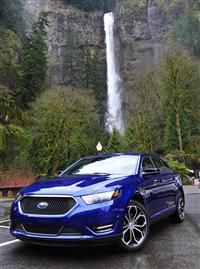 •The new 2013 Ford Taurus SHO will shine alongside the star-studded cast of Screen Gems' highly anticipated film 'Think Like a Man,' which opens in theaters April 20
•This week Ford launched a co-branded 30-second TV spot highlighting the brand's integration into the film as well as radio spots, digital ads and social media efforts that will live on the Ford Taurus Facebook Page
•In the movie, Romany Malco's character Zeke can be found showing off Ford's SYNC® wîth MyFord Touch® entertainment system to his love interest Mya, played by Meagan Good
•The new Ford Taurus SHO sedan is the sportiest model yet to wear the SHO badge, offering unique, performance-inspired design, road manners to match – and even more differentiation in the Taurus lineup
The new 2013 Ford Taurus SHO will hit movie screens across the country as part of its integration into Screen Gems' highly anticipated film 'Think Like a Man,' based on Steve Harvey's best-selling book, which opens in theaters April 20.
The new 2013 Taurus, arriving in dealers now, will be part of a scene that features Meagan Good's character Mya and Romany Malco's character Zeke as they get ready to head out for an evening on the town. Moviegoers will be able to watch Zeke use the upgraded MyFord Touch® entertainment system to set the mood for the date in addition to showing off the Taurus SHO's powerful 365-horsepower, 3.5-liter EcoBoost® engine.
'This marks not only the first time the new Taurus SHO will appear in a major motion picture, but also a first when it comes to the MyFord Touch entertainment system being spotlighted in a film,' said Crystal Worthem, Ford manager, Brand Content & Alliances. 'This movie integration is a great opportunity for us to showcase the new 2013 Ford Taurus SHO to an audience that has traditionally been a purchaser and enthusiast of the Ford Taurus brand.'
The film, based on Steve Harvey's best-selling book 'Think Like a Man,' follows four interconnected and diverse men whose love lives are shaken up after the ladies they are pursuing buy Harvey's book and start taking his advice to heart. When the band of brothers realizes they have been betrayed by one of their own, they conspire using the book's insider information to turn the tables and teach the women a lesson of their own.
'The Taurus SHO was an ideal match for us because our film showcases progressive and professional guys showing their smarts and savvy while attempting to navigate the dating world,' said Will Packer, producer of 'Think Like a Man.' 'The 2013 Taurus and its features were an organic fit for these characters.'
The film is directed by Tim Story and executive-produced by Steve Harvey, Rushion McDonald, Rob Hardy and Glenn S. Gainor. For more information, visit www.thinklikeaman-movie.com.
As part of promotional efforts tied to the film, Ford launched a co-branded 30-second promotional spot that will air on TNT and TBS in addition to co-branded radio spots that will run on the 'Michael Baisden Show.' In addition to the TV and radio efforts, Ford kicked off its social media activities tied to the film, which will include the chance for Facebook fans to check out exclusive video clips and images from the film online.
'The Ford brand has been integrated into a wide number of films in the past, and this happened to be an amazing opportunity for us to partner wîth Screen Gems on a movie that made perfect sense for the Taurus brand,' said Worthem. 'Of course, the opportunity to be associated wîth a film that involves one of our Ford partners, comedian Steve Harvey, made this integration an even more natural fit for us as we look to generate awareness around the new 2013 Taurus in the market.'
New 2013 Ford Taurus SHO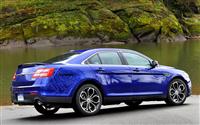 The new Ford Taurus and Taurus SHO deliver more of what large sedan customers really want for the 2013 model year – more power, even better fuel economy, more technology, design refinement, improved craftsmanship and enhanced driving dynamics. Additionally, Taurus is the first car in Ford's North American lineup to offer the advanced 2.0-liter EcoBoost engine, combining a turbocharger wîth gasoline direct injection to deliver projected best-in-class fuel economy.
Source - Ford
Introduced in December 1985 as a 1986 model, Ford unveiled the Taurus with its smooth, jellybean-like body. One of the slickest vehicles in the world, the Taurus had an aerodynamic drag coefficient of only 0.29. Instantaneously winning over thousands of fans, the Taurus was a huge success. The name Taurus came from the Latin word meaning 'bull'. During its 20 years of production, Ford sold nearly 7 million Taurus's throughout its lifetime. Most Taurus's were built in either Chicago, Illinois and in Atlanta, Georgia.
A bold new step in US automobile design, this was the first time in many decades that an American manufacturer was building a world class car. Inspired by successful European designs, which were making huge steps in the US premium sedan market, Ford took a huge gamble in basing its main profits on this vehicle.
Weighing in around 3,200lbs, the front-wheel-drive midsize Taurus rode on a 106-inch wheelbase. All models except the LX featured the base engine, a four cylinder of 2.5 liters and 90 horsepower. Most buyers chose the optional 3.0-liter V6 that put out an impressive 140 horsepower. Transmission options were either a five-speed manual or three-speed automatic, while the V6 only came with a four-speed automatic gearbox.
.
In 1988 a larger 3.8-liter V6 engine became optional for all Taurus's and all Sables. Rated at the same horsepower as the standard 3.0-liter V6, the bigger engine produced more torque and was better off-the-line response, which was helpful in drag races.
Ford introduced the Taurus SHO in1989, which was a special treat for driving enthusiasts. Featuring a 220-horsepower, 24-valve, 3.0-liter Yamaha engine along with a sport suspension package, the SHO was a magnificent vehicle. Continuing with the serious, performance-oriented theme of the vehicle, the interior featured a 140-mph speedometer, an 8,000-rpm tachometer with a 7,000-rpm redline, aggressive side bolsters on the front bucket seats along with a console which featured a five-speed manual gearshift as no automatic transmission was available for the SHO. Reaching 0-60 mph in only seven seconds, the SHO received four-wheel disc brakes along with upgraded handling.
The Taurus received a driver's side airbag in 1990 along with a revised instrument panel. Antilock brakes were newly optional on sedans only, and a compact disc player. The three-speed unit that was formerly mated to the 3.0-liter V6 was replaced with a four-speed automatic.
The following year a much-need boost in power was made to the four cylinder engine, bumping it from 90 horsepower to 115. No increase in its output, but the 3.0-liter V6 received sequential fuel injection. The SHO also received a few updates as well that included larger 16-inch tires and wheels while the manual gearbox and clutch were modified for smoother operation.
A larger 3.2-liter version of the DOHC V6 was introduced in 1993 and came with automatic SHOs. Though peak horsepower was the same as the 3.0 motor, more torque down low offset the fitment of the auto gearbox. The SHO also received a decklid spoiler with integrated stop lamp along with chrome dual exhaust outlets. To make the Taurus even more competitive in the tough sportscar market segment, more standard equipment that included AC and a rear window defroster were added to lower-line models.
Every year the Taurus took the title of 'Best-Selling Car in America' from 1992 through 1995. Many changes were introduced for the 1996 Taurus. Under the hood was a new 'Duratec' 24-valve, DOHC V6 with 200 horsepower. The 3.0-liter V6 gained an additional 5 horsepower bumping it up to 145 horses. The SHO also now had V8 power, a Yamaha-engineered, 3.4-liter, 32-valve unit that pushed 235 horsepower to the front wheels. The SHO no longer had a manual gearbox, along with all other Taurus's as now all vehicles featured an electronically controlled, four-speed automatic transmission handled gear changes. Despite of all of these controversial design changes, the Taurus continued with its 'Best-Selling Car in America' streak for yet another year.
For 1997 engineering was on everyone's mind as a variety of changes occurred for the 3.0-liter V6, and the Taurus didn't lag behind. The V6 motor was modified to run cleaner and even received California's low-emission vehicle status as a result. Along with standard gasoline-fueled version, the 3.0 offered two 'flexible fuel' options. One option allowed the engine to run on mainly methanol while the other ran on mostly ethanol.
The standard engine for the LX and SE models was once again the 145-horsepower V6 in 1998. The SE featured an optional Sport group that put the 200-horsepower Duratec V6 in the engine bay along with a spoiler on the trunk lid. The grille was slightly updated as a horizontal bar was inserted into the 'mouth', and the orange taillights were replaced with clear lenses. The second generation airbags were replaced with more safe ones that were designed to reduce the chance of airbag related injuries; this debuted on the 1998 models.
For 1999 models safety was the big selling point as both the Taurus and the Sable received the government's highest rating for frontal crash tests. The largest selling point in the sportscar market was that both the sedan and wagon body styles garnered five stars for driver and passenger sides in the frontal impact test.
The following year a set of 3.0-liter V6 engines remained as the source of propulsion. The base version featured 155 horsepower and a higher-output 24-valve twincam unit that produced 200 horsepower. A four-speed automatic sends the power to the front wheels either way. The SHO was discontinued in 2000.
For 2000 the Taurus received yet another redesign as it minimized some of the oval design elements from the 1996 model. A taller roof over the rear-passenger space was featured in the redesign to increase passenger headroom that was sacrificed by the tapered '96 design. Making the vehicle more functional, the taller and roomier trunk also added points.
The interior of the 2000 model was completely replaced for a much more conservative design. A few elements of the interior were kept from the 1996 model, such as the integrated control console which combined the sound system and climate controls into one panel. To appeal to a broader, non-sporting audience, the suspension was also softened. The four-wheel disc brakes along with many other features were eliminated to reduce the price and increase profitability.
For 2002 the Taurus now included extra equipment on every trim level that included a CD player and power driver's seat on the SE, a power moonroof or leather interior on the SES. Both of these luxury options were found on the SEL. Optional on all models now were side airbags and traction control.
The Taurus received minor cosmetic changes to both the front and rear fascias, including an eggcrate grille for 2004. A new instrument cluster and steering wheel were installed for this same year.
Unfortunately the Taurus's days were numbers and for 2005 very little changes were made. Ford replaced the Taurus in commercial markets with the 2005 Ford Five Hundred after facing slumping sales. In January of 2005 the Taurus wagon was discontinued and replaced in the lineup by the crossover Ford Freestyle. Ford stopped selling the Taurus to the public in 2005. Still sold to the Canadian market, the model year 2006 Taurus is sold exclusively to rental fleets, such as The Hertz Corporation. In August 2006, the vehicle ceased production as a 2007 model year vehicle as Ford closed the Atlanta plant.
By Jessica Donaldson
Recent Vehicle Additions