1958 Vespa 400 news, pictures, specifications, and information

Tweet
This vehicle is a Vespa 400 Jolly and was produced by ACMA (Ateliers de Constructions de Motos et Accessoires) in Fourchambault, France from 1957 to 1961 to the designs of the Italian Piaggio company. There were two versions available, including the 'Lusso' and 'Turismo.' This example is unique - in the spring of 2010, it was converted by Microcarlot into a one-of-a-kind Vespa Jolly. It has wicker seats and a picnic blanket top. These types of cars were catered to the rich and famous, often used as yacht tenders to cruise along the beaches.

Between the wicker seats is the handbrake, starter and choke. The instrumentation is basic and minimalistic. There is a speedometer and warning lights for low fuel, main beam, dynamo charging and turn-indicators. This car was restored in 2010.

The engine is an air-cooled, two-cylinder, 393cc engine that produces 18 horsepower. There are four-wheel hydraulic drum brakes and an independent suspension.

In 2011, the car was offered for sale at the Amelia Island auction presented by RM Auctions. The car was estimated to sell for $50,000 - $70,000 and offered without reserve. As bidding came to a close, the car had been sold for the sum of $41,250, including buyer's premium.
By Daniel Vaughan | Apr 2011
The Italian based company Vespa is legendary for their motorscooters. However, the French-built microcar produced from 1957 though 1961, is far less known. Produced by Piaggio, their history dates back to 1884 where they initially produced locomotives and railway carriages. During the First World War they aided in the war effort by producing aircrafts. They produced fighter planes during World War II. When WWII came to a close, the company was nearly devastated. Their Pontedera plant had been destroyed by bombing; Italy's roads were disastrous due to the bombing and war, and the economy was suffering.

Enrico Piaggio, the son of Piaggio's founder Rinaldo Piaggio, was determined to revitalize the Piaggio business and to address Italy's need for affordable and modern transportation that could traverse the war-torn roadways. Just like Dr. Ferdinand Porsche of the time, he began designing and building a car for the masses. The result was a very small, two-seater dubbed the Vespa 400. It was labeled as a convertible though it really only had a plastic folding sunroof. It was powered by a rear-mounted, two-cylinder, air-cooled engine that displaced 24.5 cubic-inches and produced 20 horsepower. It was mated to a three-speed manual gearbox and fitted with hydraulic drum brakes in both the front and rear. It had a steel unibody construction and a fuel tank that could store five gallons. With around 60 mpg, this was more than adequate. Top speed was just under 60 mph.

The car was introduced in 1957 and was sold in several countries including the US. It was built in France though had been designed by the same individuals that produced the scooter. Production in France was a logistical decision, as the company did not want to compete with the popular Italian based Fiat 500.

The car was priced at $1,080 which made it one of the least expensive and more reasonable micro-cars of the day. Sales were relatively strong, but not enough to convince the Piaggio Company to continue past 1961. They returned their entire efforts back to the production of the motor-scooter and mopeds.
By Daniel Vaughan | Jun 2008
For more information and related vehicles, click
here
GENERAL LYON'S DUESENBERG MAKES EAST COAST DEBUT AT 19TH ANNUAL AMELIA ISLAND CONCOURS d'ELEGANCE
Duesenberg's name remains as potent today as it was when the powerful Indianapolis-built luxury cars ruled America's highways and speedways during the twenties and thirties. From the first Amelia Island Concours d'Elegance in 1996, Duesenbergs have won the Best of Show award four times. In 2011 Duesenberg became the only marque to win both Amelia's Concours de Sport and Concours d'Elegance Best of Show awards in the same year. 'Duesenberg is the American classic many people com...[Read more...]
BESPOKE 911s METICULOUSLY RESTORED FOR CUSTOMERS BY SINGER VEHICLE DESIGN
• Newest Handcrafted Customer Car by Singer Salutes50th Anniversary of Original 911, Evoking Passion for a True Automotive Icon
LOS ANGELES – November 20, 2013 – As Singer Vehicle Design (SVD) tonight hosts a Los Angeles viewing of its latest handcrafted masterpiece restored for a customer, the company will continue to salute the genius of Porsche and the 50th anniversary of the original 911. Considered the most bespoke 911 re-imagined by SVD yet, the 'Sweden' car, to be shown t...[Read more...]
LE MANS WINNER JOCHEN MASS NAMED 2014 AMELIA ISLAND CONCOURS HONOREE
There are scores of victories on Jochen Mass' hefty racing resume, but the one that stands out in bold print is the win in France on a June weekend a quarter century ago. Mass shared one of the mighty Mercedes-Benz powered Sauber C9 Silver Arrows in the 1989 24 Hours of Le Mans. Mass, co-drivers Stanley Dickens and Manuel Reuter led a Mercedes sweep of the classic enduro with a 1-2-5 Mercedes-Benz powered finish. Mass & Co. were the slowest of the three Silver Arrow C9s in qualifying. Despit...[Read more...]
Unique Mystery Mustang Headlines Amelia's Unique WWTT* Class
'The Amelia's' *WHAT WERE THEY THINKING? Class is much more than a place for what some might label weird, odd or strange. The class, with a philosophy unique to 'The Amelia', is a place for significant and interesting cars that fit no class, category or commercial orthodoxy. Nearly half a century later, we still don't know what Ford was planning when they commissioned the creation of Bill and Chris Snyder's 1964 ½ 'shorty' Mustang. We do know that they created one man's dream car. We just...[Read more...]
Amelia Concours Hosts Road Racing Endurance Stars in the Great Endurance Drivers Seminar
The Amelia Island Concours d'Elegance will host The Great Endurance Drivers Seminar at 10:30 AM, March 10, 2012 in the Talbot Ballroom of the Ritz-Carlton Amelia Island. The panel for this once-in-a-lifetime seminar is composed of a who's who of, world championship sports car endurance racing. Derek Bell (UK) has won the 24 Hours of Le Mans five times and the 24 Hours of Daytona four times. Joe Buzzetta (USA) was one of the first Americans to race for the Porsche factor...[Read more...]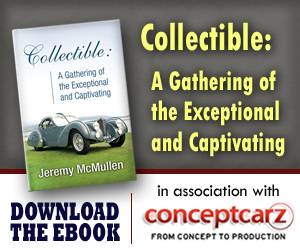 © 1998-2014. All rights reserved. The material may not be published, broadcast, rewritten, or redistributed.