1958 Vespa 400 news, pictures, specifications, and information

Tweet
This vehicle is a Vespa 400 Jolly and was produced by ACMA (Ateliers de Constructions de Motos et Accessoires) in Fourchambault, France from 1957 to 1961 to the designs of the Italian Piaggio company. There were two versions available, including the 'Lusso' and 'Turismo.' This example is unique - in the spring of 2010, it was converted by Microcarlot into a one-of-a-kind Vespa Jolly. It has wicker seats and a picnic blanket top. These types of cars were catered to the rich and famous, often used as yacht tenders to cruise along the beaches.

Between the wicker seats is the handbrake, starter and choke. The instrumentation is basic and minimalistic. There is a speedometer and warning lights for low fuel, main beam, dynamo charging and turn-indicators. This car was restored in 2010.

The engine is an air-cooled, two-cylinder, 393cc engine that produces 18 horsepower. There are four-wheel hydraulic drum brakes and an independent suspension.

In 2011, the car was offered for sale at the Amelia Island auction presented by RM Auctions. The car was estimated to sell for $50,000 - $70,000 and offered without reserve. As bidding came to a close, the car had been sold for the sum of $41,250, including buyer's premium.
By Daniel Vaughan | Apr 2011
The Italian based company Vespa is legendary for their motorscooters. However, the French-built microcar produced from 1957 though 1961, is far less known. Produced by Piaggio, their history dates back to 1884 where they initially produced locomotives and railway carriages. During the First World War they aided in the war effort by producing aircrafts. They produced fighter planes during World War II. When WWII came to a close, the company was nearly devastated. Their Pontedera plant had been destroyed by bombing; Italy's roads were disastrous due to the bombing and war, and the economy was suffering.

Enrico Piaggio, the son of Piaggio's founder Rinaldo Piaggio, was determined to revitalize the Piaggio business and to address Italy's need for affordable and modern transportation that could traverse the war-torn roadways. Just like Dr. Ferdinand Porsche of the time, he began designing and building a car for the masses. The result was a very small, two-seater dubbed the Vespa 400. It was labeled as a convertible though it really only had a plastic folding sunroof. It was powered by a rear-mounted, two-cylinder, air-cooled engine that displaced 24.5 cubic-inches and produced 20 horsepower. It was mated to a three-speed manual gearbox and fitted with hydraulic drum brakes in both the front and rear. It had a steel unibody construction and a fuel tank that could store five gallons. With around 60 mpg, this was more than adequate. Top speed was just under 60 mph.

The car was introduced in 1957 and was sold in several countries including the US. It was built in France though had been designed by the same individuals that produced the scooter. Production in France was a logistical decision, as the company did not want to compete with the popular Italian based Fiat 500.

The car was priced at $1,080 which made it one of the least expensive and more reasonable micro-cars of the day. Sales were relatively strong, but not enough to convince the Piaggio Company to continue past 1961. They returned their entire efforts back to the production of the motor-scooter and mopeds.
By Daniel Vaughan | Jun 2008
For more information and related vehicles, click
here
PORSCHE'S 914 HONORED AT 20TH AMELIA CONCOURS d'ELEGANCE
The 20th annual Amelia Island Concours d'Elegance will honor the first mid-engine production Porsche, the 914 in all its variants. At first some Porsche purists lamented the Porsche 914's seemingly humble origins. They whispered the 'V-Word' . . . Volkswagen. The reality was that the 914 is a blood descendant of the seminal Gmund Porsche, the first car to wear the family name and the crest, a pure sports car designed around a Volkswagen-sourced air-cooled flat-four and a mid-engine con...[Read more...]
STIRLING MOSS' LE MANS COUPE HEADLINES AMELIA ISLAND CONCOURS D'ELEGANCE MASERATI CENTENARY
In celebration of Maserati's 100th anniversary, the unique and rarely seen Maserati 450S Le Mans 'Costin Coupe' will be the competition centerpiece at the Amelia Island Concours d'Elegance. Created as a secret weapon to win the 24 Hours of Le Mans in 1957, the 450S's exterior design and brutish exhaust note made it the star of the French race 57 years ago. Maserati mechanics referred to it as 'Il Monstro,' Italian for 'the monster.' Stirling Moss was assigned to race the V-8-...[Read more...]
Hilton Head Island Motoring Festival & Concours D'Elegance To Showcase World-Class Collections
HILTON HEAD ISLAND, S.C. – The 2013 Hilton Head Island Motoring Festival & Concours d'Elegance will include major international names in automotive collecting and racing when the event returns for its 12th annual celebration Oct. 25 – Nov. 3. Among those names are renowned collectors Sam and Emily Mann and Jim Schmidt, selected, respectively, as this year's Pinnacle and Honored Collectors. Mann and Schmidt, along with their award-winning collections, will be featured in this year's Motor...[Read more...]
Prince Heinrich Benz Racers Reunited at 'The Amelia'
In the early 1900's, at the dawn of the automotive motorsport age, one of the most significant race venues was the Prinz Heinrich Tour, named after Prince Albert Wilhelm Heinrich of Prussia, automotive enthusiast and brother of German Emperor Wilhelm II. In 1907, the German Imperial Automobile Club organized the first annual Prinz Heinrich Tour which is often seen as a precursor to the German Grand Prix. Among the races' most notable winners were Fritz Erle who won the 1908 race in a 50 h...[Read more...]
Amelia Island Concours d'Elegance to Open With Classic Flyover
The 17th Annual Amelia Island Concours d'Elegance will open with a historic three-plane flyover at 10:02 AM on Sunday March 11th. In keeping with 'The Amelia's' theme of rare, elegant, and desirable cars and maximum fun, 'The Amelia's' flyover will not only be unique but historically accurate. The three-plane Amelia flyover will be led by David Martin's 300-horsepower aerobatic Breitling CAP 232 monoplane.His wingman will be David Kicklighter in the Breitling Extra 300L aeroba...[Read more...]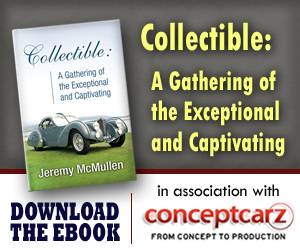 © 1998-2014. All rights reserved. The material may not be published, broadcast, rewritten, or redistributed.