1951 Allard P1 news, pictures, specifications, and information

Tweet
The Allard Motor Company in London, England, built the P1. Production of the P1s ran between 1949 and 1951 amounting to only 155 automobiles. At the same time, strategic materials such as steel and aluminum were very difficult to obtain from the British Government and it was mandatory to justify export business. The Ford components made maintenance easy on the P1 in America and a great number of P1s were exported to the United States. The original sales price of the car was 1,277 British Pounds (approximately $2,000).

With a 3.5-liter standard V8 engine, the top speed was 85 mph. The P1s were successful on the racing circuit and one P1, driven by Sydney Allard, won the Monte Carlo Rally in 1949.
An encounter with any Allard model, save perhaps the highly respected and relatively famous J2 and J2X models, will often leave even learned car buffs scratching their heads. These rare and homely British brutes appear odd with their cumbersome styling, but Allard cars enjoyed racing success and engineering sophistication uncommon in the products of such a small firm.

Take, for instance, the ingenious and oft-copied, though then relatively new, idea of stuffing big American V8s into relatively small and lithe European chassis. Allard excelled at the practice of shoehorning these substantial engines into its trim creations, endowing its cars for both street and track with the reliable, effortless power of a hefty Detroit mill. The suspension on Allards, too, demonstrated the company's engineering capability. A carefully-designed, independent front suspension and de Dion rear axle ensured competent handling and surefooted traction. The high quality of engineering found in Allard's cars enabled a healthy racing career for the company, with the likes of John Fitch and Carroll Shelby competing successfully in the offbeat Brits.

A two-door saloon, the Allard P1 was larger and more practical than cars like the race-ready J2 for which the brand was better known. With familiar V8 power, though, the P1 offered plenty of thrust despite its considerable size. And even though the P1 looked nothing like a racing car, it too enjoyed considerable racing success when a Ford-powered example won the 1952 Monte Carlo Rally, with company owner and founder Sydney Allard driving.

The Allard P1 may never be as highly respected as the more essential Allard racers, but its combination of reliable power, thoughtful engineering, and clumsy yet endearing style make it an accurate representative of the Allard brand.

Sources:

'Allard History.' Allard Register n. pag. Web. 10 Jul 2011. http://www.allardregister.org/allard-history/.

'Allard P1.' Motorbase n. pag. Web. 10 Jul 2011. http://www.motorbase.com/vehicle/by-id/230/.
By Evan Acuña
For more information and related vehicles, click
here
FLEET CUSTOMERS, COMMERCIAL BUSINESS OWNERS, FORD DEALERS INVITED TO TEST DRIVE ALL-NEW FORD TRANSIT
◾Ford kicks off nationwide Truth About Transit Tour to provide fleet customers, commercial business owners and Ford dealers an opportunity to test drive the all-new Ford Transit, learn about the vehicle's Built Ford Tough credentials and get questions answered by Ford product specialists ◾Tour will visit 19 cities across the United States from June into October; registration and other details are available at www.fordtransittour.com ◾All-new Ford Transit will be available at U.S. and Canadian ...[Read more...]
FORD CLAIMS BIGGER SHARE OF POLICE VEHICLE MARKET HAVING REINVENTED THE SEGMENT WITH NEW PRODUCTS
◾In just two years, Ford has revolutionized the police vehicle market by equipping many of its Police Interceptor lineup with standard all-wheel drive, which works full-time for greater mobility and security; adding more fuel-efficient EcoBoost® engines; and introducing two new body styles ◾Ford police vehicle sales grew 48 percent in 2013, while industry police sales rose 22 percent, according to Polk registration data ◾Ford Police Interceptor utility was best-selling police vehicle in the Un...[Read more...]
Family Fun Gets Amped Up with the All-New 2014 Toyota Highlander Hybrid
Third-Generation of World's First Seven-Passenger Gas-Electric Hybrid SUV Debuts at 2013 Los Angeles Auto Show Added Standard Features and New Technologies at Value Pricing LOS ANGELES (Nov. 20, 2013) – Get ready to take the hybrid high road! The 2014 Toyota Highlander Hybrid is on display now at the 2013 Los Angeles Auto Show. It marks the world debut of the all-new third-generation gas-electric mid-size hybrid SUV. The new Highlander Hybrid is a complete package f...[Read more...]
MUSTANG ALLEY FEATURES NEARLY 50 YEARS OF FORD MUSTANG HERITAGE ON DISPLAY AT THE ANNUAL WOODWARD DREAM CRUISE
◾Annual Mustang Alley attraction the annual Woodward Dream Cruise to feature more than 800 classic Ford Mustangs from the first 49 years of the world's favorite pony car ◾Ford marketing manager Jacques Brent will cut the ribbon for Mustang Alley on Friday, Aug. 16 at 4 p.m. ◾The full lineup of 2014 Ford Mustangs and SVT vehicles plus, the new 2014 F-150 Tremor sport truck will be on display in Mustang Alley It's summertime in Detroit so that means it's time to go cruising once again on Wood...[Read more...]
FORD LAUNCHES NEW FUEL-EFFICIENT 1.5-LITER ECOBOOST ENGINE; BOOSTS COMPANY'S GLOBAL ECOBOOST CAPACITY
-Ford announces new fuel-efficient 1.5-liter EcoBoost® engine, extends successful EcoBoost lineup to meet global demand for four-cylinder EcoBoost engines -Ford now has capacity to build 1.6 million EcoBoost engines annually, triples number of plants that produce EcoBoost engines in Europe, Asia and North America from 2010 to 2013 -1.5-liter EcoBoost offers trademark EcoBoost turbocharging, direct fuel injection and variable valve timing; delivers power of a larger engine with smaller unit ec...[Read more...]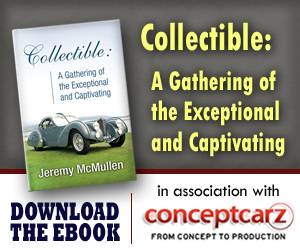 © 1998-2014. All rights reserved. The material may not be published, broadcast, rewritten, or redistributed.