1951 Allard P1 news, pictures, specifications, and information

Tweet
The Allard Motor Company in London, England, built the P1. Production of the P1s ran between 1949 and 1951 amounting to only 155 automobiles. At the same time, strategic materials such as steel and aluminum were very difficult to obtain from the British Government and it was mandatory to justify export business. The Ford components made maintenance easy on the P1 in America and a great number of P1s were exported to the United States. The original sales price of the car was 1,277 British Pounds (approximately $2,000).

With a 3.5-liter standard V8 engine, the top speed was 85 mph. The P1s were successful on the racing circuit and one P1, driven by Sydney Allard, won the Monte Carlo Rally in 1949.
An encounter with any Allard model, save perhaps the highly respected and relatively famous J2 and J2X models, will often leave even learned car buffs scratching their heads. These rare and homely British brutes appear odd with their cumbersome styling, but Allard cars enjoyed racing success and engineering sophistication uncommon in the products of such a small firm.

Take, for instance, the ingenious and oft-copied, though then relatively new, idea of stuffing big American V8s into relatively small and lithe European chassis. Allard excelled at the practice of shoehorning these substantial engines into its trim creations, endowing its cars for both street and track with the reliable, effortless power of a hefty Detroit mill. The suspension on Allards, too, demonstrated the company's engineering capability. A carefully-designed, independent front suspension and de Dion rear axle ensured competent handling and surefooted traction. The high quality of engineering found in Allard's cars enabled a healthy racing career for the company, with the likes of John Fitch and Carroll Shelby competing successfully in the offbeat Brits.

A two-door saloon, the Allard P1 was larger and more practical than cars like the race-ready J2 for which the brand was better known. With familiar V8 power, though, the P1 offered plenty of thrust despite its considerable size. And even though the P1 looked nothing like a racing car, it too enjoyed considerable racing success when a Ford-powered example won the 1952 Monte Carlo Rally, with company owner and founder Sydney Allard driving.

The Allard P1 may never be as highly respected as the more essential Allard racers, but its combination of reliable power, thoughtful engineering, and clumsy yet endearing style make it an accurate representative of the Allard brand.

Sources:

'Allard History.' Allard Register n. pag. Web. 10 Jul 2011. http://www.allardregister.org/allard-history/.

'Allard P1.' Motorbase n. pag. Web. 10 Jul 2011. http://www.motorbase.com/vehicle/by-id/230/.
By Evan Acuña
For more information and related vehicles, click
here
INFINITI Q50, QX60 AND QX80 RECEIVE TOP HONORS FROM EDMUNDS.COM
FRANKLIN, Tenn. – Infiniti announced today that Edmunds.com has named the 2014 Infiniti Q50 among its 'Top Rated Vehicles.' The QX60 was also awarded as one of its '2014 Most Popular on Edmunds.com Midrange Luxury SUVs' and the QX80 was named as one of its 'Most Popular on Edmunds.com Premium Luxury SUVs.' Each of the vehicles was recognized during a presentation at the 2014 New York International Auto Show where Michael Bartsch, vice president of Infiniti Americas, accepted the award on ...[Read more...]
Advanced 2.7-Liter EcoBoost with Auto Start-Stop Brings New Capability and Efficiency to Next Ford F-150
• Latest EcoBoost® technology in an all-new, even more efficient 2.7-liter engine that features extremely high output and lightweight design coupled with standard Auto Start-Stop optimized for trucks
• Delivers the performance of a mid-range V8 with greater efficiency
• Real-world durability tested in grueling Baja 1000 off-road race
Ford, America's truck leader, is expanding its industry-leading range of powerful and efficient powertrains with the addition of an all-ne...[Read more...]
NISSAN ANNOUNCES 2014 MURANO U.S. PRICING
NASHVILLE, Tenn. – Nissan today announced U.S. pricing for the 2014 Nissan Murano, which is on sale now at Nissan dealers nationwide. Pricing remains unchanged from 2013, with a starting M.S.R.P.* of $28,440 USD for the Murano S Front-Wheel Drive model and $30,230 USD for the Murano S All-Wheel Drive. A special Value Package is again offered for the SV trim level, featuring navigation, Bluetooth® Streaming Audio, Bose® audio system and power liftgate and priced at $2,270 USD – an $830 USD** savi...[Read more...]
All-New 2014 Acura MDX Takes Luxury Refinement to a New Level with Signature Acura Technologies, Increased Comfort, Fuel-Efficiency and Performance
MDX flagship SUV now available with Two-Wheel Drive and features direct-injected powertrain, Jewel Eye™ LED headlights, more versatile interior and the AcuraLink™ Next Generation services 06/19/2013 - TORRANCE, Calif. The all-new 2014 MDX, the third generation of Acura's acclaimed 7-passenger luxury performance SUV, goes on sale at Acura dealerships nationwide tomorrow, offering comfort, connectivity and performance every luxury customer wants at a price that no other luxury b...[Read more...]
Size Matters: EcoBoost Gives Ford the Industry Lead in Reducing Engine Size Without Giving Up Performance
•Ford offers seven vehicles with the smallest engines in their segments – more than any other competitor •Powered by EcoBoost®CO2 emissions while delivering the performance customers demand technology, Ford's smaller engines help reduce vehicle weight for better fuel economy and lower •Ford's smallest engine yet, the EcoBoost 1.0-liter three-cylinder, debuts in North America about a year from now For decades, size meant everything when it came to engines – bigger was better and there was no...[Read more...]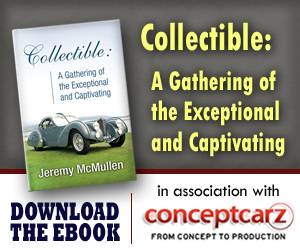 © 1998-2014. All rights reserved. The material may not be published, broadcast, rewritten, or redistributed.