1951 Allard P1 news, pictures, specifications, and information

Tweet
The Allard Motor Company in London, England, built the P1. Production of the P1s ran between 1949 and 1951 amounting to only 155 automobiles. At the same time, strategic materials such as steel and aluminum were very difficult to obtain from the British Government and it was mandatory to justify export business. The Ford components made maintenance easy on the P1 in America and a great number of P1s were exported to the United States. The original sales price of the car was 1,277 British Pounds (approximately $2,000).

With a 3.5-liter standard V8 engine, the top speed was 85 mph. The P1s were successful on the racing circuit and one P1, driven by Sydney Allard, won the Monte Carlo Rally in 1949.
An encounter with any Allard model, save perhaps the highly respected and relatively famous J2 and J2X models, will often leave even learned car buffs scratching their heads. These rare and homely British brutes appear odd with their cumbersome styling, but Allard cars enjoyed racing success and engineering sophistication uncommon in the products of such a small firm.

Take, for instance, the ingenious and oft-copied, though then relatively new, idea of stuffing big American V8s into relatively small and lithe European chassis. Allard excelled at the practice of shoehorning these substantial engines into its trim creations, endowing its cars for both street and track with the reliable, effortless power of a hefty Detroit mill. The suspension on Allards, too, demonstrated the company's engineering capability. A carefully-designed, independent front suspension and de Dion rear axle ensured competent handling and surefooted traction. The high quality of engineering found in Allard's cars enabled a healthy racing career for the company, with the likes of John Fitch and Carroll Shelby competing successfully in the offbeat Brits.

A two-door saloon, the Allard P1 was larger and more practical than cars like the race-ready J2 for which the brand was better known. With familiar V8 power, though, the P1 offered plenty of thrust despite its considerable size. And even though the P1 looked nothing like a racing car, it too enjoyed considerable racing success when a Ford-powered example won the 1952 Monte Carlo Rally, with company owner and founder Sydney Allard driving.

The Allard P1 may never be as highly respected as the more essential Allard racers, but its combination of reliable power, thoughtful engineering, and clumsy yet endearing style make it an accurate representative of the Allard brand.

Sources:

'Allard History.' Allard Register n. pag. Web. 10 Jul 2011. http://www.allardregister.org/allard-history/.

'Allard P1.' Motorbase n. pag. Web. 10 Jul 2011. http://www.motorbase.com/vehicle/by-id/230/.
By Evan Acuña
For more information and related vehicles, click
here
John Barnard's Finest: Some of the Greatest of Barnard's Design
The latter-part of Barnard's Formula One career would be filled with disappointments and disputes. However, there was no disputing the genius of the man from London. In fact, a couple of innovations that are mainstays in Formula One design were first introduced by this man who had been involved in motor racing in some form or manner since the 1960s. John Barnard would be born in London on the 4th of May in 1946. The war was over and a whole new world loomed on the horizon. It was t...[Read more...]
1937 Delahaye 135 Competition Court Torpedo Roadster by Figoni et Falaschi
Even by the 1930s, the performance capabilities of the automobile had progressed to such an extent that many manufacturers would shy away from offering chassis that tested those limits for fear their customers would not be able to handle what was available to them. A few, however, would throw caution to the wind and would make such performance available to their customers. Delahaye was just such a manufacturer. Delahaye's offering of track performance for the street would come in the form of ...[Read more...]
Ford Ecoboost V6 Engine Powers Colin Braun, Michael Shank Racing To New Speed Records At Daytona
◾ Ford's technologically advanced 3.5-liter V6 EcoBoost® race engine helps set three new speed records at Daytona International Speedway ◾ Colin Braun drives to new 222.971 mph single lap mark on Daytona tri-oval, breaking 26-year-old record held by Bill Elliott and his Ford Thunderbird ◾ Michael Shank Racing also sets new standing start 10-mile and standing start 10-kilometer records DAYTONA BEACH, Fla., Oct. 9, 2013– After 26 years, there's a new King of Speed at Daytona Internatio...[Read more...]
ALL-NEW 2014 INFINITI Q50 ARRIVES AT U.S. DEALERS ON AUG. 5 WITH STRONG PRE-SALE MOMENTUM
NASHVILLE, Tenn. – Infiniti today announced that deliveries of the much-anticipated 2014 Infiniti Q50 luxury sports sedan will begin on Monday, Aug. 5 at Infiniti retailers nationwide. The dramatic new Q50 features distinctive design, engaging performance, world's first technologies and unmatched levels of connectivity and personalization. It is offered with a choice of 328-horsepower 3.7-liter V6 or 360 net horsepower 3.5-liter Hybrid models. Starting prices* have been announced at $3...[Read more...]
1991 24 Hours of Le Mans: Facing the Giants
It had been more than thirty years but the Silver Arrows would compete, and win, the 24 Hours of Le Mans. Jaguar would also earn its first victory in more than thirty years when it took the overall honors in 1988. And then there was Porsche, the most dominant mark in Le Mans history. But each of these three manufacturers shared something in common. Even with the victories by Ford during the 1960s there was something very interesting about the list of victors in the 24 French enduro—none of them ...[Read more...]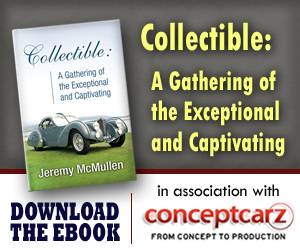 © 1998-2014. All rights reserved. The material may not be published, broadcast, rewritten, or redistributed.