1951 Allard P1 news, pictures, specifications, and information

Tweet
The Allard Motor Company in London, England, built the P1. Production of the P1s ran between 1949 and 1951 amounting to only 155 automobiles. At the same time, strategic materials such as steel and aluminum were very difficult to obtain from the British Government and it was mandatory to justify export business. The Ford components made maintenance easy on the P1 in America and a great number of P1s were exported to the United States. The original sales price of the car was 1,277 British Pounds (approximately $2,000).

With a 3.5-liter standard V8 engine, the top speed was 85 mph. The P1s were successful on the racing circuit and one P1, driven by Sydney Allard, won the Monte Carlo Rally in 1949.
An encounter with any Allard model, save perhaps the highly respected and relatively famous J2 and J2X models, will often leave even learned car buffs scratching their heads. These rare and homely British brutes appear odd with their cumbersome styling, but Allard cars enjoyed racing success and engineering sophistication uncommon in the products of such a small firm.

Take, for instance, the ingenious and oft-copied, though then relatively new, idea of stuffing big American V8s into relatively small and lithe European chassis. Allard excelled at the practice of shoehorning these substantial engines into its trim creations, endowing its cars for both street and track with the reliable, effortless power of a hefty Detroit mill. The suspension on Allards, too, demonstrated the company's engineering capability. A carefully-designed, independent front suspension and de Dion rear axle ensured competent handling and surefooted traction. The high quality of engineering found in Allard's cars enabled a healthy racing career for the company, with the likes of John Fitch and Carroll Shelby competing successfully in the offbeat Brits.

A two-door saloon, the Allard P1 was larger and more practical than cars like the race-ready J2 for which the brand was better known. With familiar V8 power, though, the P1 offered plenty of thrust despite its considerable size. And even though the P1 looked nothing like a racing car, it too enjoyed considerable racing success when a Ford-powered example won the 1952 Monte Carlo Rally, with company owner and founder Sydney Allard driving.

The Allard P1 may never be as highly respected as the more essential Allard racers, but its combination of reliable power, thoughtful engineering, and clumsy yet endearing style make it an accurate representative of the Allard brand.

Sources:

'Allard History.' Allard Register n. pag. Web. 10 Jul 2011. http://www.allardregister.org/allard-history/.

'Allard P1.' Motorbase n. pag. Web. 10 Jul 2011. http://www.motorbase.com/vehicle/by-id/230/.
By Evan Acuña
For more information and related vehicles, click
here
Patrick Head: A Founder of a Revolution
At the end of the 2011 season Patrick Head decided it was time to put a halt to his career in Formula One. After more than 30 years with the Williams team, Head had not only managed to make the organization one of the few privateer outfits to ever flourish in Formula One, he had also helped to start a revolution as well. Perhaps the most sophisticated car ever to race in Formula One arrived on the scene in 1993 and was a direct descendant of another revolutionary design. The car was the FW15...[Read more...]
HOT SELLING AND AWARD-WINNING RDX GOES ON SALE
04/02/2014 - TORRANCE, Calif. -- The 2015 RDX crossover SUV goes on sale today with a manufacturer's suggested retail price* (MSRP) starting at $34,895, Acura announced today. Ever popular with customers, the RDX has been a sales hit, posting its 22nd consecutive monthly sales record in February 2014. RDX again earned honors and won the 2014 ALG Residual Value Award by delivering the highest projected three-year resale value of any vehicle in the Premium Compact Utility Vehicle category....[Read more...]
70 PERCENT OF FORD LINEUP TO HAVE AUTO START-STOP BY 2017; FUEL ECONOMY PLANS ACCELERATE
◾Auto Start-Stop technology to be available on 70 percent of Ford's North American vehicle lineup by 2017, reflecting progress toward the company's plan for increasing fuel efficiency across its lineup ◾Ford Auto Start-Stop is an affordable technology that provides a seamless way to increase fuel efficiency as much as 10 percent in city driving ◾Ford fuel economy plans accelerating with rollout of 45-mpg 1.0-liter EcoBoost® Fiesta in 2014, and research into new dynamic cruise control Ford a...[Read more...]
NISSAN ANNOUNCES 2014 QUEST U.S. PRICING
NASHVILLE, Tenn. - Nissan today announced U.S. pricing for the 2014 Nissan Quest, which is on sale now at Nissan dealers nationwide. Pricing remains unchanged from 2013, with a starting M.S.R.P.* of $25,990 USD. For 2014, the Nissan Quest minivan once again offers an extensive list of family-friendly features - from its bold styling with full surround glass that provides an airy, open interior environment to one-touch power sliding doors, quick release fold-flat 2nd and 3rd row seats, Advance...[Read more...]
Andy Warhol'S 1979 Bmw M1 Art Car To Be Center Piece At Saratoga Automobile Museum
• BMW History and Heritage on four wheels and two on display from May – November, 2013
Woodcliff Lake, NJ – May 17, 2013… Andy Warhol's 1979 BMW M1 Art Car will be the center piece of the exhibition 'BMW – The Ultimate Driving Machine', which opens this weekend at the Saratoga Automobile Museum. The exhibition will also feature the BMW 3.0 CSL which won the Daytona 24 Hour race in 1976. The exhibition, which features a retrospective of BMW cars and motorcycles, will run until ...[Read more...]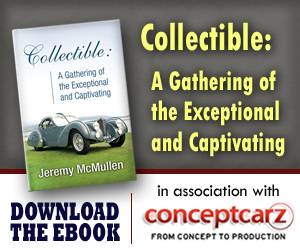 © 1998-2014. All rights reserved. The material may not be published, broadcast, rewritten, or redistributed.