1939 Rolls-Royce Wraith news, pictures, specifications, and information

Tweet
Rolls-Royce produced the Wraith at their Derby factory from 1938 to 1939. The company produced the vehicle as a rolling chassis and supplied the vehicle to independent coachbuilders. Powering the car was an in-line six-cylinder, overhead valve, 4257cc engine that was based on the 25/30 but fitted with a cross-flow cylinder head. The cylinder head had been first seen on the 4¼-Litre Bentley, which placed the inlet and exhaust ports on opposite sides. The engine was mated to a four-speed gearbox which had synchromesh on second, third and four speeds. The drum brakes were assisted by a mechanical servo driven by the engine patented by Hispano-Suiza and built by Rolls-Royce under license. Depending on the size and weight of the coachwork, the car could achieve a top speed of 85 mph.

Carrying the new power-plant was an equally new chassis which featured cruciform bracing and independent front suspension based on a General Motors design. Just like its predecessor, the design and construction was done to high standards of silence and smoothness.

Production of the Wraith was curtailed by the outbreak of WW2 after just 491 examples had been produced.
By Daniel Vaughan | Jun 2011
This 1939 Rolls-Royce Wraith was originally built for a Maharajah. It was requisitioned by the Ministry of War in 1944 for Field Marshall Montgomery. He used it throughout the European campaign, including in Normandy at the D-Day invasion. Other individuals who have been known to have been driven in this car include Eisenhower, Churchill, Bradley and King George. It was finally returned to the United Kingdom with Montgomery in 1949.

The car was completely restored in 1989 to all original specifications.
In 1938, Rolls-Royce introduced an entirely new and smaller design named the Wraith. Some consider it to be the quietest Rolls-Royce ever built. Now many were built as the gathering clouds of war cast a somber note of its future. The Wraith was only built for two years and today is one of the rarest of all Rolls-Royces.

This example was custom bodied by James Young Ltd., of Derby, England. Its Touring Limousine body rests comfortably on a 136-inch platform and is number $470 of 491 produced.
By Daniel Vaughan | Dec 2011
Concealed Head Cabriolet
Coachwork: Mulliner

The Wraith, sometimes described as the quietest Rolls ever built, was the replacement for the 25/30 and the final and most modern junior Rolls-Royce prior to WWII. With a four-inch longer wheelbase than its predecessor and a chassis with much in common with the larger Phantom III, the Wraith featured a new independent front suspension with enclosed coil springs on a solid axle; aft were the same semi-elliptic springs on a solid axle with servo-assisted mechanical brakes. Production however, came to a halt with the outbreak of WWII, after just 491 chassis were built. Rolls-Royce became the producer of Merlin aircraft engines for the British Royal Air Force Spitfires and other fighter aircraft.

This Rolls-Royce Wraith is a one-off by coachbuilder H.J. Mulliner of London and was built for the Earls Court Motor Show and the Paris Auto Salon of 1939. However, due to the outbreak of war, both events were cancelled. The car was sold to Rolls-Royce London distributor, Jack Barclay, Ltd. who owned it until 1948, when it was sold to a Mr. A. Jones. It is an 'all-weather' four-door cabriolet with a disappearing top and dual divided wind-shields. The chassis is welded rather than traditional riveted construction, and is equipped with governor-controlled hydraulic dampers that vary with the speed of the vehicle. The Wraith is among the rarest of Rolls-Royce's prewar vehicles.
This car was the Show Car for Rolls-Royce Motors at its stand in the 1939 Earl's Court Motor Show, just before the outbreak of World War II. It was a departure from past Rolls-Royce design. It came equipped with independent front suspension (by license from General Motors' Cadillac division). It has centralized lubrication, Servo power brakes and 4 built-in hydraulic jacks operated from the passenger compartment. It can cruise along effortlessly at 65/70 MPH.

Freestone & Webb coachbuilders were pioneers in the new 'Knife Edge' body designs.

The Rolls-Royce was originally delivered to a Baronet in the Spring of 1940. The car has participated and driven on several Classic Car Club 'CARavans.'
As 1935 was coming to a close, Rolls-Royce Chief Engineer A.G. Elliott expressed his desire to take the company's line of six-cylinder cars to a new level of design, power, and quality. In 1938, that new car was introduced. It was given an independent front suspension and an all-new welded chassis with a cruciform brace. The new car was, in essence, a smaller version of the Phantom III. Breaking from the tradition crafted from the 20/25 and 25/30, Rolls-Royce gave their new vehicle a more elegant name - the Wraith. In total, Rolls-Royce produced just 491 examples of the Wraith over a two year period prior to the onset of World War II.

This example wears a well-preserved restoration. During the past 35 years, the car has been owned by just two owners. The car - WHC 33 - was sold on March 14th of 1939 to H.R. Owen, a dealer of fine motorcars during the interwar period. Tested on May 19th of 1939, it was delivered on June 7th to coachbuilder Gurney Nutting for drop head coupe coachwork. It was first registered on April 27, 1946, with tags reading GVR 430. As some point during this period, the car's roof was modified with a fixed head coupe.

Stan Brunt acquired the car in the early 1970s. He was a dealer and restorer of fine motorcars in Newcastle, England. Soon after it acquisition, it was advertised for sale. The next owner was Dr. Mark Sheppard of St. Petersburg, Florida. Dr. Sheppard requested that Mr. Brunt thoroughly freshen the Rolls-Royce before shipping it to Florida. The work included repainting the exterior, re-plating most of the brightwork, refurbishing the interior, and rebuilding the engine with a new flywheel, carburetor, and water pump.

WHC 33 was imported on December 29th of 1975 and would remain with Dr. Sheppard until his passing in 1978. The car was purchased from his estate by Delton Woodard of St. Petersburg. While in his care, rain gutters and moldings were added to the car's roof, which was then repainted in white to contrast the blue body.

In the early 1990s, Mr. Woodard's family inherited the car following his passing.
By Daniel Vaughan | May 2013
The Wraith was an entirely new model, which brought the design of the 'baby' Rolls-Royce models into line wîth the sophistication of its larger counterpart, the Phantom III.

The Wraith had a brand new welded chassis, a new light-alloy six-cylinder engine of 4,257 cc and far greater performance than what had gone before. The motor car had been described as a scaled-down Phantom III and is regarded by many as the most enjoyable Rolls-Royce of all.

Certainly it is an extremely refined car and contemporary press report spoke glowingly of its extreme silence. 'The Autocar' described it in these terms: 'it seems of little consequence what the precise maximum speed figure is when such astonishingly easy and completely effortless running is available at, say, 75 mph. Speedometer readings between 80 and 84 were reached on two or three occasions, and considerably more was shown once on a definitely favorable stretch of road.'


Rolls-Royce were able to produce the Wraith for a chassis price of just 1,100 pounds the same as that of the Twenty sixteen years before. Some beautifully proportioned bodies were produced for this model, including a Park Ward touring body for a cost of 1,695 European pounds. Únfortunately the outbreak of The Second World War meant that the car production at Rolls-Royce shut down as it switched to the manufacture of the Merlin aero engine. Today, one Wraith sits in The Royal Mews, proudly owned by Her Majesty The Queen.
Source - Rolls Royce Motor Cars Ltd.
The history of Rolls-Royce in America dates back to 1906 when C.S. Rolls brought three cars to race at New York's Empire City track. Later, their vehicles were on display at the annual show where three were sold to customers.

By the early 1910s, Rolls-Royce had established a relationship with Brewster & Company to body the majority of chassis imported to the US. In 1919, Rolls purchased a factory in Springfield, Massachusetts with the purpose of producing the entire product in the US. One of the benefits was they were able to bypass import and export fees. The factory produced the Silver Ghost model with Brewster and a number of other prominent coachbuilders of the time, tasked with creating many of the bodies. In 1927, the Ghost was succeeded by the Phantom I.

During the Great Depression, sales slowed and soon England was supplying the US with left-hand drive Phantom II chassis, again, with Brewster handling much of the coachwork. Between 1931 and 1934, a mere 116 examples of the Phantom II were sold to the United States. With sales so low and the Great Depression in full swing, the Springfield location was shut down. John S. Inskip, who was the Rolls-Royce American president, continued to operate the Brewster coachworks.

In 1938, the successor to the 25/30 'small Rolls' was introduced, the Rolls-Royce Wraith. It had an independent front suspension based on a General Motors design and powered by the 4257cc overhead valve six-cylinder engine of the 25/30. It was updated with a new crossflow head.

Rolls had stopped producing left-hand drive chassis, but a few right-hand examples were imported to the US by Inskip who bodied them in his shops.

A total of 491 Wraith's were produced by Rolls Royce before war in Europe shut down automobile production. Only a small portion of those made it to the United States.
By Daniel Vaughan | Apr 2008
For more information and related vehicles, click
here
E.J. VISO HEADLINES NEW DRIVERS FOR ROUND NO. 3 AT GRAND PRIX OF LONG BEACH
Long Beach, Calif. (April 12, 2014) – Venezuela's E.J. Viso, an IndyCar driver with six Indianapolis 500 starts to his credit including a fourth-place start at last year's 500-miler, will join a field of trucks Sunday at the Toyota Grand Prix of Long Beach for the third round of the 2014 SPEED Energy Formula Off-Road Presented by Traxxas series. Viso and his Citgo-sponsored Traxxas truck will join two other drivers making their debut in the Stadium Super Trucks including Bradley Morri...[Read more...]
KIA RACING READY FOR THE 2014 PIRELLI WORLD CHALLENGE SEASON OPENER ON THE STREETS OF ST. PETERSBURG
Nic Jönsson and Mark Wilkins Return To Pilot No. 36 and No. 38 Grand Touring Sport (GTS) Class Turbocharged Optimas In Kia's Third Season of Pirelli World Challenge Competition ◾Off-season development work improves racing Optimas' handling and braking in pursuit of 2014 GTS championship ◾Kia to continue racing for a cause as No. 36 and 38 turbocharged Optimas once again feature philanthropic partners DonorsChoose.org and B.R.A.K.E.S. Teen Pro-Active Driving School Irvine, Calif., March 2...[Read more...]
Bentley Showcases Luxury And Performance At Cholmondeley Pageant Of Power
•New Flying Spur makes UK show debut •Le Mans winner Guy Smith celebrates 10th anniversary of victory with Speed 8 drive •Bentley's Continental GT3 race concept on display •200mph Continental Speed range take to the track (Crewe, 3 June 2013) Bentley is celebrating the 2013 Cholmondeley Pageant of Power from 13-15 June with an extensive display of cars that will take visitors from the excitement of the race track all the way through to the hand-crafted luxury and refinement of the n...[Read more...]
KIA RACING ANNOUNCES DRIVER LINE-UP FOR 2013 PIRELLI WORLD CHALLENGE SEASON
Nic Jönsson and Mark Wilkins To Pilot Grand Touring Sport (GTS) Class Turbocharged Optimas In Kia's Sophomore World Challenge Campaign •Former Continental Tire Sports Car Challenge champion and multi-time race winner with Kia's Grand-Am Forte Koup program Nic Jönsson moves over to the No. 36 turbocharged Optima •Mark Wilkins returns to the No. 38 turbocharged Optima having contributed a pole, a win and two podium finishes to Kia Racing's strong rookie effort in the Pirelli World Challenge la...[Read more...]
Coys Legende et Passion Auction
The catalogue for Coy's international auction, Legende et Passion, held in Monaco on Saturday 12th May 2012, is now available online to Club members at www.coys.co.uk. This is a very significant European headline auction, held against the backdrop of the Historic Grand Prix de Monaco, and is one of the most important European sales to be held this year. Viewing is on: Thursday 10th May from 12 noon to 6:00pm Friday 11th May from 11.00am - 7:00 pm Saturday 12th May from ...[Read more...]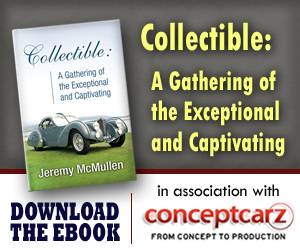 Rolls-Royce
Monthly Sales Figures
Volume
November 2014
75
October 2014
75
September 2014
75
August 2014
75
July 2014
75
June 2014
75
May 2014
75
April 2014
75
March 2014
75
January 2014
86
October 2013
84
September 2013
84
(More Details)
© 1998-2014. All rights reserved. The material may not be published, broadcast, rewritten, or redistributed.