Image credits: © Mercedes-Benz.
1964 Mercedes-Benz 220 Series news, pictures, specifications, and information

Tweet
The 1964 Mercedes-Benz 220 Series was available as a sedan, coupe and convertible in three different models, including the 220b, 220Sb, and 220SEb. All three models had identical wheelbase sizes and interior dimensions. The differences were in the equipment and performance options. The 220 was powered by an overhead-cam six-cylinder engine that displaced 133.9 cubic-inches. A four-speed manual gearbox was standard with an automatic unit available for an additional charge. Pricing ranged from $4,350 - $9,500. The most expensive vehicle in the lineup was the 220SEb 2-door Convertible.

The Mercedes-Benz 220 models, internally designated W128, entered production in 1954. There were a number of six-cylinder variants available through the years, including the 220 (1954 to 1956), the 219 (1956 to 1959), 220S (1956 to 1959) and the 220SE (1959 to 1960). Only the 220S and the 220SE engines were available in the top-line cabriolets.

The 220SE, (representing Super, Fuel Injected) were luxuriously appointed and well-trimmed. They were fitted with many amenities associated with Mercedes-Benz's limited-production 300 series. Many parts of the car, including the dash and door finish, were hand-built and covered in wood veneers of burled grain. The seats and trim were clothed in Roser surfaced-dyed leather, complemented by Wilton wool carpets.

The 220SE Cabriolet was introduced in 1959 and produced through October of 1960. The engine displaced 2,195cc and offered 135 horsepower. Mercedes-Benz produced just 1,112 examples of the 220SE Cabriolet. They had a four-speed synchronized transmission, independent suspension and long wheelbase.
By Daniel Vaughan | Jun 2011
The upscale W128 Ponton 220 S and 220 SE Coupe and Cabriolet was slated for retirement in late 1960, and Mercedes-Benz was in need of a suitable replacement. In August of 1959, the new models were introduced. Internally designated W111 and based on the full-length architecture of the 220 SEb Sedan, the new models wore styling that were inspired under the direction of Paul Bracq. In typical Mercedes-Benz practice, the 220 SEb Coupe and later Cabriolet versions were given the same engine and chassis components of the 220 SEb four-door sedan. The two-door models, however, did not utilize any of the Sedan's body parts.

The Mercedes-Benz 220 SEb Coupe was introduced on February 24, 1961, at the opening of the Daimler-Benz Museum in Unterturkheim. The 220 SEb Cabriolet followed the Coupe with an August 1961 introduction. Both the coupe and the cabriolet featured Mercedes-Benz's four-speed automatic transmission as standard equipment. They were luxuriously appointed and well-trimmed with a price to match their elegant countenances. They were largely hand-built and served as the company's full-size image leaders until 1965. The basic body style would continue to live on in 250 SE and later 280 SE forms.

This particular example, a 220 SEb Cabriolet from 1964 is a late-production W111 model that is finished in silver with burgundy MB Tex upholstery and has a black canvas convertible top. There is wood-grain interior trim, a Becker Europa radio, and power-assisted steering. Power is from a 2195cc single overhead cam six-cylinder engine fitted with a Bosch Mechanical Fuel Injection system. There is a four-speed automatic gearbox and disc brakes in the front with hydraulic drums in the rear.
By Daniel Vaughan | Apr 2014
In 1959, at the Frankfurt Show, Mercedes-Benz introduced four new models, all of which shared the same basic unitary-construction bodyshell and all-round independent suspension. They were longer than their predecessor that featured a wider radiator shell, wrap-around windscreen, wider rear window, vertically positioned twin headlamps and discrete tail fins. The tail fins earned it the nickname, 'Fintail.'

Powering the 220SE was a single-overhead camshaft six-cylinder engine, boasting fuel injection and increased compression ratio of 8.7:1, raising maximum output to 120 bhp. Zero-to-sixty mph was reached in just under 13 seconds with top speed near 110 mph. The 220SE was distinguished from its less expensive siblings through the use of additional chrome and twin rear bumpers. They had a Hydrak automatic clutch which proved to be a less popular option so a proper four-speed automatic transmission was made available from 1961. The interior was luxurious and well finished, with form following function.

This 220SE was completed at the Mercedes-Benz factory in 1964 and was built to European specifications and equipped with the four-speed manual transmission. The exterior color is DBG334 Light Blue, and the interior is Cognac over tan carpets. The original owner was a resident of Zurich, Switzerland who is believed to have kept the blue Mercedes for about a decade, using it sparingly and only during fair weather conditions. In March of 1974, the 220SE was purchased by its second owner, a Mr. Silverstone of Palos Verdes, California. Silverstone imported the car to California that same year, and would retain the striking Cabriolet in his collection for nearly 40 years.

In the early 2000s, the car was treated to a cosmetic restoration, during which time the car's exterior was finished in the original light blue color, the chrome and trim refinished, and the interior redone in the correct Cognac. It has color coded hubcaps and a dark blue convertible top. There is a Becker Europa radio, tools, and Mercedes-Benz factory records and books.
By Daniel Vaughan | Nov 2014
For more information and related vehicles, click
here
TIMELESSLY ALLURING: 25 YEARS OF THE BMW 8 SERIES
Munich. It was streets ahead of its time at launch and maintains an ageless glow to this day, yet a glance at the calendar reveals the disarming truth: 25 years have passed since the BMW 8 Series was presented to the world at large for the first time. The car's international fan community duly came together last weekend at its Bavarian birthplace to celebrate the anniversary, with events including a spectacular parade of 120 cars at the BMW Group headquarters highlighting their collective...[Read more...]
NAME THE NEW VIPER COLOR AND WIN A TRIP TO THE 2014 ROLEX 24 HOURS OF DAYTONA
◾SRT® brand to host 'The SRT Viper Color Contest' that enables fans to name an official new exterior color for the 2014 Viper ◾Grand prize winner will win a trip to the '2014 Rolex 24 Hours At Daytona' at Daytona International Speedway in Jan. 2014 as a VIP guest of SRT Motorsports ◾Participants can enter 'The SRT Viper Color Contest' online via www.driveSRT.com October 17, 2013 , Auburn Hills, Mich. - The Chrysler Group's Street and Racing Technology (SRT®) brand is giving someone a...[Read more...]
CHEVROLET PERFORMANCE RIDES AGAIN WITH HOT ROD POWER TOUR®
DETROIT – A caravan of Chevrolet high-performance production and concept vehicles will be led by the Hot Wheels® 1967 Camaro Concept at the start of the Hot Rod Power Tour® – the weeklong road trip that kicks off the summer cruising season for thousands of car enthusiasts. Other production performance cars on the tour include a Camaro ZL1 Convertible, Camaro Hot Wheels® Edition and a Corvette 427 Collector Edition Convertible. The Power Tour starts this Saturday, June 1, in Arlingto...[Read more...]
Mercedes-Benz Honors Top Down Driving In Sunny Amelia Island
Florida's sunny weather is creating the perfect back-drop to honor the 50th anniversary of the famed Mercedes-Benz 'Pagoda,' SL which takes center stage during this week's Amelia Island Concours d'Elegance, March 8-10, 2013. The launch of the Mercedes-Benz 230 SL at the Geneva Motor Show in March 1963 caused quite a sensation. Mercedes-Benz had presented the motoring world with this single successor to the extremely successful 300 SL (W198) and 190 SL (W121). The Daimler-Benz design team a...[Read more...]
2014 RANGE ROVER NOW AVAILABLE FOR ORDER WITH A CHOICE OF SUPERCHARGED V6 & V8 ENGINES
•Following the sales success of the all-new 2013 Range Rover, the 2014 Range Rover is now available for order, with deliveries beginning this summer •A new 340hp 3-liter supercharged V6 will offer improved efficiency with reduced emissions and uncompromised capability •A 510hp supercharged 5-liter V8 will continue to be available •The 2014 Range Rover will be equipped with a new Intelligent Stop/Start system which reduces idling to reduce emissions and save fuel •Both engines will be pa...[Read more...]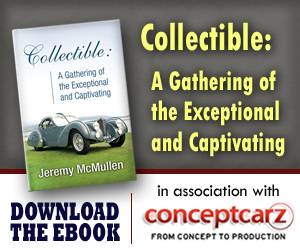 Similarly Priced Vehicles from 1964
Studebaker Avanti R3 ($4,445-$4,445)
Excalibur SS ($6,000-$6,000)
Lincoln Continental ($6,290-$6,935)
Austin-Healey Sprite Mark II ($4,990-$4,990)
Jaguar XKE E-Type ($5,300-$5,500)
Ford Thunderbird ($4,485-$4,851)
Porsche 356 ($4,195-$5,090)
Porsche 356 Carrera 2 ($7,600-$8,050)

Average Auction Sale: $29,824
Mercedes-Benz
Monthly Sales Figures
Volume
December 2014
37,297
November 2014
37,110
October 2014
30,733
September 2014
29,523
August 2014
28,958
July 2014
29,406
June 2014
28,707
May 2014
26,617
April 2014
28,281
March 2014
29,316
February 2014
22,609
January 2014
23,892
(More Details)
© 1998-2014. All rights reserved. The material may not be published, broadcast, rewritten, or redistributed.