Image credits: © Mercedes-Benz.
1964 Mercedes-Benz 220 Series news, pictures, specifications, and information

Tweet
The 1964 Mercedes-Benz 220 Series was available as a sedan, coupe and convertible in three different models, including the 220b, 220Sb, and 220SEb. All three models had identical wheelbase sizes and interior dimensions. The differences were in the equipment and performance options. The 220 was powered by an overhead-cam six-cylinder engine that displaced 133.9 cubic-inches. A four-speed manual gearbox was standard with an automatic unit available for an additional charge. Pricing ranged from $4,350 - $9,500. The most expensive vehicle in the lineup was the 220SEb 2-door Convertible.

The Mercedes-Benz 220 models, internally designated W128, entered production in 1954. There were a number of six-cylinder variants available through the years, including the 220 (1954 to 1956), the 219 (1956 to 1959), 220S (1956 to 1959) and the 220SE (1959 to 1960). Only the 220S and the 220SE engines were available in the top-line cabriolets.

The 220SE, (representing Super, Fuel Injected) were luxuriously appointed and well-trimmed. They were fitted with many amenities associated with Mercedes-Benz's limited-production 300 series. Many parts of the car, including the dash and door finish, were hand-built and covered in wood veneers of burled grain. The seats and trim were clothed in Roser surfaced-dyed leather, complemented by Wilton wool carpets.

The 220SE Cabriolet was introduced in 1959 and produced through October of 1960. The engine displaced 2,195cc and offered 135 horsepower. Mercedes-Benz produced just 1,112 examples of the 220SE Cabriolet. They had a four-speed synchronized transmission, independent suspension and long wheelbase.
By Daniel Vaughan | Jun 2011
The upscale W128 Ponton 220 S and 220 SE Coupe and Cabriolet was slated for retirement in late 1960, and Mercedes-Benz was in need of a suitable replacement. In August of 1959, the new models were introduced. Internally designated W111 and based on the full-length architecture of the 220 SEb Sedan, the new models wore styling that were inspired under the direction of Paul Bracq. In typical Mercedes-Benz practice, the 220 SEb Coupe and later Cabriolet versions were given the same engine and chassis components of the 220 SEb four-door sedan. The two-door models, however, did not utilize any of the Sedan's body parts.

The Mercedes-Benz 220 SEb Coupe was introduced on February 24, 1961, at the opening of the Daimler-Benz Museum in Unterturkheim. The 220 SEb Cabriolet followed the Coupe with an August 1961 introduction. Both the coupe and the cabriolet featured Mercedes-Benz's four-speed automatic transmission as standard equipment. They were luxuriously appointed and well-trimmed with a price to match their elegant countenances. They were largely hand-built and served as the company's full-size image leaders until 1965. The basic body style would continue to live on in 250 SE and later 280 SE forms.

This particular example, a 220 SEb Cabriolet from 1964 is a late-production W111 model that is finished in silver with burgundy MB Tex upholstery and has a black canvas convertible top. There is wood-grain interior trim, a Becker Europa radio, and power-assisted steering. Power is from a 2195cc single overhead cam six-cylinder engine fitted with a Bosch Mechanical Fuel Injection system. There is a four-speed automatic gearbox and disc brakes in the front with hydraulic drums in the rear.
By Daniel Vaughan | Apr 2014
For more information and related vehicles, click
here
TIMELESSLY ALLURING: 25 YEARS OF THE BMW 8 SERIES
Munich. It was streets ahead of its time at launch and maintains an ageless glow to this day, yet a glance at the calendar reveals the disarming truth: 25 years have passed since the BMW 8 Series was presented to the world at large for the first time. The car's international fan community duly came together last weekend at its Bavarian birthplace to celebrate the anniversary, with events including a spectacular parade of 120 cars at the BMW Group headquarters highlighting their collective...[Read more...]
BOSCH TECHNOLOGY POWERS 2014 CHEVROLET CRUZE CLEAN TURBO DIESEL
- Cruze Clean Turbo Diesel available now in U.S. and Canada - Bosch predicts more than 60 clean diesel models in N.A. market in 2017 - Vehicle achieves industry-best, EPA-estimated 46 mpg highway FARMINGTON HILLS, Mich. – Bosch, a leading global technology supplier, announced today that its clean diesel technology is featured on the 2014 Chevrolet Cruze Clean Turbo Diesel. Bosch provides the fuel injection system, ceramic glow plugs, engine control module, exhaust gas treatment tech...[Read more...]
Mercedes-Benz Honors Top Down Driving In Sunny Amelia Island
Florida's sunny weather is creating the perfect back-drop to honor the 50th anniversary of the famed Mercedes-Benz 'Pagoda,' SL which takes center stage during this week's Amelia Island Concours d'Elegance, March 8-10, 2013. The launch of the Mercedes-Benz 230 SL at the Geneva Motor Show in March 1963 caused quite a sensation. Mercedes-Benz had presented the motoring world with this single successor to the extremely successful 300 SL (W198) and 190 SL (W121). The Daimler-Benz design team a...[Read more...]
POW! BAM! ZOOM! The Original 1966 TV Batmobile To Cross Auction Block At Barrett-Jackson Scottsdale
Holy Grail of TV Star Cars to be Sold for First Time January 19, 2013 Barrett-Jackson, the World's Greatest Collector Car Auctions™, announced today that it will offer one of the most recognized and popular pieces of entertainment history worldwide, at its 42nd annual Scottsdale www.barrett-jackson.com/scottsdale/ auction in January – the only 1955 Lincoln Futura concept car which was heavily modified by legendary customizer George Barris to become the original 1966 Batmobile in the l...[Read more...]
Active Comfort provides for stress-free driving and recuperation in the car
Mercedes cars take on the role of personal coach What could be better than a personal coach with a tailor-made training programme to enhance your fitness and general well-being, on hand to support you at any time of the day or night? Tomorrow's Mercedes-Benz cars will take on this very role. Active Comfort, defined as 'performance-enhancing comfort', provides for well-being, recuperation and subsequent fitness at the wheel. The experts from Mercedes-Benz Cars and Mercedes-Benz Trucks a...[Read more...]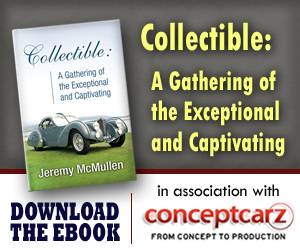 Similarly Priced Vehicles from 1964
Studebaker Avanti R3 ($4,445-$4,445)
Excalibur SS ($6,000-$6,000)
Lincoln Continental ($6,290-$6,935)
Austin-Healey Sprite Mark II ($4,990-$4,990)
Jaguar XKE E-Type ($5,300-$5,500)
Ford Thunderbird ($4,485-$4,851)
Porsche 356 ($4,195-$5,090)
Porsche 356 Carrera 2 ($7,600-$8,050)

Average Auction Sale: $7,400
Mercedes-Benz
Monthly Sales Figures
Volume
June 2014
28,707
May 2014
26,617
April 2014
28,281
March 2014
29,316
February 2014
22,609
January 2014
23,892
December 2013
35,835
November 2013
36,386
October 2013
32,107
September 2013
26,849
August 2013
26,151
July 2013
25,563
(More Details)
© 1998-2014. All rights reserved. The material may not be published, broadcast, rewritten, or redistributed.