Image credits: © Toyota.
2012 Toyota Hilux news, pictures, specifications, and information

Tweet
Hilux 2012, new design and more power
The renowned Toyota Hilux continues to dominate European pick-up sales. Vehicle sales totalled 21,866 in 2010, representing almost 25% of the market share. This makes the Toyota pick-up the §egmènt sales leader for the third consecutive year.

With the launch of the Hilux 2012, Toyota introduces a new design and further improves the model's renowned quality, durability and reliability.

The Hilux 2012's new interior has been extensively revised wîth a refined design which reinforces the pick-up's credentials as a leisure vehicle. It offers improved sensory quality throughout the cabin, and passenger car levels of convenience.


The interior features a new upper dashboard design in which a new, horizontal centre instrument cluster reinforces the breadth and roominess of the cabin. It incorporates Toyota Touch, a 6.1', full colour, touch screen multimedia unit.

Perceived quality has been significantly improved through the adoption of uniformly darker finishes wîth a greater colour consistency throughout the interior, and the addition of silver ornamentation.

The front of the Hilux 2012 is entirely redesigned from the A pillar forwards, wîth a new bonnet, radiator grille, headlamps and front bumper. The vehicle profile is further enhanced by newly designed front and rear wings, redesigned 15' and 17' steel and alloy wheels, and new door mirrors.


In order to create a stronger differentiation between 'workhorse', 'dual usage' and 'leisure' versions, the Hilux 2012 is now available in four grades: DLX, the new DLX+, SR and SR+.

Fulfilling a 'workhorse'/'dual usage' role, the brand new DLX+ grade is available wîth 2WD or 4WD 2.5 D-4D powertrains mated to a manual transmission in Single Cab, Extra Cab and Double Cab body styles, and wîth a 4WD 3.0 D-4D powertrain and manual transmission as a Double Cab only.

With a choice of three body types, two engines, manual and automatic transmission and two- or four-wheel drive, Europe's pick-up of choice now satisfies the requirements of an even wider professional and leisure customer base.


Through the introduction of variable nozzle turbocharging, Hilux 2012 2WD 2.5 D-4D models benefit from a 24 hp increase in power. The engine now develops 144 hp at 3600 rpm and 343 Nm of torque at 2000 rpm.

Despite this power increase, combined cycle fuel consumption has been reduced by 1.0 l/100 km to 7.3 l/100 km and CO2 emissions lowered by 26 g/km to only 193 g/km.

In addition, Hilux 2012 2WD versions are now equipped wîth the more robust chassis design of 4WD models. This not only improves vehicle ground clearance, but also increases the two-wheel drive models' towing capacity to 2.5 tons.


Thanks to the adoption of a Diesel Particulate Filter (DPF) both 2.5 D-4D and 3.0 D-4D engines are now EÚRO V compliant.

Produced at Toyota Motor Thailand and Toyota South Africa Motors, the Hilux 2012 will be available in 36 European countries, and more than 135 throughout the world.

With anticipated European sales of almost 26,000 units in 2011, the Toyota Hilux success story is set to continue.
Source - Toyota
THE NEW E63 AMG S-MODEL – WITH 4MATIC
• New benchmark for performance, dynamic purpose and efficiency
October 15, 2013 The E63 AMG line for 2014 features a new S-Model with 577 horsepower and 590 lb.-ft. of torque as well as a newly developed performance-oriented AMG 4MATIC all-wheel-drive system. The AMG 5.5-liter V8 biturbo engine continues to be a pinnacle of efficiency – an unusual combination of high performance and high fuel mileage that remains unrivaled worldwide in its market segment. Mercedes-AMG con...[Read more...]
VOLVO CARS OF NORTH AMERICA ANNOUNCES PRICING OF ITS 2014 MODEL LINEUP
ROCKLEIGH, N.J. - (Aug. 1, 2013) - Propelled by a major investment and product strategy to boost the Swedish automaker's position in the global marketplace, Volvo Cars of North America released pricing for its 2014 model year lineup today. The announcement comes as Volvo is about to deliver a lineup that reflects the biggest renewal of existing models in company history and highlights Volvo's commitment to offer customers outstanding value across its full range of products. 2014 models...[Read more...]
All-New 2014 Acura MDX Takes Luxury Refinement to a New Level with Signature Acura Technologies, Increased Comfort, Fuel-Efficiency and Performance
MDX flagship SUV now available with Two-Wheel Drive and features direct-injected powertrain, Jewel Eye™ LED headlights, more versatile interior and the AcuraLink™ Next Generation services 06/19/2013 - TORRANCE, Calif. The all-new 2014 MDX, the third generation of Acura's acclaimed 7-passenger luxury performance SUV, goes on sale at Acura dealerships nationwide tomorrow, offering comfort, connectivity and performance every luxury customer wants at a price that no other luxury b...[Read more...]
Mazda Cx-5 Named 'Top Family Choice Vehicle' By Greater Atlanta Automotive Media Association
WASHINGTON, April 29, 2013 -- The Greater Atlanta Automotive Media Association (GAAMA) yesterday named the 2013 Mazda CX-5 its 'Top Family Choice Vehicle' and the all-new 2014 Mazda6 'Best Green Family Choice Vehicle' at its first annual Family Choice Challenge. GAAMA President Nick Palermo said, 'The CX-5 was the clear winner for the overall 'Top Family Choice Vehicle' award. It's stylish, affordable, has comfortable seating and great fuel economy and is fun to drive.' The 2013 CX-...[Read more...]
Bentley Motors' North American Debuts
•New Continental GT Speed makes N. American debut •EXP 9 F luxury SUV displayed on Concept lawn •Highly prized classic and vintage Bentleys to be auctioned As California's Monterey Peninsula is primed for a week of displays and events involving some of the world's most coveted, historic automobiles, Bentley Motors prepares to share a glimpse into the future with the North American debut of two new models – the Continental GT Speed and the EXP 9 F luxury SUV concept. 'Pebble Beach and ...[Read more...]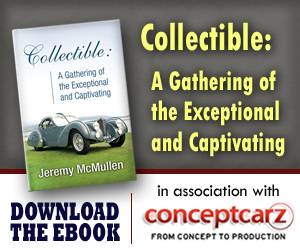 Toyota
Monthly Sales Figures
Volume
February 2014
140,429
January 2014
128,728
December 2013
156,086
November 2013
152,433
October 2013
146,257
September 2013
144,935
August 2013
201,745
July 2013
170,363
June 2013
173,880
May 2013
185,723
April 2013
158,069
March 2013
182,152
(More Details)
© 1998-2014. All rights reserved. The material may not be published, broadcast, rewritten, or redistributed.