1950 Crosley Series CD news, pictures, specifications, and information

Tweet
The Crosley Automobile Company was novel from day one of production. Originally built with an air-cooled 2-cylinder engine, the post-war models advanced with the stout 26.5 horsepower overhead valve cast iron engines offered in a wide variety of body styles.

Station wagons (originally named from horse-drawn wagons that would take you from train stations to rural outposts) had emerged as a growing market segment and Crosley followed suit with their first offering in 1949. The stylish wagon could be ordered with two-toned interiors, chrome trim and optional features - winning the hearts and frugal wallets of many cost-conscious middle class suburbanites.

Restored to a high standard by the current owners, this Station Wagon features rare options including sun visor, heater, ashtray, fender skirts, Crosley radio, and 6-inch vacuum fans. Shown only since the restoration was completed in April 2012, it earned a 1st place at the 2012 Crosley Nationals.
The diminutive Crosley was constructed in Cincinnati, Ohio from 1939 through 1952. This would mark as the last of the American attempts to mass produce a microcar. Among the highlights of Crosley Motors were the first fleetside, full bed-pickup in 1947, first disc brakes on American car (1949), and the winner of the first Sebring race, using the European handicap system in 1950. In 1948, the built more station wagons than any other United States automakers.

Crosley introduced its restyled cars in November of 1948 and featured new front-end sheet metal. They were available as a Deluxe Sedan, Convertible and a Station Wagon with prices beginning in the mid $800s. Production never reached high numbers; the first year alone saw a mere 6,679 examples constructed.

On the front of the CD was a Crosley shield medallion with a new type of hood mascot. The wheel openings were reshaped, the front fenders had a new revised shape with the headlights integrated into the front end, and the hood became broader. The license plate holder was moved from the left-hand side to the center of the deck lid.

Though little changed for the 1950 model year, the Crosley Series CD was available as a Standard or Super model, still available as a 2-door sedan, station wagon, or convertible. Powering the car was a four-cylinder engine that displaced 44 cubic-inches and produced 26.5 horsepower. It had a three-speed non-synchromesh manual transmission. The wheelbase measured 80 inches.

On July 3rd of 1952, production of the Crosley Series CD ceased.
By Daniel Vaughan | Jul 2011
For more information and related vehicles, click
here
2015 SORENTO NAMED BEST FAMILY VEHICLE BY THE NORTHWEST AUTOMOTIVE PRESS ASSOCIATION
Sorento SX Tops Its Segment at Annual 'Mudfest' Challenge Event ◾Automotive journalists from the Pacific Northwest rank the Sorento ahead of six competitors in the Best Family Vehicle category ◾Strong performances on both the autocross course and public roads help Kia's popular CUV capture title IRVINE, Calif., May 9, 2014 – Kia Motors' highly acclaimed 2015 Kia Sorento was named Best Family Vehicle by the Northwest Automotive Press Association (NWAPA) during the annual 'Mudfest' com...[Read more...]
BRUCE MEYERS TO CELEBRATE 50TH ANNIVERSARY OF ICONIC MEYERS MANX BY RACING IN 2014 NORRA MEXICAN 1000 RALLY
After months of preparation and with the support of an industry it helped create, Meyers Manx Inc. today proudly announced details of a new project to celebrate the car's 50th anniversary next month. It is entering company founder Bruce Meyers in next month's 2014 General Tire NORRA Mexican 1000 rally. The iconic Meyers Manx dune buggy ('Old Red') was invented by Meyers in a small garage on the Balboa Peninsula of Newport Beach, California and first driven in May of 1964. The spirited and eve...[Read more...]
MASERATI AND RUXTON AMONG FEATURED MARQUES AT 2014 PEBBLE BEACH CONCOURS d'ELEGANCE
PEBBLE BEACH, Calif. (February 20, 2014) -- Maserati, a marque renowned for its racing greats as well as road cars offering both elegance and sporting performance, takes center stage at the 64th annual Pebble Beach Concours d'Elegance. The event, often said to be the most intense collector car competition in the world, will be held on Sunday, August 17, at The Lodge at Pebble Beach. Additional 2014 features range from rainbow-hued Ruxtons and antique steamers to the elegant coachwork...[Read more...]
BESPOKE 911s METICULOUSLY RESTORED FOR CUSTOMERS BY SINGER VEHICLE DESIGN
• Newest Handcrafted Customer Car by Singer Salutes50th Anniversary of Original 911, Evoking Passion for a True Automotive Icon
LOS ANGELES – November 20, 2013 – As Singer Vehicle Design (SVD) tonight hosts a Los Angeles viewing of its latest handcrafted masterpiece restored for a customer, the company will continue to salute the genius of Porsche and the 50th anniversary of the original 911. Considered the most bespoke 911 re-imagined by SVD yet, the 'Sweden' car, to be shown t...[Read more...]
Singer Vehicle Design Celebrates 50Th Year Of 911 With Latest 'Re-Imagined' Debut At Quail
• Newest Handcrafted Restored Customer Car by Singer Evokes Past Racing Glories of Porsche, With State-of-the-Art Content and Peerless Execution.
LOS ANGELES – August 1, 2013 – When Singer Vehicle Design (SVD) displays the latest handcrafted masterpiece it has restored for a customer at the 2013 Quail Motorsports Gathering on August 15th, it will note a series of 'firsts' while continuing to salute the genius of Porsche and the 50th anniversary of the original 911. For SVD, the...[Read more...]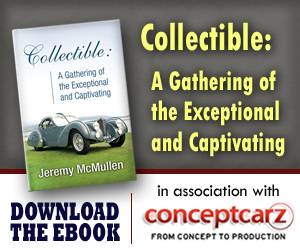 © 1998-2014. All rights reserved. The material may not be published, broadcast, rewritten, or redistributed.