1960 Dodge Polara news, pictures, specifications, and information

Tweet
For 1960, the Polara was a new nameplate, added to the upper end of the Dodge lineup, in part to prepare for the dissolution of Chrysler's DeSoto division the following year. The new Dodge was one of the final expressions of the age of fins at Chrysler Corporation, and like most designs emerging during the Virgil Exner era it was sweepingly elegant and attractively proportioned.

Exner was a native of Michigan and he began his distinguished career with Raymond Loewy and Associates, working initially on military vehicles, as well as 1939 and 1940 model year cars for Studebaker, a Loewy client.

In 1944, Exner left Loewy to join Studebaker, and had a key design role in the 1947 Champion Starlight Coupe, one of the first all-new American cars to appear after the Second World War He was hired by Chrysler in 1949, and rose in the corporate hierarchy with a series of dramatic dream cars created in league with Carrozzeria Ghia, the Italian designer and coach building house. Exner's work was instrumental in propelling Chrysler out of its stodgy post-war design doldrums, and in July of 1957 he was appointed Vice president of Styling, a first for the corporation. Before Exner, final design yea or nay rested with Chrysler's engineering department, where caution prevailed.

The Polara was offered in several body styles including convertible, hardtop coupe, sedan, hardtop sedan, and two wagons, in six- and nine-passenger configurations. All were powered by a 383 cubic-inch V8, either 325 horsepower (standard), or an optional 330 horsepower version.
| | | | |
| --- | --- | --- | --- |
| | | | 9-Passenger Station Wagon |
The all-new 1960 Dodge was shaped for the space age, from elaborate front bumper/grille combo to high-flying, 'dynamically balanced integral fins' and 'jet-pod' tail lamps. The line-topping Polara series was offered in a full range of body styles, including hardtops, sedans, convertible plus the dramatically-styled hardtop wagon seen here. Unibody construction - new for all 1960 Dodge models - was claimed to be 'twice as strong and twice as tight as ordinary body-on-frame construction.'

This Polara wagon is one of only 1768 nine-passenger Polara wagons built for 1960. Original price was $4,220, highest of all Dodge models. Polara equipment included a 325 horsepower, 383 cubic-inch V8 engine, 3-speed TorqueFlite transmission and luxury-level interior trim with a 'see-through' speedometer. Options on this wagon included a gold metalflake steering wheel, padded dash and luggage rack. It was built at the Los Angeles plant, bought new in Culver City and stayed in California until 1998.
The name Dodge Polara first appeared in 1960 and was used on Dodge's full-size vehicle. The name would continue to adorned Dodge vehicles in various forms unti 1973.

When introduced, the Dodge Polara's design was similar to vehicles of the prior years, continuing the 'Forward Look' design of Virgil Exner. In the front was a small grille accompanied by a large front bumper. In the rear were taillights termed 'jet pods'. The lights were larger than what they needed to be with part of their purpose to aid in the futuristic look of the vehicle. Tail fins were part of the ensemble. There were to tail lights with the lower light built into the rear bumper. Chrome and trim were used extensively on the vehicles exterior. On the interior the vehicle was adorned in plush fabrics, appropriate since this was Dodge's near top-of-the-line vehicle.

The jet influenced tail lights, futuristic looking tail-fins, extensive use of chrome, and 'Forward Look' design of the Dodge Polara was not enough to stimulate sales in 1960. The Matador was partly responsible for the slow sales so in the following year, the Matador was no longer offered for sale. The Polara was given styling updates and various changes but this did little to increase sales as many consumers were more interested in the conventionally style, mid-sized Dodge Dart.

A few of the changes that occurred on the Dodge Polara in 1961 were enlarging the cars tail fins and reversing their direction, meaning they grew larger as they crept towards the rear window. In the front the larger bumper treatments were replaced in favor of a more simple design. The concave grille from the Dodge Dart could now be found on the Dodge Polara. The result of the work of Exner's styling department was a unique design and something that was different from anything else on American roads at the time. Unfortunately, the American public did not favor the design and sales were dismal, with only 14,032 units produced. This was one of the lowest figures for the Dodge Marque since the early 1910's.

Change was obviously needed. For 1962 the Polara was moved to a smaller platform, now just 116 inches. The change had come as a last-minute decision in an effort to mirror the moves Chevrolet were making with their designs. Chevrolet was downsizing all of their products. Dodge designers were forced to revise their designs to more compact configurations. When Chevrolet rolled out their new products in 1962, the Chrysler Corporation were surprised to see that what was thought to be a down-size of all their products was merely the inclusion of smaller products to their mid and full-size line-up. Chevrolet had their full-size Biscayne, Bel Air, and Impala. The Chevy II was now their compact vehicle. As a result Dodge and Chrysler offered smaller cars than their competitors in 1962. The public and press were not impressed with the new designs, finding them awkward. Sales remained low.

The Dodge Polara 500 was introduced in 1962 as a two-door hardtop coupe. A few months later a convertible and four-door hardtop version was added.

It took a few years to recover but by 1965 the Dodge Polara was again sitting atop of a full-size platform and offered in a variety of body styles including sedans, hardtops, station wagons, and more. From 1965 through 1968 the vehicle was given yearly updates to its square-edged styling design. The square design of the Polara was a major departure of the rounded design of just a few years prior. In the front were dual headlights on each side of the vehicle. The dual headlight design was integrated into the grill and positioned above the chrome bumper.

Revisions to the interior occurred in 1966 with the inclusion of a telescopic and tilt steering wheel and four-passenger seat belts. Front shoulder belts were offered as optional equipment. The automatic transmission was given a reverse lockout button. The door handles were moved to the front edge of the armrests in an effort to improve safety.

The top-of-the-line Polara was the Monaco two-door hardtop in 1965 and the following year it became its own model. When it became its own model it was offered in a variety of body styles. The Monaco of 1966 was very similar to the Polara. The rear tail-lights gave the greatest clue to the vehicles differences. The Monaco had full-length tail lights which extended the entire length of the trunk area. The Polara's taillights were much smaller.

In 1966 both the Monaco and the Polar grew by six inches. Disc brakes were available on all full-size Dodge vehicles. Station wagons were given disc brakes as standard equipment.

In 1969 the Chrysler line-up received updating with the designs becoming more round. This was called the 'Fuselage Look.' There were few changes for the Polara from 1969 until its demise in 1973.

The name 'Polara' resurfaced in 1977 in Brazil where it was used on re-badged versions of Chrysler Avenger. Production continued in this region until 1981.
By Daniel Vaughan | Dec 2006
For more information and related vehicles, click
here
RAM 1500 WINS MOTOR TREND'S 2015 HALF-TON PICKUP SHOOTOUT
November 24, 2014 , Auburn Hills, Mich. - The editors of Motor Trend today named the Ram 1500 the winner of their 2015 half-ton truck shootout. Three contenders were put through a broad array of testing designed to evaluate the core uses of a truck owner. In addition to the 2015 Ram 1500, the judges examined America's other two top-selling full-size trucks: the 2015 Chevrolet Silverado and the 2015 Ford F150. To determine a winner, the Motor Trend judges took the three competito...[Read more...]
2014 Concours of America a Success
• 36th annual Concours d'Elegance of America at St. John's a Resounding Success!
• 1932 Duesenberg Model J Convertible Victoria by Murphy and 1939 Bugatti T57C Cabriolet by Voll & Ruhrbeck win Best of Show at 2014 Concours d'Elegance of America at St. John's.
More Than 250 Cars on View for Picture Perfect Day and 4th Successful Year at New Location Plymouth, MI, July 27, 2014: Blessed by near perfect weather, on Sunday, July 27th, the 36th Annual Concours d'El...[Read more...]
2014 RAM 1500 ECODIESEL SETS NEW FUEL-ECONOMY BENCHMARK OF 28 MPG
◾2014 Ram 1500, powered by all-new 3.0-liter EcoDiesel V-6, records best-ever 28 mpg in highway-cycle testing; 23-mpg combined city/highway rating also a new benchmark ◾EPA's best half-ton pickup rating since 3.6-liter Pentastar V-6 propelled 2013 Ram to 25 mpg; also exceeds top-ranked small pickup ◾EcoDiesel- and Pentastar-powered Rams rank 1-2 for fuel economy in 2014, aided by class-exclusive TorqueFlite 8-speed automatic transmission ◾Best-in-class 4x4 fuel-economy (city, highway an...[Read more...]
CHRYSLER GROUP LLC DRIVES AWAY WITH HIGHEST AND MOST HONORS AT THE 20TH ANNUAL TEXAS TRUCK RODEO
Vehicles from Ram Truck and Jeep® brands win eight of 19 awards from the Texas Auto Writers Association at this year's Texas Truck Rodeo •'Truck of Texas' awarded to the 2013 Ram 1500 •Jeep Grand Cherokee - the most awarded SUV in history – captures 'SUV of Texas' award for third consecutive year October 22, 2012 , SAN ANTONIO, Texas - Ram Truck and Jeep® brand vehicles won significantaccolades this year at the 20thannual Texas Auto Writers Association (TAWA) Texas Truck Rodeo. ...[Read more...]
Joe Bortz to Host Historic Dream Car Discussion Panel
Dream car collector and historian Joe Bortz has prepared a special treat for participants at the 40th Annual Pontiac-Oakland Club International Convention in St. Charles Illinois, this coming July 17-21. In addition to bringing his four historic Pontiac Dream Cars, he has also assembled a panel, conisisting of two noted designers, a retired engineer and two veteran authors to examine the topic of Pontiac's early concept vehicles. The panel discussion will be held on Friday, July 20th at 1...[Read more...]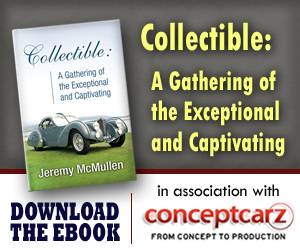 Similarly Priced Vehicles from 1960
Pontiac Catalina ($2,630-$3,210)
Pontiac Bonneville ($3,258-$3,530)
Austin-Healey 3000 MKI ($3,050-$3,370)
Buick LeSabre ($2,755-$3,491)
Buick Invicta ($3,355-$3,950)
Alfa Romeo Giulietta Spider ($3,515-$3,515)
Oldsmobile Dynamic Eighty-Eight ($2,840-$3,475)

Average Auction Sale: $90,125
Dodge
Monthly Sales Figures
Volume
December 2014
46,578
November 2014
42,108
October 2014
41,512
September 2014
44,020
August 2014
49,895
July 2014
43,118
June 2014
50,314
May 2014
57,923
April 2014
53,463
March 2014
60,575
February 2014
49,744
January 2014
34,905
(More Details)
© 1998-2014. All rights reserved. The material may not be published, broadcast, rewritten, or redistributed.