Image credits: © Mercedes.
1914 Mercedes 115HP news, pictures, specifications, and information

Tweet
Grand Prix Racer
Chassis Num: 15961
Engine Num: 19159

Mercedes-Benz made a victorious return to Grand Prix racing in 1914 with this 115HP racer, which had just one overhead camshaft and no front brakes but a strong and reliable chassis. Lightweight materials were used throughout, techniques they had learned from the history with aircraft engine construction.

The 4.5-liter single overhead cam engine had four valves per cylinder, the first Daimler-Chrysler product to feature two exhausts and two intake valves in a single combustion chamber. With this setup, the engine easily exceeded the 3000 RPM limit, making it the sole vehicle that could achieve this feat.

At the 1914 French Grand Prix held at Lyons, Mercedes achieved first, second and third place victories. Christian Lautenschlager won the French Grand Prix with the Mercedes race car. Grand Prix restrictions for 1914 included a 2,425 lbs. maximum weight and a 4500cc maximum engine capacity. The engineering team focused on its recent development of aircraft engines to create a lightweight, efficient motor. With wins in the 1914 French Grand Prix, the 1915 Indy 500 and the 1922 Targa Florio, the 1914 Mercedes GP ranks among the most significant racing cars ever built.

After the French Grand Prix, one of the cars was sent to England to become a showroom display. Just after arriving in England, World War One broke out. Rolls-Royce used the opportunity to carefully study the engine. A short time later, the Rolls-Royce Hawk engine was introduced.

This particular example was raced by the Mercedes factory and then sold to Count Louis Zborowski, who continued to race it until 1922.
Five of these Mercedes Grand Prix cars lined up among the 37 cars at the start of the French Grand Prix near Lyon on July 4th of 1914, just weeks preceding the First World War. After 4 of the 20 laps, this car, driven by Theodore Pilette, was out, and by the 6th lap only three Mercedes remained in the race. The German team was not so popular with the partisan French crowds who supported the French-built Peugeots and Delages. Yet the Mercedes cars finished in first, second and third, the first time this had occurred in racing history.
The 1914 Mercedes-Benz Grand Prix car was a very advanced machine. It featured an engine with four valves per cylinder, and two exhaust and two intake valves in one combustion chamber. With this setup, the engine had a high RPM rate, with speeds exceeding 3000 revolutions-per-minute. The 4.5-liter powerplant offered 115 horsepower and the use of superior engine continued throughout the vehicle. Though mechanically advanced, it had a conservative and minimalistic design.

At the 1914 French Grand Prix held at Lyons, the Mercedes finished first, second and third. Just a short time later, World War 1 broke out.
By Daniel Vaughan | Sep 2012
'RACE OF THE CENTURY' WINNING MERCEDES ATTENDS THE 2014 AMELIA ISLAND
The Grand Prix Mercedes that won the 'Race of the Century,' the 1914 French Grand Prix, will appear at the 19th annual Amelia Island Concours d'Elegance as the centerpiece of a special display presented by Mercedes-Benz and car owner George Wingard. A team of five Mercedes Grand Prix racers traveled to France for the Grand Prix of the Automobile Club of France, less than one week after the assassination of the Archduke Franz Ferdinand. It was a time of political turmoil and accelerating tech...[Read more...]
High Efficiency Motors: 1958 Formula One Season
C.T. 'Tommy' Atkins would start out his career as a motorcycle racer riding Douglas motorcycles in the early 1930s. By the time the mid-to-late '50s rolled around, Atkins had moved on from racing, but not very far. Perhaps feeling a need to support up-and-coming drivers, Atkins would turn to providing rides, but in single-seater grand prix cars. Prior to the Second World War, Atkins would be in search of speed records on a motorcycle. Riding motorcycles, Atkins knew very well their ability t...[Read more...]
Techno Classica 2014: more than 30 racing cars to celebrate 120 years of Mercedes-Benz motor racing history
•Cars that were the heroes of magical moments put their stamp on this high-powered, most comprehensive show presentation •With more than 30 vehicles, Mercedes-Benz Classic presents motor racing history in all its unique breadth and depth •120 years of Mercedes-Benz motor sport in the focus of the leading international classic motor show 120 years of Mercedes-Benz motor racing history have produced a timeline of extraordinary victories which since 1894 also stand for outstanding innovations ...[Read more...]
75 years ago: triple victory for Mercedes-Benz in Tripoli
• Spectacular launch of the W 154 'Silver Arrow'
• Hermann Lang is victorious on the Mellaha course in Libya
Stuttgart – A triple victory was secured for Mercedes-Benz and the then new W 154 twelve-cylinder racing car on 15 May 1938. Hermann Lang won the Tripoli Grand Prix, ahead of fellow drivers Manfred von Brauchitsch and Rudolf Caracciola. This one-two-three win launched a season that saw Mercedes-Benz dominate European racing – a season in which Caracciola would also be cr...[Read more...]
1969 United States Grand Prix: The Rise of Rindt
If there was one racer in the Formula One paddock that drivers and spectators alike believed should have scored his first victory before the start of the 1969 season it would almost unanimously be Jochen Rindt. Fast and flamboyant, the Austrian exhibited car control that enthralled just about everyone it seemed, except perhaps the cars themselves. Constantly undercut by poor reliability, it seemed Rindt was to forever suffer under such an oppressive weight. However, at the 1969 United States Gra...[Read more...]
Mercedes-Benz Classic: Topics for 2013
The main topics: • The tradition of the Mercedes-Benz S-Class • Mercedes-Benz Silver Arrows in the 1930s • Originals – authentic vehicles tell authentic stories • Classic vehicles kept in perfect condition with Mercedes-Benz Genuine Parts Important anniversaries: January 75 years ago – on 28 January 1938: With a flying start, Rudolf Caracciola achieved a speed of 432.7 km/h over one kilometre on the Frankfurt–Darmstadt motorway. This is the highest speed ever ach...[Read more...]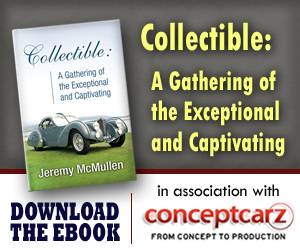 Mercedes
Monthly Sales Figures
Volume
July 2014
29,406
June 2014
28,707
May 2014
26,617
April 2014
28,281
March 2014
29,316
February 2014
22,609
January 2014
23,892
December 2013
35,835
November 2013
36,386
October 2013
32,107
September 2013
26,849
August 2013
26,151
(More Details)
© 1998-2014. All rights reserved. The material may not be published, broadcast, rewritten, or redistributed.