1948 Dodge Custom Series news, pictures, specifications, and information

Tweet
For 1948, Dodge produced 170,986 examples of their Deluxe model and 479,013 Custom models. Power was from an L-head six-cylinder engine that displaced 230 cubic-inches and produced just over 100 horsepower. They had a three-speed manual gearbox or an optional Fluid-Drive automatic. The Custom Series was priced from $1775 through $2190. Body styles included a 6- or 7-passenger sedan, town sedan, club coupe or convertible.

The seven-passenger sedan rode on a 137.5 inch platform while the remaining vehicles had a 119.5-inch wheelbase.

This one-off coupe designed by Enos Derham and Donald Diskey and commissioned by Chrysler, was based on the five-window Club Coupe. Derham removed the original top, shorten the package tray and moved the rear seat backward by some four inches, installed a new interior and wraparound windows. The wraparound rear window was similar in design to the contemporary Studebaker Starlighter designed by Raymond Loewy.

The interior was completely restyled with all the trim from the beltline up was of Derham design. The cabin was outfitted with dual interior lamps, two-speed electric windshield wipers, a passenger-side tissue holder, an electric clock, a heater unit with defroster, a seven-button Mopar radio, a custom rearview mirror and an upholstered trunk that included a Derham-badged tool kit case.

The outside featured specially designed hubcaps, scripting and a striking two-tone color scheme.

The Derham Body Company of Rosemont, Pennsylvania, had built a peerless reputation for innovation and versatility that kept the firm in business until Enos Derham's death in March of 1974. This was a very impressive feat, considering that most American coachbuilders failed to survive the Depression years. In the years that followed World War II, Derham transformed factory production bodies into elegant customs for wealthy clients, industrial designers and major manufacturers.

This D24 Custom was built for promotional display in Dodge showrooms, and - like most other concepts - to gauge the market for production of custom-series D24s. The result was a remarkable, one-off automobile that was utterly unique in its appearance and design.

The car was displayed in various showrooms for a year or so before it sold to Gertrude V. Fisher of Brooklyn, NY on January 20th of 1950. In April of 1985, with its whereabouts a mystery for over three decades, the Derham coupe was re-discovered in Vermont with Gael Dondon. The car had survived in original condition even though it had been left out in the elements. It was in need of a complete restoration. Dr. Joseph Leir, owner of the Memorial Auto Collection in Moorpark, California, purchased the car and began a restoration. A section of the original paint (Forest Green) was discovered beneath the padded top material. Inside, enough of the original upholstery remained intact to allow an accurate presentation of the patterns and materials.

The restoration work was completed in October of 2009. It made its concours debut at the Western Region AACA meet in La Quinta, California, and won a First Junior award. Since then, the car has earned First Senior and First Place Grand National Awards in AACA competition, as well as the James Melton National Award for Excellent. In addition to AACA events, the car was displayed at the 2010 Santa Barbara Concours d'Elegance and received an award at the 2010 Palo Alto Concours d'Elegance.

In 2011, the car was shown at the Pebble Beach Concours d'Elegance and participated in the tour d'Elegance.

In 2012, this car was offered for sale at the Gooding & Company auction held in Scottsdale, Arizona. It had a pre-auction estimated value of $ 75,000 - $125,000 and offered without reserve. As bidding came to a close, the car had been sold for the sum of $60,500 inclusive of buyer's premium.
By Daniel Vaughan | Jan 2012
For more information and related vehicles, click
here
MIDWEEK RECORD CROWDS AT DAY FIVE OF BARRETT-JACKSON
You would have never guessed it was a Wednesday if you were walking around Barrett-Jackson Scottsdale today. The party atmosphere, the crowds, and the excitement on the auction block made it feel more like a Friday. The collect car hobby is truly thriving. Where else can you see a beautifully restored Jaguar, a classic sightseeing bus and a sleek Street-Rod crossing the same auction block? You can always count on diversity at Barrett-Jackson, and today was no exception. Today saw th...[Read more...]
Russo and Steele Collector Car Auctions Kicks off 2014 in a Big Way with Outstanding Results and New World Records at Scottsdale
Phoenix, Arizona (January 22, 2014) – At Russo and Steele Collector Car Auctions, we are thrilled to announce the achievement of outstanding results and world-record sales at our January 15-19 Scottsdale, Arizona Sports and Muscle auction event. Throughout the event's five action-packed days, beautiful weather helped draw record attendance numbers, estimated at 35% higher than 2013 levels. At the time of writing, preliminary sale results exceeding $21 million were generated with a very st...[Read more...]
Barrett-Jackson Flavors Its January Scottsdale Auction With NASCAR Treats
• RACING HERITAGE, HIGH PERFORMANCE ARE RECIPES FOR CAR-COLLECTING FEAST
• SPEED™ SET FOR 39 HOURS of LIVE COVERAGE STARTING JAN. 15
The great Henry Ford once said, 'Auto racing began five minutes after the second car was built.' And for more than 60 years, there are few entities that better represent auto racing in America than NASCAR. From the hallowed grounds of Daytona International Speedway, to Sonoma, California's intricate and picturesque road course, the sp...[Read more...]
Barrett-Jackson Scottsdale's 2013 Salon Collection To Include Rare 1971 Plymouth Hemi 'Cuda Convertible
The World's Greatest Collector Car Auctions™ to Feature One of Only 11 HEMI 'Cuda Convertibles Ever Built Barrett-Jackson, the World's Greatest Collector Car Auctions™, announced today that it will offer one of the most desirable Mopar muscle cars ever built – the FC7-In Violet Plymouth HEMI 'Cuda Convertible, one of one in 1971 – as part of its exclusive Salon Collection at its famed Scottsdale auction, January 19, 2013. The vehicle best-known for its 'Plum Crazy' color will be alongs...[Read more...]
GOODING & COMPANY ANNOUNCES OUTSTANDING $21+ MILLION RESULTS FROM FIRST-EVER SCOTTSDALE AUCTION
Award-Winning 1959 Ferrari 250 GT California Spider Sells for More Than $3 Million – Top Selling Lot of the 2008 Scottsdale Auction Week Rare Ferrari 400 Superamerica, Famous Lincoln Loewy Continental and Distinguished Model J Duesenberg Clear-Vision Sedan Headlined Array of Record-Breaking Sales SCOTTSDALE, Ariz. (January 19, 2008) – The inaugural Gooding & Company Scottsdale Auction was a stunning success, with a grand total of more than $21 million for 64 cars sold, ...[Read more...]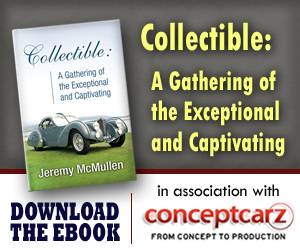 Similarly Priced Vehicles from 1948
Packard Standard Eight ($2,125-$3,425)
Oldsmobile Sixty Series ($1,600-$2,620)
Singer 9AB ($2,200-$2,200)
Chrysler New Yorker ($2,065-$3,415)
Plymouth Special Deluxe ($1,445-$2,070)
Chevrolet Fleetmaster ($1,379-$2,000)
Pontiac Silver Streak ($1,500-$1,935)
Nash Ambassador ($925-$2,350)
Ford Super Deluxe V8 ($1,335-$2,280)
Chrysler Windsor ($1,900-$2,885)

Average Auction Sale: $20,344
Dodge
Monthly Sales Figures
Volume
December 2014
46,578
November 2014
42,108
October 2014
41,512
September 2014
44,020
August 2014
49,895
July 2014
43,118
June 2014
50,314
May 2014
57,923
April 2014
53,463
March 2014
60,575
February 2014
49,744
January 2014
34,905
(More Details)
© 1998-2014. All rights reserved. The material may not be published, broadcast, rewritten, or redistributed.