1953 Cadillac Series 62 by Ghia news, pictures, specifications, and information

Tweet
During the mid-1950s it was still possible to order a chassis from an automobile manufacturer and have it sent to a coachbuilder for a custom body to be built and fitted. This is such a car.

The world's wealthiest man at the time, Prince Aly Khan, gave this Cadillac with Ghia coachwork as a gift to actress Rita Hayworth, to whom he was married briefly.

The car was one of two built by Ghia and nicely combines the exotic looks of an Italian-bodied custom automobile with powerful and reliable Cadillac running gear.

Other coachbuilders that created special bodies for Cadillac during the 1940s and 1950s included Pinin Farina of Italy, Saoutchik of Paris, and Coachcraft of Hollywood.
This vehicle is one of only two Cadillac series 62 built with coachwork by Ghia of Torino, Italy. This flamboyant coupe on an American premier luxury car chassis was the epitome of auto design in the early 1950s.

Ghia coachworks established itself as one of the finest automotive designers in Torino, the hub of Italy's automotive industry. Giacinto Ghia did his apprenticeship in the earlier carriage building trade only to later come out on top as one of the best in auto design and construction. His philosophy of producing cars in limited numbers and to a very high quality is definitely shown in this work of art.
The Harley Earl designed Cadillac Series 62 De Ville was a very large vehicle that featured a large, 6,390 cc (390 cubic inch) V-8 engine. The back had large fins that did little for performance and handling but was all about the style of the vehicle. The design of the vehicle was inspired by the space program and the era of jet engines. The large, 4400 lb car was fitted with drum brakes. These often wore out quickly. If a U-turn needed to be made, the driver would need a parking lot. The turning radius was 24 feet.

The car was a luxury vehicle that could carry six individuals comfortably. The car was a convertible with the top being raised and lowered automatically. The interior had electrical gauges. The head lights would turn on at dusk and were also capable of switching from high beam to low beam when they sensed oncoming traffic. In total, there were eight lights on the front of the vehicle. The four on the top were the driving lights while the lights mounted on the bumper were the parking lamps. To add to the driving comfort, air suspension was used. This aided in providing a very soft ride but there was significant body roll when cornering. With the V8, it was capable of creeping to sixty in 11 seconds. This reinforced the notion that this Cadillac was built for comfort and not for speed. The drivers enjoyed the ride and they looked good cruising along, enjoying the large open road.
By Daniel Vaughan | Sep 2011
For more information and related vehicles, click
here
Gooding & Company Presents Post-War Sports Cars at its Amelia Island Auction
SANTA MONICA, Calif. (February 21, 2014) – Gooding & Company, the auction house acclaimed for selling the world's most significant and valuable collector cars, announces that its annual Amelia Island Auction on March 7, 2014 will feature a selection of the most collectible and superior post-war sports cars to come to auction in recent years. Standouts include a 1964 Mercedes-Benz 300 SL Roadster barn find that has never previously been offered for public sale, one of the most original sur...[Read more...]
63rd Pebble Beach Concours d'Elegance Names 1934 Packard 'Best of Show'
The competition showcased 248 cars, including 48 from abroad PEBBLE BEACH, Calif. (August 18, 2013) -- A 1934 Packard 1108 Twelve Dietrich Convertible Victoria owned by Joseph and Margie Cassini III of West Orange, New Jersey, was named Best of Show at the 63rd Pebble Beach Concours d'Elegance, held Sunday on the 18th fairway of Pebble Beach Golf Links at Pebble Beach Resorts. The event showcased 248 cars from 36 states and 12 countries and raised $1,277,007 for charity. 'This Pack...[Read more...]
Italian thoroughbreds to feature prominently at Bonhams Quail Lodge auction
Numerous iconic and desirable models from Ferrari, Lancia, Lamborghini and more contribute to growing anticipation for this approaching sale San Francisco – Bonhams is delighted to announce its impressive assembly of Italian sports cars for its fast approaching 16th annual Carmel motorcar auction on August 16th. After announcing earlier this spring the consignment of some truly exceptional and noteworthy Italian cars – most notably the one-off 1954 New York Auto Show, 1953 Fe...[Read more...]
Pebble Beach Concours d'Elegance Introduces Its First Sport Customs Class
One-off Sport Customs designed to turn heads while tooling down Main Street USA will roll onto the 18th fairway of Pebble Beach Golf Links for the 2012 Pebble Beach Concours d'Elegance on August 19. This year, for the very first time, the Pebble Beach Concours d'Elegance is hosting an entire class dedicated to Sport Customs. 'These are one-of-a-kind cars built in the US, on modified American production chassis with American engines by individuals, designers and craftsmen,' explains auto...[Read more...]
September 15 d'Plaisir Road Rallye will precede
The September 15 road rally that precedes the Palos Verdes Concours d'Elegance the following day has been named the d'Plaisir Road Rallye in honor of the 2012 Concours' theme 'French Curves.' It begins with lunch at the Rolling Hills Country Club in Rolling Hills, traverses the stunning views and winding roads of the Peninsula and ends at the Palos Verdes Golf Club in Palos Verdes Estates with a helicopter golf ball drop and a reception honoring Concours Grand Marshals Peter and Merle Mullin...[Read more...]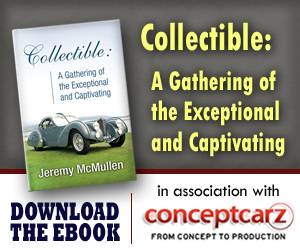 Cadillac
Monthly Sales Figures
Volume
December 2014
16,150
November 2014
13,148
October 2014
13,615
September 2014
13,829
August 2014
16,650
July 2014
15,241
June 2014
13,941
May 2014
14,688
April 2014
13,900
March 2014
14,765
February 2014
13,437
January 2014
11,386
(More Details)
© 1998-2014. All rights reserved. The material may not be published, broadcast, rewritten, or redistributed.