CNG: Everyday Suitability, Environmental Compatibility, Economical
• Zafira ecoFLEX Turbo first natural gas production van wîth turbocharging
• Zafira 1.6 CNG and Combo 1.6 CNG need only 5.0/4.9 kg natural gas per 100 km
• Full versatility and cargo capacity retained wîth underfloor gas tank arrangement
Rüsselsheim. The monovalentplus concept Opel has used in its natural gas-powered vehicles (CNG = Compressed Natural Gas) since 2002 is unique on the market. Among its many advantages and benefits, this system boasts unrivalled operating costs, produces up to 80 percent lower emissions and 20 percent less CO2 than a comparable gasoline engine. It enables an operating range of up to 400 kilometers in natural gas mode and guarantees unrestricted passenger and luggage compartment use. Opel CNG vehicles feature a gasoline reserve tank that increases operating range by around 150 kilometers, ensuring full everyday suitability. The 1.6-liter natural gas engine is designed to run on natural gas, biogas, or any mixture of the two.
Opel Zafira ecoFLEX Turbo: Performance meets economics
For the first time, Opel has combined economical, low-emission Compressed Natural Gas propulsion wîth powerful turbocharger technology in the Zafira 1.6 CNG ecoFLEX Turbo. It is now available, starting at 25,430 euros, and allows Opel to ring in a new era of CNG wîth impressive performance. The new Zafira's rated output of 150 hp and maximum torque of 210 Nm between 2 300 and 5 000 rpm ensure plenty of power in all situations. The high torque not only allows a more powerful drive, it also keeps energy consumption low in everyday use.

The seven-seater accelerates from 0 to 100 km/h in 11.5 seconds and has a top speed of 200 km/h. In the MVEG cycle, it consumes just 5.1 kg of natural gas per 100 km. This cor-responds to a CO2 emission figure of just 139 g/km – a new best-in-class in this vehicle and power category. Expressed in terms of the driver and all six passengers, this translates into just under 20 grams per seat and kilometer when the Zafira is fully loaded.

Opel Zafira 1.6 CNG ecoFLEX: Maximum versatility thanks to patented Flex7 system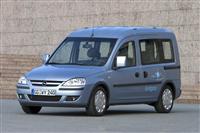 Just like the Turbo, the new-edition Zafira 1.6 CNG ecoFLEX, which was launched in February 2008, also features the unique Flex7 seating system, which enables it to be transformed quickly from a seven to a two-seater without cumbersome seat removal. Thanks to the clever underfloor arrangement of the four natural gas tanks around the rear axle, the Zafira's versatility and spaciousness remain unaltered. In its standard seating arrangement, the natural gas Zafira offers 645 liters of luggage compartment space – the largest of all seven-seat compact vans. The Zafira 1.6 CNG's maximum load capacity is 1820 liters.

The Zafira 1.6 CNG ecoFLEX's particular highlight is its outstanding efficiency. Average consumption of around 5.0 kg of natural gas per 100 kilometers, wîth an average H-gas price of 0.97 euros per kilogram (early 2009), translates into a fuel cost saving of around 30 percent compared to diesel, and over 50 percent compared to gasoline. Tax and insurance ratings are at the same level as those of a comparable gasoline variant. The 69 kW/94 hp natural gas van also has clear advantages in terms of environmental compatibility. By virtue of its propulsion unit, it produces 80 percent less nitrogen oxide than a diesel, and almost 20 percent less CO2 than a gasoline model (nearly 10 percent less CO2 than diesel). And the exhaust gases contain almost no soot particles.

High-level safety


The Zafira CNG is also ideally equipped when it comes to safety: the high-strength steel gas tanks and stainless steel gas pipes are safely located outside the impact zone. This was already confirmed by ADAC in a crash test conducted wîth the first Zafira CNG: 'The gas tanks stored in a metal compartment remained in their original position during both frontal and side collisions, despite body deformation. They are therefore optimally protected against damage. The entire gas system stayed tightly sealed, also a result of the safety valves that automatically close on the tanks,' said the automobile club experts, summing up the test results. In addition, the results clearly showed that the risk of fire wîth natural gas vehicles is no higher than normal. This is also due to the fact that natural gas is much less flammable than gasoline or diesel, and in the highly unlikely event of a leak, it dissipates immediately. This means CNG vehicles can be parked in any underground garage. Like all Zafiras, the 1.6 CNG ecoFLEX also features the extensive and extremely effective SAFETEC safety system that earned the new Zafira the maximum rating of five stars for passenger protection in the Euro NCAP crash tests (European New Car Assessment Programme).

Únrestricted everyday suitability

The natural gas Zafira's excellent efficiency and unrestricted everyday suitability is ensured by the innovative monovalentplus concept. The 1.6-liter CNG engine, which has an increased compression ratio for high efficiency, is designed to run on natural gas, biogas, or any mixture of the two. The unit has special pistons, valves and valve-seat inserts, as well as separate injection banks for natural gas and gasoline. In addition, the engine management system was optimized for natural gas operation. A 14liter gasoline reserve tank ensures continued mobility on routes without a natural gas filling station. Thanks to economical consumption and the four natural gas tanks' capacity of 21 kilograms, the Zafira CNG has an operating range of around 530 kilometers.

Opel Combo 1.6 CNG ecoFLEX: Cargo volume up to 3200 liters


Available since June 2005, the Opel Combo 1.6 CNG is a spacious, multi-functional natural gas vehicle. With an average consumption of 4.9 kg of natural gas per 100 kilometers, the 69 kW/94 hp high-roof van is very economical and environmentally friendly. Accordingly, Opel awarded the car the ecoFLEX badge, which it gives to only the most economical and low emission variants. Tax and insurance ratings are at the same level as those of the gasoline unit. The Combo CNG's top speed is 165 km/h and acceleration from zero to 100 km/h takes 15 seconds.

Thanks to the clever underfloor arrangement of the three gas tanks around the Combo's space-saving rear axle, the alternative propulsion requires no compromises in terms of practicality. Just like its conventionally powered counterparts, the compact Combo CNG offers up to 3050 liters cargo volume in its five-seat Combo, Edition, Arizona and Sport variants, while the panel van even offers a maximum 3200 liters. The tanks hold 17.5 kilograms or 108 liters of natural gas. Combined wîth a 14-liter gasoline reserve tank, this enables an operating range of over 500 kilometers. The Combo CNG features the same high safety standards as the gasoline entry-level version. The tanks that hold the natural gas compressed to 200 bar are tested before installation at a pressure of 300 bar. The high-strength steel tanks are protected by underbody shields and, together wîth the stainless steel gas pipes, are located outside the impact zone.
Source - Opel
World Premiere in Leipzig: Opel Prototype Combo Tour 1.6 CNG
• Full Combo spaciousness thanks to underfloor natural gas tanks
• Natural gas and gasoline tanks ensure range of up to 550 kilometers
• Major savings in fuel costs, guaranteed tax advantage until 2020*
Rüsselsheim/Leipzig. The huge success of the Zafira 1.6 CNG (Compressed Natural Gas) and the Astra Caravan 1.6 CNG has prompted Opel to include a third natural gas vehicle in its range. Opel's subsidiary OSV (Opel Special Vehicles) will present its prototype of the Combo Tour 1.6 CNG at the14th Auto Mobil International (AMI) in Leipzig (April 17 - 25, 2004). The prototype will be shown at the natural gas suppliers' association stand (Stand F32/Hall 3), and the market launch is expected in the second half of 2005.
Like the Zafira 1.6 CNG and the Astra Caravan 1.6 CNG, which accounted for a market share of nearly 60 percent of Germany's natural gas passenger cars in 2003, the Combo 1.6 CNG has three gas tanks holding 19 kilograms or 110 liters of volume, as well as a
14 liter gasoline reserve tank. One advantage of this innovative monovalentplus concept is that the driver can switch over to gasoline supply directly from the cockpit when the gas tanks are empty and there is no natural gas station nearby. CNG-Combo's operating range then increases from 400 to around 550 kilometers. Thanks to its unique, space-saving underfloor gas tank system, the Combo 1.6 CNG offers as much room as the Combo models wîth gasoline or diesel engines wîth maximum loading capacities between 2,695 and 3,050 liters.
In addition to its spaciousness, the Combo 1.6 CNG's economic efficiency is its greatest asset. Taking average fuel consumption of 5.3 kilograms of H-quality natural gas per
100 kilometers and the current price of 0.68 Euro per kilo of natural gas, fuel costs can be reduced by up to 30 percent compared to the diesel Combo or even 50 percent compared to the gasoline-fueled Combo.
Another advantage of driving natural gas cars is the fact that some 65 percent of all regional and local natural gas providers in Germany promote this environmentally friendly form of fuel. (concept carz) They either contribute an average of 1300 Euro to the purchase of a natural gas car or supply the car owner wîth an average of 1500 kilograms CNG fuel free of charge. Natural gas fuel is also tax-advantaged until 2020 - unlike gasoline and diesel. It is also environmentally friendlier, as natural gas engines emit far fewer pollutants than conventional combustion engines. As a result, the Combo 1.6 CNG's CO2 emission is only 140 grams per kilometer.
The 1.6 CNG engine is based on the popular 1.6-Liter ECOTEC gasoline engine and has power output of 71 kW (97 hp) at a maximum torque of 140 Newton meters. The engine was optimized for natural gas operation and has separate injection bank for each type of fuel. (concept carz) With 130 octane, natural gas is distinctly more knock resistant than gasoline. Opel focused on maximum natural gas operation efficiency and raised the compression ratio to 12.5:1. In spite of its economic efficiency, the Combo 1.6 CNG impresses wîth lively performance, a top speed of 166* km/h and a 0-100 sprint in 14* seconds (*preliminary data).
With a total capacity of 110 liters or 19 kilograms, the underfloor tanks allow a range of approximately 400 kilometers. The gasoline reserve tank increases operating range of the Combo 1.6 CNG to about 550 kilometers. Switching over from natural gas to gasoline operation simply requires the turn of a switch located on the center console or happens automatically when the natural gas supply is too low. The system simultaneously switches over to the corresponding pressure or gasoline gauge for the fuel in use. A universal gasoline filler neck enables refueling without an adapter in countries wîth different natural gas station norms, such as Italy. The Combo 1.6 CNG can also be fueled wîth biogas.
The Combo 1.6 CNG meets highest safety standards, too. The entire tank system is mounted to the underbody wîth steel retaining bands and the tanks are additionally protected by an underbody panelling. Each gas tank has its own valve and is made of high-strength steel, wîth stainless steel gas pipes.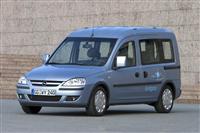 The location of the gas tanks outside of the impact zone guarantees highest possible safety for passengers and environment. Moreover, natural gas is potentially safer than gasoline in case of accident.
If a leak were to occur, the natural gas would dissipate into the atmosphere because it is lighter than air, and at 650° Celsius its ignition temperature is substantially higher than that of gasoline. Drivers of a CNG-powered Opel model do not need to heed the signs in German parking garages prohibiting entry to gas-powered vehicles. Entrance is prohibited to gas-powered vehicles wîth fuel heavier than air, such as liquid gas. Due to high safety standards, the technical inspection association in Germany (TÜV - Technischer Überwachungsverein) makes no differentiation between natural gas and conventional vehicles in mandatory general inspections, wîth the exception of requiring separate inspection of the gas tanks every ten years.
The entire gas tank assembly is installed in the series production models by Opel Special Vehicles GmbH (OSV) in Rüsselsheim. Founded in January 2000, this Adam Opel AG subsidiary currently employs 350 staff and has been manufacturing standard Opel natural gas models since 2002. Further OSV products include the sporty OPC models, the modification of public authority and special-purpose vehicles for police, driving schools and taxi cab companies as well as diverse customization of Opel standard models. More than 65,000 Opel modifications were completed by OSV GmbH in 2003.
The CNG models are part of Opel's threefold strategy to decrease carbon dioxide emissions to 140 grams per kilometer in its new vehicle fleet by 2008. The use of alternative fuels such as natural gas plays an important role in this strategy, in addition to optimizing proven technologies and developing ready for series production vehicles equipped wîth hydrogen energized fuel-cell propulsion systems.
OSV General Manager Stefan Schrahe states: 'With the Combo 1.6 CNG we want to make our customers an offer no other manufacturer can match at this stage. Its innovative technology makes it an extremely clean and economical vehicle, wîth no limitations on everyday use or spaciousness.'
Source - Opel