1955 Rolls-Royce Silver Wraith news, pictures, specifications, and information

Tweet
Prior to World War II, Rolls-Royce Ltd. began updating its namesake its companion company, Bentley. In 1938, they introduced the Wraith followed by the Mark V Bentley a year later. Both had coil-spring independent front suspensions and powered by the 4.25-liter Bentley overhead valve unit, now with cross-flow cylinder heads.

When World War II came to a close, the modifications, refinements and updates to the vehicles continued. Bentley, for the first time, got a factory production body, the Mark VI Standard Steel Saloon. The engine which displaced 4257cc was reconfigured as an F-head, with overhead intake valves and exhaust valves in the block. The Rolls-Royce vehicles, continued to be built as rolling chassis and then sent to coachbuilders where they were often fitted with formal limousine bodies.

The Mark VI Bentley was succeeded by the R-Type in 1952 while the Silver Wraith continued in production through 1958. During the period, the Silver Wraith's engine was twice enlarged, to 4566cc in 1951, when the wheelbase was increased by six inches. Three years later, the engine size rose to 4887cc. From 1952, the four-speed automatic transmission was offered as optional equipment.

This example, chassis number DLW89, was delivered by Hooper to a Mr. F.C. Fisher in May of 1955. The current owner acquired the car in 1975. It is powered by the 4887cc F-head six-cylinder engine which is mated to a four-speed manual transmission. The wheelbase measures 133 inches and there are four-wheel servo-assisted hydraulic drum brakes.

In 2011, the car was offered for sale at the Monterey, CA sale presented by RM Auctions. It was estimated to sell for $70,000 - $100,000 and offered without reserve. As bidding came to a close, the car was sold for the sum of $82,500 including buyer's premium.
By Daniel Vaughan | Oct 2011
The Silver Wraith was introduced after World War II but retained its prewar predecessor's elegant and stately looks. This Touring Limousine was originally owned by Mrs. Marjorie Merriweather Post of the Post breakfast food fame. The car wears coachwork by James Young Ltd. of London, England.
The Silver Wraith, launched in 1947, was an evolution of the pre-war Wraith and was offered in the traditional chassis form ready for the fitting of Bespoke coachwork. The 4,257cc overhead-inlet, side-exhaust engine developed before the war was used, as well as a modified coil and wishbone independent front suspension. Hydraulic brakes were used for the first time on a Rolls-Royce wîth hydraulic brakes.

The Silver Wraith was constantly refined during its production. The engine was replaced wîth the 'big bore' 4,566cc in 1951 and automatic transmission was offered as an option in 1952.

Once again the press raved about the car. 'All the world knows that Rolls-Royce carry on an unremitting search for engineering perfection in everything they undertake. The qualities which made their aircraft engines famous, and their cars the finest procurable, are the result of hard work scientifically conducted, and of a painstaking attention to detail from the large to the most minute. And now a new range of cars is about to appear it is believed that the new cars are the best that Rolls-Royce have ever built.'


The Silver Wraith was described like this: 'In common wîth all Rolls-Royce cars, the Silver Wraith has an indefinable something about it, a delicacy of behaviour, which escapes definition in written words. it is a car for the connoisseur in cars'.
Source - Rolls-Royce Motor Cars
At a time when most of England was suffering post war and didn't have much use for a luxury motorcar, Rolls Royce decided to no longer produce cars in strictly separate series. Instead they would create as many parts of the engine, chassis and gearbox that would be identical for the different makes, and therefore easily interchangeable. The British economy had suffered due to raw materials shortages, prohibitive purchase tax and petrol rationing. The Silver Wraith was the embodiment of the new company philosophy of a reliable car with components that could be easily maintained.

Considered by many to be the most technologically advanced Rolls Royce model in history, the Silver Wraith was an exceptional graceful and elegant automobile. Introduced in 1946 the Silver Wraith was produced at the Crewe factory. The first post-war Rolls-Royce model, the Silver Wraith rode on a 127-inch wheelbase that was based heavily on the pre-war Wraith with coil sprung independent front suspension and semi-elliptic rear with a live axle. Also based on the Wraith, the engine featured a cylinder head with overhead inlet valves and side exhaust valves and an initial capacity of 4,257 cc and 135 horsepower.

The capacity was increased to 4566 cc in 1951, and to 4887 in 1954 on the long-wheelbase models. The Wraith's braking system was a hybrid hydro mechanical system with hydraulic front brakes and mechanical rears that utilized the mechanical servo from the pre-war cars, which was patented by Hispano-Suiza and built by Rolls Royce under license. For the first time on a Rolls Royce hydraulic brakes were used.

In 1951 Rolls Royce announced the long, 133-inch wheelbase chassis. A total of 639 of these units were produced until 1969. The final short-wheelbase models were made in 1953. At first only a four-speed manual gearbox was available but in 1952 a General Motors automatic option was added to the list of offerings.

The Silver Wraith was the final Rolls-Royce model that would be delivered in 'chassis only' form with the intent to be bodied by independent coachbuilders. The number of specialist coachbuilders was quickly declining over the years. Many of the Silver Wraith bodies selected used 'formal limousine designs'. The Bentley Mark Vi was offered for customers that wanted to purchase their car with a standard body already fitted. The Silver Wraith differed from the Mark VI in the fact that it wasn't a complete car, merely a rolling chassis. The Silver Wraith outlived the Mark VI and continued to survive until 1959 by undergoing modernizations like automatic gearbox and power assisted steering. The Silver Wraith would be the final Rolls Royce that showed a vast variety of coachwork styles.

The Rolls Royce Silver Wraith has filled many official capacities over the years including the Royal Dutch State Limousine in 1958, the Royal Danish Ceremonial Car 'Store Krone' also in 1958, the Irish Presidential State Car from 1947 until now. Other official uses include the Ceremonial State Car for the Brazilian President in 1952. The

The Silver Wraith had numerous movie cameos over the years including 1968 'The Love Bug', 1975 'The Return of the Pink Panther', 1989 'Batman', 1992 'Batman Returns' and even the recent 2012 film 'The S

Sources:
http://en.wikipedia.org/wiki/Rolls-Royce_Silver_Wraith
http://www.rolls-roycemotorcars.com/wraith/

By Jessica Donaldson
For more information and related vehicles, click
here
RAM TRUCK INCREASES ECODIESEL MIX TO 20 PERCENT OF RAM 1500 PICKUP PRODUCTION
◾Ram 1500 with EcoDiesel powertrain, America's most fuel-efficient pickup truck, now 1/5th of total Ram 1500 production ◾Overwhelming response attributed to best-in-class 28 MPG with 9,200 lbs. of towing capacity and strong consumer demand for exclusive light-duty diesel ◾Ram 1500 EcoDiesel contributes to unprecedented conquest sales and increased average transaction price for Ram 1500 ◾First-in-segment fuel economy technologies: TorqueFlite eight-speed automatic transmission, thermal managem...[Read more...]
FORD GEARS UP TO CELEBRATE PRODUCTION OF 5-MILLIONTH F-SERIES SUPER DUTY
◾5-millionth Ford F-Series Super Duty will roll off the assembly line at Kentucky Truck Plant in October, marking a major milestone for the best-selling heavy-duty pickup truck and chassis lineup ◾Ford-designed, Ford-built second-generation 6.7-liter Power Stroke® V8 turbo diesel delivers best-in-class 440 horsepower and best-in-class standard diesel torque of 860 lb.-ft.; F-450 pickup boasts best-in-class towing of 31,200 pounds ◾Super Duty is the No. 1 heavy-duty pickup truck, with a market ...[Read more...]
TIMELESSLY ALLURING: 25 YEARS OF THE BMW 8 SERIES
Munich. It was streets ahead of its time at launch and maintains an ageless glow to this day, yet a glance at the calendar reveals the disarming truth: 25 years have passed since the BMW 8 Series was presented to the world at large for the first time. The car's international fan community duly came together last weekend at its Bavarian birthplace to celebrate the anniversary, with events including a spectacular parade of 120 cars at the BMW Group headquarters highlighting their collective...[Read more...]
MAZDA MX-5 MIATA CELEBRATES 25 YEARS OF EXHILARATION
◾Celebrate the World's Best-Selling Two-Seat Roadster on Twitter with hashtag #MX5Turns25 CHICAGO, Feb. 7, 2014 - On February 9, 1989, the world was introduced to the all-new Mazda MX-5 Miata at the Chicago Auto Show. A few months later, it was named as one of the five 'World's Best Cars' by Road & Track and never looked back. Twenty-five years later, MX-5 has racked up more than 200 awards and sold more than 920,000 worldwide as of December 2013, making it the Guinness Book of Worl...[Read more...]
TOPLINE COLLECTORS PLACE SPOTLIGHT on SPEED'S BARRETT-JACKSON BROADCAST FROM SCOTTSDALE
• TOPLINE COLLECTORS PLACE SPOTLIGHT on SPEED'S BARRETT-JACKSON BROADCAST FROM SCOTTSDALE
• 'LOST' SHELBY DUAL PROTOTYPE, HAGERTY GIVEAWAY & SALON COLLECTION HIGHLIGHT 39 HOURS OF LIVE COVERAGE
The 42nd annual Barrett-Jackson Scottsdale (Ariz.) Collector Car Event, the first of four set for live coverage in 2013, kicks off the auction season in grand style as some of the world's most sought-after machines cross the block starting Tuesday, Jan. 15 at 7 p.m. ET/4 p.m. PT. SP...[Read more...]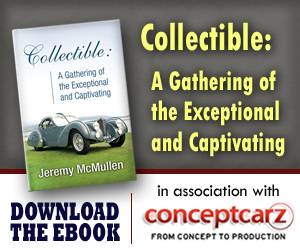 Rolls-Royce
Monthly Sales Figures
Volume
September 2014
75
August 2014
75
July 2014
75
June 2014
75
May 2014
75
April 2014
75
March 2014
75
January 2014
86
October 2013
84
September 2013
84
August 2013
84
July 2013
84
(More Details)
© 1998-2014. All rights reserved. The material may not be published, broadcast, rewritten, or redistributed.