1962 Mercedes-Benz 220 Series news, pictures, specifications, and information

Tweet
At the 1959 Frankfurt Show, Mercedes-Benz introduced four new models, including the 220SE. All four models shared the same basic unitary-construction bodystyle and were fitted with an independent suspension at all four corners. These new cars were longer than their predecessors and featured a wider radiator shell, wrap-around windscreen, wider rear window and vertically positioned twin headlamps. Powering the new cars began as a 2915cc SOHC six-cylinder powerplant which later grew to 3499cc V8 and offering 200 horsepower in the 1969-71 280SE 3.5.

In 1960, the 220b became the replacement for the 219 sedan, the 220SB sedan replaced the 220S, and a 220SEb series became the replacement for the 200SE.

This Mercedes-Benz 220SE Convertible is finished in brown with a tan interior. It has air conditioning, power windows, and a more modern, aftermarket Panasonic radio with cassette player.

In 2011, the car was offered for sale at the Quail Lodge in Carmel, California, presented by Bonhams auction. It was sold for the sum of $64,350 inclusive of buyer's premium.
By Daniel Vaughan | Oct 2011
This 1962 Mercedes-Benz 220 SEb 2-Door Hardtop is finished in white with an Argent Silver top over a bright red interior. It has new correct wide whitewall tires and is powered by the 2.2-liter overhead-cam six-cylinder engine with Bosch Mechanical Fuel Injection system mated to a 4-speed manual gearbox.

In 2012, this car was offered for sale at the Glenmoor Gathering Auction presented by Classic Motorcar Auctions. As bidding came to a close, the car had been sold for the sum of $10,800 including buyer's premium.
By Daniel Vaughan | Nov 2012
For more information and related vehicles, click
here
AUDI SPORT IN 2014 AGAIN RELIES ON STRONG PARTNERS IN THE FIA WEC
• Audi Sport has gained Aethra and Oris as two new LMP partners • Long-standing partnerships to continue this year • Dr. Wolfgang Ullrich: 'We're delighted about the internationally renowned partners' Ingolstadt, March 17, 2014 – Audi is defending its titles in the FIA World Endurance Championship (WEC) backed by strong partners. Renowned companies with worldwide operations accompany the presence of up to three Audi R18 e-tron quattro in the WEC. Following two WEC title w...[Read more...]
MAZDA KICKS OFF 2014 SEASON AT ROLEX 24
• Mazda SKYACTIV Prototype Begins New TUDOR Championship Era
January 21, 2014 (IRVINE, Calif.) — Mazda Motorsports is known for several things – sports cars, endurance racing, and taking the engineering path less traveled. This coming weekend, Mazda Motorsports will begin a new era of professional sports car racing when its latest SKYACTIV-powered Mazda Prototype takes the green flag at the first ever TUDOR United SportsCar Championship race. The season opening Rolex 24 at ...[Read more...]
2014 RANGE ROVER NOW AVAILABLE FOR ORDER WITH A CHOICE OF SUPERCHARGED V6 & V8 ENGINES
•Following the sales success of the all-new 2013 Range Rover, the 2014 Range Rover is now available for order, with deliveries beginning this summer •A new 340hp 3-liter supercharged V6 will offer improved efficiency with reduced emissions and uncompromised capability •A 510hp supercharged 5-liter V8 will continue to be available •The 2014 Range Rover will be equipped with a new Intelligent Stop/Start system which reduces idling to reduce emissions and save fuel •Both engines will be pa...[Read more...]
McLaren GT Confirms Details of Enhanced 12C GT3 To Compete Globally in 2013
•Additional production run of the 12C GT3 confirmed to compete globally •Revisions designed to improve overall efficiency and reliability •12C GT3 competitive debut season summary available to view at the official McLaren Automotive YouTube channel: http://youtu.be/72jgg4BqYsY As was confirmed at the close of last year, McLaren GT will produce further examples of the 12C GT3 available to compete in the 2013 season. These new models are eligible for all GT3 championships and, for the fir...[Read more...]
Chevy Indycar Engine Offers Promise For passenger Cars
The unbeaten track performance of the new Chevrolet IndyCar V-6 engine is bringing acclaim to the engineers who created it and hope for its significant technology to find its way into passenger cars. Engineers Mark Kent and Matt Wiles, along with Steve Miller and Steve O'Connor from Ilmor Engineering, took home the 46th annual BorgWarner Louis Schwitzer Award on Monday for their work on the Chevrolet IndyCar V-6 engine. The award recognizes individuals for innovation and engineering excellen...[Read more...]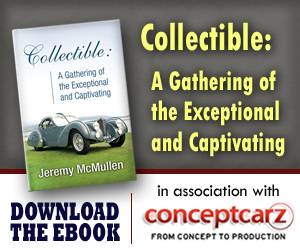 Similarly Priced Vehicles from 1962
Ford Thunderbird ($4,320-$5,440)
Jaguar Mark II ($5,050-$5,050)
Jaguar E-Type XKE ($5,599-$5,890)
Porsche 356B ($3,600-$7,700)
Chrysler 300H ($5,090-$5,460)
Mercedes-Benz 190 SL ($5,030-$5,245)
Cadillac DeVille ($5,390-$6,605)

Average Auction Sale: $38,772
Mercedes-Benz
Monthly Sales Figures
Volume
August 2014
28,958
July 2014
29,406
June 2014
28,707
May 2014
26,617
April 2014
28,281
March 2014
29,316
February 2014
22,609
January 2014
23,892
December 2013
35,835
November 2013
36,386
October 2013
32,107
September 2013
26,849
(More Details)
© 1998-2014. All rights reserved. The material may not be published, broadcast, rewritten, or redistributed.