1962 Mercedes-Benz 220 Series news, pictures, specifications, and information

Tweet
At the 1959 Frankfurt Show, Mercedes-Benz introduced four new models, including the 220SE. All four models shared the same basic unitary-construction bodystyle and were fitted with an independent suspension at all four corners. These new cars were longer than their predecessors and featured a wider radiator shell, wrap-around windscreen, wider rear window and vertically positioned twin headlamps. Powering the new cars began as a 2915cc SOHC six-cylinder powerplant which later grew to 3499cc V8 and offering 200 horsepower in the 1969-71 280SE 3.5.

In 1960, the 220b became the replacement for the 219 sedan, the 220SB sedan replaced the 220S, and a 220SEb series became the replacement for the 200SE.

This Mercedes-Benz 220SE Convertible is finished in brown with a tan interior. It has air conditioning, power windows, and a more modern, aftermarket Panasonic radio with cassette player.

In 2011, the car was offered for sale at the Quail Lodge in Carmel, California, presented by Bonhams auction. It was sold for the sum of $64,350 inclusive of buyer's premium.
By Daniel Vaughan | Oct 2011
This 1962 Mercedes-Benz 220 SEb 2-Door Hardtop is finished in white with an Argent Silver top over a bright red interior. It has new correct wide whitewall tires and is powered by the 2.2-liter overhead-cam six-cylinder engine with Bosch Mechanical Fuel Injection system mated to a 4-speed manual gearbox.

In 2012, this car was offered for sale at the Glenmoor Gathering Auction presented by Classic Motorcar Auctions. As bidding came to a close, the car had been sold for the sum of $10,800 including buyer's premium.
By Daniel Vaughan | Nov 2012
For more information and related vehicles, click
here
FRANCOIS GOUPIL DE BOUILLÉ NAMED INFINITI VICE PRESIDENT, EUROPE, MIDDLE EAST AND AFRICA
HONG KONG / ROLLE, Switzerland – Francois Goupil de Bouillé has been appointed Vice President, Europe, Middle East, and Africa (EMEA) for Infiniti effective April 1. In this role, he will be responsible for managing Infiniti's entire business and steering its growth plan in this region. He succeeds Fintan Knight who has elected to pursue interests outside of the company. Goupil de Bouillé is currently Vice President, Global Operations, for Infiniti based in Hong Kong. In addition, he h...[Read more...]
2014 MAZDA6 NAMED TO WARD'S '10 BEST INTERIORS' LIST
The all-new 2014 Mazda6 today was named to WardsAuto World's 10 Best Interiors list, as chosen by the publication's editors. The redesigned mid-size sports sedan features Mazda's new design language called KODO 'Soul of Motion,' which translates muscular movement and power into agile proportions, detailed sculpting and expressive character. The Mazda6 also was recently named one of the top three vehicle designs in the world for 2013 by the World Car Awards. 'The automotive industry, regardl...[Read more...]
Chevrolet Donates 24 Express Vans to Habitat for Humanity
Mobile fleet headed to New York and New Jersey to help in Hurricane Sandy recovery Two dozen Express vans donated by Chevrolet to Habitat for Humanity depart Atlanta today en route to storm-ravaged New York and New Jersey, where the vans and scores of tools donated by Lowe's and the Robert Bosch Tool Co. will be put to work helping communities recover from Hurricane Sandy. The vans are the latest contribution by Chevrolet, General Motors and the GM Foundation to Sandy relief effort...[Read more...]
Six Decades Of Ferrari At Mecum's Daytime Auction
1954 Ferrari 750 Monza Headlines Select Offering of Italian Illuminati Mecum Auctions will present its 4th annual Monterey Daytime Auction, Aug. 16-18, 2012 at the Hyatt Regency Monterey Hotel and Spa on Del Monte Golf course, featuring some of finest machines Ferrari has ever produced headlined by a 1954 750 Monza Spyder Scaglietti. By turns part of the Engelbert Stieger, Brando Wang, Walter Burani and Roberto Crippa collections, 1954 Ferrari 750 Monza Spyder Scaglietti S/N 0462MD...[Read more...]
Chevy Indycar Engine Offers Promise For passenger Cars
The unbeaten track performance of the new Chevrolet IndyCar V-6 engine is bringing acclaim to the engineers who created it and hope for its significant technology to find its way into passenger cars. Engineers Mark Kent and Matt Wiles, along with Steve Miller and Steve O'Connor from Ilmor Engineering, took home the 46th annual BorgWarner Louis Schwitzer Award on Monday for their work on the Chevrolet IndyCar V-6 engine. The award recognizes individuals for innovation and engineering excellen...[Read more...]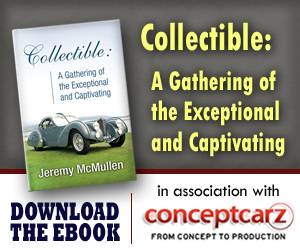 Similarly Priced Vehicles from 1962
Ford Thunderbird ($4,320-$5,440)
Jaguar Mark II ($5,050-$5,050)
Jaguar E-Type XKE ($5,599-$5,890)
Porsche 356B ($3,600-$7,700)
Chrysler 300H ($5,090-$5,460)
Mercedes-Benz 190 SL ($5,030-$5,245)
Cadillac DeVille ($5,390-$6,605)

Average Auction Sale: $40,847
Mercedes-Benz
Monthly Sales Figures
Volume
October 2014
30,733
September 2014
29,523
August 2014
28,958
July 2014
29,406
June 2014
28,707
May 2014
26,617
April 2014
28,281
March 2014
29,316
February 2014
22,609
January 2014
23,892
December 2013
35,835
November 2013
36,386
(More Details)
© 1998-2014. All rights reserved. The material may not be published, broadcast, rewritten, or redistributed.