1931 Essex Super Six Model E news, pictures, specifications, and information

Tweet
The Essex automobile was produced from 1918 through 1922 by the Essex Motor Company which was actually an owned entity of Hudson. From 1922 through 1932, they were produced by the Hudson Motor Company of Detroit, Michigan.

The Essex vehicles were small and affordable vehicles. In 1919, an Essex accomplished a 50-hour, 3,037.4 mile endurance test in Cincinnati, Ohio at an average speed of 60.75 miles per hour. The early Essex automobiles also claimed many hill climb records, with one of the more impressive victories coming at the hands of Glen Shultz who won the 1923 Pikes Peak Hill Climb in a specially prepared Essex race car.

Sales of the Essex remained strong through the 1920s and into the very early 1930s before sales (like most of the automotive market) began a drastic decline. For 1932, a redesigned Essex was introduced and was named the Essex-Terraplane, a play on the word aeroplane. By 1933, the Essex was no more and the car carried on as the Terraplane.

The 1931 Essex
For 1931, Essex offered the Super Six Model E and available in elven different body styles. Pricing was fair and competitive, ranging from $725 - $900. Power was from a six-cylinder, 175.2 cubic-inch engine capable of producing 60 horsepower. It had a three speed sliding gearbox and Bendix mechanical brakes at all four corners. Styling was similar to the previous year's models, with a few subtle changes. Up front there was a new bronze chromium plated grid for the radiator shell. The curved tie bar for the headlights and fenders was replaced with a straight tie bar. The double row of hood louvers were now a single set that were much larger. New bumpers, hubcaps, running boards and exterior hardware were also visible on the 1931 models.

Inside, the Essex models were outfitted with Bedford cord, flat fabrics or velours. Essex sedan models also receive as much as five more inches of leg room.

Super Six Boattail Speedabout
This 1931 Boattail Speedabout is an original example of which only a few are known to have survived. It is a relatively late-production example and wears coachwork courtesy of Murray, rather than the early Biddle and Smart bodies.

This vehicle, with its many cosmetic and mechanical improvements introduced for the 1931 model year, was once part of the Harrah automobile collection in Reno, Nevada. When the collection was dispersed in 1984, the Essex Speedabout was sold to an Oregon resident who kept it for a number of years before having it fully restored to a high, show-quality standard. When the work was completed, it was finished in its current two-tone color scheme of beige and brown with contrasting green accents. It is equipped with the full array of options, including wire wheels, side-mounted spares, twin taillights and whitewall tires.

In the mid-2000s, it was acquired by the current owner.

In 2011, at the Pebble Beach, CA auction presented by Gooding & Company, the car was estimated to sell for $70,000-$90,000 and offered without reserve. As bidding came to a close, the car had been sold for the sum of $66,000inclusive of buyer's premium.
By Daniel Vaughan | Nov 2011
McQueen's Famous 1956 Jaguar Coming to Pinehurst Concours
VILLAGE OF PINEHURST, N.C. (April 16, 2014) – A 1956 Jaguar XKSS owned by movie legend Steve McQueen, now housed at the world famous Petersen Automotive Museum in Los Angeles, will make the cross country trip from California to North Carolina and be displayed at the 2014 Pinehurst Concours d'Elegance. McQueen, called 'The King of Cool,' became the highest paid movie star in the world in 1974 and starred in such movies at 'Bullitt,' 'The Great Escape' and 'Papillon.' McQueen, who was al...[Read more...]
MERCEDES-BENZ 2014 G63 AMG: THE ULTIMATE G-CLASS
The latest technology for the AMG off-road icon: the new 2014 G63 AMG impresses with a state-of-the-art powertrain, expressive new design and improved efficiency. All this is largely attributable to the AMG 5.5-liter V8 biturbo engine delivering 536 hp and the AMG SPEEDSHIFT PLUS 7-speed automatic transmission. Every new AMG high-performance vehicle offers an outstanding mix of 'more power from less fuel' – and the G63 AMG is no exception. The 'strong man' in the AMG model range has been furt...[Read more...]
Hyundai Powered Unlimited Race Car Sets The Second Fastest Time In Pikes Peak Hill Climb History
PIKES PEAK, COLORADO, July 1, 2013 – Rhys Millen and his Hyundai-powered race car finished second overall and set the second fastest time in history at the 2013 Pikes Peak International Hill Climb today. Millen set a blistering pace to the summit in his specially-prepared Hyundai powered race car, needing only 9:02.192 to make international motorsports' most challenging ascent. For 2013, Millen's own race team, Rhys Millen Racing (RMR), built an all-new unlimited-class, tube frame racecar...[Read more...]
All-New Range Rover Sport Sets Pikes Peak Hill Climb Record
◾The transformational on-road dynamics of the Range Rover Sport conquers one of the world's most unforgiving driving challenges ◾New hill climb record for production SUV set on 12.42-mile Colorado mountain's hill road ◾New record confirms the Range Rover Sport as Land Rover's fastest, most responsive and agile vehicle to date ◾Short documentary film, the first in 'The Driven Challenges' series, will follow (COLORADO SPRINGS, CO) - June 7, 2013 -The all-new Range Rover Sport yesterda...[Read more...]
PORSCHE MOTORSPORT NORTH AMERICA PURCHASES HISTORIC ANDIAL NAME
Santa Ana, Calif. - February 14 - With the last active owner Dieter Inzenhofer retiring later this month, the legendary ANDIAL name will stay in the Porsche family as Porsche Motorsports North America, Inc. (PMNA) announced it has purchased the brand for future use. ANDIAL is an anagram made from the names of the founding members - the late Arnold Wagner AN; Dieter Inzenhofer DI; and former PMNA president and current consultant Alwin Springer AL. From the company's formation in 1975, ...[Read more...]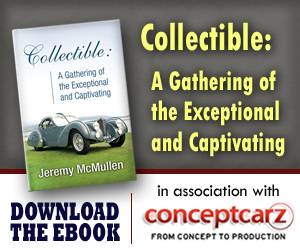 © 1998-2014. All rights reserved. The material may not be published, broadcast, rewritten, or redistributed.