1931 Essex Super Six Model E news, pictures, specifications, and information

Tweet
The Essex automobile was produced from 1918 through 1922 by the Essex Motor Company which was actually an owned entity of Hudson. From 1922 through 1932, they were produced by the Hudson Motor Company of Detroit, Michigan.

The Essex vehicles were small and affordable vehicles. In 1919, an Essex accomplished a 50-hour, 3,037.4 mile endurance test in Cincinnati, Ohio at an average speed of 60.75 miles per hour. The early Essex automobiles also claimed many hill climb records, with one of the more impressive victories coming at the hands of Glen Shultz who won the 1923 Pikes Peak Hill Climb in a specially prepared Essex race car.

Sales of the Essex remained strong through the 1920s and into the very early 1930s before sales (like most of the automotive market) began a drastic decline. For 1932, a redesigned Essex was introduced and was named the Essex-Terraplane, a play on the word aeroplane. By 1933, the Essex was no more and the car carried on as the Terraplane.

The 1931 Essex
For 1931, Essex offered the Super Six Model E and available in elven different body styles. Pricing was fair and competitive, ranging from $725 - $900. Power was from a six-cylinder, 175.2 cubic-inch engine capable of producing 60 horsepower. It had a three speed sliding gearbox and Bendix mechanical brakes at all four corners. Styling was similar to the previous year's models, with a few subtle changes. Up front there was a new bronze chromium plated grid for the radiator shell. The curved tie bar for the headlights and fenders was replaced with a straight tie bar. The double row of hood louvers were now a single set that were much larger. New bumpers, hubcaps, running boards and exterior hardware were also visible on the 1931 models.

Inside, the Essex models were outfitted with Bedford cord, flat fabrics or velours. Essex sedan models also receive as much as five more inches of leg room.

Super Six Boattail Speedabout
This 1931 Boattail Speedabout is an original example of which only a few are known to have survived. It is a relatively late-production example and wears coachwork courtesy of Murray, rather than the early Biddle and Smart bodies.

This vehicle, with its many cosmetic and mechanical improvements introduced for the 1931 model year, was once part of the Harrah automobile collection in Reno, Nevada. When the collection was dispersed in 1984, the Essex Speedabout was sold to an Oregon resident who kept it for a number of years before having it fully restored to a high, show-quality standard. When the work was completed, it was finished in its current two-tone color scheme of beige and brown with contrasting green accents. It is equipped with the full array of options, including wire wheels, side-mounted spares, twin taillights and whitewall tires.

In the mid-2000s, it was acquired by the current owner.

In 2011, at the Pebble Beach, CA auction presented by Gooding & Company, the car was estimated to sell for $70,000-$90,000 and offered without reserve. As bidding came to a close, the car had been sold for the sum of $66,000inclusive of buyer's premium.
By Daniel Vaughan | Nov 2011
RECORD DAY AT BONHAMS GREENWICH AUCTION
(June 2, 2014) Greenwich, CT – Standing room only crowds packed the Bonhams tent at the 7th annual Greenwich collector motorcar auction with the sale totaling in excess of $8 million dollars—besting last year's record breaking total by over 40%, with over 93% of lots offered finding new homes. The capacity crowd grew nearly silent as the catalog cover lot, a 1975 Lamborghini Countach LP 400 'Periscopica', sold for over $1.2 million dollars to a bidder seated in the front of the room, beat...[Read more...]
Peugeot at the 84th Geneva Motor Show : Two vehicles and two engines on show for the first time
On its stand at the 84th Geneva Motor Show, PEUGEOT unveils the trump cards of a double offensive, product and technology driven. With the latest introductions to the youngest range in its history, the brand creates the event with the new PEUGEOT 108 and the new PEUGEOT 308 SW; the new PureTech 1.2 litre 3-cylinder petrol engine, the new BlueHDi Diesel engines (an exclusive Euro 6 Diesel emissions technology), the HYbrid4 Diesel hybrid range and the 2008 HYbrid Air concept confirm its technologi...[Read more...]
NEAR MISS FOR TANNER FOUST IN NEW HAMPSHIRE; DRIVER RETURNS TO BATTLE FOR PODIUM NEXT WEEK
LOUDON, NH (July 12, 2013) - Rockstar Energy Drink driver Tanner Foust put in a strong performance to confidently lead the Global Rallycross Championship's first domestic round of 2013 until a last-corner mishap made it a near miss. Foust finished fourth in an all-Ford top-five. 'I'm happy for my teammates and it was a great showing for Ford,' said Foust. 'It wasn't me on the top step of the podium today, but the next race is just around the corner and I'm ready for it.' After a qua...[Read more...]
Mitsubishi Motors All-New Outlander Crossover the 'Official Safety Vehicle' of the 2013 Pikes Peak International Hill Climb (PPIHC)
CYPRESS, CA, June 17, 2013 -- Mitsubishi Motors North America, Inc. (MMNA) is proud to announce that its completely redesigned 2014 Mitsubishi Outlander crossover will be the 'Official Safety Vehicle' for this year's 91st running of the Pikes Peak International Hill Climb (PPIHC) to be held on June 30, 2013. With available technologically-advanced safety features including Lane Departure Warning (LDW), Adaptive Cruise Control (ACC) and Forward Collision Mitigation (FCM),the stylish se...[Read more...]
Tanner Foust Favored For X Games Medal Rookies Victorious After First-Corner Crash Claims Veterans
FOZ DO IGUAÇU, Brazil (April 23, 2013) - Rockstar Energy Drink driver Tanner Foust had a target on his back this weekend in Brazil, where the opening round of the Global Rallycross Championship took place on a challenging X Games course at Foz do Iguaçu. Fans lined up 10-deep before the race to get a glimpse of their favorite rallycross stars and the grandstands were packed for the Sunday race. 'The fans in Brazil are amazing,' said Foust. 'They were totally pumped to watch the rac...[Read more...]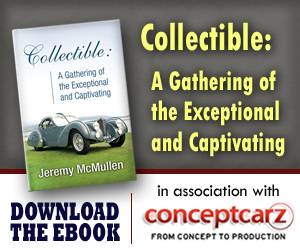 © 1998-2014. All rights reserved. The material may not be published, broadcast, rewritten, or redistributed.