1931 Essex Super Six Model E news, pictures, specifications, and information

Tweet
The Essex automobile was produced from 1918 through 1922 by the Essex Motor Company which was actually an owned entity of Hudson. From 1922 through 1932, they were produced by the Hudson Motor Company of Detroit, Michigan.

The Essex vehicles were small and affordable vehicles. In 1919, an Essex accomplished a 50-hour, 3,037.4 mile endurance test in Cincinnati, Ohio at an average speed of 60.75 miles per hour. The early Essex automobiles also claimed many hill climb records, with one of the more impressive victories coming at the hands of Glen Shultz who won the 1923 Pikes Peak Hill Climb in a specially prepared Essex race car.

Sales of the Essex remained strong through the 1920s and into the very early 1930s before sales (like most of the automotive market) began a drastic decline. For 1932, a redesigned Essex was introduced and was named the Essex-Terraplane, a play on the word aeroplane. By 1933, the Essex was no more and the car carried on as the Terraplane.

The 1931 Essex
For 1931, Essex offered the Super Six Model E and available in elven different body styles. Pricing was fair and competitive, ranging from $725 - $900. Power was from a six-cylinder, 175.2 cubic-inch engine capable of producing 60 horsepower. It had a three speed sliding gearbox and Bendix mechanical brakes at all four corners. Styling was similar to the previous year's models, with a few subtle changes. Up front there was a new bronze chromium plated grid for the radiator shell. The curved tie bar for the headlights and fenders was replaced with a straight tie bar. The double row of hood louvers were now a single set that were much larger. New bumpers, hubcaps, running boards and exterior hardware were also visible on the 1931 models.

Inside, the Essex models were outfitted with Bedford cord, flat fabrics or velours. Essex sedan models also receive as much as five more inches of leg room.

Super Six Boattail Speedabout
This 1931 Boattail Speedabout is an original example of which only a few are known to have survived. It is a relatively late-production example and wears coachwork courtesy of Murray, rather than the early Biddle and Smart bodies.

This vehicle, with its many cosmetic and mechanical improvements introduced for the 1931 model year, was once part of the Harrah automobile collection in Reno, Nevada. When the collection was dispersed in 1984, the Essex Speedabout was sold to an Oregon resident who kept it for a number of years before having it fully restored to a high, show-quality standard. When the work was completed, it was finished in its current two-tone color scheme of beige and brown with contrasting green accents. It is equipped with the full array of options, including wire wheels, side-mounted spares, twin taillights and whitewall tires.

In the mid-2000s, it was acquired by the current owner.

In 2011, at the Pebble Beach, CA auction presented by Gooding & Company, the car was estimated to sell for $70,000-$90,000 and offered without reserve. As bidding came to a close, the car had been sold for the sum of $66,000inclusive of buyer's premium.
By Daniel Vaughan | Nov 2011
EXCITEMENT FOR TANNER FOUST AT X GAMES
AUSTIN, Tex. (June 8, 2014) - It was a hard-fought race for Rockstar Energy Drink driver Tanner Foust this weekend at X Games in Austin, the second round of the Global Rallycross Championship. The four-time gold medalist, who has earned more X Games rally medals than any other competitor, was favored for a return to the podium in Austin. But, he rolled his Volkswagen while battling into the lead and found himself out of contention. 'Once again, I'm super impressed by how the Volkswa...[Read more...]
TRD, U.S.A. (Toyota Racing Development) Appoints David Wilson President and General Manager
COSTA MESA, Calif. (Jan. 9, 2014) – Effective immediately, David Wilson is promoted to president and general manager of TRD, U.S.A. (Toyota Racing Development). Previously, Wilson, who has been with TRD since 1989, was acting president and general manager of the organization since last June. Prior to that, he held the title of senior vice president. 'David Wilson has been an integral part of the success of our Toyota Racing efforts, and we are pleased to promote him to t...[Read more...]
MITSUBISHI MOTORS OWNERS AND ENTHUSIASTS TO CELEBRATE THE BRAND AT THE 2013 MITSUBISHI OWNER'S DAY (MOD)
Mitsubishi Motors North America, Inc. (MMNA) will host its annual celebration of all things Mitsubishi Motors for thousands of passionate Mitsubishi vehicle owners and automotive enthusiasts at the 2013 Mitsubishi Owner's Day (MOD) to take place at the company's headquarters located at 6400 Katella Avenue in Cypress, California 90630. The festivities kick off promptly beginning at 9:00 am on Saturday, July 13 and are open to the public and completely free of charge. Last year's MOD event drew...[Read more...]
RANGE ROVER SPORT WILL BE THE OFFICIAL PACE CAR FOR THE 91ST PIKES PEAK INTERNATIONAL HILL CLIMB
Colorado Springs, June 12-------- The new Range Rover Sport will be the Official Pace Car for the Pikes Peak International Hill Climb on June 30. Veteran driver Paul Dallenbach, who has won four Pikes Peak titles in 19 years on the mountain and entered this year in the Time Attack Division in Rhys Millen's record-smashing Hyundai Genesis Coupe, recently set a new record on Pikes Peak for a production-standard Sport Utility Vehicle behind the wheel of a Range Rover Sport with a clocking...[Read more...]
Honda To Be Partnering Sponsor In 2013 Pikes Peak International Hill Climb
Honda to participate as sponsor and race participant, with plans to campaign an unprecedented 10 Honda and Acura products in nine race classes 04/23/2013 - TORRANCE, Calif As a further extension of its growing commitment to grassroots racing in North America, Honda announced today that it is making a major commitment to the 2013 running of the legendary Pikes Peak International Hill Climb, as both a sponsor and race participant, with plans to field products in nine race class...[Read more...]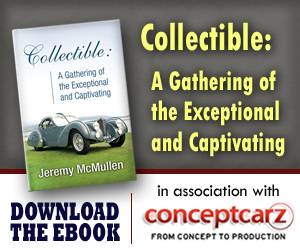 © 1998-2014. All rights reserved. The material may not be published, broadcast, rewritten, or redistributed.