1931 Essex Super Six Model E news, pictures, specifications, and information

Tweet
The Essex automobile was produced from 1918 through 1922 by the Essex Motor Company which was actually an owned entity of Hudson. From 1922 through 1932, they were produced by the Hudson Motor Company of Detroit, Michigan.

The Essex vehicles were small and affordable vehicles. In 1919, an Essex accomplished a 50-hour, 3,037.4 mile endurance test in Cincinnati, Ohio at an average speed of 60.75 miles per hour. The early Essex automobiles also claimed many hill climb records, with one of the more impressive victories coming at the hands of Glen Shultz who won the 1923 Pikes Peak Hill Climb in a specially prepared Essex race car.

Sales of the Essex remained strong through the 1920s and into the very early 1930s before sales (like most of the automotive market) began a drastic decline. For 1932, a redesigned Essex was introduced and was named the Essex-Terraplane, a play on the word aeroplane. By 1933, the Essex was no more and the car carried on as the Terraplane.

The 1931 Essex
For 1931, Essex offered the Super Six Model E and available in elven different body styles. Pricing was fair and competitive, ranging from $725 - $900. Power was from a six-cylinder, 175.2 cubic-inch engine capable of producing 60 horsepower. It had a three speed sliding gearbox and Bendix mechanical brakes at all four corners. Styling was similar to the previous year's models, with a few subtle changes. Up front there was a new bronze chromium plated grid for the radiator shell. The curved tie bar for the headlights and fenders was replaced with a straight tie bar. The double row of hood louvers were now a single set that were much larger. New bumpers, hubcaps, running boards and exterior hardware were also visible on the 1931 models.

Inside, the Essex models were outfitted with Bedford cord, flat fabrics or velours. Essex sedan models also receive as much as five more inches of leg room.

Super Six Boattail Speedabout
This 1931 Boattail Speedabout is an original example of which only a few are known to have survived. It is a relatively late-production example and wears coachwork courtesy of Murray, rather than the early Biddle and Smart bodies.

This vehicle, with its many cosmetic and mechanical improvements introduced for the 1931 model year, was once part of the Harrah automobile collection in Reno, Nevada. When the collection was dispersed in 1984, the Essex Speedabout was sold to an Oregon resident who kept it for a number of years before having it fully restored to a high, show-quality standard. When the work was completed, it was finished in its current two-tone color scheme of beige and brown with contrasting green accents. It is equipped with the full array of options, including wire wheels, side-mounted spares, twin taillights and whitewall tires.

In the mid-2000s, it was acquired by the current owner.

In 2011, at the Pebble Beach, CA auction presented by Gooding & Company, the car was estimated to sell for $70,000-$90,000 and offered without reserve. As bidding came to a close, the car had been sold for the sum of $66,000inclusive of buyer's premium.
By Daniel Vaughan | Nov 2011
HONDA PERFORMANCE DEVELOPMENT UNVEILS 3.5-LITER PROTOTYPE ENGINE
◾Starworks Motorsport to Debut HR35TT at Sebring ◾Latest Racing Application of Production-Based Honda V6 Engine ◾Two-Team HPD Effort In TUDOR United SportsCar Championship 02/20/2014 - SANTA CLARITA, Calif. -- Honda Performance Development Thursday announced a new, 3.5-liter racing application for the versatile, production-based Honda V6 engine found in a wide range of Honda/Acura passenger cars and light trucks and now raced in multiple categories worldwide. The Honda HR35TT twin...[Read more...]
Mecum Set To Auction Off Steve Mcqueen's 'Last Ride' 1952 Chevrolet 3800 Series Pickup Truck With Custom Camper
Los Angeles, CA - July 16, 2013 - Mecum Auctions have announced they will be auctioning off the legendary late actor Steve McQueen's last known personal vehicle at the Mecum Celebrity Items Auction: Celebrating the Legendary History of Hollywood at the Barker Hangar in Santa Monica, CA July 26-27, 2013. While much is known of McQueen's antique motorcycle collection, he was also an avid collector of vintage cars and trucks. Throughout his lifetime, he owned more than 60 rare vehicles inclu...[Read more...]
Ready To Take On Pikes Peak
For the first time, the nine-time world champion and the wild animal got the chance to drive the famous Pikes Peak hill climb course in its entirety, which reaches a vertiginous 4300 metres at its summit. Peugeot Sport used the test to refine the set-up of the car to match the unique demands of Pikes Peak. The team and driver are now ready to take on the massive challenge in two weeks time. Or as ready as anyone will ever be for one of the biggest adventures that remain in motorsport… 'We've...[Read more...]
SEBASTIEN LOEB'S FIRST KING OF THE PEAK TRACK TESTS
When Sébastien Loeb's helicopter landed alongside the high-security track at La Ferté-Vidame, in northwestern France, the rally star believed he was in for a routine test session. After just a handful of laps in the car, he realised that this was something different, however… 'The 208 T16 Pikes Peak is a rocket! It's so powerful! The first time you drive it, each gear change practically stuns you. The shifts are really brutal, and it takes a little time to anticipate the sudden jarring. You get ...[Read more...]
Audi R18 e-tron quattro: heading for Le Mans with all-wheel drive
In a month from now a prestigious success will be at stake for Audi. On June 16/17, a hybrid vehicle could be winning the Le Mans 24 Hours for the first time. Electrified drive and quattro all-wheel drive – what looks like two different worlds at first glance has been merged into a technological synthesis by Audi. 'Soon after the TDI phase had begun we started to think about the hybridization of a Le Mans sports prototype, when it was foreseeable that the regulations would open up this optio...[Read more...]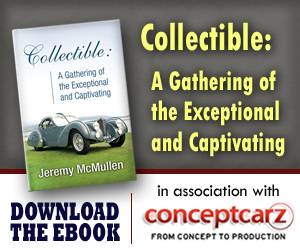 © 1998-2014. All rights reserved. The material may not be published, broadcast, rewritten, or redistributed.