1931 Essex Super Six Model E news, pictures, specifications, and information

Tweet
The Essex automobile was produced from 1918 through 1922 by the Essex Motor Company which was actually an owned entity of Hudson. From 1922 through 1932, they were produced by the Hudson Motor Company of Detroit, Michigan.

The Essex vehicles were small and affordable vehicles. In 1919, an Essex accomplished a 50-hour, 3,037.4 mile endurance test in Cincinnati, Ohio at an average speed of 60.75 miles per hour. The early Essex automobiles also claimed many hill climb records, with one of the more impressive victories coming at the hands of Glen Shultz who won the 1923 Pikes Peak Hill Climb in a specially prepared Essex race car.

Sales of the Essex remained strong through the 1920s and into the very early 1930s before sales (like most of the automotive market) began a drastic decline. For 1932, a redesigned Essex was introduced and was named the Essex-Terraplane, a play on the word aeroplane. By 1933, the Essex was no more and the car carried on as the Terraplane.

The 1931 Essex
For 1931, Essex offered the Super Six Model E and available in elven different body styles. Pricing was fair and competitive, ranging from $725 - $900. Power was from a six-cylinder, 175.2 cubic-inch engine capable of producing 60 horsepower. It had a three speed sliding gearbox and Bendix mechanical brakes at all four corners. Styling was similar to the previous year's models, with a few subtle changes. Up front there was a new bronze chromium plated grid for the radiator shell. The curved tie bar for the headlights and fenders was replaced with a straight tie bar. The double row of hood louvers were now a single set that were much larger. New bumpers, hubcaps, running boards and exterior hardware were also visible on the 1931 models.

Inside, the Essex models were outfitted with Bedford cord, flat fabrics or velours. Essex sedan models also receive as much as five more inches of leg room.

Super Six Boattail Speedabout
This 1931 Boattail Speedabout is an original example of which only a few are known to have survived. It is a relatively late-production example and wears coachwork courtesy of Murray, rather than the early Biddle and Smart bodies.

This vehicle, with its many cosmetic and mechanical improvements introduced for the 1931 model year, was once part of the Harrah automobile collection in Reno, Nevada. When the collection was dispersed in 1984, the Essex Speedabout was sold to an Oregon resident who kept it for a number of years before having it fully restored to a high, show-quality standard. When the work was completed, it was finished in its current two-tone color scheme of beige and brown with contrasting green accents. It is equipped with the full array of options, including wire wheels, side-mounted spares, twin taillights and whitewall tires.

In the mid-2000s, it was acquired by the current owner.

In 2011, at the Pebble Beach, CA auction presented by Gooding & Company, the car was estimated to sell for $70,000-$90,000 and offered without reserve. As bidding came to a close, the car had been sold for the sum of $66,000inclusive of buyer's premium.
By Daniel Vaughan | Nov 2011
HONDA TO BE PARTNERING SPONSOR IN 2014 BROADMOOR PIKES PEAK INTERNATIONAL HILL CLIMB
Honda to participate as sponsor and race participant, and support the introduction of new safety improvements to the Broadmoor Pikes Peak International Hill Climb 04/24/2014 - TORRANCE, Calif. -- As a further extension of its growing commitment to grassroots racing in North America, Honda announced today that it is making a major commitment to the 2014 running of the legendary Broadmoor Pikes Peak International Hill Climb, as both a sponsor and race participant, with plans to fi...[Read more...]
2013 LA AUTO SHOW® HOSTS INAUGURAL MPG MOTORING INVITATIONAL PRESENTED BY FORZA MOTORSPORT 5 AND XBOX ONE
◾Top Collectors and Celebrities to Display More Than 60 Unique Vehicles on November 20 ◾More than 60 historic and unique vehicles to be displayed at Gilbert Lindsay Plaza ◾Influential icons, influencers, tastemakers, luminaries, collectors and celebrities to participate ◾The Motor Press Guild will announce its two Innovative Vehicle of the Year Awards at 7:30 AM ◾First-of-its-kind gathering for an international auto show ◾Event replaces the LA Auto Show's traditional opening keynote L...[Read more...]
SÉBASTIEN LOEB AND THE PEUGEOT 208 T16 PIKES PEAK SET NEW RECORD
After months of anticipation, Sébastien Loeb has shattered the Pikes Peak International Hill Climb record with a breath-taking time of 8m13.878s in the 208 T16 Pikes Peak. The Frenchman negotiated the 20 kilometres and 156 corners of the mountain at an average speed of 145kph. Loeb's time blitzed the previous best of 9m46.164s, set by Rhys Millen last year, with the top three finishers all beating the 2012 record. 'For me, this was the race of the year,' said Loeb at the finish, 4300 metres h...[Read more...]
A POSITIVE START TO PIKES PEAK PRACTICE
During the morning briefs ahead of the first official practice runs, the Race Director invited the drivers to take extra care, since water from melting roadside snow had frozen overnight. Indeed, Pikes Peak's craggy profile culminates at an altitude of 4,301 metres, and this part of Colorado is genuine mountain country. And, as any experienced climber will tell you, big mountains are places where Man is not in charge. They call for humility, patience and hard work. Before making a strike for the...[Read more...]
Edsel Ford's Speedster Stars at 'The Amelia'
Edsel Ford's 'continental car', a custom boattail speedster, will take its rightful place in the Sports Car Class of the 18th annual Amelia Island Concours d'Elegance. In the shape of Edsel's seminal speedster is the genesis of Ford's legendary design department. Edsel Ford was hardly 'a chip off the old block'. The acorn fell well away from the mighty oak that was Henry Ford, founder of the Ford Motor Company. Edsel was not just the President of Ford, he was a car guy to his core. His ta...[Read more...]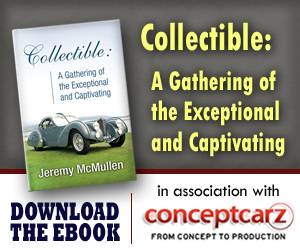 © 1998-2014. All rights reserved. The material may not be published, broadcast, rewritten, or redistributed.