1949 Studebaker Champion Regal Deluxe news, pictures, specifications, and information

Tweet
| | |
| --- | --- |
| | 2-Door Sedan |
Studebaker got its start in 1852 by building wagons and supplying horse-drawn vehicles to the Únion Army during the Civil war. It eventually became the largest wagon builder in the world, and didn't begin manufacturing automobiles until 1902. When Studebaker produced its last vehicle in 1966, it had been in business for 114.

In 1947, Studebaker was one of the first automakers to produce an all-new body design following the end of World War II. Introduced in early 1946, the new Champion was the work of the industrial design firm Raymond Loewy and Associates and Studebaker designer Virgil Exner.
Source - Gilmore Museum
Production of the Studebaker Champion began in 1939 and continued for nearly twenty years, ending in 1958 when it was replaced by the Studebaker Lark. The Studebaker Champion was a very important model because at the time of its introduction the Studebaker Company was entered receivership. The Great Depression had taken its toll on the company and nearly forced it out of business. The success of the Studebaker Champion would determine the future of the Studebaker Company.

This was a new model for Studebaker. The design was new and did not borrow from any of its sibling automobiles; it was simple and clean. It was the work of Raymond Loewy. The selected amenities and components were appropriate. They had been chosen after doing research into what the public most desired in an automobile. Thought and planning continued into the automotive components which were rather advanced, from an engineering stand-point. Under the hood was a pushrod engine
which provided suitable power to the very lightweight automobile. It was given awards by Mobilgas for its superior fuel economy. During World War II when fuel was rationed, the popularity of the Studebaker Champion was highly sought after.

The Studebaker Champion carried a sticker price of just $660 at the close of the 1930's. This very low price made the vehicle even more attractive and would go on to become on the best selling models for the Studebaker Company.

A new design was being prepared for 1947. In 1946 the Champion carried the same bodyshell as those of the pre-war Champions. They were designated Skyway Champion models.

A very low-priced Champion model was introduced in 1957 called the Champion Scotsman. The vehicle was void of any extra amenities and all that was left was the bare-essentials. The purpose of the vehicle was to give customers a low-cost alternative and to better compete with the larger Automobile Manufacturers who were offering the same type of vehicle at a very low cost.
By Daniel Vaughan | Nov 2006
For more information and related vehicles, click
here
Concours d'Elegance of America at St. John's : Class Previews
Here is a little preview of two of our special classes for St. John's upcoming show. Featured Designer: Virgil Exner The 2014 Concours d'Elegance of America will honor the work of famed chief designer Virgil Exner with an unprecedented display of Chrysler Corporation's 1955-1961 'Forward Look,' a daring two-pronged styling revolution that changed the look of the American car. First up were the 'jet-age'1955 Plymouths, Dodges, DeSotos, Chryslers and Imperials. Then came the 1957 m...[Read more...]
RARE REUNION: CHRYSLER CONCEPT CARS GATHER AT AMELIA, 2014
Nine rare and important Chrysler Concept Cars from the forties, fifties and sixties will be presented together for the first time at the 19th annual Amelia Island Concours d'Elegance on March 9, 2014. From the two-seat Chrysler Thunderbolt roadster and the dual-cowl Chrysler Newport of 1941 through the radical 1963 Chrysler Turbine car, Amelia's Chrysler Concept Car Class shows the genesis of the styling and engineering philosophy that summoned Chrysler's industry-changing 'Forward Look...[Read more...]
BMW CELEBRATES ITS PAST, PRESENT AND FUTURE DURING PEBBLE BEACH CONCOURS AND ROLEX MONTEREY MOTORSPORTS REUNION WEEKEND
◾Never before seen concept from BMW M GmbH debuts at The Quail: A Motorsports Gathering ◾BMW Pininfarina Gran Lusso Coupé makes North American debut at Pebble Beach Concours d'Elegance ◾New BMW 428i Coupe to be display and offered as raffle prize at Pebble Beach Concours d'Elegance ◾BMW 3.0 CSL and BMW M1 to race at Rolex Monterey Motorsports Reunion ◾BMW 507 to be featured at Pebble Beach Concours d'Elegance Woodcliff Lake, NJ – August 15, 2013… On the occasion of the annual car...[Read more...]
Joe Bortz to Host Historic Dream Car Discussion Panel
Dream car collector and historian Joe Bortz has prepared a special treat for participants at the 40th Annual Pontiac-Oakland Club International Convention in St. Charles Illinois, this coming July 17-21. In addition to bringing his four historic Pontiac Dream Cars, he has also assembled a panel, conisisting of two noted designers, a retired engineer and two veteran authors to examine the topic of Pontiac's early concept vehicles. The panel discussion will be held on Friday, July 20th at 1...[Read more...]
GOODING & COMPANY ANNOUNCES OUTSTANDING $21+ MILLION RESULTS FROM FIRST-EVER SCOTTSDALE AUCTION
Award-Winning 1959 Ferrari 250 GT California Spider Sells for More Than $3 Million – Top Selling Lot of the 2008 Scottsdale Auction Week Rare Ferrari 400 Superamerica, Famous Lincoln Loewy Continental and Distinguished Model J Duesenberg Clear-Vision Sedan Headlined Array of Record-Breaking Sales SCOTTSDALE, Ariz. (January 19, 2008) – The inaugural Gooding & Company Scottsdale Auction was a stunning success, with a grand total of more than $21 million for 64 cars sold, ...[Read more...]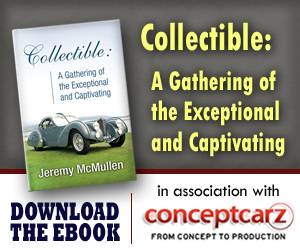 Similarly Priced Vehicles from 1949
Dodge Coronet ($1,913-$3,675)
Oldsmobile Rocket 88 ($2,045-$3,105)
MG TC ($1,895-$1,895)
Mercury Series 9CM ($1,980-$2,715)
Chevrolet GK Styleline DeLuxe ($1,500-$2,300)
Plymouth Special Deluxe ($1,600-$2,375)
DeSoto Deluxe Series ($1,870-$2,800)
Oldsmobile Series 76 ($1,635-$2,740)

Average Auction Sale: $11,479
© 1998-2014. All rights reserved. The material may not be published, broadcast, rewritten, or redistributed.