1927 Chevrolet Series AA news, pictures, specifications, and information

Tweet
Chevrolet produced 1,001,820 Chevrolet vehicles for 1927. Their vehicle was the Capitol Series AA which featured a new radiator shell and fuller crown fenders. Mechanical changes included a parking brake release and a rectangular brake and clutch pedal. A new bodystyle joined the lineup - a Sports Cabriolet. Other body styles options included the roadster, tourer, coupe, coach, sedan, and landau sedan. An Imperial Landau was added in May.

Powering the Chevrolet Capitol was a four-cylinder, overhead valve engine that displaced 171 cubic-inches and delivering just over 25 horsepower. They had a three-speed selective sliding gearbox and rode on steel disc wheels.

Pricing began at $525 for the 4-door tourer and 2-door roadster, and rose to $745 for the landau sedan.

This 1927 Woodie began life as a rolling chassis that was shipped to the Martin-Parry Corporation of Indianapolis. Martin-Parry clothed the chassis in their seven-person station wagon design.

By the 1960s, the car was in the care of Clark Woolston of Kentfield, California. In October of 1967, the Woodie Wagon was purchased by the Harrah Collection, followed by a sympathetic restoration a short time later.

In 1986, this AA Wagon was sold from the collection. By the 2000s, the car was acquired by a California collector.

In 2012, this vehicle was offered for sale at the Gooding & Company auction held in Scottsdale, Arizona. It had a pre-auction estimated value of 35,000 - $45,000 and was offered without reserve. As bidding came to a close, the vehicle had been sold for the sum of $39,600 inclusive of buyer's premium.
By Daniel Vaughan | Feb 2012
BARRETT-JACKSON'S SCOTTSDALE 2014 SALON COLLECTION TO OFFER DIVERSE DOCKET OF WORLD'S MOST SOUGHT-AFTER COLLECTIBLES
Rare and Desirable Vehicles Plus One Fully-Operational Carousel Will Cross the Auction Block at Company's Monumental Scottsdale Auction, Jan. 12-19, 2014 SCOTTSDALE, ARIZ. (Dec. 18, 2013) – Barrett-Jackson, The World's Greatest Collector Car Auctions™, announced today a group of exceptional vehicles representing 85 years of automotive history will cross the auction block as part of the world-renowned Salon Collection. The collection will be offered during the company's 43rd Ann...[Read more...]
MACCACHREN SWEEPS STADIUM SUPER TRUCKS ROUND NO. 6
St. Louis, Mo. (June 8, 2013) – After the first five events primarily on the west coast, SPEED Energy Stadium SUPER Trucks brought the 600 hp high flying machines inside the Edward Jones Dome in St. Louis, Mo., for a night of urban off-road action. Rob MacCachren, Aaron Basl, and Sheldon Creed were able to conquer the multiple challenges of the tacky Missouri clay to record wins in Round No. 6 of SST Competition. Rob MacCachren, of Las Vegas, Nev., driving the No. 21 Traxxas truck made...[Read more...]
Bonhams to offer the renowned Oldenburg family collection of classic automobiles at Scottsdale
More than 30 American, British and Italian cars of various vintages head to Scottsdale, Arizona Bonhams is honored to have been chosen to represent the highly esteemed Oldenburg Family Automobile Collection at its second annual Scottsdale Auction in January. The extensive collection of more than 30 cars from the prominent horse breeding family includes multiple models of the same marque, including Ferrari and Jaguar. The Italians Leading the impressive assembly are ...[Read more...]
Carroll Shelby, Ford Family for More Than Half a Century
Carroll Shelby was a member of the Ford family for the better part of 60 years, producing stunning performance vehicles from concepts to production models. He once said his energy and passion for performance products were always strongest when he was working with Ford. Shelby most recently collaborated with the company on the 2013 Ford Shelby GT500 Mustang, the most powerful production V8 in the world. Working with SVT engineers at Sebring and the Arizona Proving Grounds, at times he drov...[Read more...]
Premier US Collector Automobile Auction Russo and Steele Plans To Expand Auctions To China and Asia In Joint Venture With Leading Chinese Luxury Auto Importer China Auto Logistics Inc.
In a joint announcement today, privately owned Russo and Steele Collector Automobile Auctions ('Russo and Steele') and China Auto Logistics Inc. ('CALI') (NASDAQ:CALI), said they have signed a memorandum of understanding for a joint venture to develop the Russo and Steele Collector Automobile Auction business in China. In connection with the planned joint venture, Russo and Steele expects to coordinate auction events with CALI in China and work together with CALI to develop marketing programs to...[Read more...]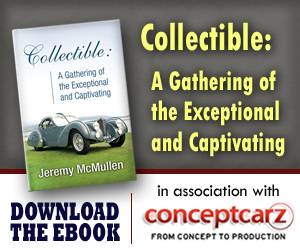 Chevrolet
Monthly Sales Figures
Volume
August 2014
185,930
July 2014
175,155
June 2014
188,567
May 2014
205,010
April 2014
181,648
March 2014
179,681
February 2014
153,913
January 2014
119,089
December 2013
153,493
November 2013
145,089
October 2013
155,214
September 2013
127,785
(More Details)
© 1998-2014. All rights reserved. The material may not be published, broadcast, rewritten, or redistributed.