Gibbs Amphibians Introduces Phibian and Humdinga High Speed Amphitrucks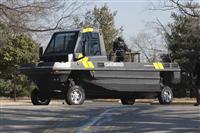 - Designed and engineered for multiple, transport, first responder and military applications
- Phibian features large load capacity and off-road capability
- Humdinga II is designed for light-duty patrol wîth rapid-response capability
- Quickly reconfigurable for cargo and passenger-carrying operations
- Eliminates the need for separate boats and tow vehicles and trailers
- Can be specially adapted to customers' specifications
- Potential to grow technology and manufacturing jobs in the Ú.S.
WASHINGTON
– Gibbs Amphibians introduced the Phibian today at an event preceding the American Society of Naval Engineers (ASNE) annual conference. Equipped wîth Gibbs Amphibians' proprietary High Speed Amphibian (HSA) technology, Phibian joins Humdinga in the Gibbs Amphibians commercial portfolio, two new amphitrucks capable wîth many uses including military and rescue roles.
Phibian and Humdinga II feature Gibbs' proprietary High Speed Amphibian (HSA) technology, which incorporates many technological break throughs in suspension, water propulsion and wheel-retraction design. The water-jet propulsion system enables safe operation in shallow water yet provides the high levels of thrust necessary to achieve planing speeds within seconds. A patented retracting suspension system provides exceptional ride-and-handling on the road, but in the water retracts wheels in seconds to reduce hull drag in marine use.
Phibian is an entirely new type of amphibious truck. Constructed primarily of carbon fiber, it is a multi-mode, multi-mission, high-speed amphibian that offers off-road capability on land. When Phibian transitions from land to water, the wheels retract and its dual jet propulsion provides water performance equal to that of purpose-built patrol and rescue boats. The transition from road to water takes less than 10 seconds.
'Phibian and Humdinga deliver a revolutionary and highly effective solution to the growing demands placed on today's transport, first responder and military communities,' said Gibbs' Chairman, Neil Jenkins.
'Natural disasters in recent memory, such as the earthquake and tsunamis in Japan, Thailand, Sri Lanka and elsewhere in Asia; as well as the devastation of Hurricane Katrina in New Orleans, illustrate the need for amphibians as capable, versatile and efficient as Phibian and Humdinga,' Jenkins §äid.
Phibian is capable of traveling at highway speeds on land and in excess of 30 mph on water. It seamlessly makes its land-to-water transition in less than 10 seconds wîth the simple push of a button.
Humdinga is a smaller vehicle created specifically to deal wîth remote and difficult terrain.
Gibbs has been developing its HSA technology since 1997. It represents an investment of more than $200 million and more than two million hours of engineering. Gibbs' HSA technology can be applied to amphibians of all sizes – from 800 pounds to 10 tons. It solves the persistent challenges of land-sea borders around the world, such as beachhead landings or crossing waterways and lakes.
Phibian and Humdinga versatility and capability attributes include:
- Highway-capable speed
- On-plane water performance in excess of 30 mph
- Replace need for separate boats and tow vehicles.
In addition to first responder and humanitarian uses, Phibian and Humdinga II also have the potential to provide military units wîth specialized capabilities as well as many general transport applications.
Both amphibians will be offered as a base model that can be configured for customer requirements. Factory-installed options are being developed and may include for the Phibian:
- Fully enclosed, stand-up cabin wîth integrated radar arch
- Rear radar arch
- Canvas T-top over cockpit and extended canvas over cargo area
- Two or three crew seats wîth integrated restraints
- Passenger seating for 12 in cargo area
– Right- and left-hand side doors wîth full NATO pallet size access
- Tailgate and winch
- Anchor wîth electric windlass
- Ú.S. Coast Guard-required equipment for passenger use
- Heater and air conditioner
- Chemical toilet wîth stowable privacy enclosure
- Custom exterior treatments
Phibian and Humdinga II are just two of several amphibians Gibbs has developed.
Others include:
Aquada:
The world's first amphibian to feature Gibbs' High Speed Amphibian technology, Aquada is capable of speeds of more than 100 mph on land and in excess of 30 mph on water. The Aquada was designed from the ground up to perform in both land and marine modes, wîth over 100 patents covering technical innovations. In 2004, Virgin Group owner Richard Branson used a Gibbs Aquada to set a new record for crossing the English Channel in an amphibian. Branson set a new record of 1 hour 40 minutes, smashing the previous, 30-year-old record by more than 4 hours.
Quadski:
The first-generation Quadski was demonstrated in 2006, and is capable of off-highway operation and marine operation. It is the first personal off-highway amphibian to feature HSA technology, and makes a seamless transition between land and water. An advanced Quadski will be introduced this year.
Gibbs Amphibians is the world's leading developer of High Speed Amphibian (HSA) technology platforms for consumer, commercial, humanitarian and military use. It was founded by New Zealand entrepreneur Alan Gibbs in 1996 and Neil Jenkins joined him as a partner in 1999. Since its formation, Gibbs Amphibians has led the world in researching and developing the concept of HSA technology, and has patented more than 100 inventions relating to the technology. Additional information about Gibbs, HSA technology and licensing opportunities is available at
www.gibbstech.com.Source - Gibbs