Image credits: © Toyota.
2013 Toyota Avalon news, pictures, specifications, and information
The Sensational New 2013 Toyota Avalon Makes World Debut at the 2012 New York
• New model offers captivating styling, a spacious, luxurious interior experience, and premium technology
• Regionally-focused design, engineering, and manufacturing effort
Toyota Motor Sales, Ú.S.A. revealed the all-new 2013 Avalon premium mid-size sedan today at the 2012 New York International Auto Show. The new Avalon is re-conceived for the premium mid-size sedan §egmènt wîth a progressive and emotionally styled exterior design.
When it arrives to dealerships late this year, the new Avalon will offer improved dynamic performance, a greater degree of refinement, and a highly spacious, comfortable interior experience wîth an abundance of outstanding convenience technologies.
The new 2013 Avalon is the result of a North American-focused design and engineering effort. The new sedan's dramatic exterior and interior design was conceived by a youthful and talented team at the Calty Design Research Inc. facilities in Southern California and Michigan. The car's engineering development was principally led by a passionate and dedicated group based at Toyota Technical Center in Ann Arbor, Mich. Continuing a North American focused theme, the 2013 Avalon will be assembled at Toyota's facility in Georgetown, Ky. True to the future product mission set forth by Toyota Motor Corporation President, Akio Toyoda, the new Avalon's more stylish, bold, sporty exterior design and luxurious interior styling are matched by an enhanced dynamic package, a combination that foreshadows the more compelling and passionate nature of future Toyota products.
Enhanced Avalon Dynamics
In addition to its stunning design, numerous structural and chassis improvements were made to the new Avalon to enhance the ride quality, straight-line stability and handling. The body structure gains improvements in torsional rigidity thanks to additional and strategically placed welds, improved body bracing, and high-strength steel in key areas in order to provide a stiffer chassis and optimize suspension performance. The new Avalon suspension relies on MacPherson struts wîth advanced valving and rebound springs to balance handling and agility wîth ride comfort. Coil spring rate and front and rear sway bar stiffness was increased from the current model to help improve body control and body roll. The Avalon's electric power §teering (EPS) system has been tuned to help deliver enhanced controllability and vehicle agility while also realizing superior linear stability.
The new Avalon offers three distinct drive modes that help tailor dynamic performance to the driver's needs. The drive modes - Normal, Eco, and Sport -are made available through driver-selectable switches. In Sport mode, throttle response is enhanced and §teering effort is weighted from center to offer a sportier character. Eco changes throttle response and A/C power usage to help improve fuel economy. Steering-wheel mounted paddle shifters help provide a sportier drive while in the D or S Mode, where the revised throttle helps improve shift response to help maximize engine power and vehicle performance.
Dynamic Exterior Styling
The new Avalon's dynamic exterior styling defines a sleek and expressive profile that helps communicate a sense of motion for the vehicle even when it is at rest. The beltline has been lowered to accentuate a strong stance. Compared to its predecessor, the new Avalon is a bit more compact yet displays better proportions wîth a longer, sloping roofline, flared front fenders, and reduced front and rear overhangs, lower vehicle height, and reduced body-to-tire gap. New 17-inch and 18-inch alloy wheel and tire combinations fill the wheel well to enhance the vehicle's dynamic exterior expression.
Key exterior design elements include the square Double-eye PES (Projector Ellipsoid System) headlamps wîth HID (High-Intensity Discharge)and elegant DRL (Daytime Running Lights) feature available that provide excellent night time visibility while helping define a narrower, more taut and muscular exterior expression. A wider, more assertive grille design provides a bolder front perspective. At the rear, high-performance LED combination tail lamps are adopted which are more integrated wîth the revised rear-body styling. The dual rear tailpipe outlets further the more cohesive design thémé.
Modern Interior Experience
Design elements enhancing comfort, convenience and technology help create the luxurious experience that will prove tempting to buyers of the next Avalon. The 2013 Avalon offers a modern, spacious, premium interior highlighted by abundant rear seat legroom, while featuring a myriad of available features. Beyond mere dimensions, the new Avalon's interior design enhances the cabin's sense of spaciousness and comfort. The front seat's hip point has been lowered by 10 millimeters (0.4 inches) to help create improved headroom. The new power front seat design wîth increased side bolstering is more supportive and offers an expanded range of downward adjustment. In addition, the structural components of the sunroof and the headliner design have been optimized to help increase the cabin's roominess. A concave dash panel design, located in front of the passenger, helps create an expansive feeling. While the rear overhang has been reduced by 1.7 inches, the luggage compartment capacity is 16.0 cubic feet, an increase of 1.6 cubic feet as compared to the outgoing model.
The Avalon's premium interior attains a high level of refinement by reducing wind, engine and road noise inside the cabin. The resultant interior is even significantly quieter and more comfortable than the current Avalon and it creates an ideal environment to enjoy conversation, music or Toyota's available multimedia system, Entune™. Sound absorbing materials have been strategically placed around the cabin and body structure while not inhibiting a reduction in overall vehicle weight. The windshield and front side-glass panels utilize acoustic glass that helps control sound intrusion into the cabin. Reductions in wind noise have been realized by optimizing exterior shape, specifically cowl and louver sealing, outer mirror shape and position, and wiper-blade position, which have all been developed to dramatically reduce wind noise generation. Exterior gaps and steps have also been minimized to reduce wind noise around the door glass areas.
The new Avalon's interior utilizes premium materials and a high degree of craftsmanship to offer an upscale experience. Rich, supple leather trims the §teering wheel, shift knob, and seat upholstery helping add visual and tactile appeal. Hand-crafted, decorative stitching is adopted for the §teering wheel, and soft-touch materials on the dash panel and door trim elevate the vehicle's sense of tactile luxury. Smoked chrome-metallic accents are applied to the instrument panel, center console, door panel, and §teering wheel surfaces to help add distinction and exceptional feel. Available push-button controlled soft white ambient lighting illuminates key regions of the interior to help convey the sense of luxury. The new Avalon's center console includes a convenient console tray that is ideal for the storage of electronic hand held devices. The new Avalon's console area is equipped wîth a ÚSB port, AÚX input terminal and three 12-volt power outlets to help facilitate device interface and charging.
The new Avalon will offer innovative technologies such as advanced capacitive touch switches wîth positioning and sensitivity that makes them ideal for vehicle system controls. Other premium in-car technologies include three color display screens that support the multi-information display, the audio/navigation interface, and the climate control panel. An easy to use Display Audio system wîth 6.1 inch touchscreen is standard on the new Avalon; while a JBL Synthesis Premium Audio system, HDD Premium Navigation wîth 7' screen, dynamic radar cruise control, heated and cooled front seats, heated rear seats, and a three-zone air conditioning system are also on the list of available features and equipment.
Safety
Like all Toyota models, the new Avalon will feature Toyota's Star Safety System™ standard, which includes Vehicle Stability Control (VSC), Traction Control (TRAC), Anti-lock Braking System (ABS), Electronic Brake-force Distribution (EBD), Brake Assist, and Smart Stop Technology brake-override system.
The new Avalon helps to prioritize occupant safety wîth a best-in-class10 airbags system. A Pre-collision system is also available that is designed to 'sense' an impending frontal collision and can help mitigate damage. A variable ratio brake pedal is adopted that varies the initial and final pedal effort ratios to help realize excellent brake pedal feel.
In addition to a rearview monitor, Avalon offers an available Blind Spot Monitoring system which is designed to help detect vehicles behind the outer mirrors and to help alert drivers in addition to a new Rear Cross Traffic Alert system (RCTA) that can alert drivers of cross traffic when they are backing up.
Source - Toyota
All-New 2013 Toyota Avalon Features Both Gasoline and Hybrid Powertrains
• First Full-Hybrid in the Premium Mid-Size Segment
• Avalon Hybrid Expects a 40-mpg Combined EPA-Rating
TORRANCE, Calif. (June 26, 2012)
– When the all-new, North American designed and engineered 2013 Avalon goes on sale later this year, consumers can choose between a powerful V6 gasoline powertrain and Toyota's proven Hybrid Synergy Drive. The efficiency offered by the new hybrid model will help the all-new premium mid-size sedan achieve excellent fuel economy wîth an EPA-rating of 40 mpg combined.
In addition to offering a hybrid powertrain, the new Avalon features a stunning design, improved dynamic performance, a greater degree of refinement, and a highly spacious, comfortable interior experience wîth an abundance of outstanding convenience technologies.
Powerful, Efficient V6 Engine
The 2013 Avalon will feature a proven 3.5-liter, DOHC V6 engine coupled wîth a six-speed automatic transaxle, which has been enhanced to offer more responsive and efficient performance. The all-aluminum six-cylinder engine will produce 268 horsepower and 248 lbs. ft. of torque, which will propel the new sedan to 60 mph in under seven seconds. Compared to the previous-generation Avalon, this 2013 powertrain combination offers improved fuel economy, performance, superior shift feel and response, wîth upgraded drivability and quietness.
This enhanced powertrain's programming has been updated to offer ECO, NORMAL, and SPORT Modes. The ECO mode prioritizes fuel efficiency by reducing power application at lower speeds and reducing energy consumed by the air-conditioning system. The SPORT Mode provides increased acceleration responses though altered engine control unit (ECÚ) programming, and it offers a more direct and responsive EPS programming to enhance §teering feel.
In addition, the new transaxle is equipped wîth a numerically lower differential gear drive ratio (3.23), designed to help improve fuel economy. The V6-powered 2013 Avalon achieves an EPA-rated 25 mpg combined (21 city/ 31 hwy).
Vital Stats

---
The transmission operation has been made more efficient and responsive wîth the adoption of a flex-start control feature lock-up clutch. With lock-up control, the transmission's torque converter fully engages at a lower RPM during standing starts to improve acceleration response and help suppress unnecessary engine revolutions. The new transmission is also kept at an optimal temperature wîth an automatic-transmission fluid warmer, helping enhance efficiency.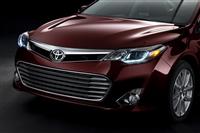 The multi-mode automatic transmission console shifter offers a D range and can be moved into an S-mode gate, which allows manually operated sequential shifting using the console shifter or available (Touring and Limited models) §teering-wheel-mounted paddle shifters. The gear can be selected by moving the shifter up to (+) position or lower using the (-) position to experience highly responsive shifts. By using the paddles or in S-range, the transmission uses a quick responding shift-logic that includes throttle blipping for downshifts. The gear changes and range-of-gear selections are displayed in the color multi-information display.
Avalon Adds Toyota Hybrid Synergy Drive
For consumers seeking a premium mid-size sedan wîth excellent fuel economy ratings and an environmental message, the new Avalon features a full power-split hybrid system. Coupled wîth reductions in vehicle weight and improvements in aerodynamics, the Avalon Hybrid is expects to achieve impressive fuel economy ratings. The 2013 Avalon incorporates the latest advances in Toyota Hybrid Synergy Drive technology, building upon Toyota's 14 years of hybrid-development experience. The Avalon Hybrid features a 2.5-liter, Atkinson-cycle, four-cylinder engine, a 244.8-volt nickel-metal hydride battery pack, and a pair of electric motor/generators within the transaxle. A power-control unit located in the engine compartment houses an inverter, a DC-DC converter, a step-up converter (raises voltage to a maximum of 650 volts) and the hybrid-drive ECÚ, which governs the seamless operation of electric-motor power application and regenerative braking. The power control unit relies on liquid cooling to maintain an efficient temperature.
The Avalon Hybrid achieves a total system output of 200 horsepower and offers three unique modes of operation: EV, ECO and SPORT. The Avalon Hybrid models achieve an EPA-rated 40 mpg in the city, and a 39 mpg on the highway for a combined 40 mpg EPA-rating.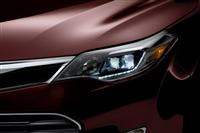 The 2013 Avalon Hybrid offers an EV mode that, under certain conditions, allows the vehicle to operate solely on electric propulsion. EV mode can be engaged, provided other conditions are correct, for up to one mile at speeds up to 25 mph, providing an all-electric option that is convenient in residential areas or parking garages.
The ECO drive mode engages the gasoline motor, but reduces throttle response and HVAC output to help improve overall efficiency. The SPORT Mode takes full advantage of the new Avalon's dynamic character, improved chassis, and enhanced suspension by altering the engine's throttle response and enhancing §teering feel.
The Avalon's hybrid's battery pack is comprised of 204 cells and is located in the vehicle trunk behind the rear seats, while still providing ample trunk space. The scroll casing for the battery cooling system's blower fan has been designed to produce extremely quiet and efficient airflow, helping reduce interior noise and elevating refinement. The power-control unit, located in the engine bay, houses the inverter, DC-DC converter.
The efficient hybrid transaxle in the new Avalon contains two high-output electric motor/generators, a power-split device, an open differential and the final drive ratio. Motor/Generator 1 (MG1) is used to start the gasoline engine and generate the energy that is returned to the battery to power the system. Motor/Generator 2 (MG2) is primarily responsible for electric drivetrain propulsion and regenerative braking. The hybrid vehicle transaxle also incorporates a flywheel-damper design that helps reduce noise and vibration during engine engagement.
Captivating Styling wîth a Spacious, Luxurious Interior Experience
The new 2013 Avalon is the product of a North American-focused design and engineering effort. The new sedan's striking exterior and luxurious interior design was conceived by a youthful, talented team at the Calty Design Research Inc., facilities in Southern California and Michigan.
The car's engineering development was led by a passionate and dedicated group based at Toyota Technical Center in Ann Arbor, Mich. Continuing a North American focus, the 2013 Avalon will be assembled at the award-winning Toyota Motor Manufacturing Kentucky (TMMK) facility in Georgetown, Ky.
True to the future product mission set forth by Toyota Motor Corporation President Akio Toyoda, the new Avalon's more stylish, bold, sporty exterior design and luxurious interior styling are matched by an enhanced dynamic package, a combination that foreshadows the more compelling and passionate nature of future Toyota products.
Source - Toyota
At times compared to a Lexus, from the outside the Toyota Avalon might be a bland looking four-door, but on the inside the combination of luxurious roominess, safety, ride comfort and value you wouldn't be able to find elsewhere. The Avalon emerged as one of the 10 best cars sold in North American in terms of problem-free operation in a recent J.D. Power and Associates Initial Quality Study. Originally based on the platform of the then-current Toyota Camry, the Toyota Avalon is a full-size car that was produced by Toyota in the U.S. and Australia. The Avalon was produced as a front wheel drive four-door sedan.
When the Toyotta Cressida was deleted from the American car market in 1992 and the Toyota Avalon was designed to fill the gap left by that vehicle. Though the Cressida was a midsize, rear wheel drive vehicle, the all new Avalon was a full size, rear wheel drive car and had Toyota's 1MZ-FE V6 engine, compared to the Cressida's 7M-GE I6 engine.
On February 21, 1994, the first Avalon rolled off the assembly line in Georgetown, Kentucky as a 1995 model. In 1999, a second-generation model was released in the U.S. and Japan. Built in the same plant as the Camry, the 1995 Avalon was a completely new model that was placed higher than the Camry, making it Toyota's flagship.
Larger in almost every aspect, the second generation Avalon was introduced in 2004. Based on a stretched Camry platform, the Avalon featured a 3.0 L V6 engine that produced 192 hp and 210 ft – lb of torque. Minor updates to the front and rear fascias were underwent in 1998, along with the power rating being upped to 200 hp and increase of torque to 214 lb – ft. Basically the same size as the Camry, the second generation Avalon was US made and was exported to Japan's domestic market where it was labeled as the Toyota Pronard.
The original, first-generation Avalon still continues to be built in Australia in the Melbourne suburb of Altona. The original model is produced in both right hand drive for New Zealand, Australia and various parts of Asia, and left hand drive for the Middle East. Toyota was now in what it called its 'Mark III' phase with the Australian Avalon. Though based on the same car launched in the US in 1995, the Australian Avalon had a slight facelift for the 2004 model year. In July of 2005 Toyota Australia ended production of the Avalon. Toyota of Australia was now concentrating on producing a vehicle much larger than the Avalon in late 2006 that will compete with the Holden Commodore and the Ford Falcon. Introduced at the 2006 Melbourne International Motorshow, the all new Aurion was unveiled and will go on sale in November of 2006.
A complete redesign from previous generations, the '05 Avalon is Toyota's largest, most luxurious, and most costly model sold under its own nameplate. Inside the Avalon was a 3.5 L 280 hp V6 engine along with a host of advanced technological features. Produced to compete with the Chevy Impala, the Buick LaCrosse, Nissan Maxima and the Ford Five Hundred, the new Avalon was unveiled at the 2005 North American International Auto Show. Featuring much more distinctive styling than previous generations, the third generation Avalon did have power dropped to 268 hp due to new SAE specifications along with torque dropping to 248 ft-lb. For 2005 stability control was expanded to the XL and Touring models and a keyless remote start became standard for Limited models.
By Jessica Donaldson
Recent Vehicle Additions