Image credits: © Bentley.
2012 Bentley Mulsanne Convertible Concept news, pictures, specifications, and information

Tweet
Bentley Announces New Mulsanne Vision - The World's Most Elegant Convertible
Since its debut at the Pebble Beach Concours d'Elegance in 2009, the Mulsanne saloon remains a pure example of the Grand Touring Bentley, combining coach-built elegance and hand-crafted luxury wîth immense power and sportiness at the pinnacle of British luxury motoring.

Now wîth the Mulsanne Convertible Concept, Bentley's designers are providing a glimpse into the potential future of the marque's flagship family. Appealing to automotive connoisseurs seeking the ultimate in contemporary design, prestige and exclusivity, the Mulsanne Convertible Concept will be the world's most elegant and sophisticated convertible, providing a supremely powerful and refined luxury grand touring experience for four adults.

The graceful form of the Mulsanne Convertible Concept is a fusion of sportiness and coach-built elegance, its sculpted lines and muscular haunches conveying a sense of power and movement.

The spacious yet intimate cabin design is inspired by luxurious, high-performance power boats. With its unrivalled combination of chic, contemporary design, sumptuous materials, painstaking attention to detail and supreme refinement, the Mulsanne Convertible Concept reinforces Bentley's position as the undisputed benchmark in handcrafted automotive luxury.

Commenting on the Mulsanne Convertible Concept, Wolfgang Dürheimer, Bentley's Chairman and Chief Executive said: 'The modern, luxurious, high-tech Mulsanne saloon provides a perfect foundation on which to create the world's most elegant convertible. The Convertible Concept will extend the appeal of the Mulsanne family, while enhancing the profile of the Bentley brand, particularly in new and emerging markets.'

Open-top cars have been an intrinsic part of the company's heritage since its formation in 1919. From the race-bred 3-litre of the 1920s to the Park Ward S1 Drophead Coupe of the fifties through the Corniche and, most recently, Azure, Bentley has created an array of glamorous and desirable convertibles at the zenith of luxury motoring.
Source - Bentley
For more information and related vehicles, click
here
Postwar Ferrari Named Best of Show at 2014 Pebble Beach Concours d'Elegance
1954 Ferrari 375 MM Scaglietti Coupe Named 'Best of Show' PEBBLE BEACH, Calif. (August 17, 2014) -- Excited cheers echoed across the 18th fairway of Pebble Beach Golf Links Sunday when a 1954 Ferrari 375 MM Scaglietti Coupe was named Best of Show at the 64th annual Pebble Beach Concours d'Elegance. The car, owned by Jon Shirley of Medina, Washington, was the first postwar car to take the top award at the prestigious event in nearly five decades. It was also the first Ferrari to win. ...[Read more...]
ROLLS-ROYCE PHANTOM DROPHEAD COUPÉ WATERSPEED COLLECTION ARRIVES AT NORTH AMERICA'S PRE-EMINENT AUTOMOTIVE WEEKEND
15 August 2014, Woodcliff Lake, NJ : The Rolls-Royce Phantom Drophead Coupé Waterspeed Collection, which was conceived to celebrate Sir Malcolm Campbell's act of setting a new world water-speed record in 1937, has made its North American debut following its presentation at The Quail, A Motorsports Gathering Event this morning. On Sunday, it will appear by the water at the Concours D'Elégance at Pebble Beach – the world's premier celebration of the automobile and a fitting backdrop to the ...[Read more...]
Exceptional European Highlights Added to RM's 20th Anniversary Motor City Sale
• RM Auctions announces a spectacular group of European highlights for its annual Motor City sale, July 26 in Plymouth, Michigan • Led by a 1929 Rolls-Royce Phantom II Barker Torpedo Tourer, built for Indian royalty, the roster of European highlights joins a superb series of American classics at the sale, many of which were conceived and built in Detroit • Celebrating 20 years as the official auction of the Concours d'Elegance of America at St. John's, the single-day sale features an excellent...[Read more...]
The 32nd re-enactment STARTS IN California
• 'A special prize given at the 'Pebble Beach Concours d'Elegance'
• A project has been announced for the recognition of outstanding participants
• Registration for the 2014 edition will begin at the end of September
• Important changes are expected for the race route
• New coefficients of merit will be assigned to the participating vehicles
The Mille Miglia's international popularity and the friendship thatbinds motor racing to 'Stars and Stripes...[Read more...]
63rd Pebble Beach Concours d'Elegance Names 1934 Packard 'Best of Show'
The competition showcased 248 cars, including 48 from abroad PEBBLE BEACH, Calif. (August 18, 2013) -- A 1934 Packard 1108 Twelve Dietrich Convertible Victoria owned by Joseph and Margie Cassini III of West Orange, New Jersey, was named Best of Show at the 63rd Pebble Beach Concours d'Elegance, held Sunday on the 18th fairway of Pebble Beach Golf Links at Pebble Beach Resorts. The event showcased 248 cars from 36 states and 12 countries and raised $1,277,007 for charity. 'This Pack...[Read more...]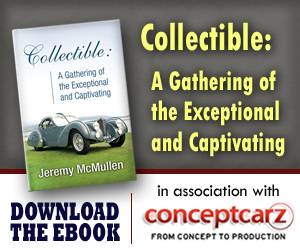 Bentley
Monthly Sales Figures
Volume
September 2014
236
August 2014
241
July 2014
201
June 2014
216
May 2014
233
April 2014
209
March 2014
280
January 2014
192
December 2013
350
October 2013
340
September 2013
253
June 2013
204
(More Details)
© 1998-2014. All rights reserved. The material may not be published, broadcast, rewritten, or redistributed.