1938 Steyr 220 news, pictures, specifications, and information

Tweet
The Steyr-Werke in the town of Steyr in eastern Austria was a weapons and bicycle manufacturer employing some 14,000 people during the First World War. By the time the war was over, the company had produced a total of 3,000,325 rifles, 234,919 pistols, and 40,524 machine guns. But following the war, demand for weapons went into sharp decline and Steyr's managing board of directors decreed the company would try its luck at an automobile. In 1920, famed designer Hans Ledwinka (most famous for the Tatra automobile) designed and built the first Steyr, the Wafenauto. Later cars were built under the leadership of Ferdinand Porsche who joined the company in 1929 after working for Mercedes. The company was merged with Austro-Daimler-Puch in 1934. In total, Steyr manufactured 34,776 cars between 1920 and 1940. The 220 was the last pre-war model built by steyr.

Power is supplied by a 2260cc overhead valve six-cylinder engine producing 80 horsepower. Just six of these unique roadster models were produced; three are known to survive, this being the only one in the United States. It was built as a factory demonstrator bodied by Glaser of Dresden and shipped to Berlin, Germany in 1938. Restoration was completed in 2012.
The Austrian based Steyr-Puch Company produced the 120 Super, 125 Super and the 220 from 1935 through 1941. These were mid-sized vehicles that featured a streamlined body designed by Karl Jenschke and manufactured by Glaser in Dresden.

The 120 model featured a six-cylinder engine with a four-speed gearbox. Up front was a transverse leaf spring setup while the rear swing axle was suspended by quarter-elliptic leaf springs. Production continued to 1936, with a total of 1200 examples being produced.

In 1936, updates were made to the car included a wider track and a larger, more powerful 50 horsepower engine, resulting in the Steyr 125 Super. Production lasted until 1937, with just 200 examples produced.

Further updates, including a larger engine, resulted in the Steyr 220. The company increased the bore to 2.9 inches resulting in a 2.3-liter displacement size and 55 horsepower. Production of the 220 continued until 1941 with a total of 5,900 examples.
By Daniel Vaughan | Sep 2012
For more information and related vehicles, click
here
Rare 1938 Steyr Winner Returns to Pinehurst Concours
VILLAGE OF PINEHURST, N.C. (April 7, 2014) – A rare 1938 Steyr Roadster, which captured Best in Show at least year's inaugural Pinehurst Concours d'Elegance, returns to Pinehurst Resort to be displayed for patrons at the 2014 classic auto showcase the first weekend of May. The cream-colored Steyr, one of only six ever made, is owned by Peter Boyle of Oil City, Pa., and will be staged in front of the hedges at the Carolina Hotel prior to the start of the Iron Mike Rally on Friday, May...[Read more...]
1938 Steyr Roadster Wins Best in Show at Pinehurst Concours
A rare 1938 Steyr Roadster captured the 'Best in Show' at the inaugural Pinehurst Concours d'Elegance as more than 5,000 car enthusiasts strolled the fairways at Pinehurst Resort, viewing a show field of 118 pristine vintage automobiles. Peter Boyle of Oil City, Pa., owns the winning automobile that was entered in the American/European Classic 1925-48 Class. Boyle purchased the car two years ago, restored it in 2012 and won Second in Class at the Pebble Beach Concours last August before capt...[Read more...]
RETURN OF THE 'P1' – WORLD'S FIRST PORSCHE DESIGNED VEHICLE
Atlanta. The first Porsche branded design was the Type 356 in the year 1948, but the very first vehicle designed by Ferdinand Porsche dates back to 1898 with the 'Egger-Lohner electric vehicle, C.2 Phaeton model', known as the 'P1' for short. After 115 years, the original and unrestored 'P1' has been recovered from a warehouse and untouched since 1902. It will be on permanent display at the Porsche Museum, which is celebrating its fifth anniversary. Designed and built by 22-year old F...[Read more...]
Tradition: Future - 50 Years Of The Porsche 911 Celebrated At Goodwood
◾Seven generations of the 911 display the genetic code of the iconic sports coupe from 1963 to 2013 ◾Fifty-year landmark celebrated with memorable 'Central Feature' display at Goodwood Festival of Speed ◾Legendary racing cars meet famous drivers at the world's biggest motor sports extravaganza ◾Latest Porsche supercars on the hill include new 'Type 991' 911 GT3 ◾Cartier Style et Luxe concours showcases original and rare editions of the 911 ◾Follow the action via Porsche Orgin at porsche.co....[Read more...]
Prince Heinrich Benz Racers Reunited at 'The Amelia'
In the early 1900's, at the dawn of the automotive motorsport age, one of the most significant race venues was the Prinz Heinrich Tour, named after Prince Albert Wilhelm Heinrich of Prussia, automotive enthusiast and brother of German Emperor Wilhelm II. In 1907, the German Imperial Automobile Club organized the first annual Prinz Heinrich Tour which is often seen as a precursor to the German Grand Prix. Among the races' most notable winners were Fritz Erle who won the 1908 race in a 50 h...[Read more...]
Lost Mercedes - Surfaces At Bonhams
One owner, unrestored, supercharged 'S' Type Mercedes to be sold by Bonhams at Goodwood Revival this autumn One of the greatest and most important motor car finds of the last decade, the 'Lost Mercedes' is to be offered at Bonhams Goodwood Revival sale on Saturday 15th September 2012. Bonhams announced today that it has been commissioned to sell a recently discovered 1928 Mercedes-Benz 26/120/180 'S' Type Sports Tourer which almost without precedent for motor cars of this type and d...[Read more...]
Dingman Collection Achieves $9.8 Million At Auction
RM Auctions reaffirmed its reputation as the specialist for single-vendor sales on the weekend (June 9–10), generating more than $9.88 million* in sales, with 100 percent of all lots sold at its Dingman Collection 2012 auction in New Hampshire. Characterized by a superb assortment of Americana, the Dingman Collection represented many years of careful and meticulous acquisition by prominent businessman, investor, and philanthropist, Michael Dingman, a former Ford Motor Company director for ove...[Read more...]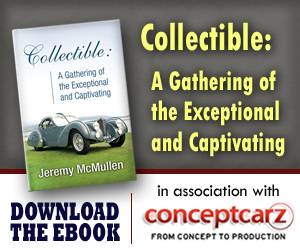 © 1998-2014. All rights reserved. The material may not be published, broadcast, rewritten, or redistributed.