Image credits: © Peugeot.
2013 Peugeot 208 R5 Rally news, pictures, specifications, and information

Tweet
After the 208 R2, Peugeot Sport is opening a new chapter in the sports variants of the Peugeot 208, and not least wîth the 208 R5. It is a true 'competition wildcat', and will supersede the 207 Super 2000, benchmark of the S2000 category as much for its technical performance as for its sporting and commercial performance.

Its contours and its technical assets continue Peugeot's rallying tradition. 'Body built' for asphalt (tarmac) and loose-surfaces (gravel), the Peugeot 208 R5 will compete in its first rallies and go on sale in the 2nd half of 2013 in order to be able to conquer the national and international championships the following season.

In the footsteps of success
As a pioneer, the 207 Super 2000 won everything and has without doubt had the greatest record in the category. It has accumulated six Intercontinental Rally Challenge titles, many crowns in various national championships and numerous victories worldwide including San Remo, the Tour de Corse and the Monte Carlo. One hundred and seven of these vehicles have been sold, run by private customers, importers or on behalf of Peugeot subsidiaries: South Africa, Belgium, Denmark, Spain, France, Hungary, Italy, Poland, Portugal, Czech Republic and in the ÚK. Drivers like Thierry Neuville and Kris Meeke were 'discovered' and defined their skills at its wheel. So the Peugeot 208 R5 will have to demonstrate that it is a worthy successor to the 207 Super 2000.

The Peugeot 208 R5 benefits from all the expertise and experience of Peugeot Sport, acquired and recognised over many years. Únder the direction of Alexis Avril, Technical Manager of Peugeot Sport, Bertrand Vallat, formerly responsible for the 207 S2000, is the Project Leader for the Peugeot 208 R5.

Performance and cost reduction


The R5 category consists of group A vehicles derived from a production model, of which at least 25,000 must have been produced. Launched for 2013 by the FIA, among its objectives is a noticeable reduction in costs, including operating expenditure. Therefore, the technical regulations will adopt the major assets of the S2000 category: four-wheel drive, five-speed sequential gearbox, no central differential and long travel suspension. This is also the case externally wîth widened tracks, a spoiler, the increase in the wheel arches to fit 18' wheels without forgetting the minimum weight set at 1200kg for the gravel (loose-surface) and asphalt (tarmac) version, as for the WRC.

'Based on an optimisation of costs', explains Bertrand Vallat, 'the regulations impose, among other things, a maximum price for certain parts and technical limitations such as a minimum weight of components of the chassis and engine. In addition, a certain number of components of the vehicle must be similar. The hub carrier is a perfect example. All four must be identical. This makes operation considerably easier and limits costs and stocking.'

Another major difference: the engine, the 2.0-litre naturally aspirated unit is replaced by the 1.6-litre turbo. The Peugeot 208 R5 will adopt the EP6 CDT as standard. 'We are aiming for performance which is slightly higher than that of the S2000', emphasises Bertrand Vallat.

'We start wîth the 1.6-litre THP engine that is already a competition winner. We know that it is both reliable and powerful, and can achieve 280bhp. We have serious foundations wîth this engine as it is the same as that of the RCZ Racing Cup which currently develops 260 horsepower in its endurance version. We are also aiming for a very high level of durability and reliability in competition wîth a potential 5000 kilometres (according to the components and conditions), which will also reduce the operating costs.' Finally, the FIA has also set the maximum price for the 'R5s' at €180,000 excluding taxes.

The 208: an asset

The Peugeot 208 R5 benefits from the product developments of the 208 production car, particularly in regards to the weight. The shell of the 208 has benefited from a weight reduction of approximately 40 kilos compared wîth its predecessor the 207. Its dimensions are an advantage for the Type R5 wîth its long wheelbase which provides excellent chassis stability. Also, being more compact, the 208 will be more agile and efficient as a result, key factors that are sought after in a competition car. All of these dynamic qualities of the 208 combine to give the R5 excellent road holding.'

Commitments from 2013


The Peugeot 208 R5 has big ambitions. Designed and assembled in the workshops of Peugeot Sport in Vélizy, it will begin a vast test programme from the end of 2012, both on asphalt and on loose surface (gravel). This will continue throughout its life in order to constantly evolve developments for customers and subsidiaries in order to guarantee chances of victory in a very competitive sector. On sale during the second half of 2013, the 208 R5 will compete at the highest level in key championships:
•Intercontinental Rally Challenge
•European Rally Championship
•National Championships
Source - Peugeot
Enhanced Kia Venga to be revealed at Paris Show
Refreshed look for upgraded 2015 Kia Venga on car's fifth anniversary •Compact MPV has a new face and more sophisticated cabin •New options include integrated 7.0-inch navigation display screen •Enhanced Venga on sale in Europe from early 2015 Frankfurt, 29 September 2014 – Five years after launching the Kia Venga, Kia will reveal an enhanced version of its popular compact MPV at the 2014 Paris Motor Show on 2 October. The refreshed model features a new-look front and rear, a more s...[Read more...]
New Ford Focus Electric Boosts Power Of Choice
◾Following the successful start of European production, Ford Focus Electric now available in the UK ◾Ford Focus Electric joins 1.0-litre EcoBoost petrol and 1.6-litre Duratorq diesel offering largest-ever range of ultra-low-CO2 powertrains ◾Ford now offers 10 vehicles in the UK with CO2 emissions under 100g/km ◾Further media assets at www.powerofchoice.fordmedia.eu BRENTWOOD, Essex, UK, Sept. 5, 2013 – The Ford Focus Electric is now on sale in the UK, complementing the company's awa...[Read more...]
Land Rover Celebrates 65 Years Of Technology And Innovation
SIXTY-FIVE YEARS OF LAND ROVER From our earliest days, the desire to create a vehicle that will tackle any terrain has made Land Rover famous around the world. Over the past 65 years, the Land Rover family has grown into the highly respected range of vehicles that are sold in record numbers today. As Land Rover continues to go from strength to strength, we thought it was time to look back at the milestones in our history that have got us here. The last 65 years have been an adventure. ...[Read more...]
Citroen Shifts Into Racing Gear For 2012 Goodwood Festival Of Speed
•New Citroën Racing driver, Thierry Neuville, will be putting DS3 WRC through its paces on the hill climb & Forest Rally Stage •Hot blooded 256bhp DS4 Racing concept making its UK premiere on the Citroën stand •New Citroën DS5 taking part in the Moving Motor Show Citroën is showcasing the very best of its stylish flair, 'Créative Technologie' and racing pedigree at this year's Goodwood Festival of Speed with the DS3 WRC in action; the UK premiere of DS4 Racing concept and a display of th...[Read more...]
JAGUAR EXPANDS POWERTRAIN CHOICE WITH TWO ADDITIONAL FORCED-INDUCTION PETROL ENGINES
As Jaguar expands its product offer in key global markets it is introducing two additional petrol units to its range to enhance customer choice; the new 3.0-litre V6 Supercharged Petrol, and the 2.0-litre I4 Turbocharged Petrol. Adrian Hallmark, Global Brand Director, Jaguar Cars, said: 'Jaguar currently has its strongest range of products for several decades. Our continued growth is dependent on two things; activating the awareness of the brand, and expanding our range to enable us to access...[Read more...]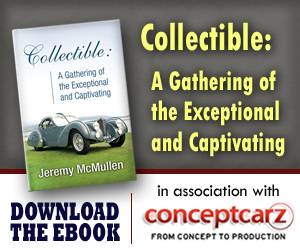 © 1998-2014. All rights reserved. The material may not be published, broadcast, rewritten, or redistributed.