1979 Chevrolet C-10 Pickup news, pictures, specifications, and information

Tweet
Chevrolet's light trucks were restyled for 1973 and the new design would continue until 1987. These new vehicles were bigger, wider and boxier than the designs they replaced. The four wheels were surrounded in rectangular wheel wells. In the front was an 'egg crate' grille and there were curved window glass. The doors now opened into the roofline and the roof dip rails were now gone.

The C10 Models were the two-wheel drive versions while the K10's had four-wheel drive. These C/K models came with a 6 1/2 foot box and rested on a 117.5-inch wheelbase.

Though General Motors offered a number of special edition pickups during the 1970s, including the Beau James, the Gentleman Jim and the Amarillo, the Chevrolet Big 10 ranks as the most recognizable of the bunch. The base engine was a six single engine rated at 110 horsepower. Buyers could order a high-output 350 cubic-inch V8 from the Corvette or even a big-block. A beefed F44 chassis handled the optional extra power and tape stripes and decals identified the pickup from the outside.

This 1979 Chevrolet Bonanza C-10 Big 10 is a one owner truck and loaded with optional equipment, including the 350 V8 with an automatic transmission. There is power steering, power windows, power door locks, tonneau cover, upgraded alloy wheels and Firestone Firehawk radial tires. Inside there is a red cloth interior and there is air conditioning. The odometer currently reads just 85,640 miles.

In 2012, this car was offered for sale at the Glenmoor Gathering presented by Classic Motorcar Auctions. The car was estimated to sell for $5,000 - $10,000.
By Daniel Vaughan | Nov 2012
The Chevrolet C/K Series was Chevy and GMC's full-size pickup from 1960 through 1999 in the United States. (From 1965 to 1999 Canada, from 1964 through 2001 in Brazil, and from 1975 to 1982 in Chile). The 'C' indicated two-wheel drive while the 'K' meant four-wheel drive.

In 1999, the C/K light-duty pickup truck was replaced by the Chevrolet Silverado and GMC Sierra in the United States and Canada.

Chevrolet C10
In 1960, Chevrolet introduced a new body style of light pickup-truck that featured a drop-center ladder frame, allowing the cab to sit lower. In the front was an independent suspension setup. The old naming scheme, the 3100, 3200, and 3600 designations were replaced by the 10, 20 and 30. The 3100, 3200, and 3600 had been used for short 1/2, long 1/2 and 3/4-ton models (respectively).

Beginning in 1957, the trucks were available from the factory with a four-wheel drive system. The 'C' in front of the series number indicated 2-wheel drive while a 'K' represented 4-wheel drive. GMC did not use the 'C' nomenclature, though their 4x4 versions had the 'K' designation. Half-ton models were the C10 and K10 short-bed trucks, and C16 and K15 long-bed trucks. The 3/4-ton models were the C20 and K20, as well as the one-tone C30.

Beginning in 1960, the C/K trucks were available as 'Fleetside' or fendered 'Stepside' versions. GMC called these 'Wideside' and 'Fenderside.'

The 1962 versions were given a torsion bar suspension in the front, with trailing arm setup in the rear. Engines included the base GMC 305 cubic-inch V6 for the GMC version, delivering 135 horsepower. Inline-six engines included a 230, 236, 250, 261, and 292. V8 options included the 283 and 327. A three-speed synchromesh was standard, with a four-speed synchro and two-speed Powerglide available as optional equipment.

In 1963, a coil-spring front suspension setup became available, along with a base engine change. The new inline-6 3.8 liter engine delivered 140 horsepower. An optional 4.8 liter inline six, with 165 horsepower on tap, also was introduced.

In 1964, the cab was updated and the 'warparound' windshield was removed. A new front grille design appeared on the front, along with various other interior changes.

In 1965, air conditioning and a 327 cubic-inch V8 engine became available. In 1966, a new base engine was introduced - an inline-6 4.1 liter version delivering 155 horsepower.

The second generation of trucks was introduced in 1967 and would remain in production until 1972. It was given the nickname 'Action Line.' Most of the trucks built during this period were given a coil spring trailing arm rear suspension, greatly improving the ride over the traditional leaf springs. Those wanting the leaf springs could order that as an option. Leaf springs were standard on 30 series trucks.
By Daniel Vaughan | Feb 2012
For more information and related vehicles, click
here
INNOVATIVE TECHNOLOGY FOR TYPICAL MINI MOTORING PLEASURE
◾New generation of three and four-cylinder engines ◾All-new chassis technology ◾Passive safety, protection for passengers and pedestrians Woodcliff Lake, NJ – September 30, 2013… The latest innovations in drivetrain, chassis and safety will see future MINI models build on their segment-leading position. Since 1959, the unmistakable go-kart feeling has been at the heart of the British marque's DNA. Today, every member of the MINI family has the combination of agile handling, exempl...[Read more...]
MAZDA ANNOUNCES PRICING AND FUEL ECONOMY OF ALL-NEW 2014 MAZDA3
◾Redesigned Compact Car Offers Competitive Pricing, Best-in-Class Fuel Economy IRVINE, Calif., July 24, 2013 - Mazda North American Operations (MNAO) today announced official pricing and fuel economy figures for the all-new 2014 Mazda3. Starting at $16,9451 MSRP, the redesigned compact vehicle is the brand's best-selling and most recognizable nameplate worldwide with more than 3.5 million vehicles sold. With the full complement of SKYACTIV®2 technologies combined with the handsome st...[Read more...]
Hyundai Genesis And Veloster Recognized In Autopacific Vehicle Satisfaction Awards
COSTA MESA, Calif., June 7, 2013 – The 2013 Hyundai Genesis and Veloster topped the Aspirational Luxury Car and Sporty Car categories respectively in the 2013 AutoPacific Vehicle Satisfaction Awards (VSA). AutoPacific's VSA survey measures how satisfied an owner is with his/her new vehicle. AutoPacific's VSAs objectively measure owner satisfaction with 51 vehicle attributes ranging from interior comfort and convenience to fuel economy and performance. This study by the Southern Califor...[Read more...]
Volkswagen Announces Passat Wolfsburg Edition
• Award-winning Passat receives value-oriented, competitively priced trim in mid-2013 • Pricing starts at $23,495 Herndon, VA - Volkswagen of America, Inc., announced today that it will offer a new, value-oriented edition of the Passat starting in mid-2013: the Passat Wolfsburg Edition. Sliding in between the new base S and the mid-level SE trims, the Volkswagen Passat Wolfsburg Edition offers a number of additional convenience features for a competitive price. Building on the fe...[Read more...]
Mopar® Customized Rides Take Spotlight at Beijing International Automotive Exhibition
Company's Service, Parts and Customer-care Brand to Display 'Moparized' Chrysler 300 Ruyi Design Concept, Jeep® Wrangler Arctic and Fiat® Freemont • Fiat Freemont features numerous Mopar accessories • Jeep® Wrangler Arctic gets 'Moparized' • 'Moparized' Chrysler 300 Ruyi Design Concept to make debut • New 172,222 square-foot Mopar product distribution center in Shanghai distributes more than 35,000 parts and accessories Auburn Hills, Mich. - Chrysler Group LLC will head to the...[Read more...]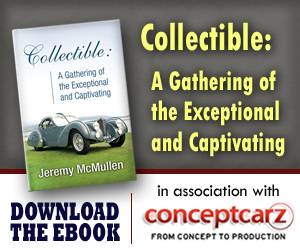 Chevrolet
Monthly Sales Figures
Volume
November 2014
149,673
October 2014
155,965
September 2014
153,873
August 2014
185,930
July 2014
175,155
June 2014
188,567
May 2014
205,010
April 2014
181,648
March 2014
179,681
February 2014
153,913
January 2014
119,089
December 2013
153,493
(More Details)
© 1998-2014. All rights reserved. The material may not be published, broadcast, rewritten, or redistributed.