1974 Parnelli VPJ4 news, pictures, specifications, and information

Tweet
In 1921, the American company Duesenberg would place one of its supercharged engines into Jimmy Murphy's 'Banana Wagon' and the car would be entered in the French Grand Prix held at Le Mans. Murphy would go on to win the race, surprisingly, and little would anyone realize that, at that moment, it would be the last American-built grand prix car to be built until an unlikely pairing would bring an American-built car back to the grand prix circuits of Europe in the mid-1970s.

Velko 'Vel' Miletich would gain an important and influential reputation as a general manager of Oscar Maples Ford of Torrance, California. This would lead to Miletich also fostering an interest in starting his own racing team. But he needed the perfect partner.

Miletich's perfect partner would be a rather uneducated man that only really knew cars. Also from Torrance, California, Parnelli Jones would be a struggling racer throughout the 1950s. However, his reputation as a hard, tough racer would take off during the 1961 running of the Indianapolis 500.

Jones would actually come to know Miletich very early on. In the 1950s Miletich would supply Ford engines to Jones for use in dirt car racing. Then, Miletich began building sprint cars specifically for Jones and he would go on to dominate the West Coast sprint car scene.

This success in sprint cars would catch the eye of promoter J.C. Agajanian. Jones would then be given one of A.J. Watson's tubular roadster chassis and would perform one of the most remarkable drives in Indianapolis 500 history.

Cut in the forehead by a piece of flying metal, Jones would spend the remainder of the race driving the roadster with one hand as he was too busy wiping blood from the left eyepiece of his goggles with his other. The amazing thing about the performance is not his tenacity to never give up when he was cut by the metal but that he would hold onto the lead for the majority of the race while dealing with the bloody mess.

This tenacious drive would eventually lead to Jones winning the 500 in 1963 after starting on pole. This would be a very important race as it would really see what was known as the 'funny car' revolution come to the fore. Though Jones would win the controversial race, he would begin to see that motor racing was going to change from then on.

By the end of the 1960s Miletich and Jones would partner together again to form Vel's-Parnelli Jones Racing. The two men would take their roles as team owners very seriously and would set many standards within the Indycar series and motor racing on a whole.

One of the many important things the Vel's-Parnelli Jones Racing team would adopt would be a dedicated design team that would focus on new designs and components throughout a year. This would enable the team to be on the cutting edge and would end up allowing the team to introduce a new car just about every year. This would be another advantage that would pay dividends when Al Unser would pilot VPJ cars to back-to-back victories in the Indianapolis 500 in 1970 and '71.

Seeing as how Jones would be embroiled in the 'funny car revolution' at Indy, and, given the Vel's-Parnelli Jones' success in open-wheel racing in the United States in the late 1960s and early 1970s, it seemed to make perfect sense the two men from Torrance would make an assault on Formula One.

The two highly-committed individuals still needed the right designer and engineer to be able to challenge the best Formula One teams straight-away. Thankfully for VPJ, they would be able to gain the talents of ex-Team Lotus designer Maurice Philippe. Philippe would set about designing a car fitting of the ambition of the men at the helm of the team.

Much of the impetus to head to Formula One, however, would come as a result of another employee VPJ would come to hire. Mario Andretti would also come to the team in 1972 and would work with Philippe with the USAC designs he penned. Unfortunately, none of Philippe's designs were even close to championship material. And, with Andretti keen on pushing his driving experience toward Formula One, it seemed the ideal solution to return Philippe to his natural habitat.

Therefore, work would begin on the first American-built chassis in more than 50 years. Being an ex-Team Lotus man, Philippe would draw heavily from his experience with Colin Chapman as he began work designing what would become known as the VPJ-4. Philippe would actually begin his first efforts with VPJ when he became an employee in 1972. He would take his time developing designs and tweaking them so the team could be ensured it would be competitive straight-away.

Obviously, the Lotus 72 had proven to be incredibly successful in Formula One and seemed the perfect direction in which to take the VPJ4. Therefore, Philippe would design a wide, low-profile, wedge-shaped nose with two heavily sculpted, single-plane front wings attached to either side.

The main aluminum-monocoque structure, or 'tub', would be quite shallow giving the car a wide, but low, profile. The upper lines of the structural bodywork would remain low but would ascend ever-so-slightly as it trailed aft.

Despite the low profile of the chassis itself, it would be tall enough in height that Philippe could employ rocker-arm front suspension. However, Philippe would be a bit adventurous because of the design of the car. Instead of utilizing a coil/damper system for the car, he would use a torsion bar suspension. This was very advanced at that point in time, but it would allow the whole thing to be hidden with the bodywork of the car. This meant the only thing protruding out in the airflow would be the control arms of the suspension, the disc brakes and the cooling vents for the disc brakes.

The 'V' pattern of the chassis as it travelled aft would continue steadily until just before the rear wheels when it would turn outward a bit more sharply. In that portion of the car's bodywork the radiators would be positioned. By turning them outwards, more airflow could get to the radiators to help cool the engine.

Speaking of the engine, VPJ would be able to secure the engine of choice at that time. They would have use of a 3.0-liter Ford Cosworth DFV DOHC V8 producing, at that time, about 450bhp. Mated to a Hewland FG 400 5-speed manual gearbox, the VPJ4 would be capable of zero to 60 times of around 4 seconds.

The rush of speed would be something the driver would greatly experience sitting so high up on top of the car instead of down inside it. Protected only by the steeply-contoured piece of fiberglass that fit tightly around the driver's shoulders, the pilot still sat relatively exposed with such a larger opening all around the cockpit.

Speaking of large, and though it would go through changes over time, the airbox fitted atop the Cosworth engine would, as with many in that day, be quite tall and large. However, the shapes of the inlets itself would change race to race. Triangular-shaped, oval-shaped, they would all be tried in an effort to throw as much air to the engine as possible.

The rear of the car would be quite conventional, for that period in Formula One. The oil coolers would be attached at a point way toward the tail of the car, capturing the cooler air as it flowed past and under the large rear wing.

Speaking of the rear wing, Philippe would design a rear wing that would have a triangular-shaped leading edge and that would also boast of a deeply contoured underside. This was meant to increase the speed of the airflow passing under the rear wing, which only increased downforce. Of course, a trade off to this would be an increase in drag. One of the other interesting design elements to the VPJ4 would be the car that would be taken in designing the cooler air ducts for the rear-wheel disc brakes. Closely-fitting, rectangular air scoops would protrude just above the casing of the Cosworth engine, and then, would turn inward toward the center-mounted rotors. This would help to open up the area at the rear of the car in an effort to reduce instability at the rear of the car.

When the car was finished and first taken out for testing at Riverside, it wouldn't be instability that would be the car's biggest problem. Despite the talents of Mario Andretti, the VPJ4 couldn't lap anywhere close to the times he had set at the course in F5000. This was absolutely alarming for the team, especially when Jones wanted to keep to the timetable of making its debut at the Canadian Grand Prix, the second-to-last round of the 1974 Formula One World Championship.

This caused for some rather drastic measures to be taken. Therefore, the team would bring in John Barnard to look over the design and try and figure out why it couldn't perform as expected. Barnard would look the car over and would immediately want to start over from scratch. This wouldn't work, so he focused on what changes he could make to the car. This meant throwing away the torsion bar suspension and employing a more conventional spring/damper arrangement. The reaction from Andretti after the initial test had been that the car was way too soft, which made it virtually un-drivable. The spring/damper arrangement wouldn't solve the problem but it would go a long way to stiffening the ride.

The Vel's-Parnelli Jones Racing team would make its debut in Formula One with the VPJ4 at the Canadian Grand Prix at Mosport in 1974. In spite of issues with the car still being too soft, Andretti would qualify the car a respectable 16th and would end up finishing the race just a lap down in 7th place. In their first race as a team in Formula One, the team would miss out on a championship point by just one place.

Things would seem to be getting better when Andretti stunned the Formula One paddock by qualifying 3rd at Watkins Glen. The bumpy nature of the circuit and the incredibly soft ride of the VPJ4 would actually compliment each other so that Andretti could use all of his experience to put the car up near the front of the grid. Unfortunately, an electrical problem in the race would lead to Andretti being disqualified for receiving outside assistance. Still, the VPJ4 looked promising. It just needed a little more time to work out its issues.

The 1975 season would certainly be more successful, but also, quite frustrating. Still covered in the red and white Viceroy livery, the VPJ4 would have numerous top ten performances and would even lead on the streets of Spain, before unreliability would come and spoil the day. Often times, the unreliability would hit within sight of the checkered flag, and therefore, would make things all the more frustrating for Andretti and the team.

Still, in only its second year of competition, the Vel's-Parnelli Jones Racing team would have some reason to celebrate. Many teams come and go from Formula One without having scored even a single championship point. But, a 4th place at the Swedish Grand Prix and a 5th at the French would help the team score 5 championship points and would leave them 10th in the standings at the end of the year.

The 1976 season would be the final year for both the VPJ4 and the Vel's-Parnelli Jones Racing team. Financial difficulties would lead the team to take part in just two early rounds of the World Championship. Still, at the South African Grand Prix, Andretti would come across in 6th place earning one last championship point for the team and the VPJ4. Andretti would depart the team following his retirement from the United States Grand Prix at Long Beach and the team would fold its Formula One efforts at the same time.

The departure of Vel's-Parnelli Jones Racing from Formula One meant America would have to wait once again before another home-built Formula One team graced the grid of a Formula One race. To some this would happen again with British American Racing at the beginning of the new millennium, but that team would be based solely in the U.K. Therefore, it could be perhaps another 50 years before another American-built team arrives to compete in Formula One.

Sources:
'The Vel's Parnelli Jones Racing Team Story', (http://vpjracing.com/History_files/VPJ%20Racing%20Book.pdf). VPJRacing. http://vpjracing.com/History_files/VPJ%20Racing%20Book.pdf. Retrieved 24 January 2013.

Fox, Charles. The Great Racing Cars and Drivers. A Ridge Press Book/Madison Square Press/Grosset & Dunlap, Inc., New York. Copyright 1972.

'1974 Vels-Parnelli VFJ4 Formula 1', (http://www.fantasyjunction.com/cars/1035-Vels-Parnelli-VFJ4%20Formula%201-Ford%20Cosworth%20DFV%20DOHC%20V-8). Fantasy Junction: Brokers of Fine Collector Automobiles and Vintage Race Cars. http://www.fantasyjunction.com/cars/1035-Vels-Parnelli-VFJ4%20Formula%201-Ford%20Cosworth%20DFV%20DOHC%20V-8. Retrieved 24 January 2013.

'Full Profile: Parnelli', (http://www.f1rejects.com/teams/parnelli/profile.html). F1Rejects.com. http://www.f1rejects.com/teams/parnelli/profile.html. Retrieved 24 January 2013.

'Cars/Parnelli/VPJ-4', (http://www.racingsportscars.com/type/photo/Parnelli/VPJ-4.html). Racing Sports Cars. http://www.racingsportscars.com/type/photo/Parnelli/VPJ-4.html. Retrieved 24 January 2013.

'Parnelli: 1974 Parnelli VPJ4', (http://histomobile.com/m5/l2/parnelli-vpj4-450-Hp/1564977741.htm). Histomobile.com. http://histomobile.com/m5/l2/parnelli-vpj4-450-Hp/1564977741.htm. Retrieved 24 January 2013.

'1974 World Drivers Championship', (http://www.silhouet.com/motorsport/archive/f1/1974/f174.html). 1974 World Drivers Championship. http://www.silhouet.com/motorsport/archive/f1/1974/f174.html. Retrieved 24 January 2013.

Wikipedia contributors, 'Vel's Parnelli Jones Racing', Wikipedia, The Free Encyclopedia, 3 November 2012, 17:41 UTC, http://en.wikipedia.org/w/index.php?title=Vel%27s_Parnelli_Jones_Racing&oldid=521231371 accessed 24 January 2013

Wikipedia contributors, 'Parnelli Jones', Wikipedia, The Free Encyclopedia, 26 December 2012, 21:31 UTC, http://en.wikipedia.org/w/index.php?title=Parnelli_Jones&oldid=529882929 accessed 24 January 2013
By Jeremy McMullen
Monoposto
Chassis Num: 101

In 1974 the Vel's Parnelli Jones Racing Team was competing in the USAC Indy cars, SCCA Formula 500, USAC Silver Crown dirt cars, SCORE off-road and NHRA funny cars. The only thing missing was FIA Formula One, which they entered at the Canadian Grand Prix at Mosport in October, 1974. The 'Parnelli VPJ-4' was an incredibly tidy and tiny racecar designed y Maurice Phillippe. Phillippe's earlier work included the Lotus 72 and the VPJ-4 could be thought of as an updated 72. With Mario Andretti driving, the car was immediately fast although often unreliable. Early in 1975, Firestone pulled out of F1 and the switch to Goodyear tires did not suit the Parnelli chassis. New designer/engineer, John Barnard re-worked the cars during 1975 and it displayed considerable speed but the unreliability remained. Early in 1976 the Formula One VPJ team was disbanded and the team set its focus on Indy cars once again.
John Barnard's Finest: Some of the Greatest of Barnard's Design
The latter-part of Barnard's Formula One career would be filled with disappointments and disputes. However, there was no disputing the genius of the man from London. In fact, a couple of innovations that are mainstays in Formula One design were first introduced by this man who had been involved in motor racing in some form or manner since the 1960s. John Barnard would be born in London on the 4th of May in 1946. The war was over and a whole new world loomed on the horizon. It was t...[Read more...]
PORSCHE MOTORSPORTS PRE-EVENT NOTES. BRICKYARD GRAND PRIX. INDIANAPOLIS MOTOR SPEEDWAY
Dateline. Indianapolis, Indiana Circuit. Indianapolis Motor Speedway Track Length/Turns. 2.439-mile, 14-turn Road Course Round. TUDOR United SportsCar Championship. Round 7 of 12 Next Round. TUDOR Championship. Continental Tire Road Race Showcase, Road America, Elkhart Lake, Wisconsin, August 8-10 Porsche Events. TUDOR United SportsCar Championship Date. Friday, July 25, 5:45 p.m. ET/ 2:45 p.m. PT Race Duration. Two-Hours, 45-minutes Classes. GT Le Mans (Por...[Read more...]
MARIO ANDRETTI TO BE HONORED BY RRDC AT LONG BEACH
• Firestone returns as presenting sponsor
HILLIARD, Ohio (March 7, 2014) - Mario Andretti, the world's most recognized race-car driver, will be honored by the Road Racing Drivers Club at the 'RRDC Evening with Mario Andretti presented by Firestone' in Long Beach, Calif., on Thursday, April 10, prior to the running of the Toyota Grand Prix of Long Beach. This is the RRDC's sixth consecutive annual banquet honoring auto racing's most influential leaders. Previous honorees were ...[Read more...]
RRDC VOTES IN 37 NEW MEMBERS FOR 2013
HILLIARD, Ohio (Nov. 7, 2013) - Thirty-seven race-car drivers and motorsports professionals have been voted into the Road Racing Drivers Club in 2013. The group includes 13 Regular Members from the open-wheel and sports-car racing ranks, 20 Associate Members and four Honorary Members. The current roster of RRDC members now numbers 440. Voting was held among all current RRDC members. 'This year's crop of new Regular Members truly represents the spirit of the RRDC, as each driver has de...[Read more...]
1969 United States Grand Prix: The Rise of Rindt
If there was one racer in the Formula One paddock that drivers and spectators alike believed should have scored his first victory before the start of the 1969 season it would almost unanimously be Jochen Rindt. Fast and flamboyant, the Austrian exhibited car control that enthralled just about everyone it seemed, except perhaps the cars themselves. Constantly undercut by poor reliability, it seemed Rindt was to forever suffer under such an oppressive weight. However, at the 1969 United States Gra...[Read more...]
Limited-Edition Ford Racing History Artwork Unveiled at SEMA; Limited-Edition Print Sales to Benefit JDRF
•Special limited-edition Ford Racing history artwork is unveiled at the annual SEMA show as part of the Ford press conference •Famed automotive artist Sam Bass created the artwork at the request of Edsel B. Ford II, with proceeds from sales of limited-edition autographed prints benefiting JDRF •Drivers and Ford race vehicles featured on the special artwork include Henry Ford (Sweepstakes), Trevor Bayne (No. 21 Fusion), Dan Gurney/A.J. Foyt (Ford Mark IV), Bob Glidden (NHRA Thunderbird), Jack...[Read more...]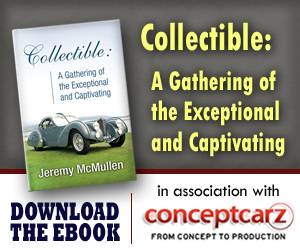 Related Drivers
Mario Gabriele Andretti
Related Teams
Vel's Parnelli Jones Racing
1974 Formula One Season1974 Season Review
© 1998-2014. All rights reserved. The material may not be published, broadcast, rewritten, or redistributed.