1957 Ford Station Wagon news, pictures, specifications, and information

Tweet
The 1957 Ford Station Wagon was available with either six- or eight-cylinder engines and came in several body configurations including 2- and 4-door versions with seating ranging from six to eight passengers. Models were named the Ranch wagon, Del Rio, Country Sedan, and Country Squire. The base trim level was the 2-door Ranch Wagon which sold for $2,300. The top trim levels were the Country Squires, also with four-door styling.
By Daniel Vaughan | Jan 2013
This Ford Country Squire Station Wagon is trimmed with oak and mahogany wood and is powered by the optional V8 Thunderbird engine. There is power steering, power brakes and air conditioning. It is finished in factory Willow Green color with correct vinyl interior.
By Daniel Vaughan | Jan 2013
Magic moments: 120 years of Mercedes-Benz motor sport: history at the Retro Classics show from 13 to 16 March 2014
•Mercedes-Benz Classic presents highlights in the history of the DTM in hall 7 at the show in Stuttgart •Strong presence by the company and the brand clubs at southern Germany's leading show for automotive classics •Fascinating dialogue between competition models and the top-of-the-line C-Class models from Mercedes-AMG 120 years of motor sport history at Mercedes-Benz also stand for twelve decades in a culture of ongoing innovation for series production cars which is fuelled by strong impul...[Read more...]
RM Auctions Announces New Paris Sale To Take Place During Retromobile Week
• RM Auctions expands European presence with all-new sale in Paris during the Retromobile show week • Auction to be held within the beautiful surroundings of 'Les Invalides' in central Paris, 4-5 February, 2014 • Magnificent ex-works Gordini 24S already consigned in anticipation of another exceptional RM sale LONDON (20 June, 2013) – RM Auctions, the world's largest collector car auction house for investment-quality automobiles, is delighted to announce the addition of a new sale to...[Read more...]
The Mercedes Benz S Class: automobile comfort of the highest standard
• S Class: the epitome of automobile comfort • Every generation of vehicles provides ground-breaking solutions to the expectations of customers with regard to comfort The history of the Mercedes Benz S Class shows that automobile comfort is far more than just a luxurious ambiance, size and performance. In fact it is far more the intelligent support of the driver and passengers through innovative technical solutions providing answers to current questions and requirements which contribute to t...[Read more...]
Auctions America Announces Exciting List of Attractions for its Auburn Spring Collector Car Weekend
• Final countdown underway to Auctions America's Auburn Spring collector car weekend, May 9 – 11 at the historic Auburn Auction Park in Auburn, Indiana • Sale lifts the gavel on approximately 500 quality collector cars and features full day of memorabilia • Latest auction highlights include a 1930 Packard Dual Cowl Sport Phaeton, a 1938 Cadillac V-16 Convertible Coupe, and a very rare 1967 Ford Fairlane 500XL R-Code in addition to the previously announced John Soneff estate collection • Week...[Read more...]
Auctions America's 2013 Auburn Spring Event Offers Ultimate Collector Car Weekend
• Auctions America presents the first of two annual Auburn sales, May 9 – 11 at historic Auburn Auction Park in Auburn, Indiana • Multi-day sale lifts gavel on 600 quality collector cars and an assortment of memorabilia • Notable early highlights include selection of Hudsons from the respected John Soneff Collection • Weekend also features inaugural Antique Automobile Club of America Central Division National Spring Meet, and an extensive car corral and swap meet presented by Carlisle Events...[Read more...]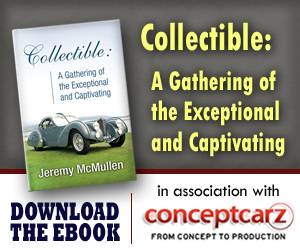 Ford
Monthly Sales Figures
Volume
February 2014
177,286
January 2014
148,671
December 2013
210,074
November 2013
183,722
October 2013
184,854
September 2013
178,693
August 2013
213,078
July 2013
186,796
June 2013
228,174
May 2013
239,280
April 2013
204,969
March 2013
229,335
(More Details)
© 1998-2014. All rights reserved. The material may not be published, broadcast, rewritten, or redistributed.