Image credits: © McLaren.
MSRP: $1,300,000

2014 McLaren P1 news, pictures, specifications, and information

Tweet
McLAREN P1™: THE NUMBER CRUNCHER
•Instant Power Assist System (IPAS) provides astonishing acceleration: 0 to 300 km/h takes less than 17 seconds, more than 23 per cent faster than the legendary McLaren F1
•Top speed electronically limited to 350 km/h
•To maintain exclusivity, production will be strictly limited to 375 units
•Pricing to start from £866,000 on the road; fully equipped as standard for road and track use
•Production model is almost unchanged from the original design study

McLaren Automotive has released the final numbers, images and information relating to its phenomenal McLaren P1™ ahead of a global reveal in just a few days at the 83rd International Geneva Motor Show.

The race-inspired Instant Power Assist System (IPAS) gives the McLaren P1™ astonishing performance. Zero to 100km/h will take less than 3 seconds, zero to 200 km/h under 7 seconds, and zero to 300 km/h will be achieved in no more than 17 seconds. Putting that into perspective, that's 5 seconds faster than the legendary McLaren F1 road car. Top speed is electronically limited to 350 km/h.

McLaren has been engaging wîth potential customers actively in the last few months to get their views on the McLaren P1™, about the car's styling. Their unanimous verdict on the styling was not to change the car presented last September in Paris. So unusually, the McLaren P1™ has translated to production form wîth very little change. In fact just one, the addition of LTR ducts ahead of each of the front wheels to further aid cooling and optimise downforce.

McLaren has closely monitored demand so as to maintain exclusivity, and announced a production number of just 375 units – a figure that will ensure the McLaren P1™ will remain a rarity and, if spotted on the road, an unforgettable sight.

McLaren has also announced that the car will cost from £866,000 on the road wîth a specification that fully equips the car for both road and track use. The company prides itself on designing performance cars that their owners can use regularly so the McLaren P1™ comes comprehensively equipped as standard wîth an array of colour and trim alternatives from which the customer will be able to choose as well as visible carbon fibre in the cabin. The options list is limited to only bespoke content that a customer might wish to add through McLaren Special Operations, and fitted luggage.

As already announced, the McLaren P1™ will have the combined force of two highly-efficient powerplants, offering the optimum mix of superb throttle response, day-to-day drivability and top speed. A mid-mounted 3.8-litre twin-turbo V8 petrol engine is substantially enhanced featuring, for example, larger turbochargers and a highly effective electric motor, to give a combined output of 916PS (903 bhp) and a maximum torque figure of 900Nm. This ensures instantaneous throttle response through the rev range, more akin to a naturally aspirated engine. Emissions of less than 200g/km on the combined cycle are reduced to zero in full electric drive mode, while the Formula 1-derived DRS and IPAS technologies offer an increase in straight-line speed and an instant boost of power.

The tyres fitted to the McLaren P1™ are specially developed P Zero Corsas, which have been developed wîth McLaren's technology partner, Pirelli. The team at Pirelli has been involved throughout the entire development programme, and this has seen the tyre testing phase integrated into the schedule, as a key performance component. The final compound and construction has been developed and optimised during testing, and the end result is a tyre that is finely tuned specifically to the performance and handling characteristics.

To rein in the power produced by the twin powerplants, the McLaren P1™ is designed to offer braking performance more associated wîth a GT3 or sports racing car. Developed by McLaren's Formula 1 partner Akebono, the system features a new type of carbon ceramic disc, which has previously seen service in space, but never before used on a road car. Stronger than conventional carbon ceramic, the material dissipates heat more effectively, giving the highly efficient braking system exceptional stopping and cooling capability. The system also boasts significantly reduced weight, and a bespoke ceramic layer coats both friction surfaces to give an attractive mirrored finish.

One surprising feature is that the car can also be driven solely in electric mode. In city driving, wîth an average speed of 30 mph, this could mean up to a 20km range. More than enough for an owner to enter, for example, a city centre Zero Emissions Zone, have dinner and return home.
Source - McLaren
McLaren Automotive has confirmed that the global debut of the production-ready McLaren P1™ will be at the 83rd International Motor Show in Geneva, and taken the opportunity to give a glimpse of the, so far unseen, interior. The latest insight confirms that the McLaren P1™ will adopt a race-inspired digital dash readout, and gives further information relating to the levels of performance that can be expected wîth a highly-focused 'Race' mode.

The visuals demonstrate what the driver will see as the McLaren P1™ transitions into a fully-focussed track car. On selecting Race mode, the large double element adjustable 'active' rear wing extends, and the pitch of the wing alters into an optimal aerodynamic position. In Race mode the screen includes a bank of lights across the top, which illuminate green, followed by red and finally blue. These act as a shift indicator, as in a Formula 1 car.

The McLaren P1™ has a clear goal: to be the best driver's car in the world on road and track. In order to achieve this, performance and handling are key, but to extract the best from the aerodynamic bodyshape and the groundbreaking technology beneath the carbon fibre exterior, the driver has to feel comfortable and in control. For this reason, the cabin of the McLaren P1™ is fully focused on the driver, and is clear from clutter and distraction as these first images show.


The interior of the McLaren P1™ offers the driver and passenger a cocooning, efficiently packaged, comfortable cabin. The interior feels like the cockpit of a fighter jet, complete wîth glass canopy overhead and, wîth a windscreen deeper than it is wide, visibility is optimised. This makes the car all the easier to plant on road and track.

Light weight - as wîth the rest of the car - is a priority, and switchgear is kept to a minimum, yet the McLaren P1™ retains luxury features such as full climate control, satellite navigation and a bespoke sound system, developed from the outset wîth Meridian.


Vital Stats
Engine : 3.8 L., 8-cylinder
Power: 727 hp
Torque: 531 ft-lbs


---

7-speed Manual
McLaren is a pioneer in the use of carbon fibre, and it features extensively throughout the McLaren P1™, not least in the MonoCage chassis and the aerodynamically-shaped body panels, but also inside the two-seat cabin. It is the lightest possible material, while offering the strength desirable for safety and structural integrity, and is used for the dashboard, floor, headlining, doors, rockers and a single piece is shaped for the central control unit to further optimise weight. Attention to detail within the interior of the McLaren P1™ is such that, to further reduce weight, the top layer of resin has been removed, to leave the carbon non-lacquered for a more natural look… and saves a further 1.5kg.
The amount of trim covering within the cabin has been minimised, leaving as many parts as exposed as possible, and there is no interior sound deadening in order to optimise weight saving even further. Carpet is offered, as an option, but when chosen, it is fitted wîth a special lightweight backing.

The racing bucket seats use the minimum amount of foam, are encased in ultra-thin carbon fibre shells, and mounted on lightweight brackets and runners, contributing to an overall weight of just 10.5kg each. The seat backs are fixed to 28 degrees from the vertical, but can be set to 32 degrees to make them more suitable for racing as it will give more helmet head room. The height of the seat will be custom set to suit the driver and passenger, and can be subsequently adjusted in the workshop. Fixings for a six-point race harnesses are in place, in addition to inertia reel seat belts.

The §teering wheel diameter is as technically precise as a McLaren racing driver's wheel. This is because past McLaren world champions' grips were modelled on a CAD system and scanned to produce an exact replica. The rim is finished in Alcantara, wîth carbon fibre inserts.
Source - McLaren
THE McLAREN P1™ ADOPTS TWIN POWER TO DELIVER PHENOMENAL TORQUE, INSTANTLY
•IPAS (Instant Power Assist System) and DRS (Drag Reduction System) offer instant boost of power and straight-line speed
•916PS (903 bhp) and 900Nm, wîth emissions of less than 200g/km
•Substantially revised 3.8-litre twin-turbo V8 petrol engine coupled to low-weight, highly efficient electric motor ensures instant torque for optimised throttle response
•Full E-mode offers in excess of 10km emission-free driving

The McLaren P1™ will have the combined force of two highly-efficient powerplants, offering the optimum mix of superb throttle response, day-to-day drivability and top speed. A mid-mounted 3.8-litre twin-turbo V8 petrol engine and a highly effective electric motor give a combined output of 916PS (903 bhp) and a maximum torque figure of 900Nm, ensuring instantaneous throttle response through the rev range, more akin to a naturally aspirated engine. Emissions of less than 200g/km on the combined cycle are reduced to zero in full electric drive mode, while the Formula 1-derived DRS and IPAS technologies offer an increase in straight-line speed and an instant boost of power.

The 3.8-litre twin-turbo V8 petrol engine in the McLaren P1™ is a new version of the familiar M838T unit, that has been significantly upgraded to optimise cooling and durability under the higher loads. The engine block has a unique casting to incorporate the electric motor. The petrol engine produces 737PS (727 bhp) at 7,500rpm, and 720Nm of torque from 4,000rpm. To optimise efficiency of the petrol engine, extensive testing and development work has always been carried out wîth McLaren Automotive technology partner Mobil 1 on lubrication and hydraulic fluids.

The lightweight electric motor, developed by the McLaren Electronics arm of the Group, produces 179PS (176 bhp), and is unique to the McLaren P1™. The motor produces maximum torque of 260Nm instantly from a standstill, greatly increasing the throttle response of the McLaren P1™, and peak combined torque of 900Nm is delivered from just 4,000 rpm. In addition to this, the McLaren-developed 'boost' system, IPAS, provides up to 179PS instantly. The instant response of the electric motor provides a sharper throttle response more associated wîth a normally aspirated engine, and the significantly enhanced air-charging system enables the McLaren P1™ to have more top-end power – the perfect combination for high performance.

The electric motor is mounted directly onto the engine, and all drive is channelled through the dual-clutch seven-speed gearbox to drive the rear wheels. Thus, the electric motor and 3.8-litre twin-turbo V8 petrol engine work seamlessly together, providing more than just added ultimate power and torque.

A further benefit is that the e-motor can provide faster upshifts. This is achieved through the application of instant negative torque at the point of shift, making the engine revs drop as quickly and efficiently as possible to the required engine speed for the upshift.

In addition to the obsessive weight-saving measures demonstrated throughout the McLaren P1™, so too is the optimisation of usable energy. When off-throttle the electric motor provides additional drag torque, recovering energy to the battery that would otherwise be lost to the brakes.

E-mode

The McLaren P1™can be driven in a variety of modes, powered by the engine and electric motor together, or solely by the electric motor. This ensures versatility and ease of transportation, allows use in low emission zones and residential driving is optimised wîth near-silent running.

Maximum power comes when using both powerplants together, but even in E-mode the performance is strong. E-mode is the most economical mode available wîth zero tailpipe emissions. In E-mode, the McLaren P1™ can travel more than 10km wîth electric-only power – enough for most city journeys. When the battery is empty, the petrol engine will automatically start to maintain drive and charge the battery.

IPAS and DRS optimise performance and throttle response



The power available via the petrol engine and electric motor is further enhanced on the McLaren P1™ through two §teering wheel-mounted buttons which activate the DRS (Drag Reduction System) and IPAS (Instant Power Assist System).

The Drag Reduction System used on the McLaren P1™ is a technology similar to that employed on Formula 1 cars. Speed is increased by reducing the amount of drag on the rear wing and, where the MP4-28 has a moveable flap on the rear wing, the McLaren P1™ has a wing that reduces in angle to lower drag by 23%. The system immediately deactivates when the button is released, or if the driver touches the brake pedal.

IPAS is designed to deliver power rapidly for high performance acceleration, and provides 179PS of instant additional power. In developing the IPAS technology for the McLaren P1™, power delivery was prioritised over energy storage. This is achieved through a groundbreaking, lightweight battery pack, which offers greater power density than any other automotive battery pack on sale today.

Battery



The high power density has been achieved through a combination of high power cells, low pack weight and an innovative cooling system. The battery weighs just 96kg, and is mounted onto the underbody of the high-strength Formula 1-grade carbon fibre MonoCage chassis, which seals the unit in the vehicle, thus avoiding the added weight of any unnecessary battery packaging.

Due to the amount of power being supplied by the battery, complex cooling is required to guarantee cell performance and reliability. The coolant flow is balanced so each cell is cooled to the same temperature across the entire pack.

In addition to the battery being charged via the engine, the McLaren P1™ is also equipped wîth a plug-in charger which can recharge the battery, from empty, in only two hours. The plug-in charger can be stored in the luggage compartment, although the customer may choose to store it off-board – in a garage or the pits – to save weight.

Further details of the McLaren P1™ will be released in the coming weeks, before the production-ready car makes its world debut at the Geneva Motor Show next month.

About McLaren Automotive:



McLaren Automotive is a British manufacturer of luxury, high-performance sports cars, located at the McLaren Technology Centre (MTC) in Woking, Surrey.

Following the company's global launch in 2010, McLaren Automotive launched the groundbreaking 12C and 12C Spider and, in keeping wîth its plan to introduce a new model each year, recently unveiled the McLaren P1™ at the Paris Motor Show. The brand continues to expand, operating through a dedicated global network of retailers in every major automotive market.

McLaren Automotive Partners



To support the development, engineering and manufacture of its range of innovative and highly acclaimed sports cars, McLaren Automotive has partnered wîth world leading companies to provide specialist expertise and technology. These include Akebono, AkzoNobel, ExxonMobil, Pirelli, SAP and TAG Heuer.

Designed for the track; Developed for the road




The connection between Formula 1 and road cars at McLaren is a natural process of experience, knowledge, principles and process transfer. Through the integration of 50 years of Formula 1 racing expertise and knowledge, and 20 years of heritage in producing landmark sports cars, McLaren Automotive designs, develops and builds the technologically advanced, groundbreaking and no compromise 12C and 12C Spider.

McLaren has pioneered the use of carbon fibre in vehicle production over the past 30 years, and since introducing a carbon chassis into racing and road cars wîth the 1981 McLaren MP4/1 and 1993 McLaren F1 respectively, McLaren has not built a car without a carbon fibre chassis.
Source - McLaren
FIRST LOOK AT THE TRACK-FOCUSED McLAREN P1™ GTR INTERIOR AS BESPOKE DRIVER PROGRAMME CONFIRMED
◾Stripped out driver-focused interior includes Formula 1™-inspired championship-winning MP4-23 steering wheel ◾Testing programme continues in the extreme temperatures of Bahrain to extract the optimum performance from each component, including the driver ◾Further details of the bespoke McLaren P1™ GTR driver programme confirmed: http://youtu.be/hSpKYDNkAsk The McLaren P1™ GTR will offer an on- and off-track driving experience like no other, with unique access to the technologies and experti...[Read more...]
McLAREN P1™ GTR TO DEBUT ALONGSIDE UNIQUE 650S AT CHANTILLY ARTS & ELEGANCE AS DEVELOPMENT CONTINUES
◾McLaren to exhibit at inaugural Chantilly Arts & Elegance event in France ◾McLaren P1™ GTR design concept to make European debut as development continues ◾Development shots of the McLaren P1™ GTR show race track-inspired camouflage ◾Unique MSO-commissioned 650S Coupé to be showcased The McLaren P1™ GTR design concept will make its European premiere at this weekend's Chantilly Arts & Elegance concours (6-7 September), following a global unveil last month at the Pebble Beach automotive wee...[Read more...]
McLAREN P1™ JOINS THE EXCLUSIVE SUB-SEVEN MINUTE CLUB AT THE NÜRBURGRING
◾The McLaren P1™ achieves its one remaining performance target ◾An average speed in excess of 178 km/h (111 mph) necessary to achieve the required lap time around the 20.8km (13 mile) circuit ◾Short film celebrating the team's achievement at the Nürburgring is available to view and embed at: http://youtu.be/E9IWiTpWeiM The McLaren name was born on the racetrack and, 50 years on, is the most successful name in global motorsport. That desire and determination to push for every extra tenth of...[Read more...]
THE ROYAL AUTOMOBILE CLUB AWARDS THE DEWAR TROPHY TO McLAREN AUTOMOTIVE AND THE SIMMS MEDAL TO LORD DRAYSON
◾Royal Automobile Club awards Dewar Trophy to McLaren Automotive for the development and launch of its advanced sell-out McLaren P1™ supercar ◾The Simms Medal is also awarded, with Lord (Paul) Drayson receiving the prize for setting four Electric World Land Speed Records with his revolutionary all-electric race car ◾Ceremony held at Pall Mall Clubhouse earlier today with 100 VIP guests in attendance PALL MALL, LONDON - The Royal Automobile Club is delighted to announce that the 2013 ...[Read more...]
Performance Figures For The Mclaren P1™ Confirmed As The First Customer Car Is Delivered
◾0-100 km/h (62 mph) sprint in just 2.8 seconds ◾Braking from 100 km/h to zero takes just 30.2 metres – less than a third of the recognised stopping distance ◾The McLaren P1™ reaches 300 km/h (186 mph) in 16.5 seconds – a full 5.5 seconds quicker than the iconic McLaren F1 ◾Bespoke tyres and braking system, developed in conjunction with technical partners Pirelli and Akebono, ensure optimised performance ◾First customer takes delivery of groundbreaking McLaren P1™ from company's headquarters...[Read more...]
Kia to showcase diesel-electric Kia Optima T-Hybrid at Paris
•More power and lower emissions for Kia Optima mild hybrid show car •Innovative new powertrain pairs 1.7-litre CRDi turbo-diesel engine with 48V lead-carbon battery, small electric motor and an electric supercharger •Kia Optima T-Hybrid concept previews new powertrain technology ahead of future mass production Frankfurt, 29 September 2014 – Kia will reveal the new Kia Optima mild hybrid show car at the 2014 Paris Motor Show on 2 October, the first application and demonstration of the...[Read more...]
LOCALLY EMISSION-FREE, POWERFUL AND CONNECTED
• Zero Emissions, Zero Compromises
April 28, 2014 - MONTVALE, NJ -- The all-new 2014 B-Class Electric Drive features dynamic design, a premium interior and a powerful electric motor for emission-free mobility. This allows for lively, effortless driving pleasure over a real-world range of 85 miles (EPA)*. In addition, the B-Class Electric Drive is digitally networked. Thanks to its connectivity, it can be conveniently checked and configured via the internet. As the Mercedes-Benz ...[Read more...]
GT Academy winner Reip joins Ordóñez in Nissan ZEOD RC driver line-up
•Nissan selects second GT Academy graduate for ZEOD RC program •2012 European GT Academy winner to make Le Mans debut •Former gamers to reach speeds of 300km/h on electric power •ZEOD RC on display at International Geneva Motor Show GENEVA, Switzerland – The driver line-up for Nissan's revolutionary ZEOD RC prototype will feature two past winners of the Nissan PlayStation GT Academy program with Belgian driver Wolfgang Reip signed to join Lucas Ordóñez at this year's Le Mans 24 Hou...[Read more...]
PORSCHE 918 SPYDER WOWS GOODWOOD
◾Innovative 887 hp plug-in hybrid super sports car makes public dynamic debut at Festival of Speed ◾Pedigree motorsport technology delivers maximum performance with minimum fuel consumption ◾Mid-mounted 4.6-litre V8 engine and two electric motors with lithium-ion batteries combine to deliver 0-62 mph in 2.8 secs, 211 mph top speed, plus approx. 85 mpg and 79 g/km CO2 (NEDC) ◾Independent all-wheel drive offers traction and driving dynamics benefits ◾Priced from 781,155 Euro – 'Weissach' packa...[Read more...]
Tradition: Future - 50 Years Of The Porsche 911 Celebrated At Goodwood
◾Seven generations of the 911 display the genetic code of the iconic sports coupe from 1963 to 2013 ◾Fifty-year landmark celebrated with memorable 'Central Feature' display at Goodwood Festival of Speed ◾Legendary racing cars meet famous drivers at the world's biggest motor sports extravaganza ◾Latest Porsche supercars on the hill include new 'Type 991' 911 GT3 ◾Cartier Style et Luxe concours showcases original and rare editions of the 911 ◾Follow the action via Porsche Orgin at porsche.co....[Read more...]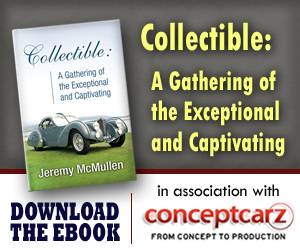 © 1998-2014. All rights reserved. The material may not be published, broadcast, rewritten, or redistributed.