Image credits: © Maserati.
2014 Maserati GranTurismo MC Stradale news, pictures, specifications, and information

Tweet
The four seater GranTurismo MC Stradale makes its debut in Geneva
• The MC Stradale will be the star on the Maserati stand, alongside all the new Quattroporte versions as they make their European debut


Modena, 26 February 2013. From the moment the spotlight hits the new range - starting wîth the new Quattroporte, set to make its European debut at the Geneva Motorshow - Maserati reminds us of those luxury sports models which provided the basis for the brand's growth.

In line wîth this philosophy, Geneva will see the world debut of the new four seater GranTurismo MC Stradale, the optimum expression of sportiness combined wîth the luxury of a coupé made in Modena. Although the new Quattroporte is the first Maserati to be built at the new Avv. Giovanni Agnelli plant in Grugliasco (Turin), the GranTurismo MC Stradale will be built at the historic factory in Viale Ciro Menotti in Modena.

Just like the previous two seater version, the new four seater GranTurismo MC Stradale takes its inspiration from the racing version which competes in the Maserati Trofeo Championship, offering the perfect combination of sportiness, luxury and elegance, comfort and style, functionality and dynamism that can now be enjoyed by four people. The new aesthetic exterior features, wîth their clear racing edge, are highlighted by the new carbon fibre bonnet which frames an important central air intake and two rear extractors and the new forged 20' alloy rims. The new GranTurismo MC Stradale boasts a cabin that has four comfortable seats and an interior design featuring new materials and style.

Also confirmed, the 4.7 litre, 460 HP aspirated V8 engine which made its debut in the GranTurismo Sport and which is now, wîth its installation on the new GranTurismo MC Stradale, present throughout the entire 4.7 litre GranTurismo range. Combined wîth an MC Race Shift 6-speed electro actuated gearbox, this engine ensures outstanding performance - wîth a top speed of 303 km/h - which can be enjoyed in this new four passenger configuration. The safety of the vehicle is guaranteed by the Brembo carbon ceramic brake disks. In keeping wîth Maserati's principles, the new GranTurismo MC Stradale makes the most of the work invested in the previous model in terms of reducing fuel consumption and emissions.
Source - Maserati
For more information and related vehicles, click
here
AGILE FORD MUSTANG FEATURES ALL-NEW SUSPENSION; PERFORMANCE PACK RAISES BAR FOR HANDLING AND BRAKING
◾2015 Ford Mustang features new, fully independent front and rear suspension mated with stronger and lighter platform for improved handling and ride quality through better wheel and body control ◾Three new brake systems ensure new Mustang stops as well as it accelerates and turns ◾Available performance packs for Mustang EcoBoost® fastback and convertible and Mustang GT fastback raise the bar for handling and braking performance on both the road and the track With new fully independent front...[Read more...]
BREMBO BRAKE FACTS FOR VERIZON INDYCAR SERIES AT HONDA GP OF ALABAMA (BIRMINGHAM)
What's the 'toughest' track in the Verizon IndyCar Series? Brembo Brake Facts for the IndyCar street and road courses are available to the public on the Friday before each race at www.Brembo.com. Each Brake Fact graphic includes general characteristics of the track itself (layout, length, number of braking events and turns, percentage of time spent under braking per lap), along with technical information of the key braking zones, such as speeds before/after each brake event, braking...[Read more...]
BREMBO LAUNCHES NEW MOTORCYCLE BRAKE CONFIGURATOR
◾Configuring Your Bike's Braking System Has Never Been So Simple and Fun ◾The Entire Brembo and Marchesini Two-wheel Range at Your Fingertips STEZZANO, Italy, Feb. 25, 2014 – Brembo offers bikers an innovative tool to choose the braking system component from the entire Brembo and Marchesini range that is most suited for their specific bike while simultaneously accessing interesting information, explanations and videos for those who want to know more about the best brakes for two-whee...[Read more...]
BESPOKE 911s METICULOUSLY RESTORED FOR CUSTOMERS BY SINGER VEHICLE DESIGN
• Newest Handcrafted Customer Car by Singer Salutes50th Anniversary of Original 911, Evoking Passion for a True Automotive Icon
LOS ANGELES – November 20, 2013 – As Singer Vehicle Design (SVD) tonight hosts a Los Angeles viewing of its latest handcrafted masterpiece restored for a customer, the company will continue to salute the genius of Porsche and the 50th anniversary of the original 911. Considered the most bespoke 911 re-imagined by SVD yet, the 'Sweden' car, to be shown t...[Read more...]
Exceptional Families In Maranello Today
Maranello, 15 June –There are 15,000 special guests at Ferrari today, made up of the families of those who work in Maranello. They have been given the opportunity to look round the company, including the road car production areas and those relating to racing and the Scuderia. It's an event that takes place regularly so that those who end up hearing about Ferrari every evening at home, can see for themselves at close quarters where their loved ones work and what the atmosphere is like on a...[Read more...]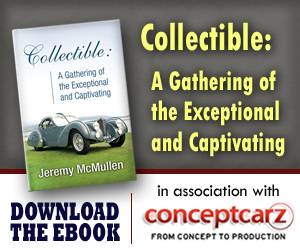 Maserati
Monthly Sales Figures
Volume
November 2014
1,203
October 2014
1,203
September 2014
1,318
August 2014
1,233
July 2014
1,132
June 2014
966
May 2014
1,144
April 2014
964
March 2014
963
January 2014
567
November 2013
910
October 2013
623
(More Details)
© 1998-2014. All rights reserved. The material may not be published, broadcast, rewritten, or redistributed.