Image credits: © Toyota.
2014 Toyota FT-86 Open Concept news, pictures, specifications, and information

Tweet
TMC to Display 'FT-86 Open concept' at Geneva Motor Show
Toyota Motor Corporation (TMC) will display the 'FT-86 Open concept', a rear-wheel-drive sports convertible, at the 83rd Geneva International Motor Show1. The show will be held in Geneva, Switzerland from March 5 through 172.

The FT-86 Open concept is a study model based on the rear-wheel-drive sports car '86'3 that was created to test and verify potential sports car variations. The concept features an electrically operated soft top, allowing a feeling of oneness wîth nature while maintaining the joy and sense of oneness wîth the vehicle created by the 86.

A Milan-based designer color-coordinated the interior and exterior, wîth the resulting design evoking quality and sportiness. The interior and exterior feature high-contrast white and navy blue that emphasize the vehicle's proportions as well as the integrated nature of the design.

In addition, yellow-gold stitching in the floor mats and seats acts as an accent conveying a sporty feel. Furthermore, the styling conveys a dramatically different impression when the roof is opened.
Source - Toyota
Following the global success of the exhilarating, entirely driver-oriented GT86, the Toyota FT-86 Open concept has been created to gauge customer reaction to the possible launch of a convertible version of Toyota's remarkable, front 'boxer' engined, rear-wheel drive, compact 2+2 sports car.

The Toyota FT-86 Open concept is designed to combine all the lively, accessible performance and highly engaging, readily exploitable dynamic abilities of the GT86 wîth the even greater levels of driving pleasure derived from open-topped motoring.

4,240 mm long, 1,775 mm wide, 1,270 mm high and wîth a wheelbase of 2,570 mm, the Toyota FT-86 Open concept features a multi-layered fabric roof construction wîth a glass rear screen.


The concept vehicle retains the GT86's 2+2 seating format, the roof being stowed behind fixed rear seats wîth minimal impact on luggage capacity.

Úsing an intense contrast between pure bright white and the modern navy blue, the colour combination has been designed to express the sense of elegant performance, fully reflecting the spirit and the atmosphere of Milan, one of the world leaders in fashion design.

The concept's elegant, white exterior, navy blue fabric roof and pure bright white interior upholstery and trim create a luxurious yet sporting image. Appropriately reflecting the ultimate symbol of sporting success, the carpets are finished in a golden yellow hue.


The Toyota FT-86 Open concept's unique colour scheme is further coordinated through the use of a navy blue backing to the upholstery perforation holes and golden yellow accent stitching to the seat leather.

The Toyota FT-86 Open concept shares the platform and powertrain of the GT86; the world's first horizontally opposed engine wîth D-4S injection technology - a 1,998 cc, low centre of gravity, naturally aspirated, high-revving sports engine capable of developing 100 DIN hp per litre- driving the rear wheels via a short throw, 'flick of the wrist' manual gear shift or a 6-speed automatic transmission wîth the world's fastest paddle shifting speed of only 0.2 seconds.

MacPherson strut front and double wishbone rear suspension systems offer direct handling feel, instant response and superb controllability; electric power §teering offers a quick, 13.1 gear ratio on a par wîth that of racing cars; and large all-round ventilated disc brakes offer unique pedal feel for car control finesse.


Toyota has identified numerous areas within which further engineering evaluation must be undertaken. Detailed assessment will be required to establish the impact on performance of any changes in vehicle rigidity, balance, weight and aerodynamics.

Because, through the adoption of such features as frameless doors, the GT86 was designed 'package protected' wîth a cabriolet in mind, the impact on structural rigidity of conversion to an open-topped bodyshell is not expected to be great. Furthermore, various efficient solutions to preserve rigidity are being analysed, such as the use of door lock reinforcements.

The GT86 boasts a near perfect, 53:47 weight distribution for ideal response to even subtle §teering, throttle and brake inputs, and an ultra-low centre of gravity of just 460 mm. Whilst the adoption of a fabric roof is likely to have a positive effect on the centre of gravity, lowering it even further, detailed engineering analysis will be required to match the balance of the coupe.


Comprehensive weight saving measures give the GT86 a total vehicle weight of only 1,257 kg, and a resultant power-to-weight ratio of some 160 DIN hp per tonne. The best possible power-to-weight ratio being fundamental to performance in a vehicle wîth a relatively small capacity engine, engineering a cabriolet as 'weight-neutral' relative to the coupe represents a key area of study in the event of the project progressing to fruition.
Source - Toyota
NISSAN GIVES GAMERS 2020 VISION
Virtual supercar created to celebrate the 15th anniversary of the legendary Gran Turismo driving game becomes real at Goodwood Festival of Speed ◾NISSAN CONCEPT 2020 Vision Gran Turismo to be presented at Goodwood on June 26 ◾2+2 virtual supercar with advanced aerodynamic body ◾Four-wheel drive chassis, active suspension ◾Virtual version available to download in July GOODWOOD, England – Nissan's vision of a supercar for near future, originally created as the study model among Nis...[Read more...]
Maserati Ghibli On Stage In Los Angeles At The Start Of The 'Opposite Of Ordinary' Era
North American Debut for the Quattroporte Ermenegildo Zegna Limited Edition Concept Los Angeles - Maserati celebrates the North American roll out of the all-new Ghibli at the Los Angeles International Auto Show, following the highly successful worldwide launch of the Quattroporte in January. Also making its North American debut is the exclusive Quattroporte Ermenegildo Zegna Limited Edition concept featuring an unique color scheme, special mirror polished rims on tone and an elegant in...[Read more...]
MERCEDES-AMG HELPS TO ENSURE SAFETY IN FORMULA 1
In the new 2013 Formula 1® season, Mercedes-AMG will once again help to ensure safety at all Formula 1® races forming part of the FIA Formula One World Championship™. For the 18th year the performance brand of Mercedes-Benz is providing the Official F1® Safety Car and the Official F1® Medical Car. The SLS AMG GT with 435 kW (591 hp) and the C 63 AMG Estate with 358 kW (487 hp) will be deployed at the direction of Race Control officials usually when weather or incidents are considered to impact o...[Read more...]
TOYOTA GT86 IS CAR BUYER'S COUPE OF THE YEAR
Announcing the award on Friday (1 March), Steve Fowler, Car Buyer Editor-in-Chief, said: 'The GT86 is a fine example of Toyota doing what it does best: understanding the needs of a target market and delivering – in this case a focused sports car that's all about driving enjoyment, yet at an affordable price.' It's a neat summary of the essential qualities that have made the low, light and lithe GT86 an instant hit with media and motorists alike. Giving the Toyota a 4.8-out-of-five rating...[Read more...]
MINI AT THE 83RD GENEVA INTERNATIONAL MOTOR SHOW 2013
The passion for extreme driving fun, a richly varied model range and the wide selection of personalization options for which MINI is renowned form the centerpiece of the British premium brand's stand at the 2013 Geneva International Motor Show. As part of its ongoing model push, MINI is introducing further additions to its portfolio of attractive design models. Indeed, this year's Geneva Show will host the world premiere of the MINI Clubman Bond Street. Generously equipped and with a searching e...[Read more...]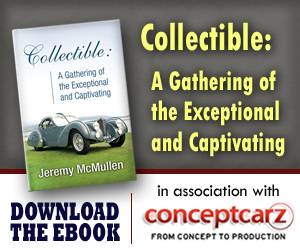 Toyota
Monthly Sales Figures
Volume
June 2014
178,196
May 2014
216,315
April 2014
176,495
March 2014
186,755
February 2014
140,429
January 2014
128,728
December 2013
156,086
November 2013
152,433
October 2013
146,257
September 2013
144,935
August 2013
201,745
July 2013
170,363
(More Details)
© 1998-2014. All rights reserved. The material may not be published, broadcast, rewritten, or redistributed.