Image credits: © Subaru.
2013 Subaru Viziv Concept news, pictures, specifications, and information

Tweet
World Premiere of the 'SUBARU VIZIV CONCEPT' at the 2013 Geneva Motor Show
Fuji Heavy Industries Ltd. (FHI), the manufacturer of Subaru automobiles, unveiled the 'SÚBARÚ VIZIV CONCEPT' today at the 83rd Geneva International Motor Show.

'SÚBARÚ VIZIV CONCEPT' is a future-generation crossover concept that represents the new design direction and technologies that will take the Subaru brand into the future. 'VIZIV' is a coined word inspired by the phrase 'Vision for Innovation' to express Subaru's future vision of innovation and the future direction of the brand.

• Exterior Design
A future-generation crossover concept providing high efficiency and performance on all road surface conditions and driving environments has been created wîth a new Subaru design philosophy.

The basic design features simple and clean surfaces and lines. The aim was to create the ideal balance between a solid-lòòking body and a condensed cabin.
The front-end design boldly emphasizes the motifs common to Subaru products. The larger and outwardly projecting grille provides the keynote of the front-end design, and is the point from which the entire front end connects into a solid, dynamic design.


The simple and powerful motifs of the sides create a new Subaru design element. The grand outward sweep of the integrated fenders and the solid door panel forms create a dynamic side view design.

The upper cabin highlights the window graphics evocative of the shooting-brake body style. It contrasts wîth a solid body panel design, creating a sporty, lean silhouette.


Vital Stats
Engine : 2.0 L., 4-cylinder


---

CVT
The rear design also features the same Subaru motifs used in the front. The rear combination lamp features an iconic Subaru motif, and the hexagonal panel surrounded by lamps projects outward in the center.
The 'Mistral Silver Metallic' exterior color highlights the dynamic, stylish exterior design of the 'SÚBARÚ VIZIV CONCEPT'.

• Interior Design
Like the exterior, the interior invokes the promise of dynamic road performance. While great care was taken to design a highly refined environment, interior space was also designed to embody Subaru's renowned functionality, peace of mind and fun for all occupants.

The cockpit features an instrument panel layout designed primarily for ease of driver operation and vehicle control. The instrument panel displays the operation status of Subaru's own driving assist 'EyeSight' system.

The tachometer and speedometer in the center combine functionality and sportiness, featuring a unique cylindrical design and outstanding visibility.
Custom information displays in front of the front passenger seat and in the rear seating area let passengers share the thrill of being in the driver's seat.

• Packaging
To implement Subaru's development concept of human-centered engineering, the two-door, four-seat stylish and sporty body was given a packaging design enabling four adults to ride comfortably even on long road trips.


The 100% motor-driven rear wheels eliminate the need for a propeller shaft, creating a lower floor that offers ample legroom for rear seat occupants despite its compact size.

• Power Únits
'Subaru Boxer Diesel Hybrid', as a proposal to the future of Subaru power units, was mounted in the 'SÚBARÚ VIZIV CONCEPT'. The powertrain is a plug-in hybrid system that combines a 2.0-litre Subaru Boxer diesel engine and high-torque-compatible Lineartronic (CVT) wîth a front motor that provides both vehicle drive and power generation, and two independent rear motors for vehicle drive only. By achieving solid environmental and road performance wîth this powertrain, Subaru's 'Enjoyment and Peace of Mind' driving experience will be further advanced.
The powertrain selects the best time to use each power unit according to its strengths and the driving application, achieving high fuel economy. The motors start and drive the vehicle during low-speed or city driving, while the diesel engine and high-efficiency Lineartronic take over on the highway.

'Hybrid SI-DRIVE' system has an 'Eco-Cruise' mode that provides coordinated control in conjunction wîth the 'EyeSight' driving assistance system in addition to 'Intelligent' and 'Sports' modes. Engine and motor power are subjected to fine-tuned control according to the travel conditions captured and detected by the EyeSight's stereo camera, creating an intelligent driving feature designed for safety and environmental friendliness.

• AWD (All-Wheel drive) System
'Independent-rear-motor-driven symmetrical AWD' system which is leading the way to a future generation of Subaru AWD technology has been adopted for the SÚBARÚ VIZIV CONCEPT. Subaru is constantly refining its unique AWD systems according to the development philosophy 'Four-wheel management'. 'Independent-rear-motor-driven symmetrical AWD' system provides fine-tuned control of the four wheels to match the travel environment and road surface conditions.

Two motors exclusively developed for rear wheels' drive control the rear right and left drive power freely. Coordinated management system of the front and rear motor controls the division of drive power between the front and rear wheels. It increases Subaru's trademark active safety performance. Turning the §teering wheel increases the drive power applied to the rear, creating a handling characteristic that responds nimbly to driver operations. Turning the §teering wheel back increases the drive power applied to the front, creating a handling characteristic that emphasizes stability.


In stop-and-go city traffic, all wheels are driven by the motors when starting from rest, providing high starting torque and powerful acceleration, but low fuel consumption wîth quiet ride.

By independently controlling the drive power applied to the left and right rear wheels, the rear drive system provides more torque to the outside rear wheel and less to the inside rear wheel when cornering to generate inner-directed yaw momentum on the vehicle and achieve extremely quick and smooth 'on-the-rail cornering'. Besides helping acceleration and all-terrain performance, this groundbreaking AWD system also uses drive power to help turn the vehicle. Along wîth its thrilling handling and cornering that responds faithfully to driver operations, it also offers outstanding handling stability that ensures a high level of secure feeling and confident drive.

Minimum turning radius can be compact due to 'Independent-rear-motor-driven symmetrical AWD' system, thus superior maneuverability has been achieved.
Source - Subaru
2014 HONDA ACCORD, PLUG-IN HYBRID ACCORD, CIVIC SI AND CR-V NAMED 'BEST RESALE VALUE' VEHICLES BY KELLEY BLUE BOOK
American Honda received four Best Resale Value Awards from trusted vehicle valuation source Kelley Blue Book www.kbb.com. The 2014 Honda Accord, the all-new 2014 Plug-in Hybrid Accord the restyled 2014 Civic Si, each earned the top award in their respective segment for projected resale value after five years of ownership. Additionally, the 2014 Honda CR-V was honored as one of the overall Top 10 Best Resale Value vehicles in America. 2014 Honda Vehicles Honored with Kelley Blue Book Best R...[Read more...]
2014 Toyota Prius Plug-In to Start Under $30,000
• Base Prius Plug-in model MSRP reduced by $2,010 to $29,990 • Prius Plug-in Advanced model MSRP reduced by $4,620 to $34,905 TORRANCE, Calif., Oct. 9, 2013 – It just got a little easier for drivers to maximize their fuel savings and be environmentally responsible. Toyota's most advanced technology passenger car, the Prius Plug-in, will be available to customers at a substantially reduced price beginning with the 2014 model year. Toyota has reduced MSRP on the 2014 Prius Plug...[Read more...]
1,400 New Ford Employees Kick Off U.S. Production Of Fusion To Meet Surging Customer Demand
◾With 1,400 new jobs and a $555 million investment, Flat Rock Assembly Plant begins Ford Fusion production ◾Production added to improve tight availability of Ford Fusion; U.S. Fusion sales up 13 percent this year ◾Ford will hire almost 6,500 workers in the U.S. this year to support new products, growth and investment; company has added more than three-quarters of the 12,000 hourly jobs it committed to add in the U.S. by 2015 Supported by 1,400 new employees, the new Ford Fusion will roll of...[Read more...]
PORSCHE 918 SPYDER WOWS GOODWOOD
◾Innovative 887 hp plug-in hybrid super sports car makes public dynamic debut at Festival of Speed ◾Pedigree motorsport technology delivers maximum performance with minimum fuel consumption ◾Mid-mounted 4.6-litre V8 engine and two electric motors with lithium-ion batteries combine to deliver 0-62 mph in 2.8 secs, 211 mph top speed, plus approx. 85 mpg and 79 g/km CO2 (NEDC) ◾Independent all-wheel drive offers traction and driving dynamics benefits ◾Priced from 781,155 Euro – 'Weissach' packa...[Read more...]
BMW at the NAIAS Detroit 2013
Captivating looks laced with premium quality and groundbreaking innovations are the standout features of the models charged with continuing the success of the BMW brand into the future. The NAIAS 2013 in Detroit will see BMW presenting visitors with new models now entering series production and pioneering vehicle concepts combining technological progress, innovative forms and exemplary sustainability in a single package. BMW Concept 4 Series Coupe: more elegant, more dynamic, more individ...[Read more...]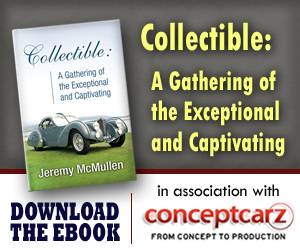 Subaru
Monthly Sales Figures
Volume
March 2014
44,479
February 2014
34,909
January 2014
33,000
December 2013
40,172
November 2013
36,621
October 2013
34,483
September 2013
31,755
August 2013
41,061
July 2013
35,994
June 2013
39,235
May 2013
39,892
April 2013
32,943
(More Details)
© 1998-2014. All rights reserved. The material may not be published, broadcast, rewritten, or redistributed.