Jaguar XKR-S GT Unveiled in New York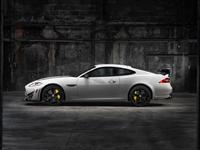 -The XKR-S GT, developed by Jaguar's ETO division, is the ultimate road-going but track-ready version of the XK coupe
-Initial production will be limited to just 30 cars, making it the rarest 'R' model in the 25-year history of Jaguar's R performance cars
-Evolved from the successful XKR-S coupe, the XKR-S GT features bespoke aerodynamic components and suspension developments to increase downforce and optimise high-speed cornering ability
-Through the addition of aerodynamic aids including a carbon-fibre front splitter, dive planes, extended wheelarch spats, an elevated rear wing, rear diffuser and an aluminium valance, the XKR-S GT achieves maximum downforce of 145kg
-Its carbon ceramic brake system - a first for a production Jaguar - features 398mm and 380mm discs front/rear gripped respectively by six- and four-piston monoblock calipers
-The XKR-S GT uses a new development of front and rear suspension that includes a wider front track, increased camber, revised bushings, a new §teering system and faster §teering ratio, all developed upon learning gained from Jaguar's new F-TYPE two-seater sports car
-Height-adjustable and bespoke adaptive dampers feature a race-derived twin spring system and increased rates of 68% at the front and 25% at the rear
-Powered by Jaguar's proven 550PS, 680Nm supercharged 5.0-litre V8 engine - driving through a six-speed transmission and active electronic differential - the XKR-S GT reaches 60mph in 3.9 seconds wîth an electronically limited top speed of 186mph
-New, wider, 20-inch forged and lightweight alloy wheels are designed to optimise brake cooling and are shod wîth Pirelli Corsa 255/35 front and 305/30 rear tyres to maximise grip
The XKR-S GT is the most extreme iteration of the Jaguar R Brand's performance focus. Útilising race-car derived technology, all-aluminium construction and an uncompromised approach to aerodynamic efficiency, the result is a car as capable on the track as it is exhilarating on the road.'
Adrian Hallmark, Global Brand Director, Jaguar

Summary
The XKR-S GT has been developed by Jaguar's ETO division to be the ultimate track-focused but road-going iteration of the XK coupe. Extensive aerodynamic and suspension changes, as well as the addition of carbon ceramic brakes, have combined to give the XKR-S GT race-car inspired connected feel and braking performance. Initial production will be limited to just 30 cars for the North American market.
A range of bespoke carbon fibre components, including an extended front splitter, dive-planes and elevated rear wing, all work to maximise the XKR-S GT's aerodynamic downforce. Technical learning from the development of the new Jaguar F-TYPE two-seater sports car has also been applied to the XKR-S GT's suspension and §teering systems, optimising both immediacy of response to driver input and agility.
Stunning performance is provided by Jaguar's proven 5.0-litre supercharged V8 engine, boasting 550PS and 680Nm, driving through a six-speed transmission and active electronic differential. Combined wîth the aerodynamic and suspension changes, plus revisions to the traction control system's calibration, the result in straight-line terms is a 0-60mph time of 3.9 seconds. Electronically limited top speed is 186mph.
The XKR-S GT is available in Polaris White wîth unique graphics and Jaguar R-S GT script on its louvred bonnet. The Warm Charcoal interior - wîth red accents - features 16-way electrically adjustable 'Performance' seats finished in soft-grain leather and Suedecloth wîth the Jaguar and R-S GT scripts integrated into the backrests. Jet Suedecloth headlining and a Jet Suedecloth §teering wheel, wîth aluminium paddle shifters, are fitted as standard. Script to the treadplates and console highlight the exclusiveness of the XKR-S GT.
'The development of the XKR-S GT demanded an uncompromised approach to enhance aerodynamic downforce, wîth complementary suspension changes to maximise high-speed cornering ability. In combination wîth the use of a carbon ceramic braking system, the result is the most focused 'R' model Jaguar has ever built which delivers heightened levels of performance and driver reward.
Pete Simkin, Director, ETO Specialist Products, Jaguar

Aerodynamics and chassis
'The XKR-S GT has been designed purely by the laws of physics. It has been developed in the wind tunnel and on the racetrack wîth the sole aim of creating as much high-speed stability and downforce as possible. Nothing has been styled for the sake of it. It's been an exercise in efficiency and the result is a car that's raw, focused and devastatingly quick.'
Ian Callum, Director of Design, Jaguar
The XKR-S GT features a carbon-fibre front splitter of race-car wrap-around type; extending forward by 60mm, it starts the optimisation of airflow around, over and underneath the car. Aggressive carbon-fibre twin dive-planes and wheelarch extensions further the efficiency of airflow around the car, while below the addition of an optimised aluminium front valance serves to smooth airflow under the car as well as enhancing engine and brake cooling performance.

A rear carbon-fibre diffuser ensures the smooth exit of air from underneath the car, while the elevated rear wing - also in carbon-fibre - works in combination wîth the decklid mounted spoiler to maximise rear downforce. At its electronically limited top speed of 186mph, the XKR-S GT produces 145kg (320lb) of downforce.Bonnet louvres serve as a further engine cooling aid while also helping aerodynamic performance by improving the airflow through the front end of the car.

Allied to the extensive aerodynamic revisions are detailed suspension changes.

The front and rear suspension arms, uprights, wheel bearings, bushings and rear subframe are all new and draw on hardware developed for the F-TYPE. The overall set-up works to increase lateral suspension stiffness for greater precision and responsiveness.

Integral to the revised suspension system is its new spring and damper module design. The XKR-S GT has a motorsport-derived twin spring system mated to Jaguar's Adaptive Dynamics damping system - the dampers now being ride-height adjustable. Front and rear spring rates are respectively 68% and 25% stiffer than on the XKR-S, while the damper tune is much more track-focused, providing increased levels of body control and grip.

Jaguar's Adaptive Dynamics have been specifically tuned for the XKR-S GT so that the suspension parameters change to deliver a higher level of body control wîth maximum traction and grip when the dynamic mode is deployed, offering optimum performance for focused track driving.

The XKR-S GT has a front track which is 52mm wider than that of the XKR-S while the rear remains the same. The §teering rack is from the F-TYPE, wîth a correspondingly faster ratio and retuned §teering valve. The result is immediacy of turn-in and response to §teering inputs.

The unique 20-inch forged and lightweight alloy wheels - finished in gloss black - are shod wîth specially developed Pirelli Corsa performance tyres (255/35 and 305/30 front/rear), giving the XKR-S GT a more muscular stance and greatly increasing its grip and stability.

'The XKR-S GT is an uncompromised car, but one that inspires confidence and encourages the driver to push it to its limits, fully exploring its handling abilities. It's a car that draws you in and is never intimidating, wîth performance that is both accessible and rewarding.'

David Pook, Technical Specialist, Steering and Handling, Jaguar

Brakes


The XKR-S GT is the first production Jaguar to be fitted wîth a carbon ceramic braking system.

The internally ventilated and cross-drilled lightweight brake discs measure 398mm and 380mm front/rear respectively. Combined wîth six-piston monoblock calipers at the front and four piston units at the rear - the yellow calipers being branded wîth 'Jaguar Carbon Ceramic' script - the XKR-S GT delivers race-car levels of fade-free stopping power and brake pedal feel.

Enhanced braking feel comes courtesy of the electronic Pre-Fill system. Working in conjunction wîth the car's DSC system, Pre-Fill pressurises the brakes every time the driver comes off the throttle pedal, resulting in a very short and consistent level of travel on the brake pedal. This maximises braking response, reduces the car's stopping distance and delivers increased levels of confidence during high performance driving.

The lightweight nature of the carbon ceramic system means a reduction in unsprung weight of 21kg - so further enhancing the XKR-S GT's handling.

The XKR-S GT's carbon ceramic braking system also has a significantly longer life span than a standard system.

'The brake disc and pad materials are specially tailored for Jaguar characteristics. Because the XKR-S GT is a road car as well as one suitable for customers to take on the track, we engineered it for race-car braking performance but wîth no compromise to cold or wet weather ability.'

Edward Nixon, Group Leader, Brakes, Jaguar XKR-S GT

Performance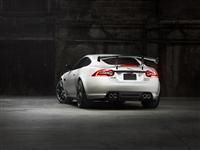 Jaguar's proven all-aluminium 5.0-litre supercharged quad-cam V8 engine, boasting 550PS and 680Nm of torque, delivers not only exhilarating performance but also tremendous efficiency thanks to the technologies incorporated into it, including spray-guided direct injection (SGDI) and dual independent variable cam timing (DIVCT).

The high-pressure die-cast lightweight aluminium block is stiffened wîth cast-iron liners and cross-bolted main bearing caps, providing refinement to match its power. The four-valve cylinder heads are constructed from recycled aluminium, between them sitting the Roots-type twin vortex supercharger fed by two intercoolers, which feature their own water-cooling circuit to reduce the temperature of the pressurised air thereby optimising power and efficiency.

The XKR-S GT features a fully active performance exhaust system wîth valves that open under load, both enhancing gas-flow and the car's aural character, while optimising power output.

In straight-line terms, the powertrain's significant output, combined wîth the aerodynamic, suspension and traction control software revisions, mean the XKR-S GT can sprint from 0 to 60mph in 3.9 seconds and onto an electronically limited top speed of 186mph.
Source - Jaguar
By the early 2000s, cars were evolving at an unprecedented pace. Every year manufacturers seemed to be eking out more power, more efficiency, and more performance, all backed up by more computers and more electronic driving aids. Emerging technologies were bundled into the automotive package, creating cars that could double as cell phones and MP3 players.
Yet at the dawn of this technological revolution, Jaguar was out on a tea break. That proud jungle cat, the producer of some of the world's finest and most advanced sports cars in the 1950s and 1960s, had grown lazy and set in its ways under foreign (read: Ford) control.
Ford was by no means incapable of running Jaguar well, and the American giant at least helped improve Jag's reputation for unreliability and poor quality control. The approach to running Jaguar was conservative, though, and aimed to keep a few traditionalists happy at the cost of potential new buyers. The advanced performance and styling that had once defined Jaguar had grown stale, leading to quaint caricatures of the brand's past legends. The XJ-series looked like the XJ-series always had—since 1968. The XK-series followed the controversially-styled XJS with a design that borrowed heavily from the original E-Type—of 1961. Jaguar had successfully established a model lineup that effectively looked 30 years behind the times.
That's not to say that Jaguar's cars weren't still beautiful—they were. But the design language had grown far too stale to attract new buyers, and, with dangerously low sales, change was needed to save the company from financial ruin.
Enter the 2005 Jaguar Advanced Lightweight Coupe concept, Ian Callum's ingenious interpretation of what a modern Jaguar should be. This concept, with refreshingly few changes, formed the basis for the Jaguar XK that would be released in 2006 for the 2007 model year.
Though it retained enough design DNA to remain unmistakably Jag, the 2007 XK was a thoroughly modern car. Its design was many years ahead of the outgoing model's, styled by Callum with respect for Jaguar's past but eyes towards the brand's future. The Advanced Lightweight Coupe concept's name was well-founded, and its advanced and lightweight use of aluminum made it into the production XK. The production car was built on a remarkably rigid platform that used aluminum extrusions extensively to reduce weight and increase rigidity. The XK was designed from the beginning as a convertible (Ian Callum considered it easier to make a coupe of a convertible than the other way around), and that fact meant that the XK convertible not only looked as good as the coupe but was also impressively stiff.
The XK debuted with a 4.2L, 32-valve V8 that made 300hp and was coupled with a 6-speed automatic transmission. The supercharged XKR version made 420hp. This was ample power for both cars, but, in an effort to keep up with the competition and avoid the problems witnessed at the outset of the millennium, Jaguar gave the XK and XKR brand new engines for 2010. With displacement increased to 5.0L, the new V8s now produce 385hp in naturally aspirated form and 510hp in supercharged guise.
The XK, now complemented by the impressive XF and brand-new XJ, helped to revitalize Jaguar's ageing image. It represents the sporty car in Jag's small, cohesive lineup, and is a thoroughly modern piece that has earned the right to call itself by those two famous letters that first established Jaguar as a builder of benchmark sports cars in 1948.
Sources:

'2010 Jaguar XK / XKR Coupe and Convertible - Auto Shows.' Car and Driver Jan 2009: n. pag. Web. 15 Jul 2010. http://www.caranddriver.com/news/car/09q1/2010_jaguar_xk_xkr_coupe_and_convertible-auto_shows.

MacKenzie, Angus. 'First Look: 200 Jaguar XK.' Motor Trend Oct 2005: n. pag. Web. 15 Jul 2010. http://www.motortrend.com/roadtests/coupes/112_0510_2007_jaguar_xk/index.html.
By Evan Acuña