1931 Studebaker President Series 90 news, pictures, specifications, and information

Tweet
This 1931 Studebaker President is one of only four known and is the only restored example. The car was originally built as a dignitary car for the 1930 Shrine Convention in Toronto. The 1931 Studebaker President is a recognized classic by the Classic Car Club of America.

Studebaker was long known as a builder of medium priced cars. The corporation extended its production line by building the higher priced President line of fine cars from 1928 to 1933 by the acquisition of Pierce-Arrow. Neither Pierce-Arrow nor the classic Studebaker Presidents survived the Great Depression for Studebaker. The company reverted to medium priced vehicles and divested itself of Pierce-Arrow.
The 1931 Studebaker President was available as a Series 80 or a Series 90. Both were powered by an L-head eight-cylinder engine displacing 337 cubic-inches offering 122 BHP. The difference was in the wheelbase size; the Series 80 rested on a 130 inch platform while the Series 90 measured 136 inches. The President Models featured a V-shaped radiator, parking lamps on the front fenders and large, oval shaped headlights. Other features including a large radiator cap and a single bar bumper with a 'vee' shape in the middle.

The President Models featured free-wheeling, carburetor intake silencer, windshield wiper, Houdaille shock absorbers and spring covers. They rode on 31 inch wood spoke wheels with wire spoke available for the Regal and State models. Inside, there was a speedometer, gas gauge, thermometer, ignition lock, clock, and cigar lighter.

The President Models had a three-speed manual transmission with floor shift controls. Bendix external expanding mechanical brakes could be found at all four corners.
The Studebaker Company was formed in 1852 as a wagon manufacturer and eventually changed to automotive production, making them one of the oldest names in the automobile industry. They were in the automotive business from 1902 through 1966, a total of 64 years. They produced electric powered cars for the first two years and introduced gasoline power in 1904. During the 1920's they produced vehicles in the mid-priced range and showed great promise during the late 1920s. In 1927 Studebaker moved up-market and into the luxury car segment with their President model line. The President was given a powerful eight-cylinder engine that was worthy of the elegant coachwork that it carried. The engine earned Studebaker a reputation in power, performance and endurance. In 1931 a Studebaker President outfitted with a nine-bearing engine won the Pikes Peak hillclimb.

The Studebaker President stayed in production until 1942 and later reappeared in 1955 and discontinued again in 1958. The first Studebaker was built on July 23rd, 1926 and was given the internal named the ES. The goal of the President was to be the finest, most powerful, dependable, and luxurious car on the American market. By establishing land speed records in the late 1920's and early 1930's, the President cemented its name in the performance department. The powerful nine-bearing eight-cylinder engine captured 114 records, 35 of which would stand for 35 years. The long bodies meant there was plenty of interior room for the passengers and no expense was spared when creating these automotive marvels.

In 1935 the Studebakers could be purchased with a steel sliding roof allowing passengers to enjoy the open air and picturesque views. Sales reached 2305 examples most with a selling price of around $1,529. Some of the optional equipment included exterior mounted chrome salon horns, chrome radiator mascot, two side mounted spare tires, foot hassocks in the rear compartment, Startix automatic starting system, full automatic spark control and chock, overdrive with synchronized shifting, full cushioned power seats, special 4-spoke phantom type steering wheel.

The suspension was improved in 1936 with all Studebakers being equipped with the Startix suspension system. In 1937 a semi-automatic 'Miracle-Shift' transmission was offered, which featured a dashboard mounted shifter. In 1939 the shift lever was moved the steering wheel column and the 'Miracle-Shift' unit was discontinued.

Raymond Loewy joined Studebaker as a design consultant near the close of the 1930's. His influence and designs can be seen on the later 1930 model Presidents.

In 1941 Studebaker offered a premium trim level President, named the Skyway President. This automobile had full fender skirts that enclosed the cars rear wheels, adding a unique styling and improving aerodynamics. These examples were only offered for a short time, as the President line was discontinued in 1942.

The President name reappeared in 1955 and stayed in production until 1958.

The President Speedster was a one-year special edition car based on the 1953 Starliner. Ironically, the 1953 car had virtually no chrome, while the Speedster had chrome virtually everywhere. Three-toning was optional on the Speedster. It was the predecessor to the 1956 Hawk series.

In 1956 the Loewy Euro-style Studebaker was reskinned to look more American. The dashboard was totally redesigned with a 'Cyclops Eye' speedometer sitting atop it. The President Classic had a longer wheelbase than the standard President line and it also had a more powerful engine. Despite the improvements, 1956 was a disastrous sales year for Studebaker.

The President Starlight hardtop was produced for only one year, 1958. The Starlight was complete with chrome and fins, but it was still based on the old 1953 body shell. The narrowness of the body prevented the use of conventional quad headlights, so Studebaker resorted to a 'pod' design where the lights bulged out slightly on the sides of the car.
By Daniel Vaughan | Dec 2007
For more information and related vehicles, click
here
Techno Classica 2014: more than 30 racing cars to celebrate 120 years of Mercedes-Benz motor racing history
•Cars that were the heroes of magical moments put their stamp on this high-powered, most comprehensive show presentation •With more than 30 vehicles, Mercedes-Benz Classic presents motor racing history in all its unique breadth and depth •120 years of Mercedes-Benz motor sport in the focus of the leading international classic motor show 120 years of Mercedes-Benz motor racing history have produced a timeline of extraordinary victories which since 1894 also stand for outstanding innovations ...[Read more...]
Magic moments: 120 years of Mercedes-Benz motor sport: history at the Retro Classics show from 13 to 16 March 2014
•Mercedes-Benz Classic presents highlights in the history of the DTM in hall 7 at the show in Stuttgart •Strong presence by the company and the brand clubs at southern Germany's leading show for automotive classics •Fascinating dialogue between competition models and the top-of-the-line C-Class models from Mercedes-AMG 120 years of motor sport history at Mercedes-Benz also stand for twelve decades in a culture of ongoing innovation for series production cars which is fuelled by strong impul...[Read more...]
The Mercedes Benz S Class: automobile comfort of the highest standard
• S Class: the epitome of automobile comfort • Every generation of vehicles provides ground-breaking solutions to the expectations of customers with regard to comfort The history of the Mercedes Benz S Class shows that automobile comfort is far more than just a luxurious ambiance, size and performance. In fact it is far more the intelligent support of the driver and passengers through innovative technical solutions providing answers to current questions and requirements which contribute to t...[Read more...]
Auctions America Announces Exciting List of Attractions for its Auburn Spring Collector Car Weekend
• Final countdown underway to Auctions America's Auburn Spring collector car weekend, May 9 – 11 at the historic Auburn Auction Park in Auburn, Indiana • Sale lifts the gavel on approximately 500 quality collector cars and features full day of memorabilia • Latest auction highlights include a 1930 Packard Dual Cowl Sport Phaeton, a 1938 Cadillac V-16 Convertible Coupe, and a very rare 1967 Ford Fairlane 500XL R-Code in addition to the previously announced John Soneff estate collection • Week...[Read more...]
Auctions America's 2013 Auburn Spring Event Offers Ultimate Collector Car Weekend
• Auctions America presents the first of two annual Auburn sales, May 9 – 11 at historic Auburn Auction Park in Auburn, Indiana • Multi-day sale lifts gavel on 600 quality collector cars and an assortment of memorabilia • Notable early highlights include selection of Hudsons from the respected John Soneff Collection • Weekend also features inaugural Antique Automobile Club of America Central Division National Spring Meet, and an extensive car corral and swap meet presented by Carlisle Events...[Read more...]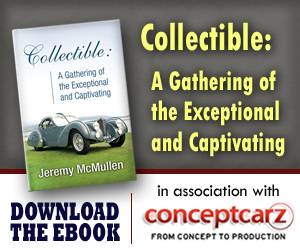 Similarly Priced Vehicles from 1931
Buick Series 90 ($1,610-$2,035)
Packard Model 833 Standard Eight ($2,400-$3,475)
Cord L-29 ($2,425-$2,615)
Studebaker President Series 80 ($1,876-$2,013)
LaSalle Model 345A ($2,195-$3,245)
© 1998-2014. All rights reserved. The material may not be published, broadcast, rewritten, or redistributed.