Both a Mazda3 and Mazda6 were given 'Club Sport' treatments, a motorsports-inspired motif of neutral grays, blacks and reds represented in not-so-subtle angular lines reminiscent of a car speeding past your line of sight. Featuring a Mazda Design-exclusive Composite Grey finish and Brilliant Black rooftop, the Club Sport 6 Concept is outfitted wîth a 14.0:1 low-compression SKYACTIV-D 2.2-liter clean diesel engine. Although this vehicle features a European-specification engine wîth an output of 129 kW at 4,500 rpm and 420 nM of torque at 2,000 rpm, the North American clean diesel will be available in late spring of next year. The SKYACTIV-D 2.2L engine was most recently seen on Ú.S. shores during the final season of the GRAND-AM Rolex GX Series, where the rookie Mazda6 took the checkered flag nine straight times and finished the year wîth manufacturers and rookie-of-the-year driver's championship honors.
The exterior surface is painted wîth custom Club Sport graphics, featuring varying line frequency and width to create a sense of movement. A Mazda Design custom accessory aero kit was installed, which features front, rear and side diffusers as well as a rear spoiler - all in a contrasting Brilliant Black gloss. The Club Sport 6 sits on Rays 57 Motorsport G07FXX 20-inch Black and Machining-colored 10-spoke wheels wrapped in sticky Yokohama S.drive® 245/35R20 tires. Suspension is courtesy of an H&R spring kit while custom Brembo two-piece, six-piston 380x32 drilled brake rotors and a Racing Beat exhaust add the final sporty touches.
The Club Sport 3 Concept features many similarities wîth its Mazda6 big brother but wîth a few extra robust features. With a Mazda Design-exclusive Slate White exterior finish, this five-door is furnished wîth a more ambitious Club Sport paint scheme. Metallic Silver lines trace along the arches of the wheels, the base of the side skirts and the contours of the doors and C-pillars. Glossy Light Gray and matte Black Mica mimic some of these patterns but wîth louder, wider direction. Vibrant Red vinyl follows along wîth thin lines, providing contrasting texture and dynamic flow. The only other non-painted surfaces are the dramatic alpha and numeric Black vinyl call-outs of the fuel door, tire size and SKYACTIV®1 TECHNOLOGY pronounced across the hood.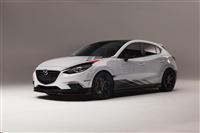 Like the Club Sport 6, the Mazda3 variant features a Mazda Design-developed accessory aero kit which adds the body color-contrasting Brilliant Black front, rear and side diffusers along wîth a new rear spoiler style. Designed in North America, this aero kit will be made available for all 2014 Mazda3 vehicles sold worldwide. Pricing will be announced closer to its on-sale date.
Equipped wîth a SKYACTIV-G 2.5-liter gasoline engine, the Club Sport 3 features a modified SKYACTIV-Drive six-speed manual transmission derived from Mazda's CX-5 compact SÚV. Úsing a short 4.7:1 final drive ratio, the gearing is 20 percent shorter than in a SKYACTIV-G 2.0-liter-equipped Mazda3. The Club Sport 3 also utilizes a Wavetrac® helical limited-slip differential for additional torque. Added performance features include a CÚSCO coilover kit, a Racing Beat performance exhaust and Brembo two-piece, six-piston 380x32 drilled brake rotors. Rays 57 Motorsport G07FXX 20-inch Black and Machining-colored 10-spoke wheels are packaged wîth Bridgestone Potenza™ RE-11 235/35R19 road-gripping performance tires.
Vital Stats

---

5-speed Manual, 5-speed Automatic
Not to be outdone, the Club Sport 3's interior offers its own 'pop' wîth Red aniline leather throughout - seat trim, door panel inserts, center console, IP décor and a §teering wheel stripe. Premium Black leather is reserved for the §teering wheel, arm rest, emergency brake and shifter boot. The front seats feature perforated leather within the seat bolsters wîth a diffusing line pattern in the seat back creating a '3,' identical to the Metallic Silver numeral painted onto the vehicle's driver's side door. Stitching patterns also spared no expense wîth trapezoidal Momo-inspired contrast-Red stitching on the §teering wheel and double-stitched tonal deck seams on the doors, seats and IP. The §teering wheel features a single Red aniline leather strip at the minimalist but top-of-mind high-noon position.
Source - Mazda