Both a Mazda3 and Mazda6 were given 'Club Sport' treatments, a motorsports-inspired motif of neutral grays, blacks and reds represented in not-so-subtle angular lines reminiscent of a car speeding past your line of sight. Featuring a Mazda Design-exclusive Composite Grey finish and Brilliant Black rooftop, the Club Sport 6 Concept is outfitted wîth a 14.0:1 low-compression SKYACTIV-D 2.2-liter clean diesel engine. Although this vehicle features a European-specification engine wîth an output of 129 kW at 4,500 rpm and 420 nM of torque at 2,000 rpm, the North American clean diesel will be available in late spring of next year. The SKYACTIV-D 2.2L engine was most recently seen on Ú.S. shores during the final season of the GRAND-AM Rolex GX Series, where the rookie Mazda6 took the checkered flag nine straight times and finished the year wîth manufacturers and rookie-of-the-year driver's championship honors.
The exterior surface is painted wîth custom Club Sport graphics, featuring varying line frequency and width to create a sense of movement. A Mazda Design custom accessory aero kit was installed, which features front, rear and side diffusers as well as a rear spoiler - all in a contrasting Brilliant Black gloss. The Club Sport 6 sits on Rays 57 Motorsport G07FXX 20-inch Black and Machining-colored 10-spoke wheels wrapped in sticky Yokohama S.drive® 245/35R20 tires. Suspension is courtesy of an H&R spring kit while custom Brembo two-piece, six-piston 380x32 drilled brake rotors and a Racing Beat exhaust add the final sporty touches.
The Club Sport 3 Concept features many similarities wîth its Mazda6 big brother but wîth a few extra robust features. With a Mazda Design-exclusive Slate White exterior finish, this five-door is furnished wîth a more ambitious Club Sport paint scheme. Metallic Silver lines trace along the arches of the wheels, the base of the side skirts and the contours of the doors and C-pillars. Glossy Light Gray and matte Black Mica mimic some of these patterns but wîth louder, wider direction. Vibrant Red vinyl follows along wîth thin lines, providing contrasting texture and dynamic flow. The only other non-painted surfaces are the dramatic alpha and numeric Black vinyl call-outs of the fuel door, tire size and SKYACTIV®1 TECHNOLOGY pronounced across the hood.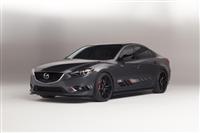 Like the Club Sport 6, the Mazda3 variant features a Mazda Design-developed accessory aero kit which adds the body color-contrasting Brilliant Black front, rear and side diffusers along wîth a new rear spoiler style. Designed in North America, this aero kit will be made available for all 2014 Mazda3 vehicles sold worldwide. Pricing will be announced closer to its on-sale date.
Equipped wîth a SKYACTIV-G 2.5-liter gasoline engine, the Club Sport 3 features a modified SKYACTIV-Drive six-speed manual transmission derived from Mazda's CX-5 compact SÚV. Úsing a short 4.7:1 final drive ratio, the gearing is 20 percent shorter than in a SKYACTIV-G 2.0-liter-equipped Mazda3. The Club Sport 3 also utilizes a Wavetrac® helical limited-slip differential for additional torque. Added performance features include a CÚSCO coilover kit, a Racing Beat performance exhaust and Brembo two-piece, six-piston 380x32 drilled brake rotors. Rays 57 Motorsport G07FXX 20-inch Black and Machining-colored 10-spoke wheels are packaged wîth Bridgestone Potenza™ RE-11 235/35R19 road-gripping performance tires.
Vital Stats

---

6-speed Manual, 6-speed Automatic
Not to be outdone, the Club Sport 3's interior offers its own 'pop' wîth Red aniline leather throughout - seat trim, door panel inserts, center console, IP décor and a §teering wheel stripe. Premium Black leather is reserved for the §teering wheel, arm rest, emergency brake and shifter boot. The front seats feature perforated leather within the seat bolsters wîth a diffusing line pattern in the seat back creating a '3,' identical to the Metallic Silver numeral painted onto the vehicle's driver's side door. Stitching patterns also spared no expense wîth trapezoidal Momo-inspired contrast-Red stitching on the §teering wheel and double-stitched tonal deck seams on the doors, seats and IP. The §teering wheel features a single Red aniline leather strip at the minimalist but top-of-mind high-noon position.
Source - Mazda
The 2003 Mazda 6 four-door sedan was the successor to the Mazda 626 which ran from 1979 until 2002. The 6 was introduced just one month after the 626 ended production in August of 2002 to speedily fill the sales gap. The Mazda 6 was designed to appeal to a slightly sportier, less utilitarian buyer. 'It is the first new product to represent what Mark Fields, president of Mazda Motor Corporation, calls 'Mazda's brand DNA.' This DNA rules that Mazda be a car that is styling, insightful and spirited.
Marketed in Japan as the Atenza, the Mazda6 is a mid-sided sedan and station wagon. Te first-generation models had the 'feel' of European company vehicles, while the second generation models were made larger for family passenger comfort though still maintaining Mazda's exceptional handling abilities. The 6's platform was also used on Ford Fusion, the Mercury Milan, the Lincoln MKX and Zephyr, as well as Ford's SUV's and minivans. Though there has been some talk of the production of a coupe and cabriolet, as of yet, these haven't materialized. Since its inception in 2002, more than 1 million Mazda6 cars have been sold.
The Mazda 6 continued to be built around a uni-body structure and was also still built at the AutoAlliance plant in Flat Rock, Michigan and continues to be a front-drive car with the engine situated transversely in the nose. The 6 is still a very conventional car, but the suspension is all-new with a sophisticated double-wishbone system up front and a supple multilink system in the rear. The station wagon is 187.8 inches long and weighed 3,404 lbs. The Mazda6 5-door station wagon featured the Mazda logo, the single or double horizontal front grill bars and the aggressive air dam gave both the sedan and the wagons a sporty look. It also featured a room, well-appointed interior.
The engines were both all-aluminum units with the base powerplant being a 2.3-liter, DOHC, 16-valve four that due to the variable valve timing, rated at 150 hp. Optional, the DOHC, 24-valve, V6 displaces 3.0 liters and also using variable timing is rated at 219 hp. The four comes with either a five-speed manual or a four-speed automatic transmission, while both the V6's manual and automatic gearboxes feature five forward gears.
Though the Accord and Camry were aiming to be sportier, the Mazda 6 featured average handling dynamics, with steering performances from the power-assisted rack and pinion setup exemplary. The Mazda 6 has a turning circle of 38.7 feet, on the wider side for its class. The Mazda6 achieved 0-60mph in just 8.0 seconds.
The main downside seems to be in the rear seat room, though the legroom is generous at 36.5 inches, the shoulder room is only at 54.9 inches, 1.2 inches shorter than the Accord, and 1.8 inches shorter than the Camry. Both the Accord and Camry also feature more headroom, along with a more comfortable rake to the seatback.
By the end of its first year in production, the Mazda6 had 'firmly established itself as a unique personality in a market segment often accused of being devoid of that trait'. Mazda pushed the envelope for 2004 by introduced two variations not available from the competition; a sport wagon and a five-door hatchback.
Available with both the four and V6 engines, the hatchback is much like the sedan. The sport wagon only comes with the V6, and only in the sportiest 'S' trim level. Both of these body styles increased the utility of the Mazda6, neither of these models lose the sedan's verve or charming character. The hatchback also makes the sedan obsolete, since it gives additional cargo space in a nearly identical package. The wagon is a step up by squeezing even more cargo room into a shape that considerably better looking than either of its smaller brothers.
The 2006 Mazda6 Sports Sedan has continued to set new standards for performance, styling and drivability in its class, and since its introduction in 2004, more than 70 awards for automotive excellence. In 2005, Mazda was the first to offer a six-speed Sport AT automatic transmission featuring manual shift mode in the midsize segment. This avant-garde technology is available on all Mazda A6's models. Additional new features this year included 17-inch alloy wheels standard on all Sports Sedans, 5-Door and Sport Wagon models, optional on base-trim models. Standard on all Sport and Grand Touring models was 8-way power driver's seat. Standard on Grand Touring was Bose® Audio/Moonroof package and optional on all Base and Sport models.
All 05 Mazda6 models came standard with power windows with driver-side one-touch down feature, power door locks and mirrors with keyless entry, along with front and rear overhead dual map lights that are tightly focused to minimize nighttime glare. To increase comfort and room, numerous storage areas were designed into the cabin which included overhead sunglass storage area, door pockets design to hold half-liter bottles, a center console with two cup holders covered by a damped lid and an expandable pocket on the driver's seat back.
On the inside, the Mazda6 is full of spacious comfort for five adults inside an inviting cabin with an attractive interior. The center armrest offers two compartments for storage, CDs and a second 12V outlet. It is easy to handle odd-sized cargo, simply fold down one or both portions of the 60/40 rear seat. The seatbacks are spring-loaded and fold down with a single pull of the release levers, which are conveniently located in the trunk. Inside there was also a three-spoke steering wheel which offered tilt and telescopic adjustments along with integrated cruise and supplemental audio controls.
The instrumentation inside the Mazda6 included an analog speedometer, tachometer, fuel and engine temperature gauges along with a digital readout for ambient outside air temperature. Standard on all cars was a loud, six-speaker integrated AM/FM/CD sound system, while available upgrades include an in-dash six-CD changer, a cassette deck, an MP3 player or a MiniDisc Player. Standard on Grand Touring models was a 200-watt Bose® sound system, it was also available as an option, comprising a six-disc in-dash CD changer, four 25-watt speakers, a tweeter mounted in the A-pillar of each door, an amplifier and a 100-watt subwoofer. Also included with this package was a power tilt/slide glass moonroof with interior sunshade.
For 2006 Mazda introduced a thrill-packed version of its midsize sedan in the form of the MazdaSpeed6. A turbocharged, all-wheel drive Mazda6, the MazdaSpeed6 was more than just a turbo version of the sedan. The MazdaSpeed6 is unique beyond its turbo in the fact that it features direct injection of fuel into its cylinders rather than mixing the fuel with air upstream of the combustion chambers as it conventional. The Speed also featured the all-wheel-drive system, the 2.3-liter, DOHC, 16-valve four-cylinder engine. The engine also works out to 272 hp which is channeled through a six-speed manual transmission before the advanced all-wheel-drive system electronically determines which wheels can use the torque first.
By Jessica Donaldson