1953 Packard Monte Carlo news, pictures, specifications, and information

Tweet
The second Packard show car to appear in 1953 also featured a special roof, or rather, part of one. The Monte Carlo was based, not on the limited-production Caribbean, but on Packard's popular 2-door hardtop, the Mayfair. Two examples were built by the Henney Motor Company, with Packard being charged the sum of $9,095.36 for each. The Mayfair's roof was cut-off over the front seat, which necessitated the installation of a solid 'B' pillar and much structural bracing. A continental kit was installed and the special interior featured dual fold-down armrests in the rear. Once completed, the two Monte Carlos, (one painted red and white and the other two-tone blue) were sent out on the car show circuit, as well as on a tour of various Packard dealerships. Both cars ended up in the hands of private owners and both are currently owned by Mr. Marano.
RARE CHRYSLER LA COMTESSE CONCEPT APPEARS AT AMELIA 2014
After decades in obscurity Chrysler's La Comtesse Concept Car will re-debut at the 19th annual Amelia Island Concours d'Elegance on March 9, 2014. The Fifties introduced new automotive chemical and paint technologies that helped summon a sea change in the way cars were purchased. It was a subtle component of Detroit's marketing equation, but color had risen near the top of the car buyer's priority list. The important fact was that women invariably chose the color of the new family car....[Read more...]
Mecum's Kansas City Spring Auction Reaches $9.6 Million in Sales
April 25-27 Auction Draws Large Crowd and Diverse Selection to Downtown K.C. Magnificent and serene Kansas City, Mo., turns into a car collector's paradise twice a year when Mecum Auctions comes to town. Last weekend, April 25-27, the Kansas City Convention Center was transformed into that dream location with 735 cars spread across the gleaming floor of beautiful Bartle Hall. With 446 cars selling over the three-day period for a 61 percent sell-through rate, the enduring auction brough...[Read more...]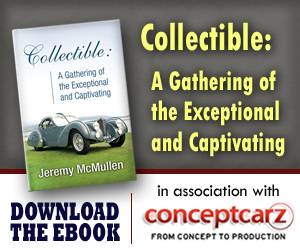 © 1998-2014. All rights reserved. The material may not be published, broadcast, rewritten, or redistributed.